Only those who have tried skydiving can understand the thrill of such an experience.
I've rounded up 100 impressive skydiving quotes for today's article to inspire you to take a deep breath and jump.
(Of course, we can take this metaphorically. If you're too scared of heights, better stay on the ground.)
Skies have fascinated humans since time immemorial. We've been dreaming of flying like birds for thousands of years before we were actually able to achieve it.
If you've ever taken a plane, you've probably experienced a tingling sensation in your stomach during the takeoff. Well, skydiving is much more intense.
It's actually so crazy intense that it makes your adrenaline levels go extremely high.
Not everyone enjoys this feeling of an adrenaline rush, but many do.
If you're one of those adrenaline junkies who love living on the edge, you must try skydiving.
Today's article brings you a collection of the 100 best quotes about skydiving to encourage you to try something new and adventurous.
These inspirational quotes can be used for your own motivation, or you can use them as skydiving captions for your cool skydiving pictures.
Whether you want to use them for inspiration or as social media captions, I'm sure you'll find something to tackle your fancy.
Let's start exploring!
Top 10 Skydiving Quotes
After going through all of the skydiving quotes I've collected, I've picked my 10 favorite quotes to start off with. Have a look!
1. "Sometimes we have to get really high to see how small we are." — Felix Baumgartner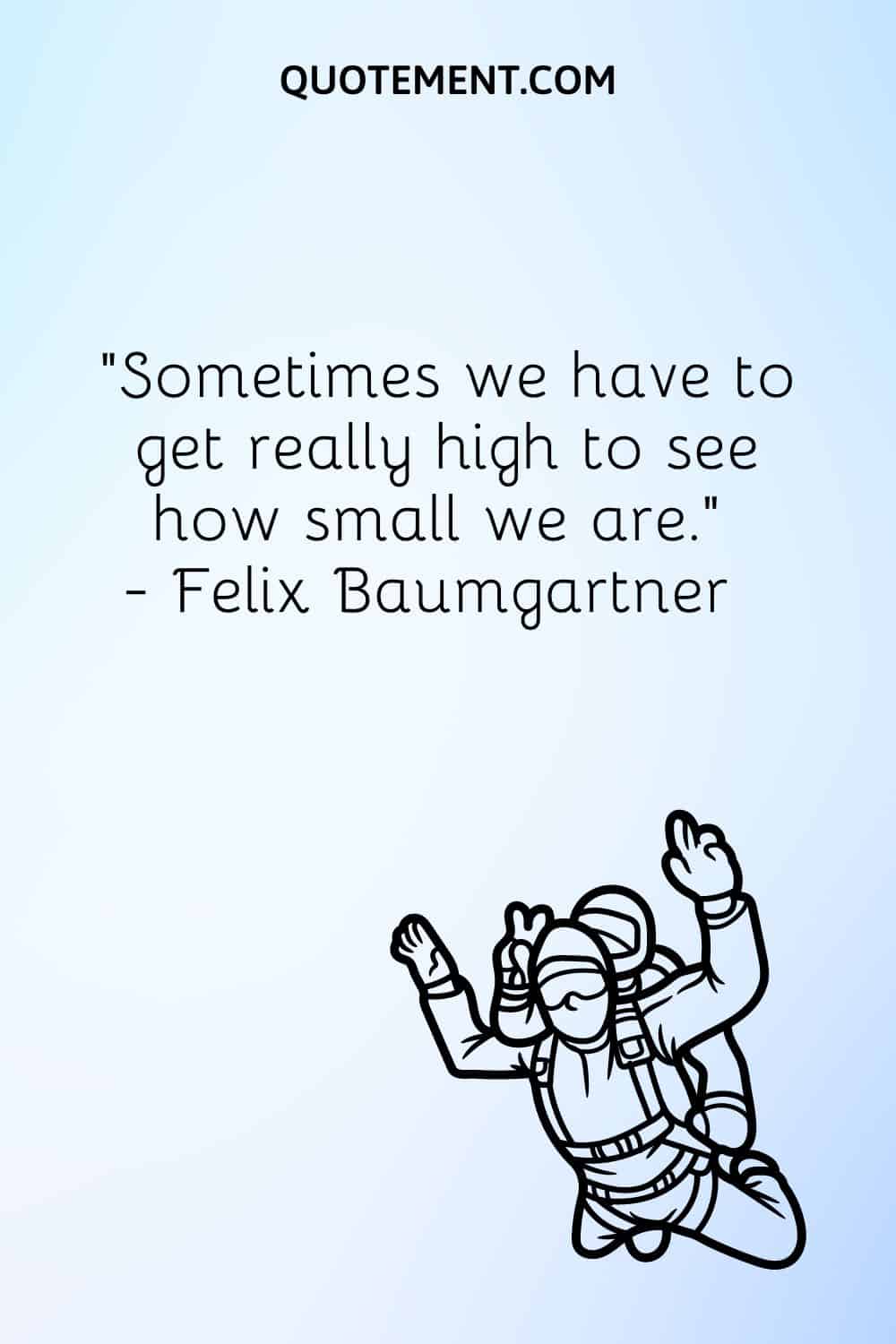 2. "Those who don't jump will never fly." — Leena Ahmad Almashat
3. "Skydiving. Apparently, it's all about the landing." — Jeff Davis
4. "If you surrender to the wind, you can ride it." — Toni Morrison
5. "I believe the risks I take are justified by the sheer love of the life I lead." — Charles Lindbergh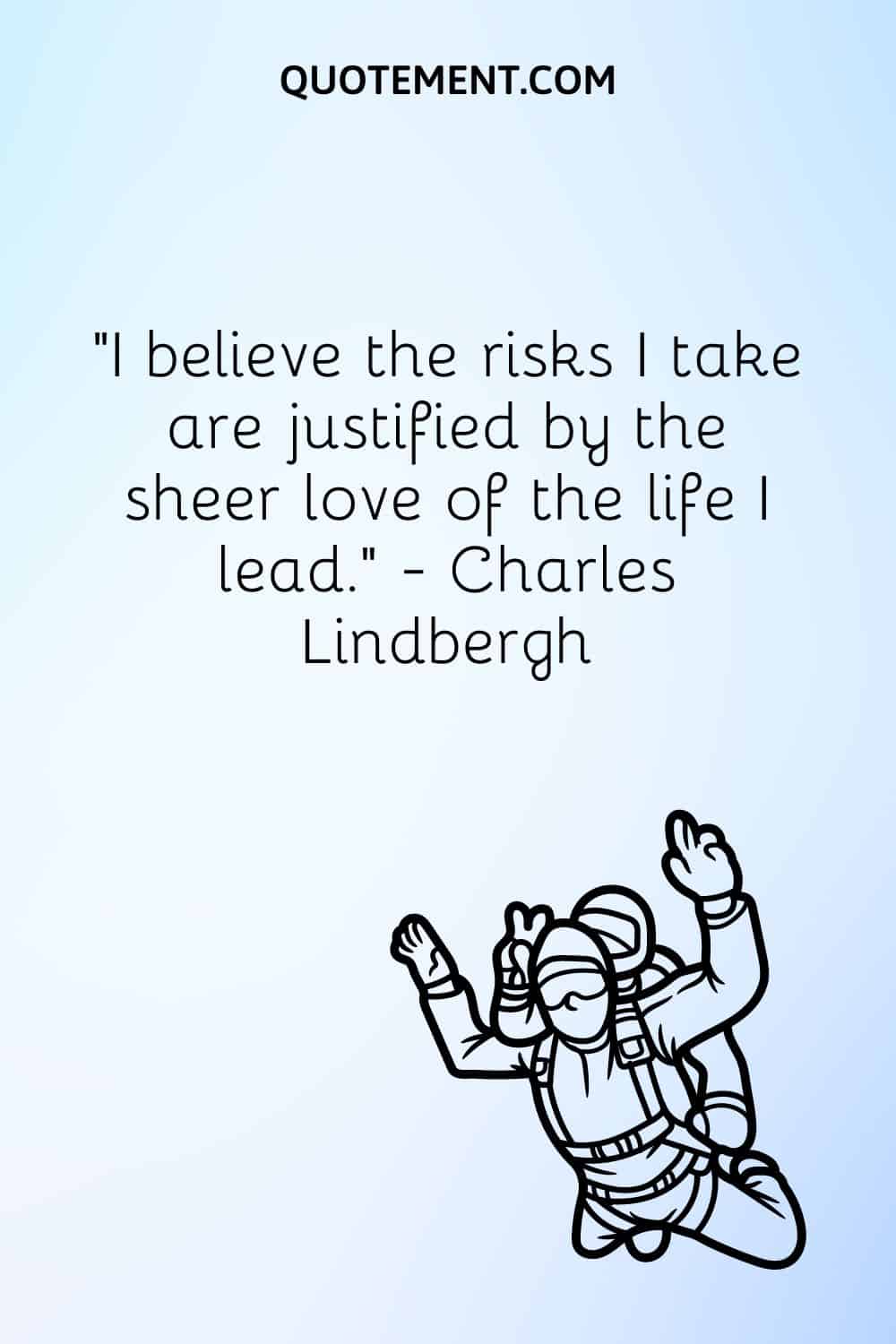 6. "Be willing to jump even when you don't know where you'll land… Only then will you ever be able to soar." — Steve Harvey
7. "This isn't flying, it's falling with style." — Buzz Lightyear
8. "Skydivers are people who enjoy falling down." — Allen Roulston
9. "Life is either a daring adventure or nothing." — Helen Keller
10. "Skydiving changed my mindset. I went home and told our children they could do anything and do it well." — Bonnie Ross-Parker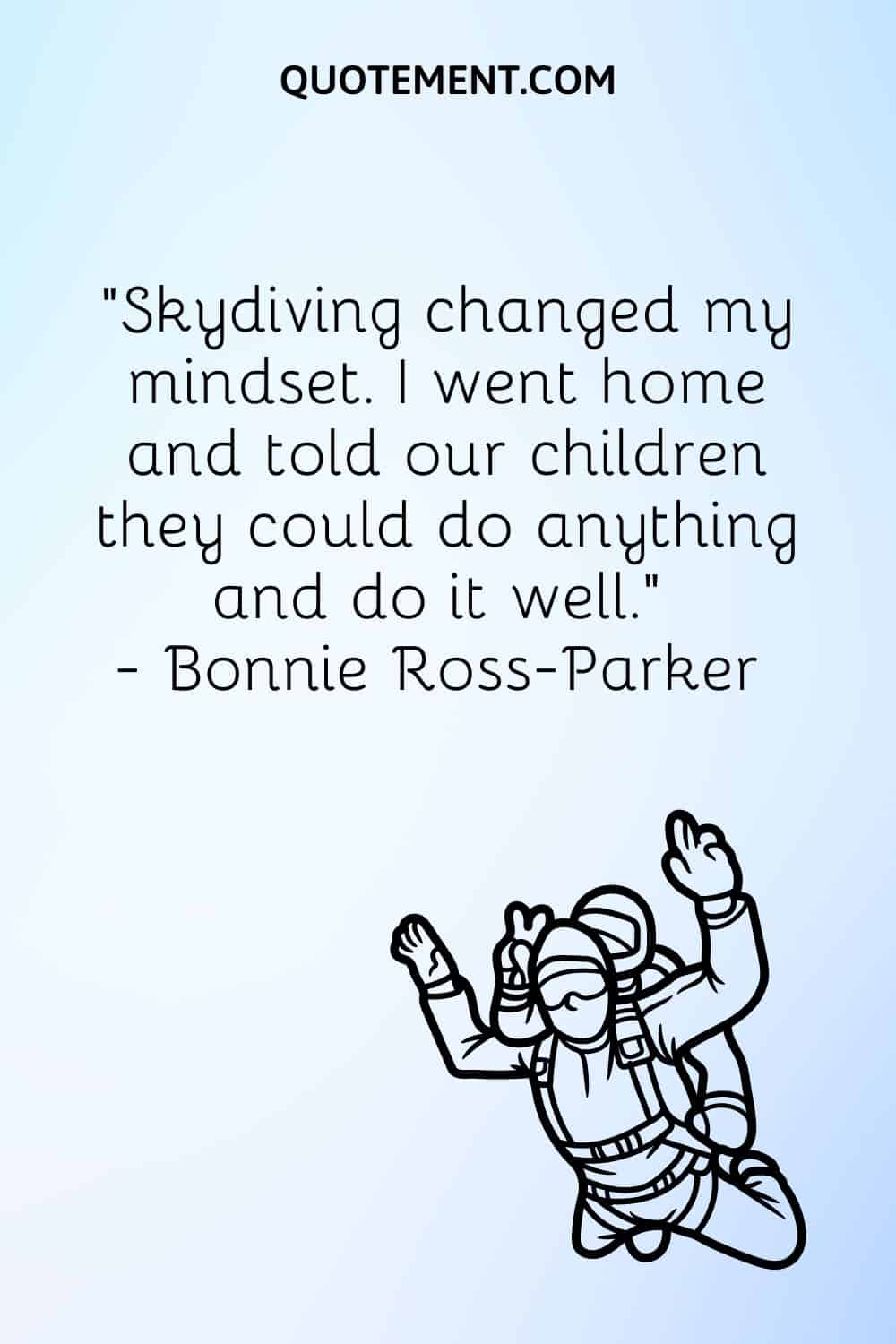 See also: 100 Growth Mindset Quotes For Those Who Want To Succeed
Inspiring Skydiving Quotes
Next up is a collection of inspiring skydiving quotes to inspire you to leave your comfort zone. Enjoy!
1. "I started skydiving because I loved the idea of freedom." — Felix Baumgartner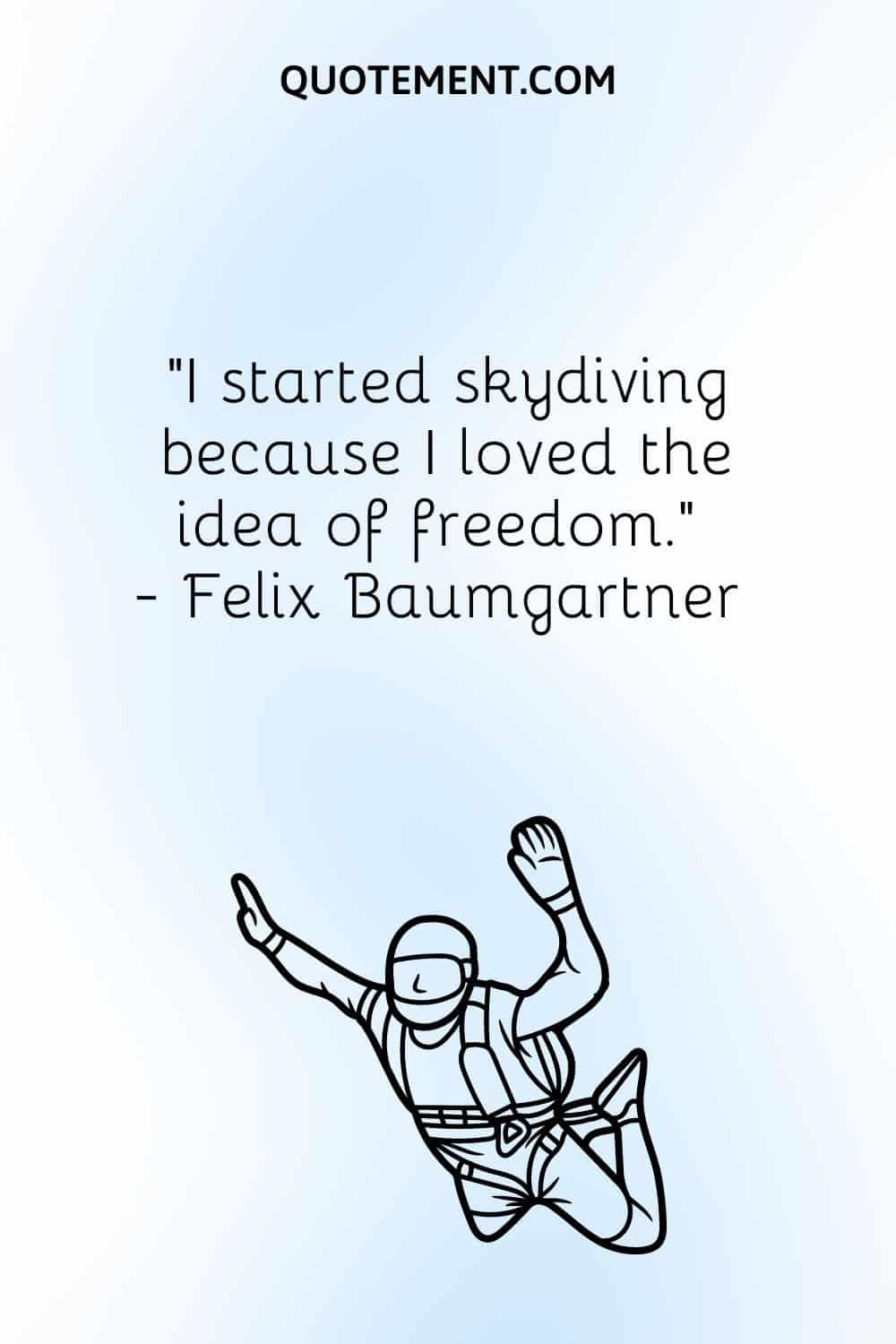 2. "Life begins at the end of your comfort zone." — unknown
3. "You know what they say about skydivers, right? There are old skydivers and bold skydivers, but there are no old, bold skydivers." — Jeff Wuorio 
4. "I've been out of my comfort zone a lot, and it makes me more vulnerable, but I have to draw the line somewhere and don't think I would go skydiving!" — Hannah Storm
5. "Out of ten thousand feet of fall, always remember that the last half inch hurts the most." — Charles W. Purcell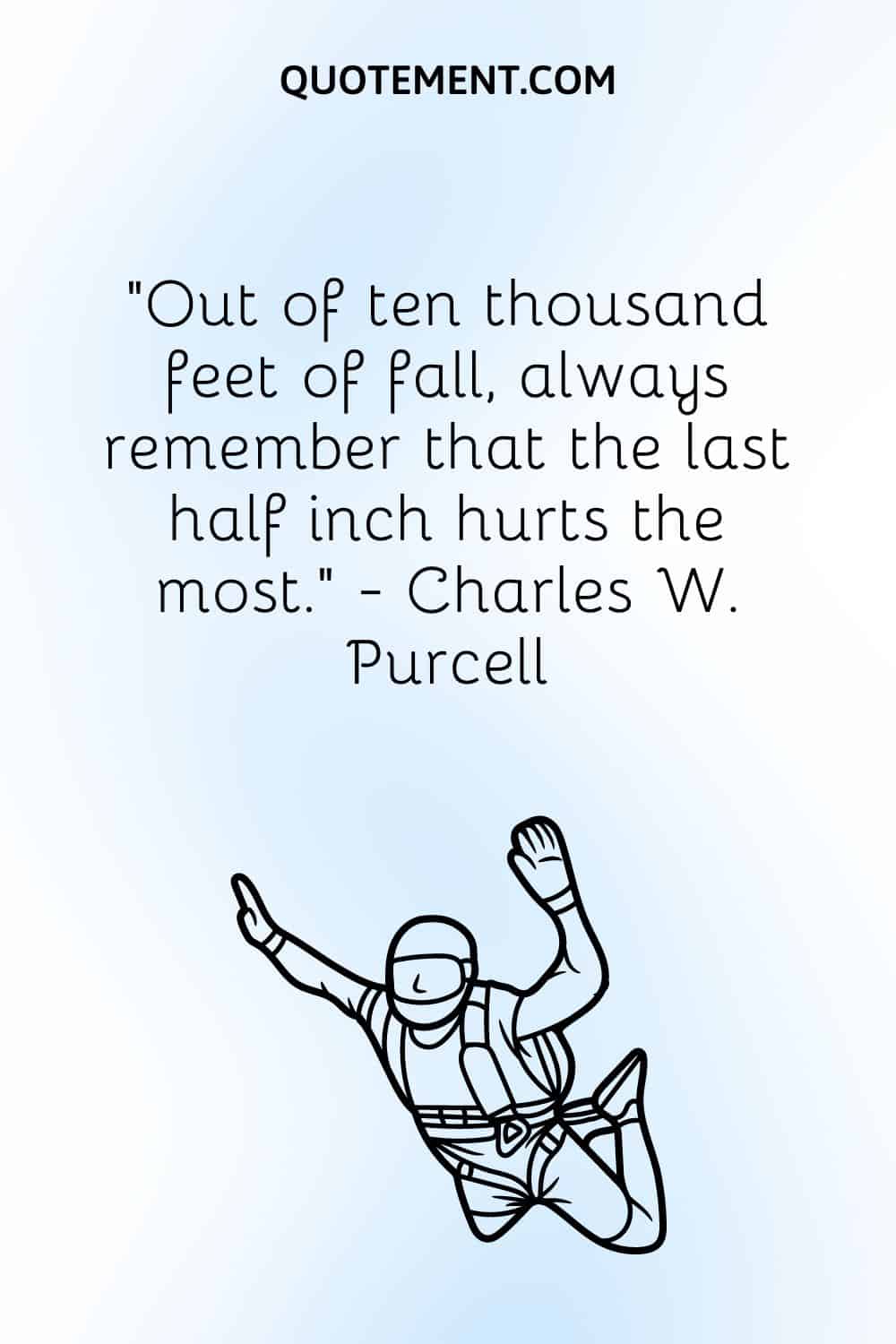 6. "Skydiving is fascinating. The best part is cruising in the air and realizing that the dice has been thrown and you're either going to die or not. It's a very helpless feeling, but it's so freeing." — Bert Kreischer
7. "It's good to have a lot of once-in-a-lifetimes in your lifetime. If you get the chance to skydive, go skydiving. If you're offered a part in a weird Shakespeare play in San Diego, slap on some tights and rock out some iambic pentameter." — Neil Patrick Harris
8. "All I can say is that I felt freedom. Skydiving is more intoxicating than marijuana/alcohol or any drug on this planet. It's enough to mess with your mind!" — Anamika Ojha
9. "Overcoming fear doesn't have to be skydiving if you're afraid of heights. Overcoming fear is an everyday thing. We do it all day long." — Geoff Johns
10. "Only skydivers know why the birds sing. They never have to pack a parachute." — unknown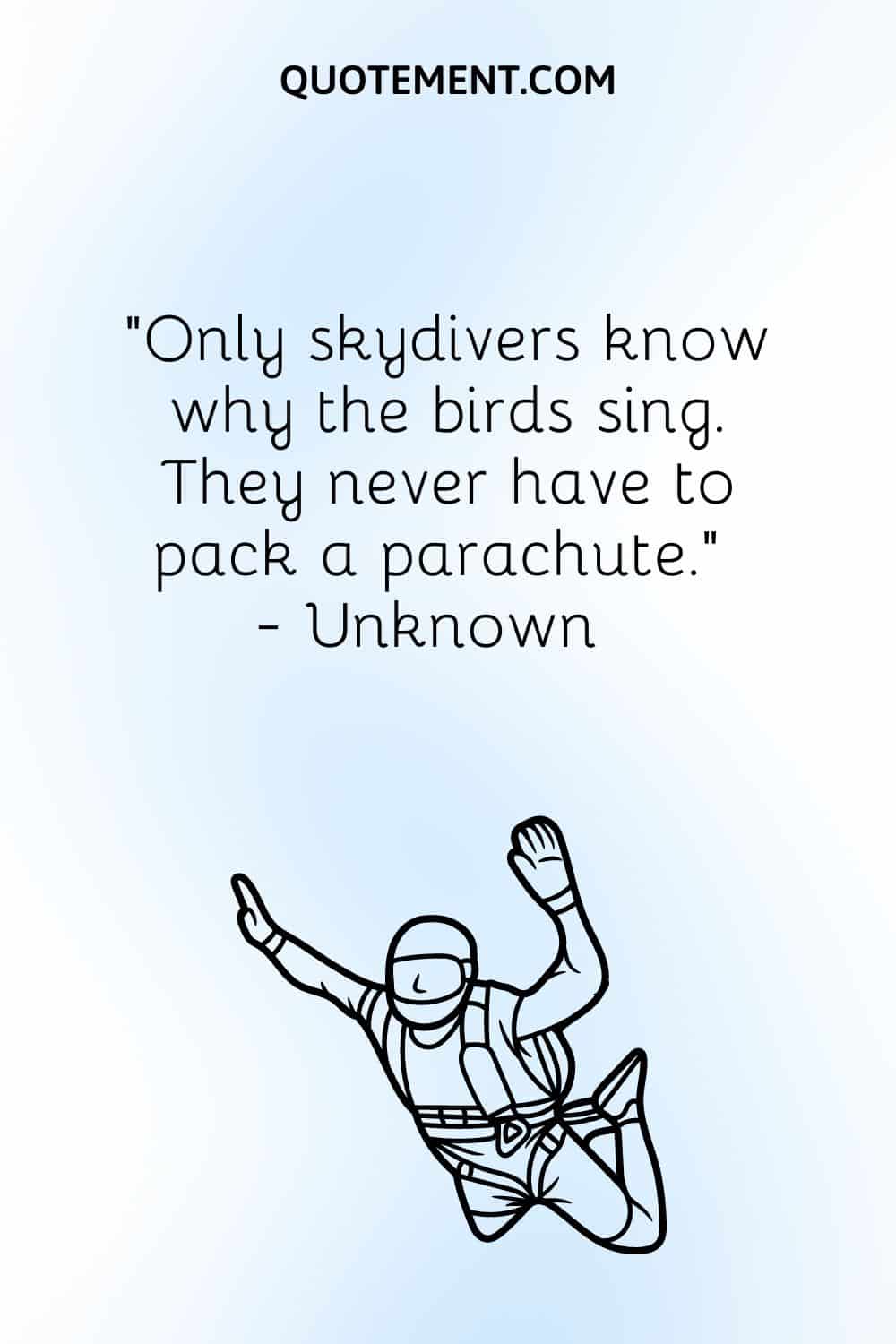 11. "More than a sport, skydiving is a lifestyle, a communal activity like scuba diving or surfing – one that attracts people of all walks of life with one thing: the kind of freedom you just can't find in cubicles or workstations." — Ray Bangs & Chris Becker
12. "If it's your passion, it's like skydiving, you just take the leap." — unknown
13. "I believe that the awesome power of my first skydive has thrust me a little closer to my existence and changed my perspective about the world." — Anamika Ojha
14. "I'm definitely a girly-girl, and I love playing with fashion, but at the same time, I will go skydiving with you tomorrow." — Shay Mitchell
15. "To those that jump, no explanation is necessary. To those that don't jump, no explanation is possible." — unknown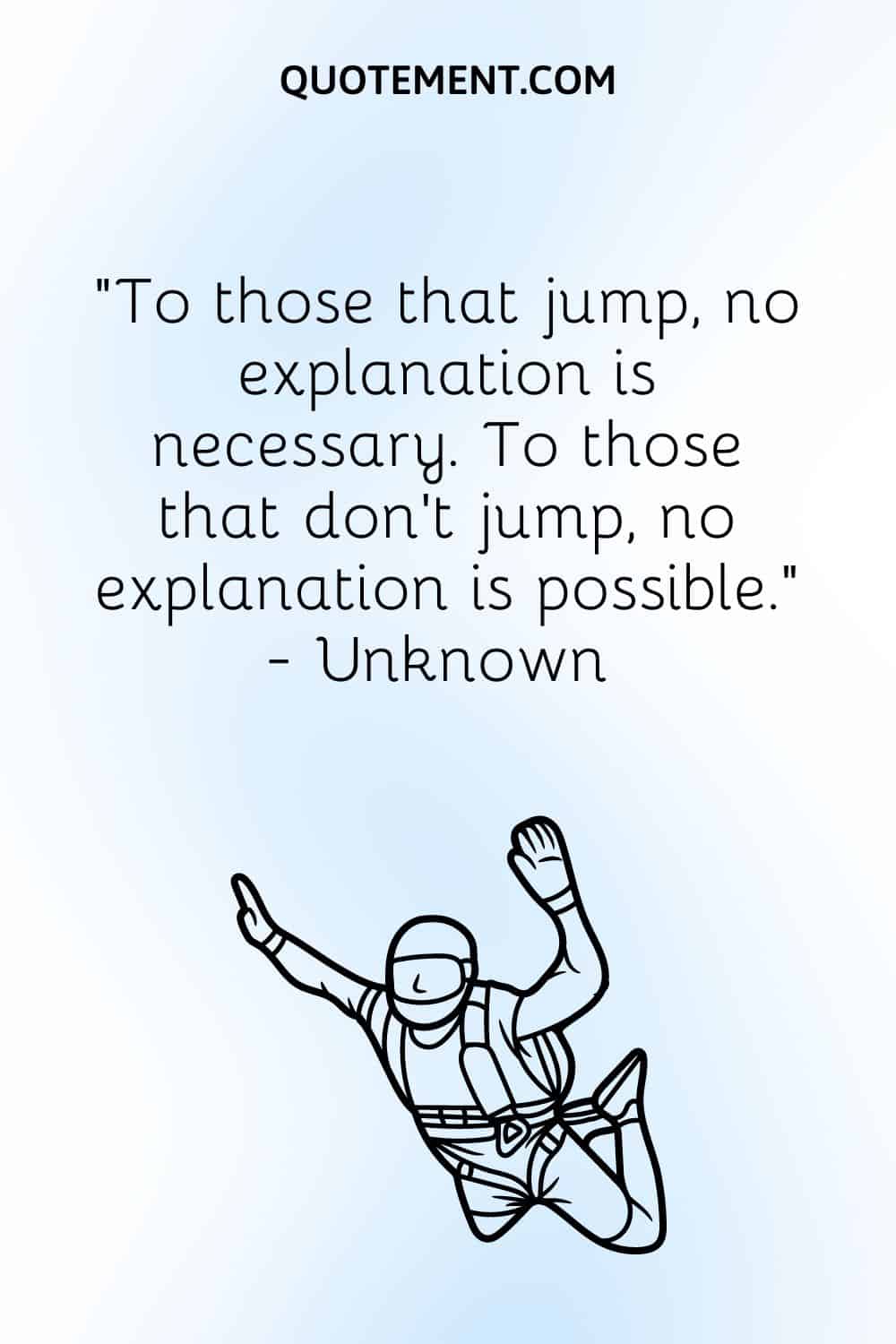 16. "Skydiving is special because it's almost the closest to an out-of-body experience you can have. We live in such a stimulated, connected, busy world – to be up in the air with nothing but yourself and the landscape is incredibly peaceful." — Georgia King
17. "I had to skydive for the movie, and I was terrified. Like everybody, I thought it was going to be one of those experiences that changes your life. It didn't." — Yancy Butler
18. "You should read the skydiving waiver before you sign if only to see how many different ways there are to describe "death by falling." If anything will convince you not to skydive, it's that waiver." — Dan Oshinsky
20. "Be a pro at what you do. No one shows up to meetings of the Unsuccessful Skydivers Club." ― Ryan Lilly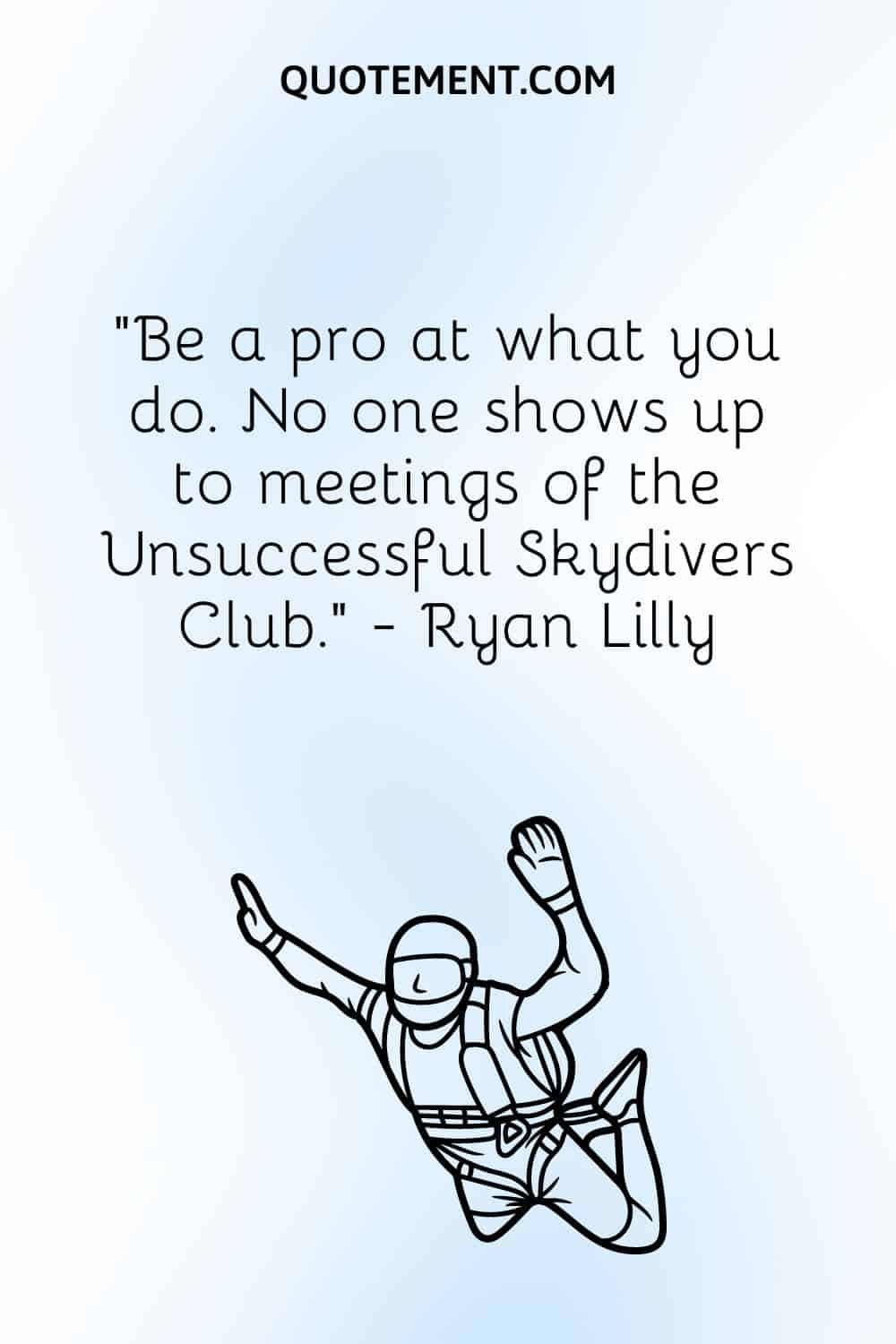 21. "Don't let the fear of falling keep you from flying." — unknown
22. "Skysurfing is skydiving with a board on the feet. You can imagine with this big surface of a skysurfing board, there is a lot of force, a lot of power. Of course, I can use this power, for example, for nice spinning – we call it 'helicopter moves.'" — Ueli Gegenschatz
23. "Love is like skydiving without a parachute." — Lois Greiman
24. "Skydiving is an extreme sport which requires careful training and execution. Failure to follow your training can lead to injury or death. Now… Let's go do this!" — unknown
25. "I ski, I snowboard, I've started to get into skydiving a little bit. I'm a little bit of a thrill-seeker." — Alexander Gould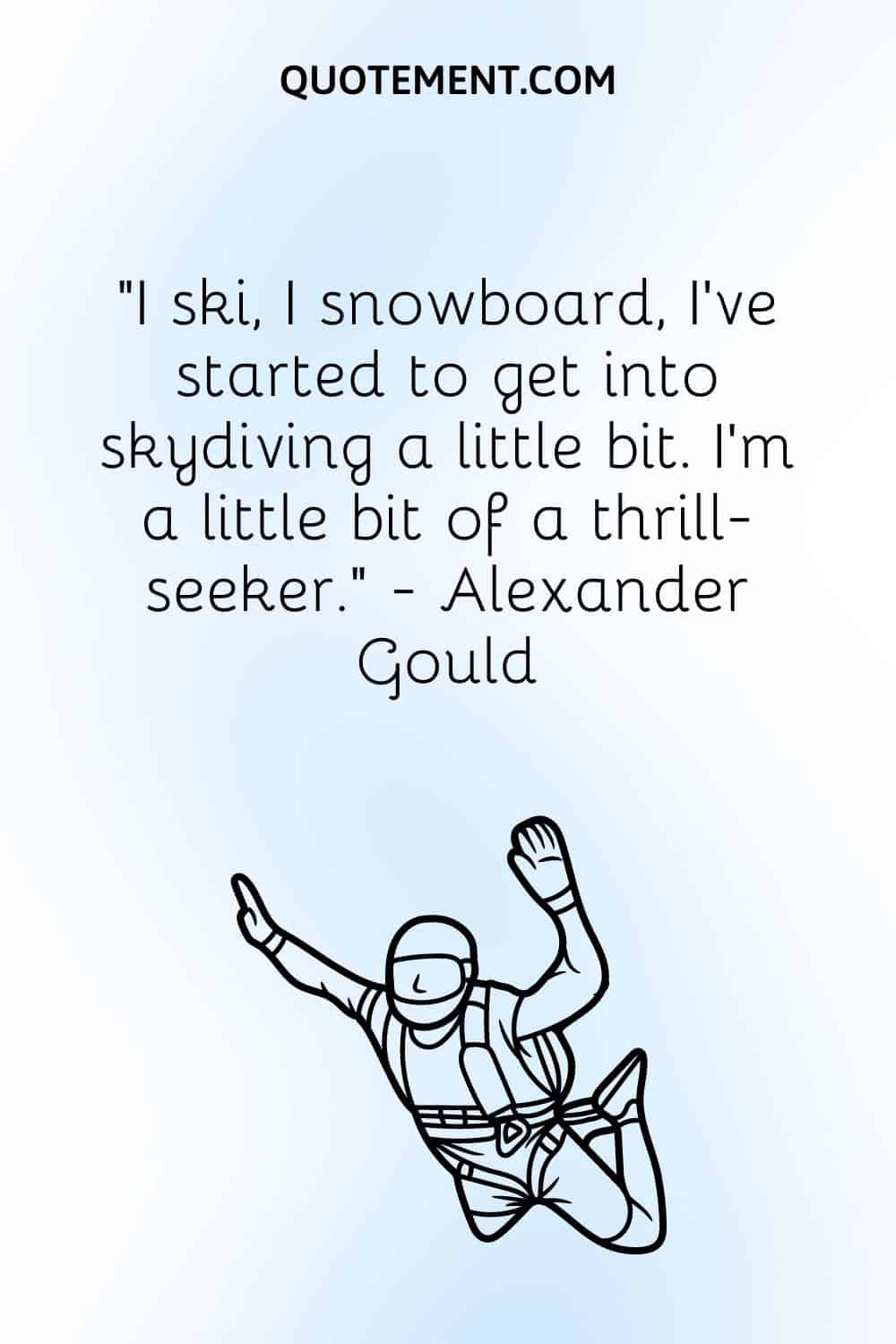 See also: 120 Perfect Snowboarding Captions For Your Mountain Fun
Motivational Quotes About Skydiving
If you've been looking for a motivational skydiving quote, these skydiving quotes will definitely serve the purpose.
1. "Open the wings of freedom and make your dream true or flying in the air." — unknown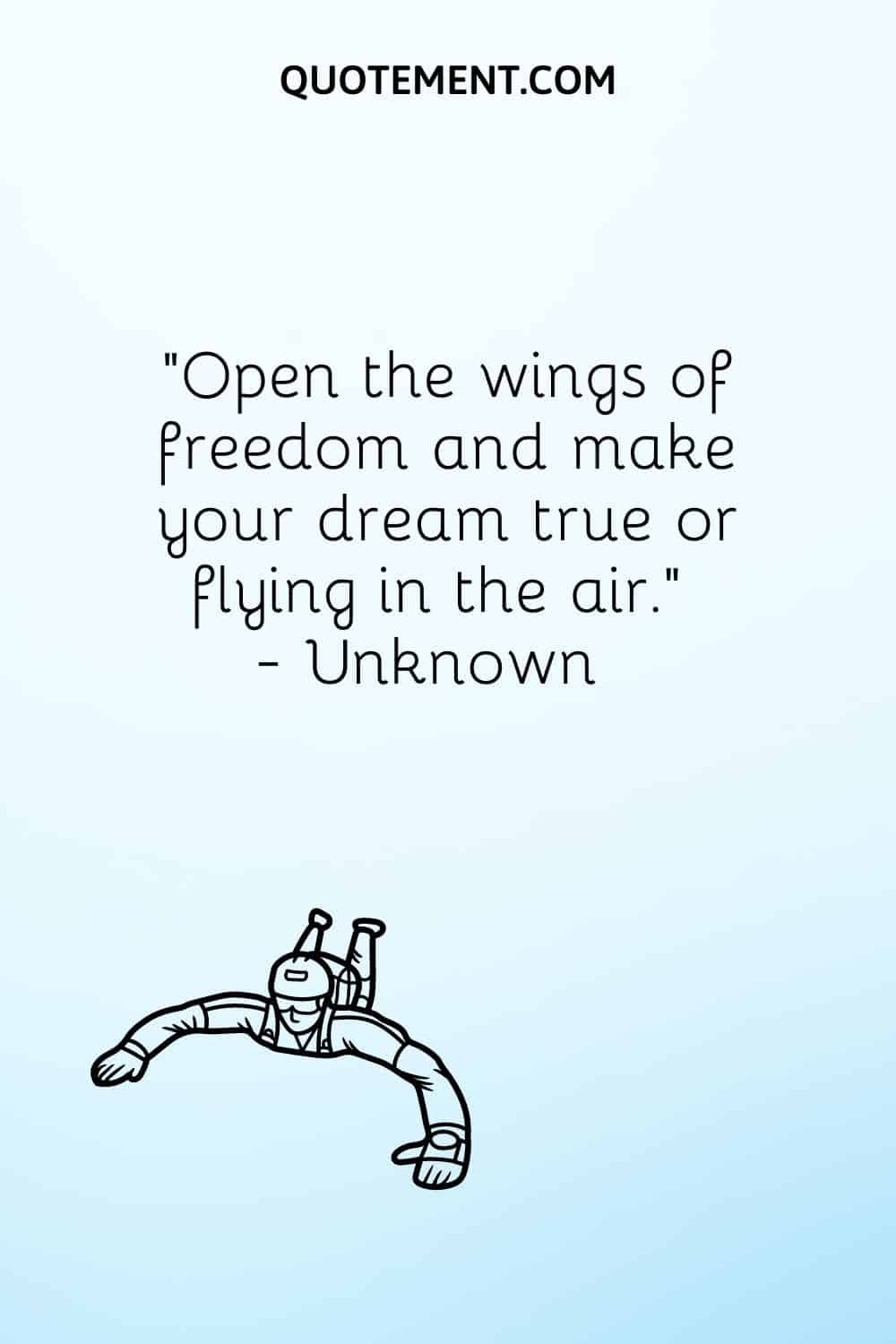 2. "You swallow hard, thinking to yourself, 'It must be all right, thousands of people have done it before.' Then… 'But this time it's me — that's the difference!" — Charles Shea-Simonds
3. "If I could stand in an open airplane doorway two-and-a-half miles above the ground and will myself to step into empty space, then I could do anything." — Dave Stein
4. "As far as safety is concerned, you're far safer statistically riding a parachute down from incredible heights than you are getting into your car every morning to go to work." — Michael Tanenbaum
5. "All you need is 20 seconds of insane courage, and I promise you something great will come of it!" — unknown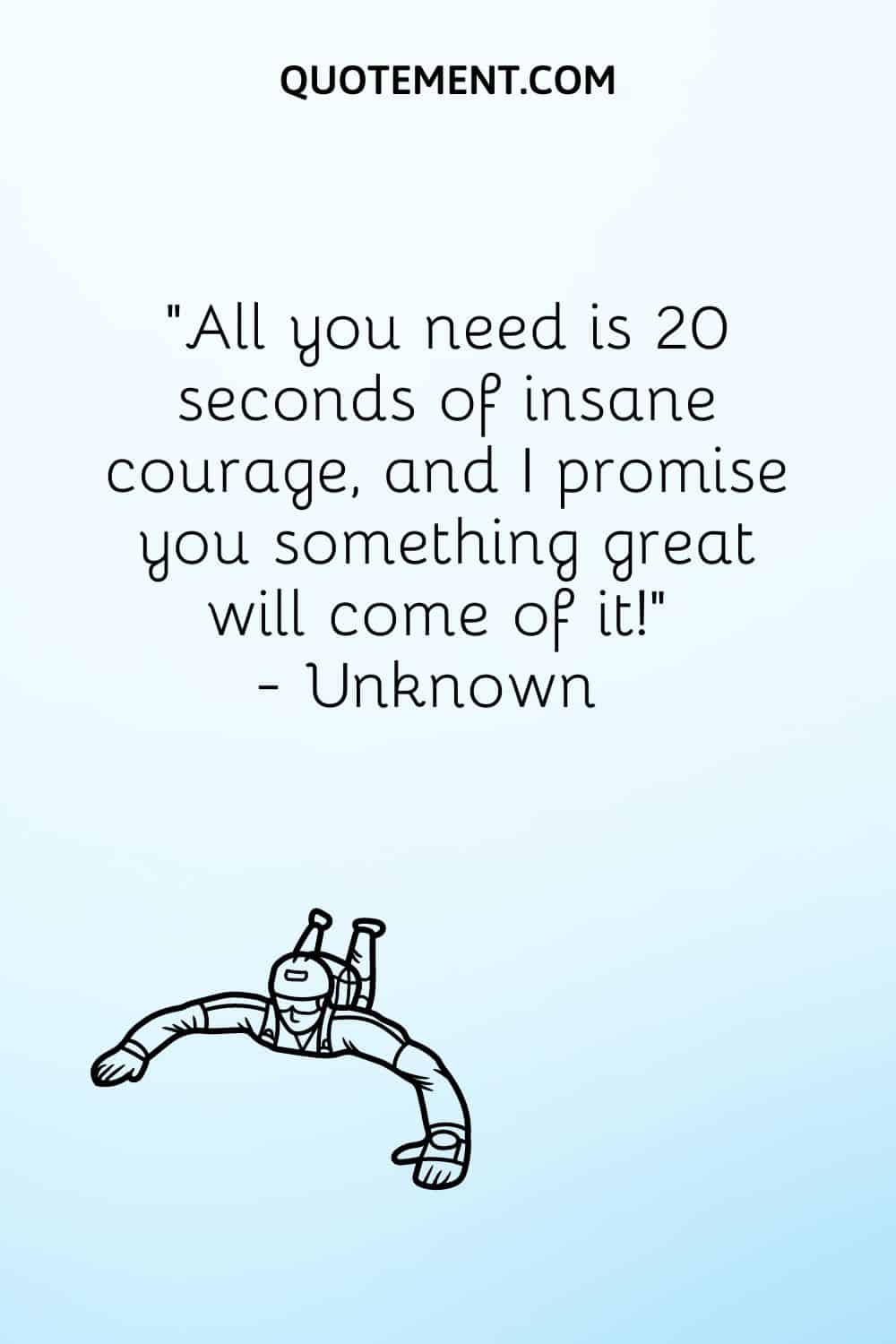 6. "Skydiving is an extreme sport which requires careful training and execution. Failure to follow your training can lead to injury or death. Now… Let's go do this!" — unknown
7. "I want to do a few crazy things like skydiving and bungee jumping. I am quite an adventure junkie." — Dinesh Karthik
8. "I've gone skydiving twice. I was terrified about doing it, but I wanted to overcome that. The first time I did it with my parents and I remember that they had already both jumped out, and suddenly it was my turn. And I thought, 'Well, I don't want to be an orphan,' so I guess I have no choice, and I jumped out of the plane." — Mandy Moore
9. "To the skydiver, 'flying' in a plane is akin to 'swimming' in a boat; they live for the wind whipping past as they plummet toward the earth during free fall, and the thrill of floating on the air currents once their 'chutes are safely open. They live on the edge, though not in danger — amid the elements, but not at their mercy." — Ray Bangs
10. "Taking risks is not being suicidal. Otherwise, skydivers need serious help." — Maggie Stiefvater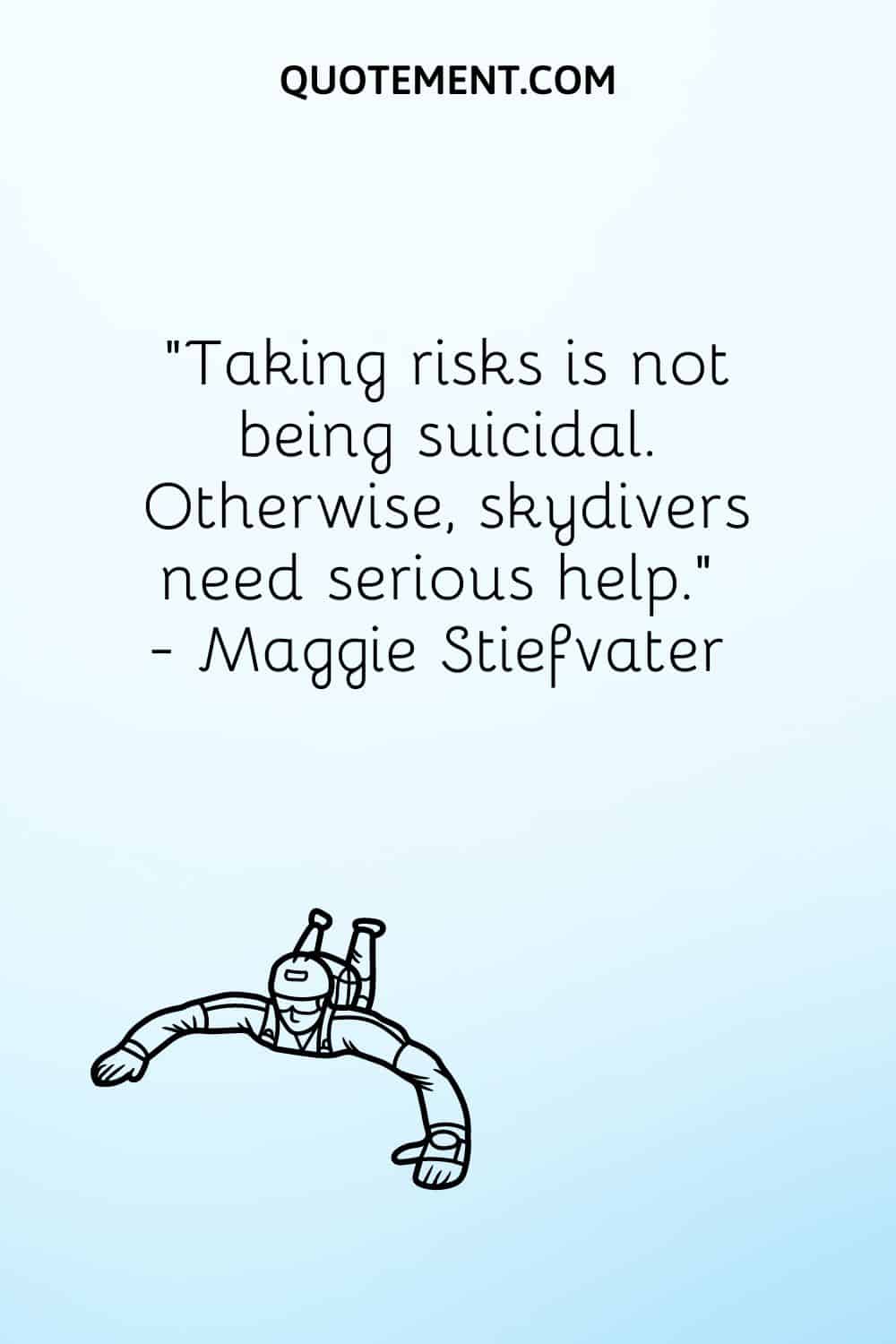 11. "From regular, relative skydiving, I went on to freeflying. Freeflying is more the three-dimensional skydiving." — Ueli Gegenschatz
12. "People have always liked to be frightened. People love to feel that jolt of adrenaline. People love roller coasters. People love skydiving. These things that really get your heart pumping, and horror films are sort of a safe way to get that rush, I guess." — Aaron Stanford
13. "I'm a skydiver, I race motorcycles, and I enjoy the thrill of life, and for me, in this walk of faith, there really is no greater thrill than the indwelling of the Holy Spirit in your life." — Stephen Baldwin
14. "BASE jumping is skydiving from fixed objects, like buildings, antennae, bridges, and earth – meaning mountains, cliffs. It's for sure – for me – it's the ultimate feeling of being in free fall, with all the visual references." — Ueli Gegenschatz
15. "I always had the dream of flying, and the cheapest way is to become a skydiver." — Felix Baumgartner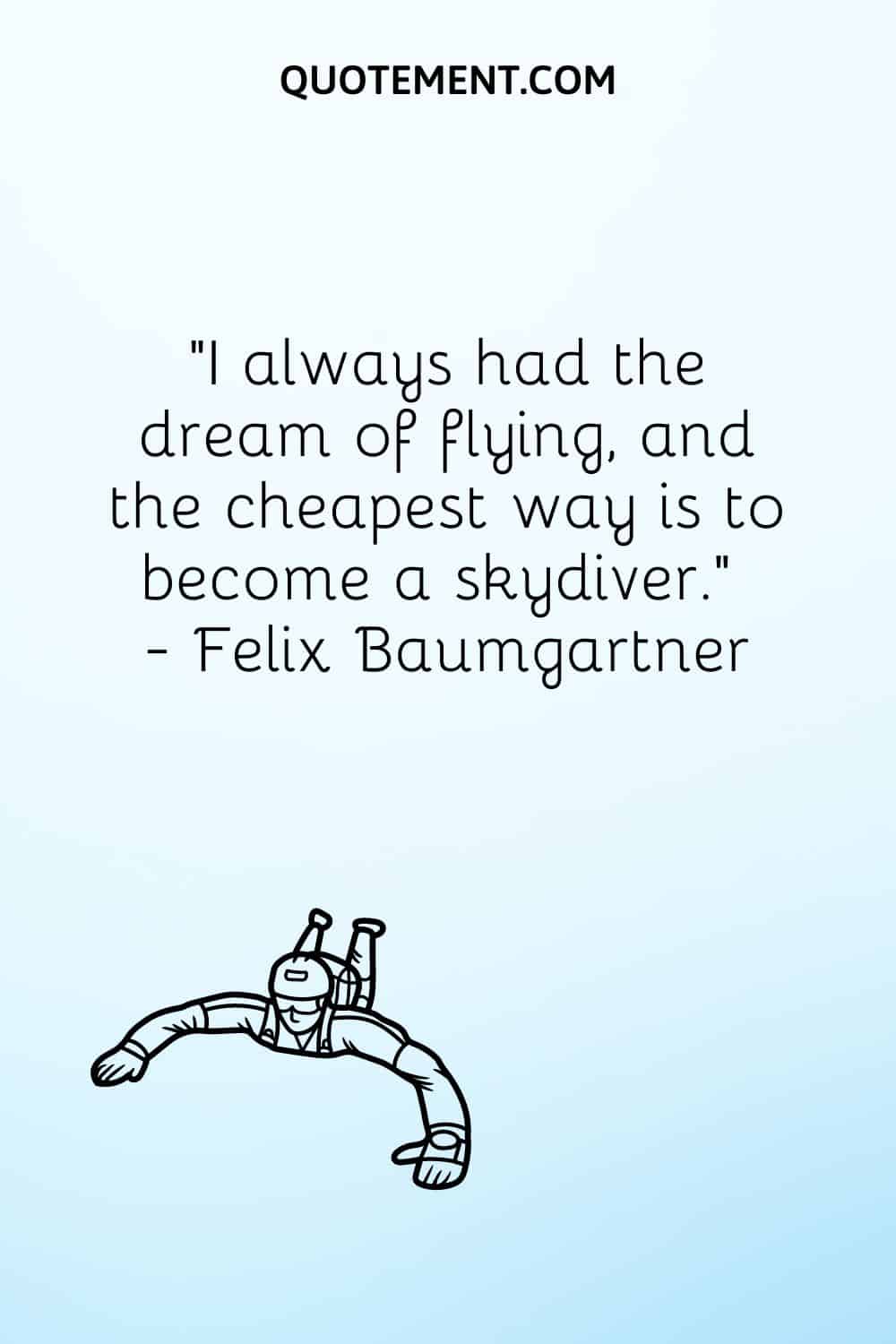 16. "I'm a former skydiver, I jumped out of all kinds of things, including a hot air balloon. Ironically, once I started skydiving, I felt nervous not having my rig on in case the plane went down because I wasn't used to landing." — Carlos Alazraqui
17. "If you want to escape your adult problems, go skydiving." — unknown
18. "Skydiving is something I've never done! And I am very excited to take the leap with a community of like-minded courageous women." — Anne Bancroft
19. "We're all trying to get to the same island — whether you swim, fly, surf, or skydive, it doesn't matter. What matters is when the red light goes on." — Jerry Seinfeld
20. "The world is wrong side up. It needs to be turned upside down in order to be right side up." — Billy Sunday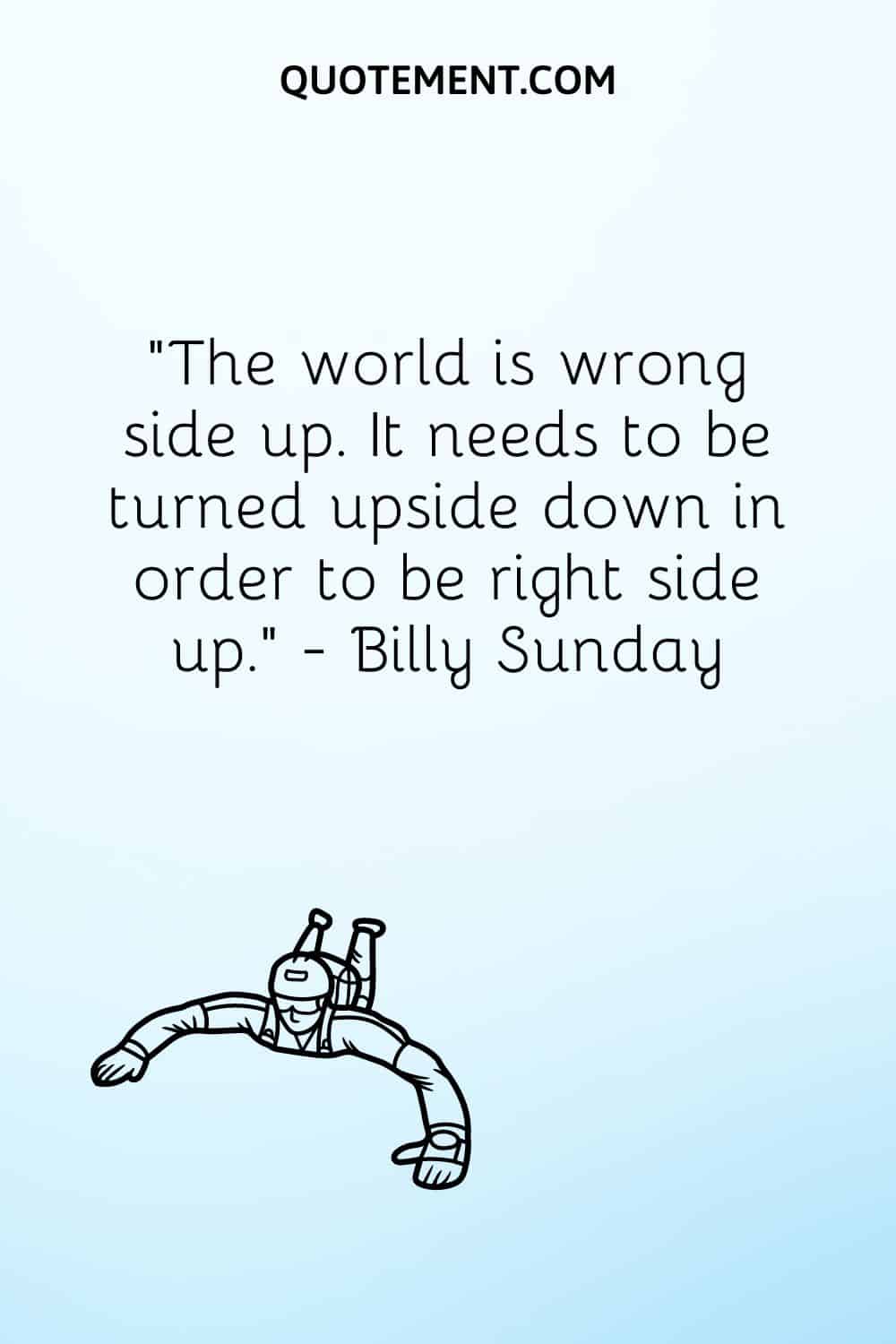 21. "How great would it be… for two lovers to skydive in tandem without a parachute, piercing the sky in freefall, plummeting down all the way, plunging into the deep heart of the ocean!" — unknown
22. "But boy, do I miss proposing, nothing so romantic. Make sure you try it, at least once, Len – it's skydiving with your feet on the ground." ― Jandy Nelson
23. "Skydiving is such a thrill. Trying to eat a burger added to it. But I prefer to enjoy the view." — John Leonetti
24. "Never let your fears stop you. Always be careful, but always try to go  a little further." — unknown
25. "I am a black belt in martial arts. I like to drink scotch. I go skydiving. So I never really saw myself as a woman or a minority." — Cheryl Yeoh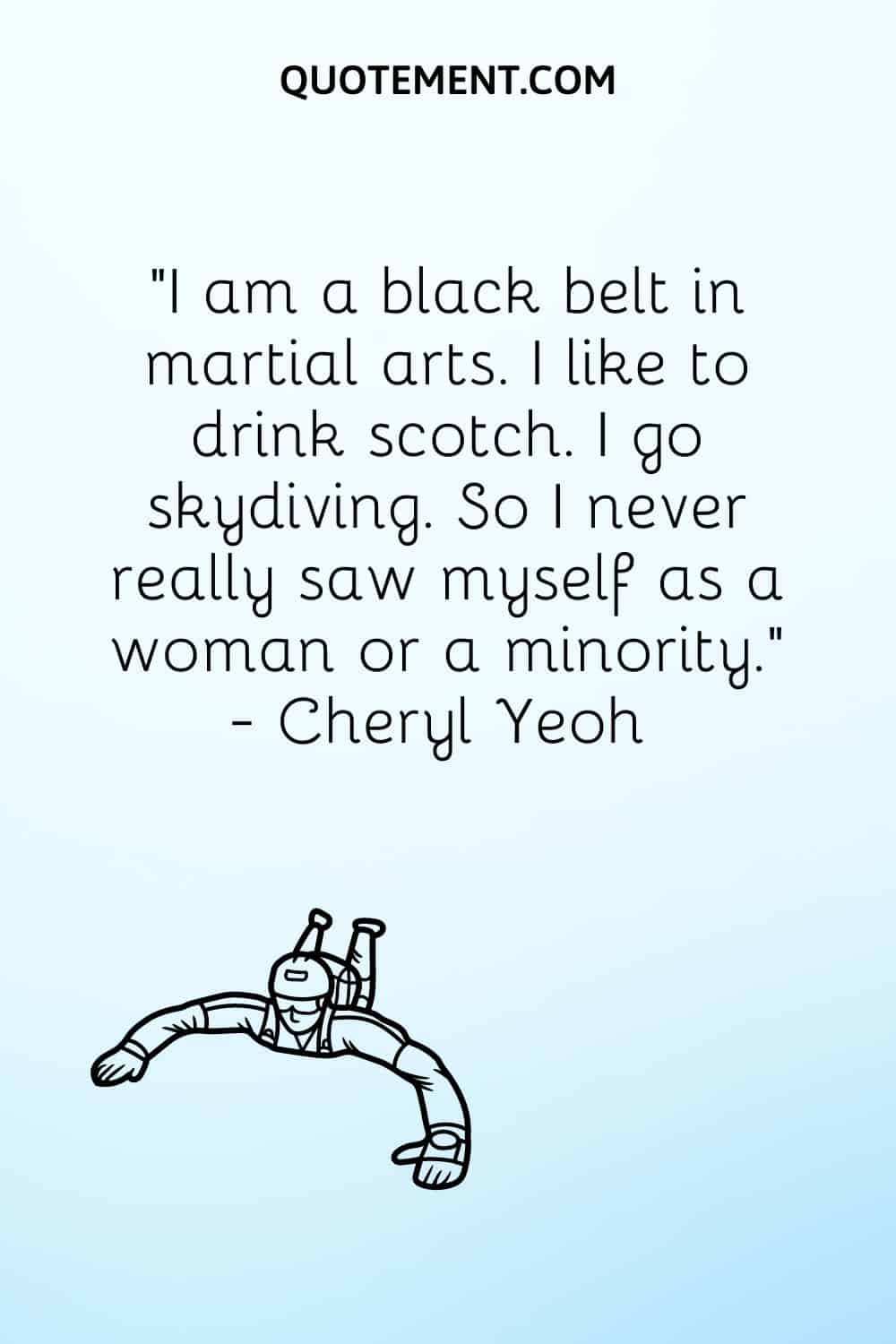 See also: 120 Powerful Martial Art Quotes To Inspire & Motivate You
Funny Skydiving Quotes
Take a look at these hilarious skydiving quotes.
1. "You do not need a parachute to skydive. You need a parachute to skydive twice." — unknown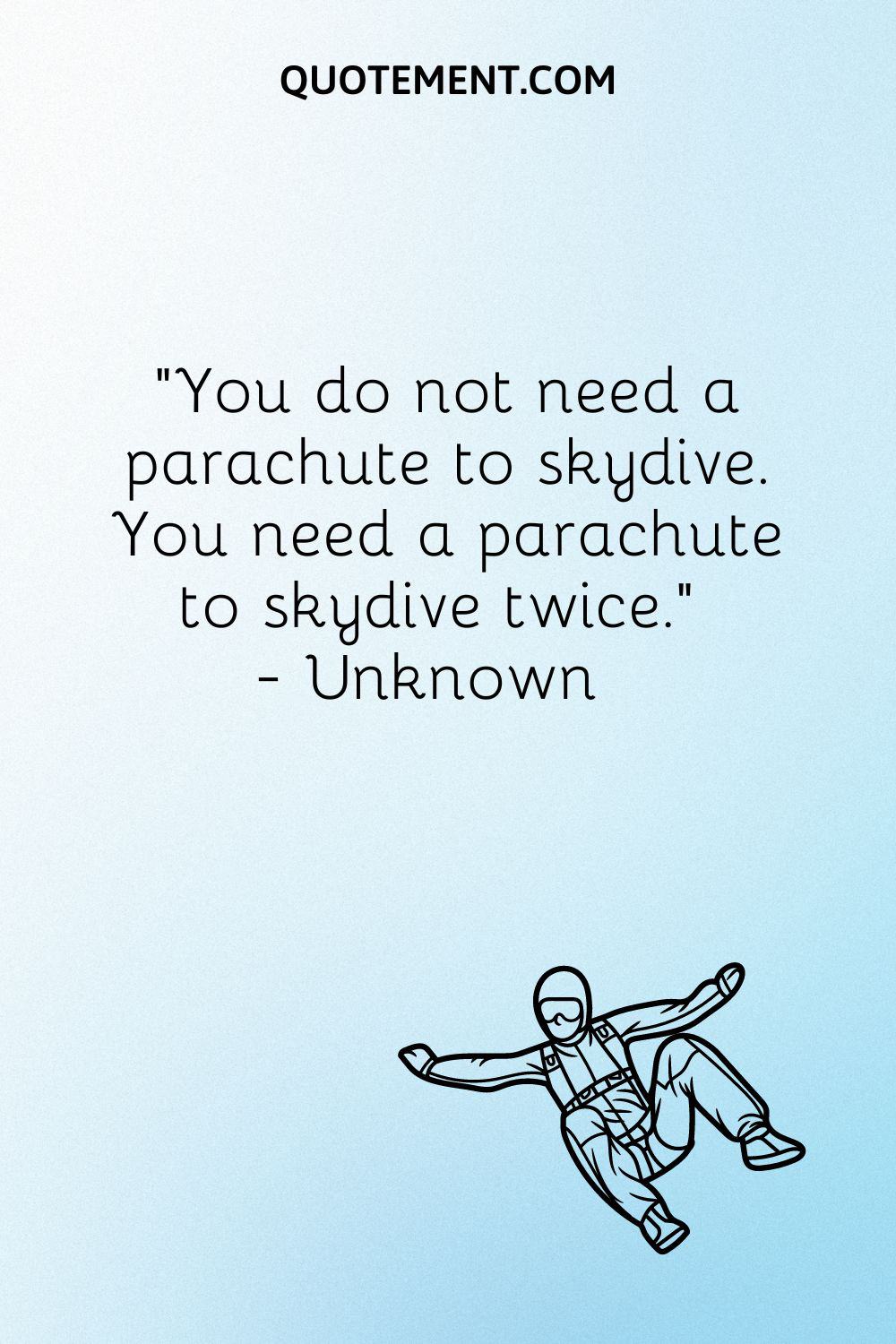 2. "If at first, you don't succeed, skydiving is not for you." — Steven Wright
3. "If skydiving were safe, the parachute center would not require you to sign a waiver." — Dan Poynter
4. "I suspected skydiving was dangerous when they asked me to sign a waiver. They confirmed my suspicions when they asked me to pay in advance." — unknown
5. "When the people look like ants pull! When the ants look like people, pray." — Frosty Woolridge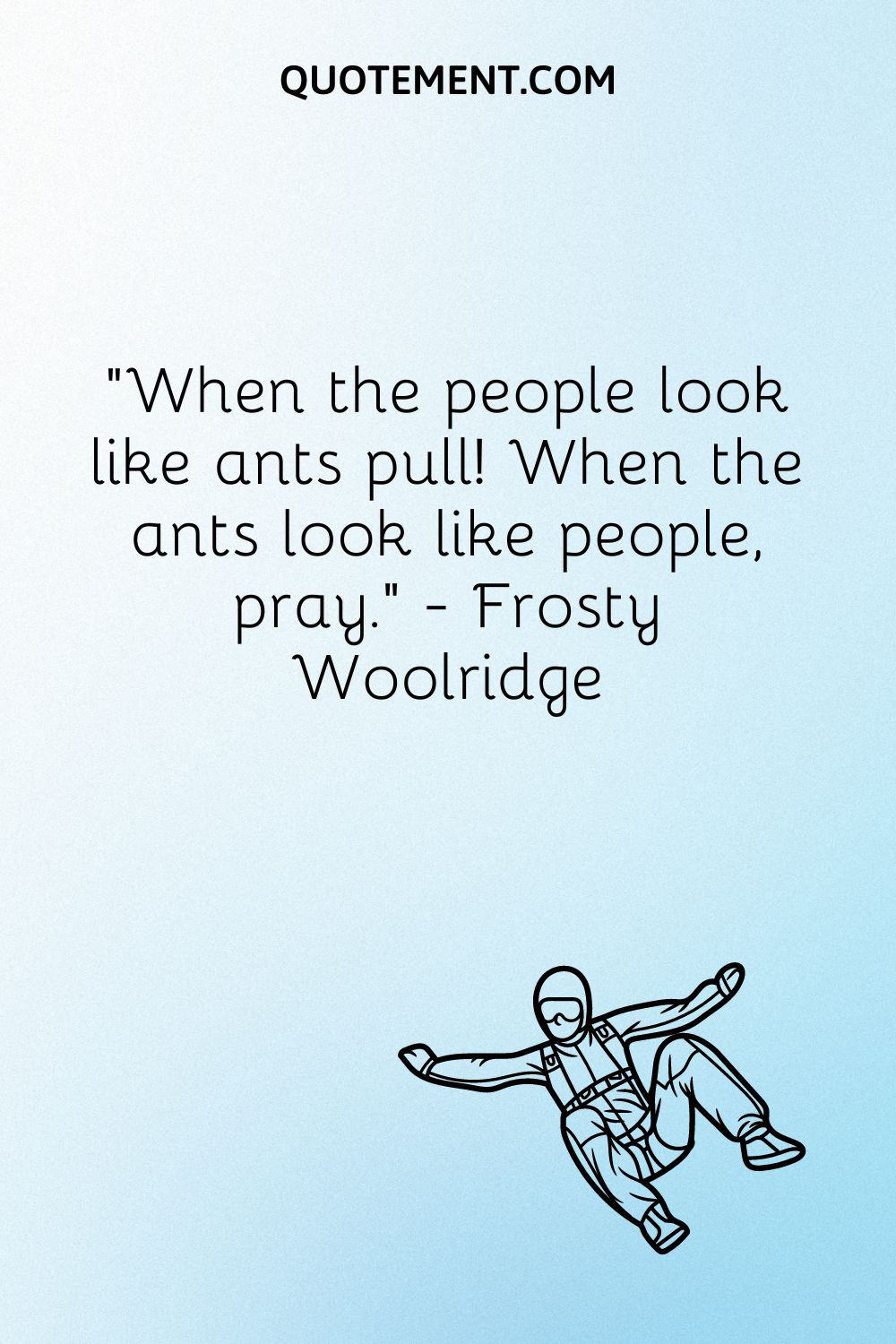 6. "Some guy once told me that skydiving is like cutting your throat and seeing if you can get to the doctor before you bleed to death." — Brock Yates
7. "Skydiving is another great activity where your main goal is to Not Die." — unknown
8. "How does a blind parachutist know when to open his chute? When the lead on his guide dog goes slack." — unknown
9. "Skydiving is a rather safe affair, provided you have a parachute." — Nicholas J. Nigro
10. "I've never been skydiving, but I have zoomed in on Google Earth really fast." — unknown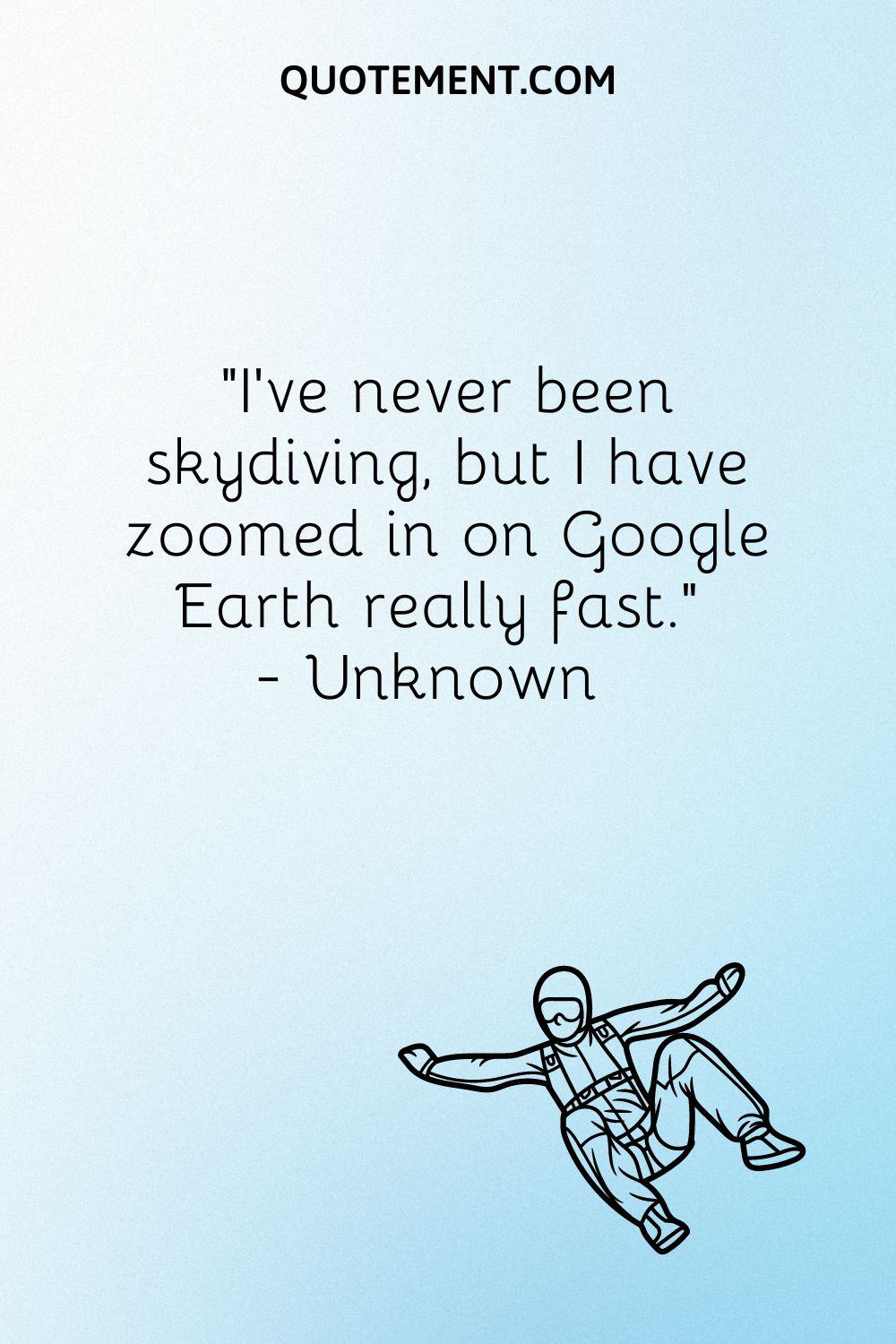 11. "Both optimists and pessimists contribute to our society. The optimist invents the airplane and the pessimist the parachute." — Gil Stern
12. "Any idiot can fly a plane, but it takes a special kind of idiot to jump out of one." — unknown
13. "Sometimes, when we talk about the potential for aviation growth, we like to say the sky is the limit. But the sky is not the limit. The ground is." — Alan S. Boyd
14. "Most sports only need one ball. Mine takes both. Skydive!" — unknown
15. "What's the point of a helmet in skydiving, in case you land on your head?" — Joel Hodgson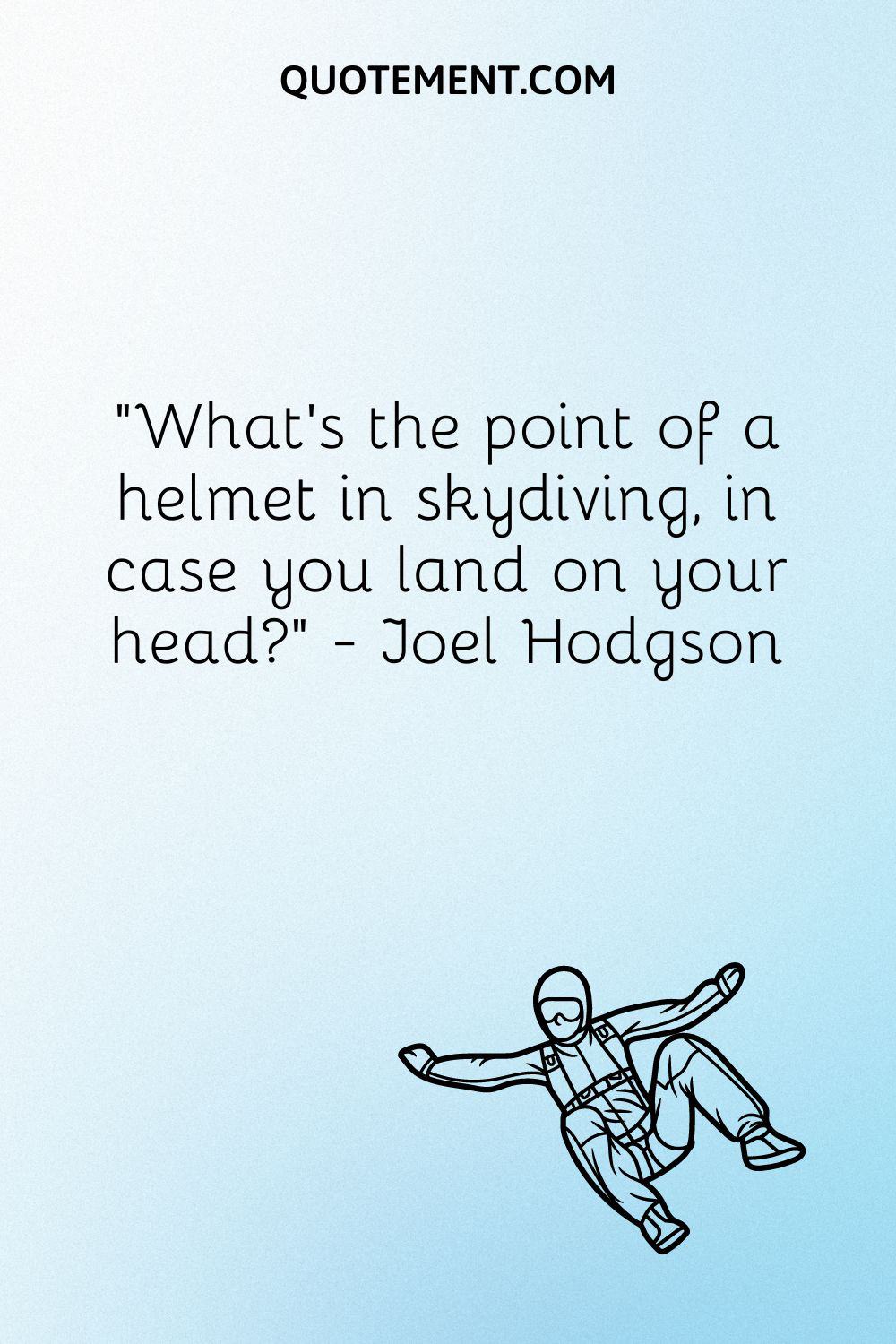 Famous Skydiving Quotes
Below you'll find a selection of famous skydiving quotes from those who have tried it.
1. "My time on this world is limited, but the things I can do with that time are not." — Jeb Corliss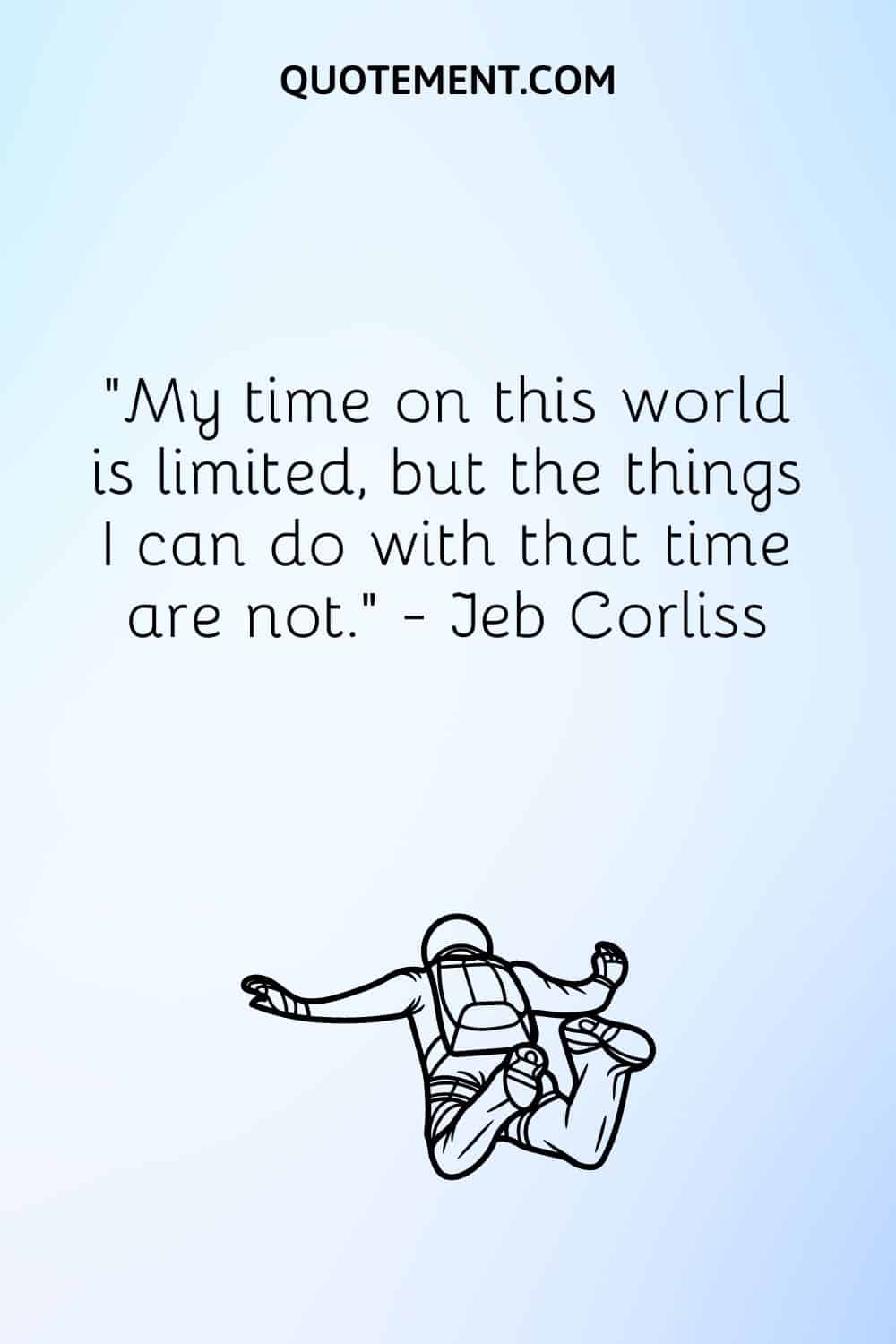 2. "Fighting, for me, is like skydiving without the parachute." — Anderson Silva
3. "How do you clear your head? A relaxing bath? A strong cup of coffee? A brisk walk? How about jumping out of an aeroplane at 10,000 metres?" — Dominic Utton
4. "Normally, when I skydive, even in winter, I wear very thin gloves. I want to be flexible, with fast reactions." — Felix Baumgartner
5. "Devote today to something so daring even you can't believe you're doing it." — Oprah Winfrey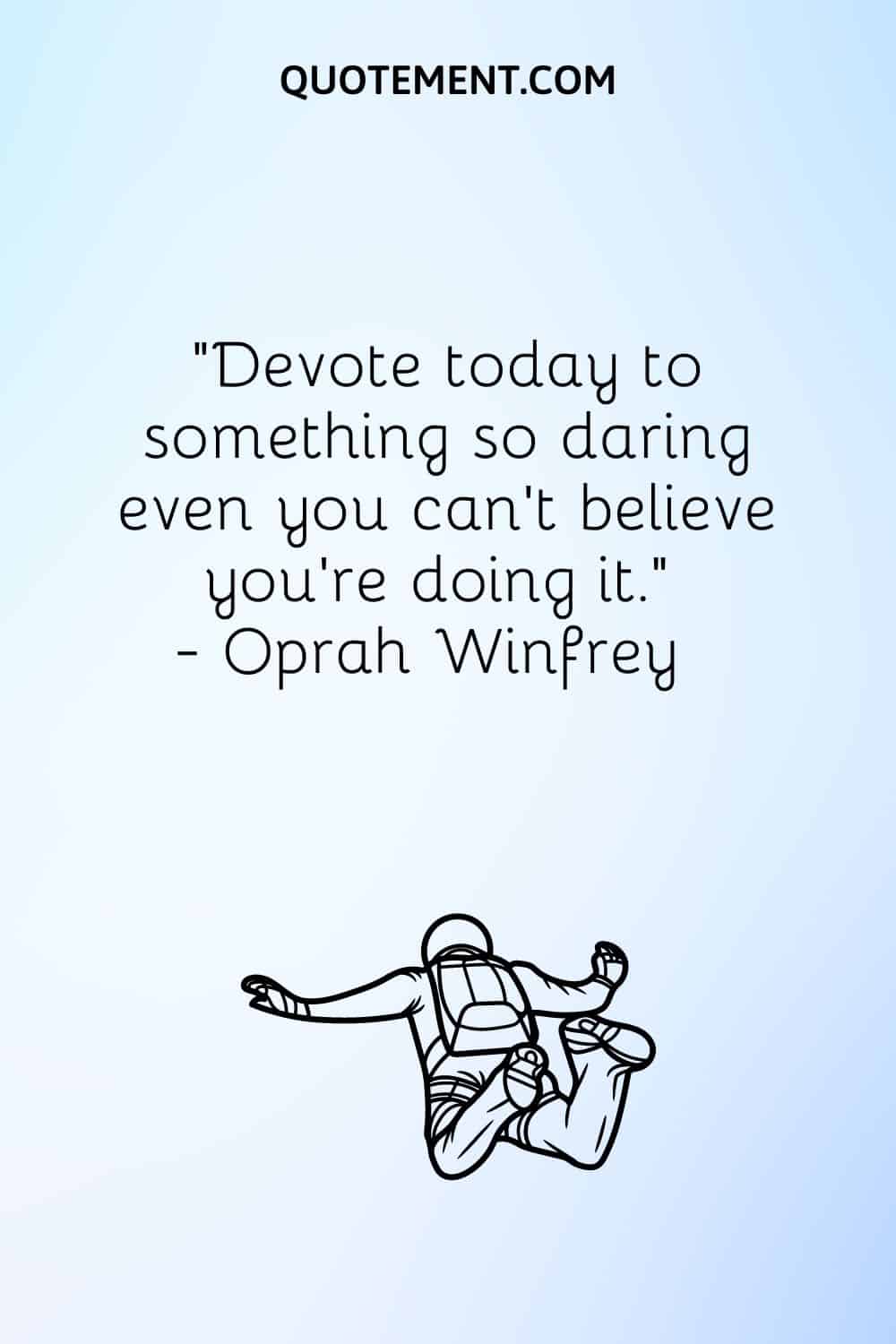 6. "I was a pilot and flying hang gliders, paragliders, aerobatics airplanes, and then I discovered skydiving. Free fall. Free. With nothing around you, just a parachute on your back. And you go down. But you don't feel like you're going down. Total freedom." — Yves Rossy
7. "I would've never dreamt that my skydive would trigger such gushing enthusiasm. I still don't really understand exactly what I've accomplished, although I always suspected it would be a truly spectacular moment." — Felix Baumgartner
8. "Skydiving is like making love to the world." — Fausto Brizzi
9. "Oh, I've done bungee jumping. Skydiving, I have motorcycles that I ride. I'm a little bit of an adrenaline junkie in that way." — Zachary Levi
10. "It's gloriously adrenaline-charged, it's airborne, and it's challenging for even an accomplished athlete." — Spenser Mestel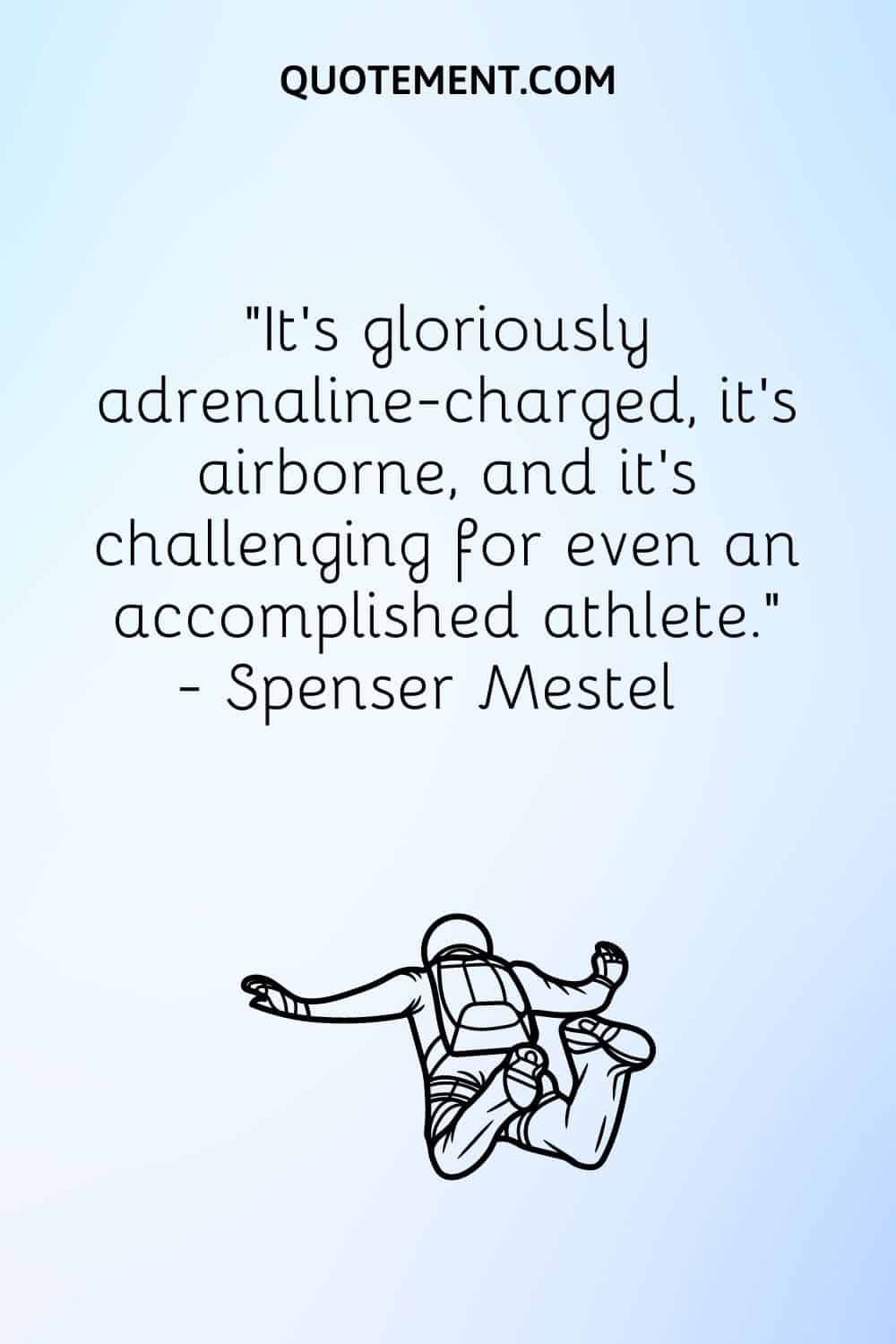 11. "People always ask me if skydiving is safe and all that. People die skydiving. Everybody knows that. It's not a secret. People have died skydiving. We try to take out the risk as much as we can, and we have done it safely for seven years on this island. Of 7,000 people I have taken up, three people rode the airplane down." — Frank Shisler
12. "Skydiving is a risky sport. Most of the skydivers that you know have had some incidents. It's like everything else. You fall at hockey, get up, keep playing. Keep going again." — Bob Verret
13. "In skydiving, it is the fear response that gradually weakens. During the precipitous descent, the amply tested parachutist can savor the thrill rather than endure the panic." — Dean Keith Simonton
14. "I find skydiving really hard. I broke my back while skydiving when I was in the military, and for 18 months, all my nightmares were about falling." — Bear Grylls
15. "It is one thing to be in the proximity of death, to know more or less what she is, and it is quite another thing to seek her." — Ernest Hemingway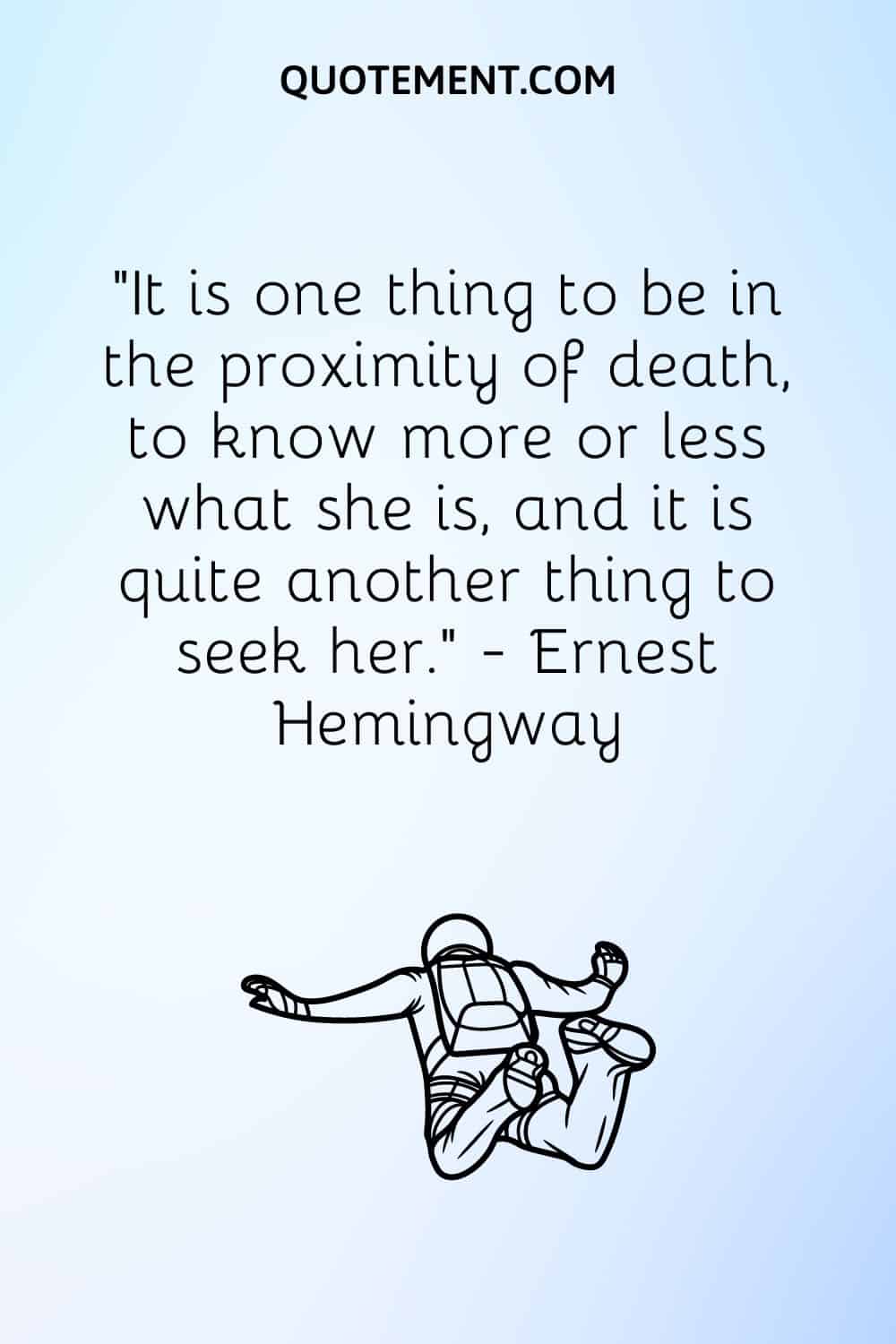 16. "I can be a little bit outrageous. I can be a lot of things. I'm a bit of an adrenaline junkie, so I love to go out there and do kind of crazy stuff which is slightly outrageous, like bungee jumping, skydiving, surfing, and that sort of stuff. But I also like to just chill with my friends and go and see movies and do normal things." — Orlando Bloom
17. "What excites me is danger! I like to do daring things. I've bungee jumped three times. The only thing I haven't tried is skydiving." — Damon Wayans, Jr.
18. "I want to go skydiving. I'd love to go to the Galapagos. Nature still excites me." — Wayne Knight
19. "I took my fear to literal heights and went skydiving over a year ago. It was in that moment, gazing over the precipice of the plane when I realized what scared me the most, the unknown." — Kathryn Budig
20. "Some people have the courage to bungee jump or even skydive, yet they lack the courage to work for themselves." ― Mokokoma Mokhonoana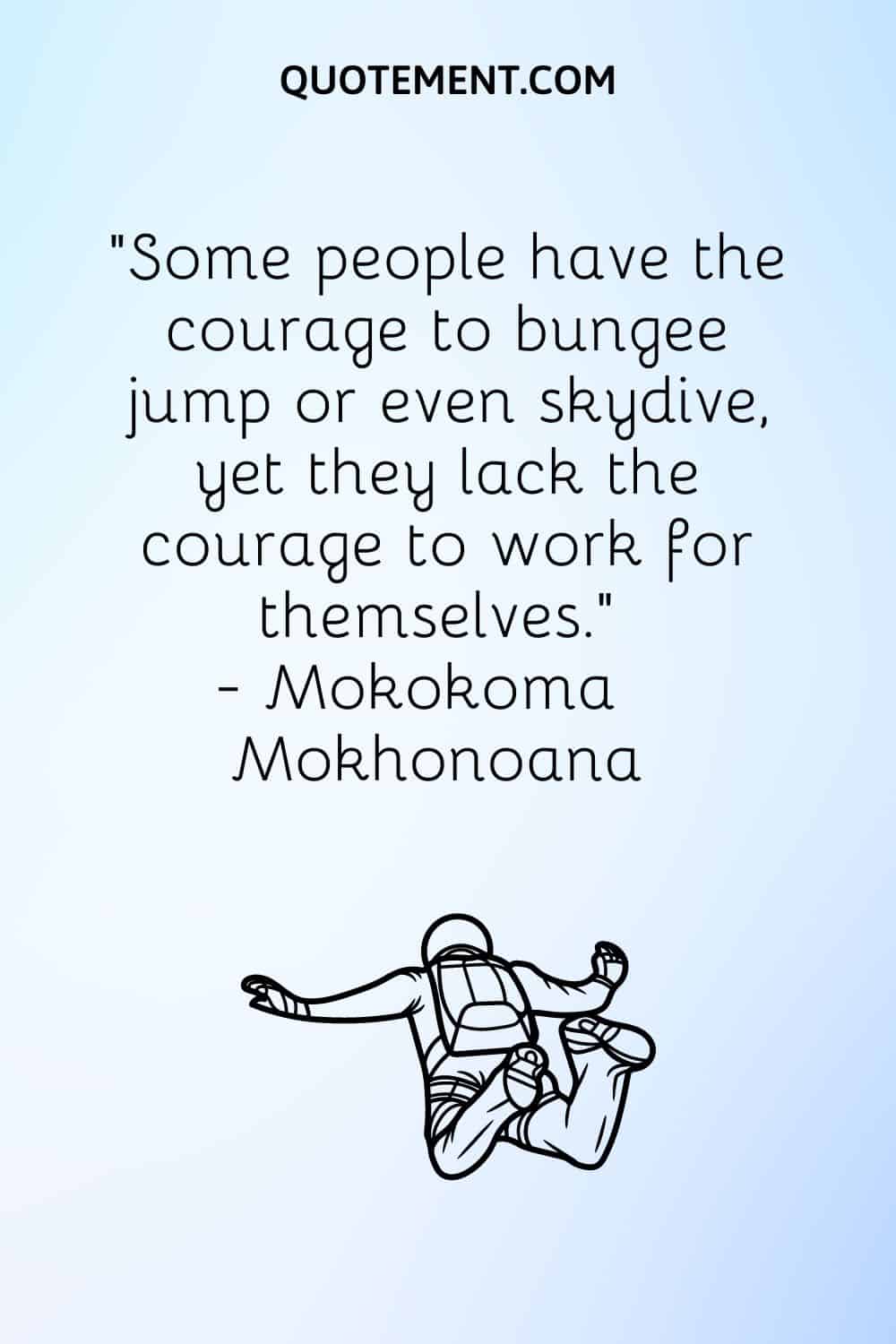 21. "Once you have tasted flight, you will forever walk the earth with your eyes turned skyward, for there you have been, and there you will always long to return." — Leonardo de Vinci
22. "The thrill starts as the student walks across the airfield for the first skydiving flight. This is it – the adventure begins." — Tony Norman
23. "There really should be a legal requirement for skydiving customers to be fully informed about the age and failure history of the parachute that they are using prior to the jump." ― Steven Magee
24. "Twenty years from now, you will be more disappointed by the things that you didn't do. So throw off the bowlines. Sail away from the safe harbor. Catch the trade winds in your sails. Explore. Dream. Discover." — Mark Twain
25. "There is an art … or rather, a knack to flying. The knack lies in learning how to throw yourself at the ground and miss." — Douglas Adams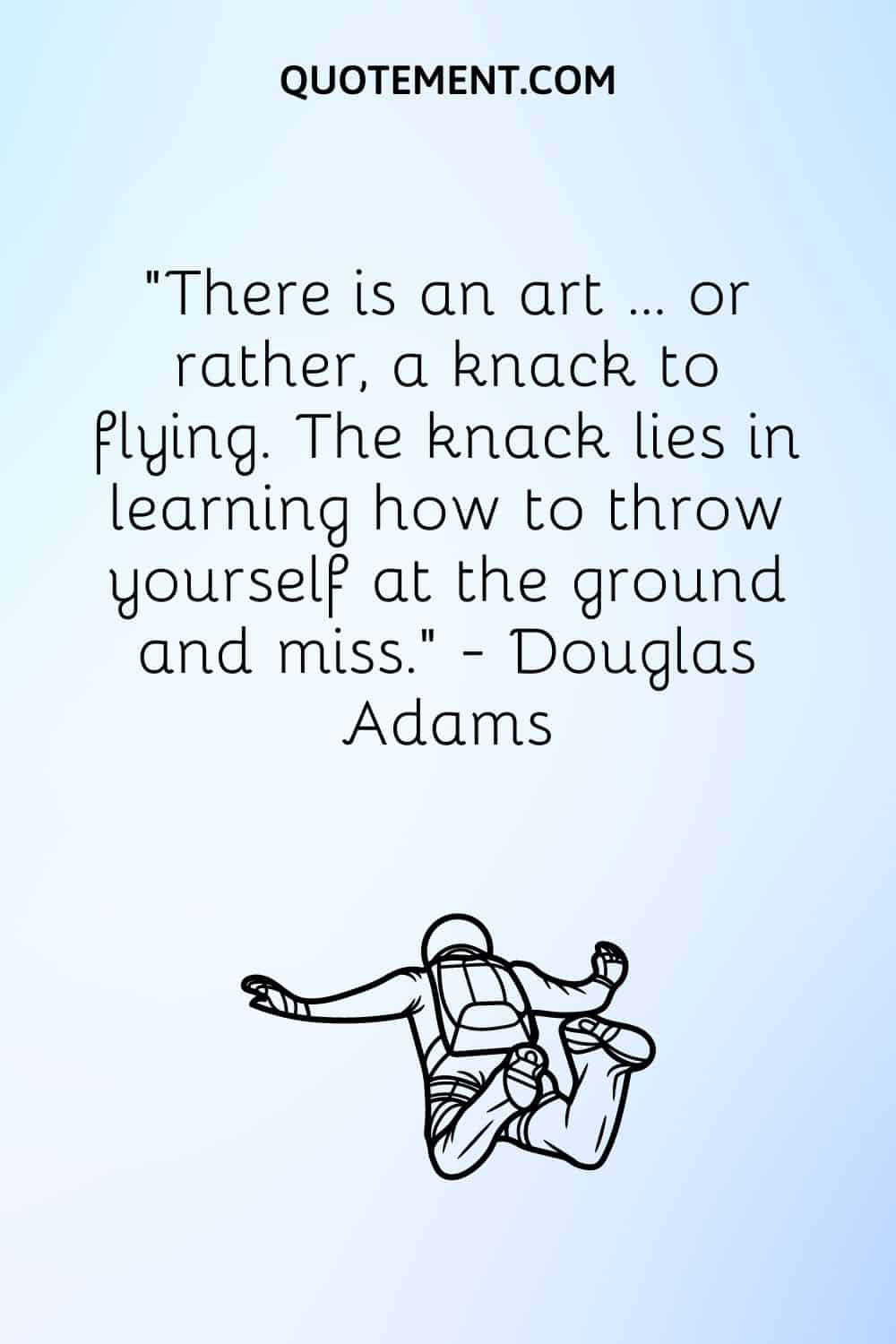 See also: 120 Inspirational Art Quotes To Awaken The Divine In You
In Conclusion
I hope you enjoyed the article and all the skydiving quotes you found here.
Until next time!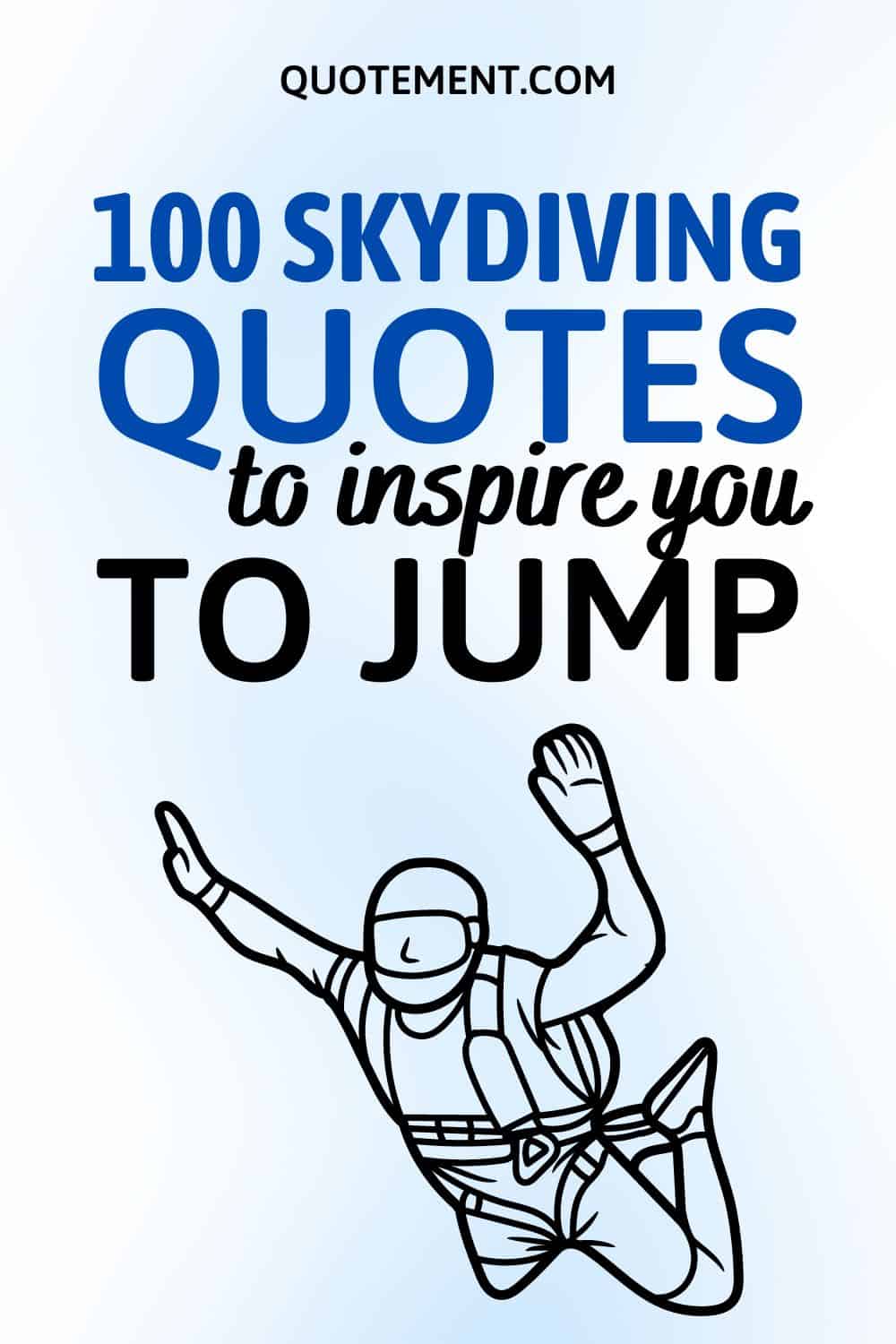 Emily Grant
A writer and poet at heart, Emily Grant has a talent for weaving words together in a way that inspires and delights. Her quotes reflect her love of nature, her appreciation for the simple things in life, and her optimistic outlook on the world.
Related posts