Sometimes, a flower is all we need to bring some sunshine into a cloudy day.
I've prepared 130 short flower quotes for today's article to remind you that beauty is everywhere and happiness is just one flower away.
I've gathered some of the most inspirational short flower quotes from different sources on the web you can use to add some magic and positivity to your day.
You can use them as Instagram captions when you decide to share a flower photo, you can share them with your friends, or simply use them for your inspiration.
Let's take a look!
Top 10 Short Flower Quotes
I've found plenty of amazing and inspirational quotes about flowers online, but these short flower quotes are my favorite.
1. "A flower does not think of competing with the flower next to it. It just blooms." — Zen Shin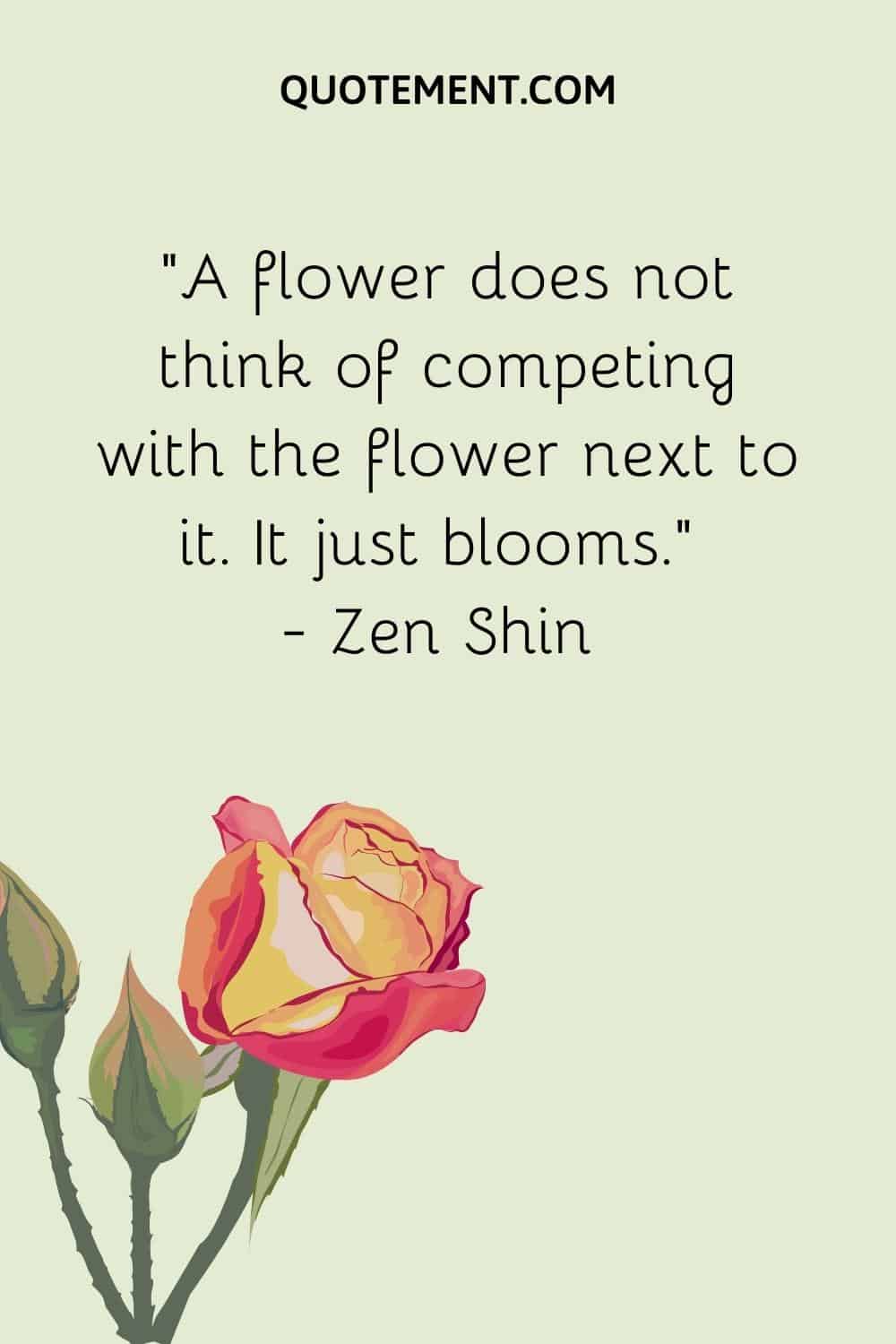 2. "Every flower blooms in its own time." — Ken Petti
3. "Every flower is a soul blossoming in nature." — Gerard De Nerval
4. "To plant a garden is to believe in tomorrow." — Audrey Hepburn
5. "Weeds are flowers too, once you get to know them." — A.A. Milne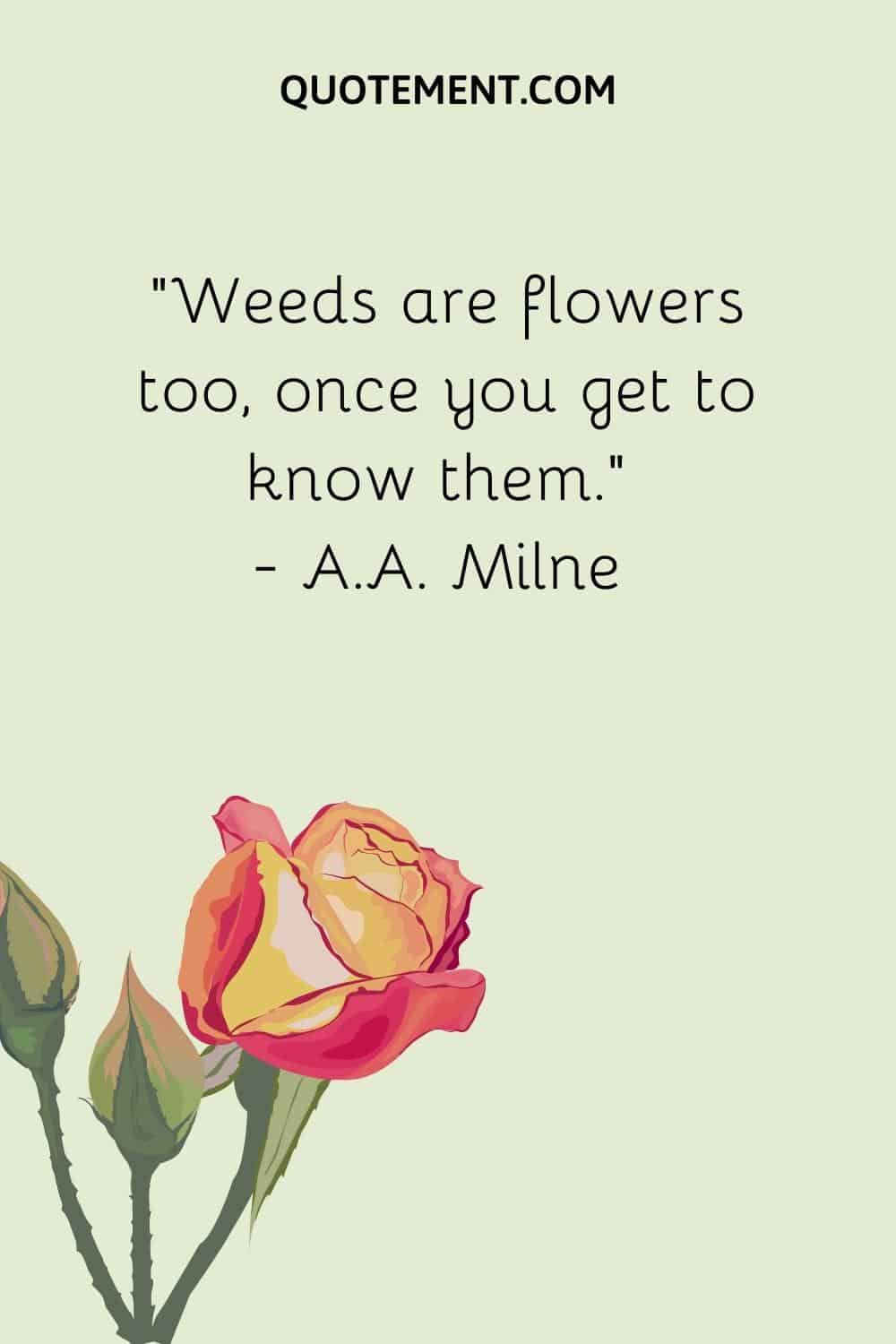 6. "Flowers grow out of dark moments." — Corita Kent
7. "There are always flowers for those who want to see them." — Henri Matisse
8. "You can cut all the flowers, but you cannot keep spring from coming." — Pablo Neruda
9. "When a flower doesn't bloom, you fix the environment in which it grows, not the flower." ― Alexander Den Heijer
10. "If you enjoy the fragrance of a rose, you must accept the thorns which it bears." — Isaac Hayes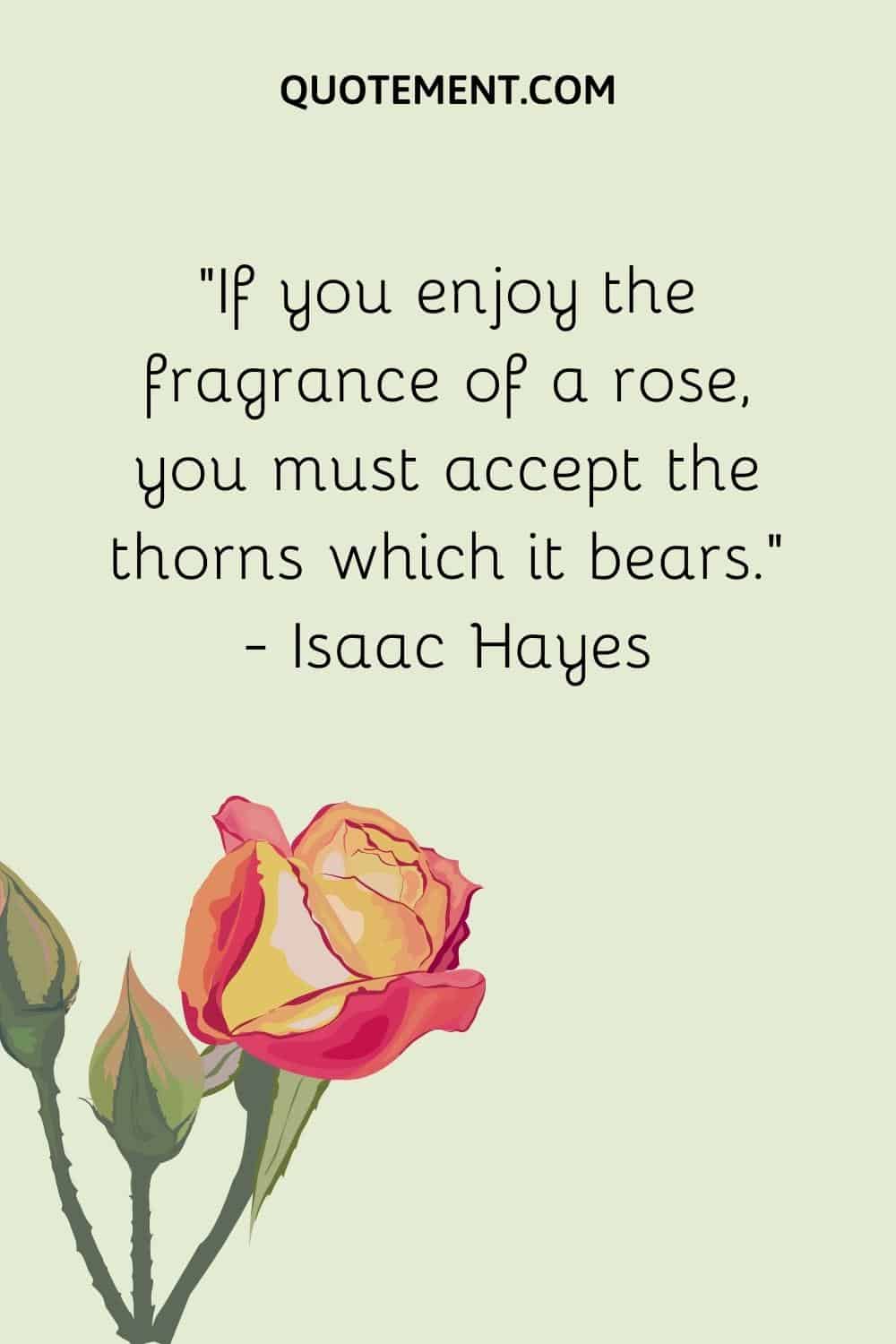 See also: 290 Beautiful Rose Captions For Instagram To Inspire You
Cute Short Flower Quotes
next chapter is all about cute, short flower captions. Check them out!
1. "Spring unlocks the flowers to paint the laughing soil." — Reginald Heber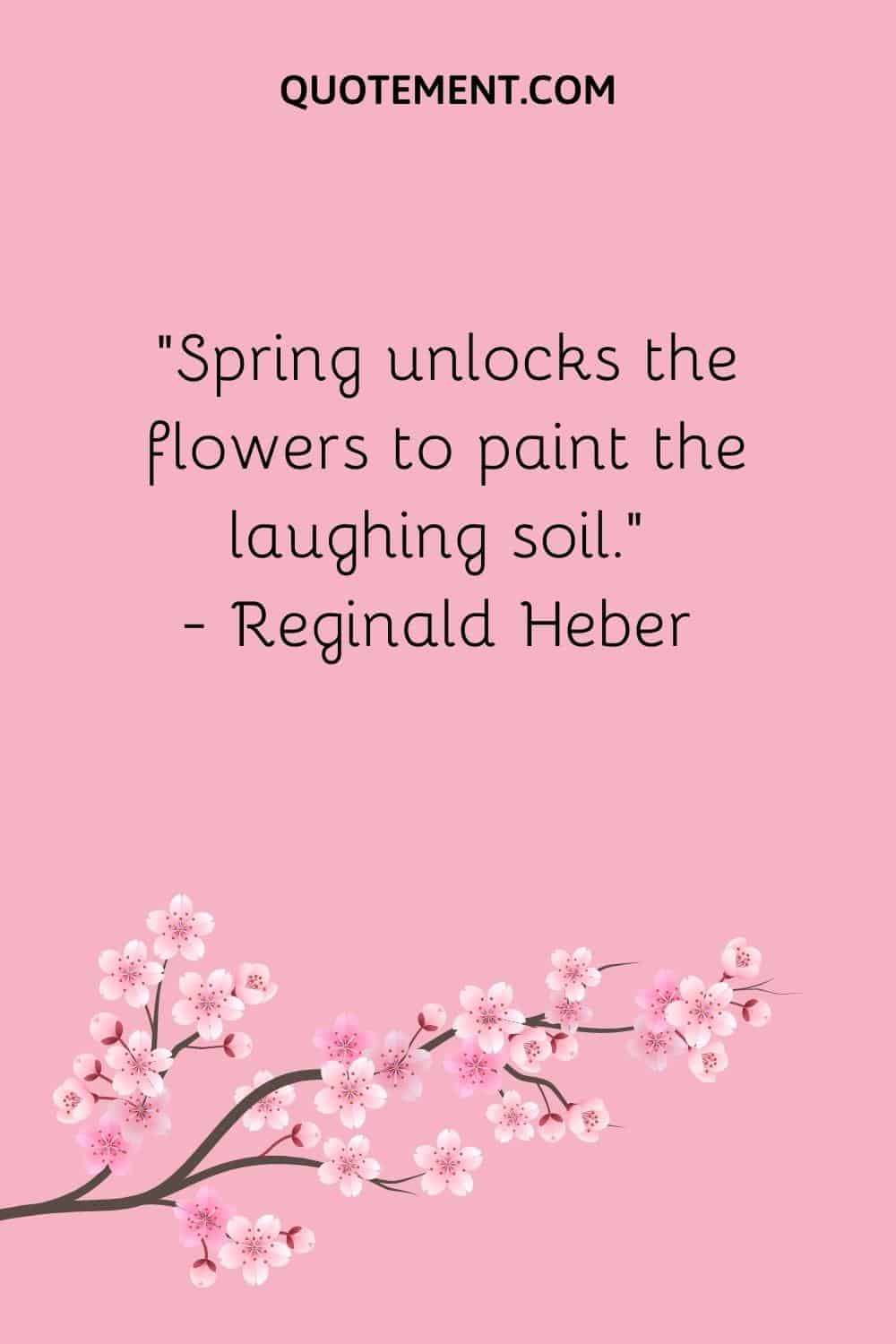 2. "Flowers always make people better, happier, and more helpful." — Luther Burbank
3. "The flower that follows the sun does so even in cloudy days." — Robert Leighton
4. "I must have flowers, always and always." — Claude Monet
5. "Flowers are the music of the ground. From earth's lips spoken without sound." — Edwin Curran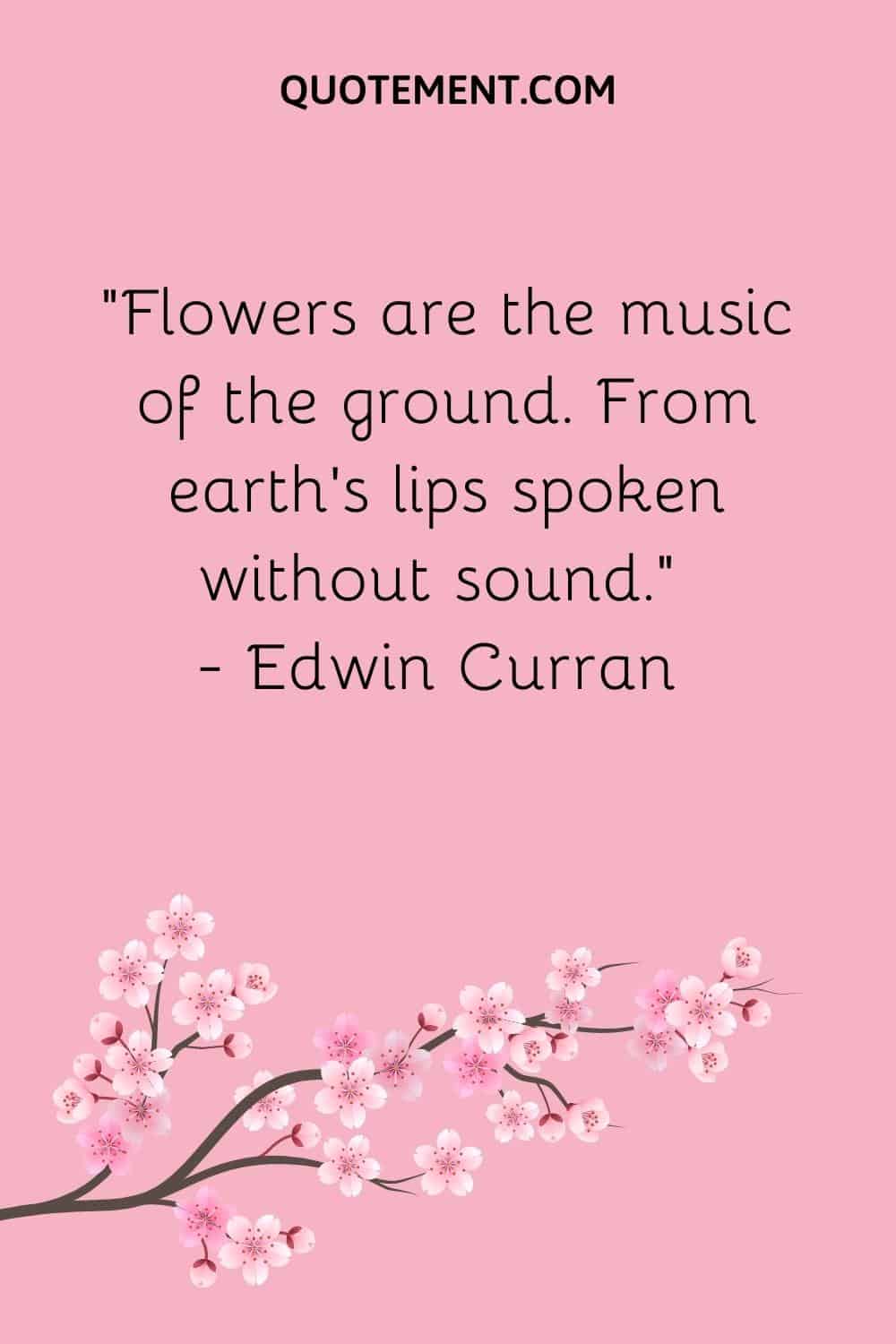 6. "All the flowers of the tomorrows are in the seeds of today." — Indian Proverb
7. "If we could see the miracle of a single flower, clearly our whole life would change." — Buddha
8. "Don't hurry, don't worry. And be sure to smell the flowers along the way." — Walter Hagen
9. "Flowers are the sweetest things God ever made and forgot to put a soul into." — Henry Ward Beecher
10. "If you tend to a flower, it will bloom, no matter how many weeds surround it." — Matshona Dhliwayo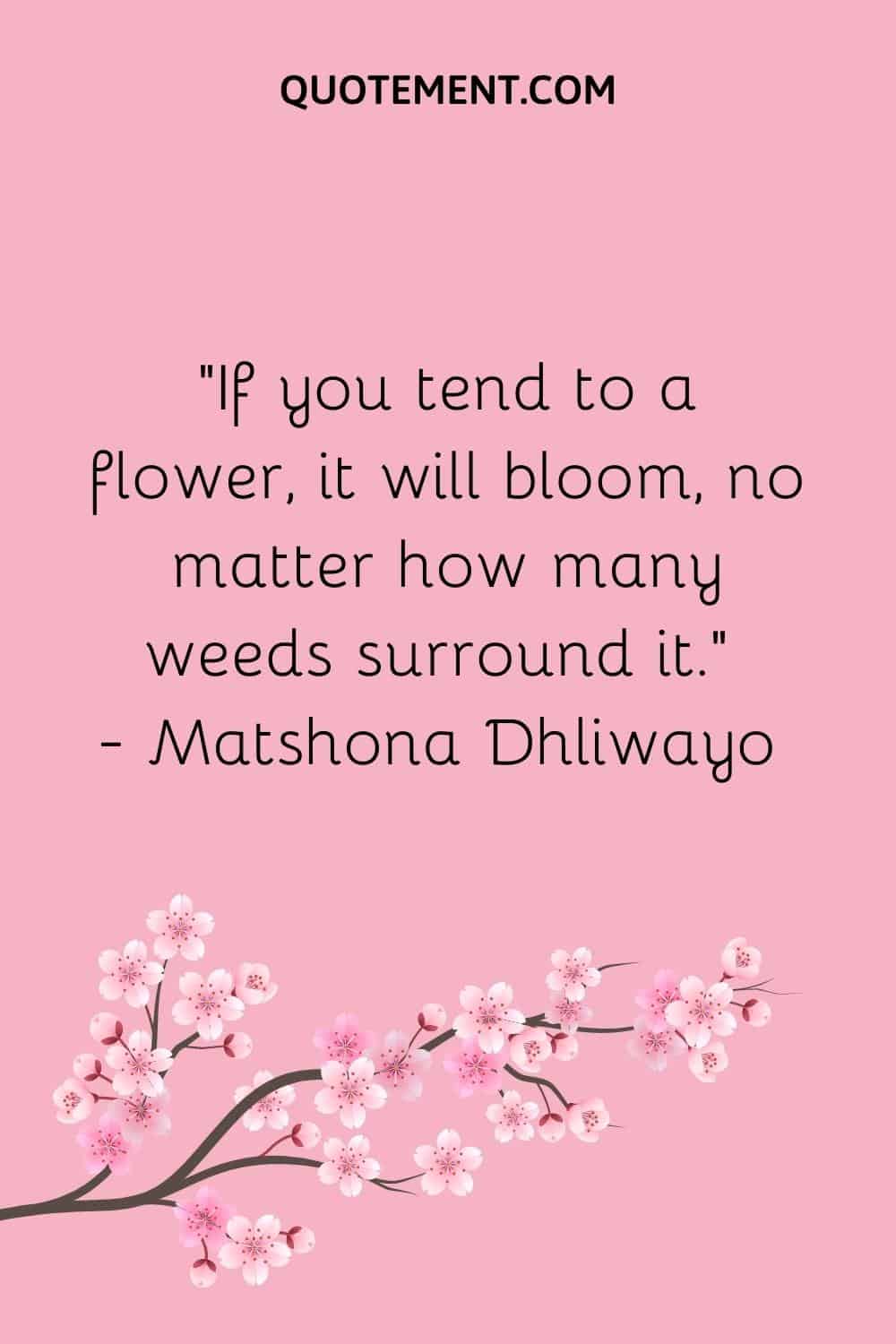 11. "A weed is no more than a flower in disguise, which is seen through at once if love gives a man eyes." — James Russell Lowell
12. "Joy can spring like a flower even from the cliffs of despair." — Anne Morrow Lindbergh
13. "A simple white daisy. The plainest of flowers, perhaps the purest" ― J.R. Tompkins
See also: 130 Lovely Daisy Quotes To Cherish Its Power And Beauty
14. "Flowers seem intended for the solace of ordinary humanity." — John Ruskin
15. "What a strange thing! To be alive, beneath cherry blossoms." — Kobayashi Issa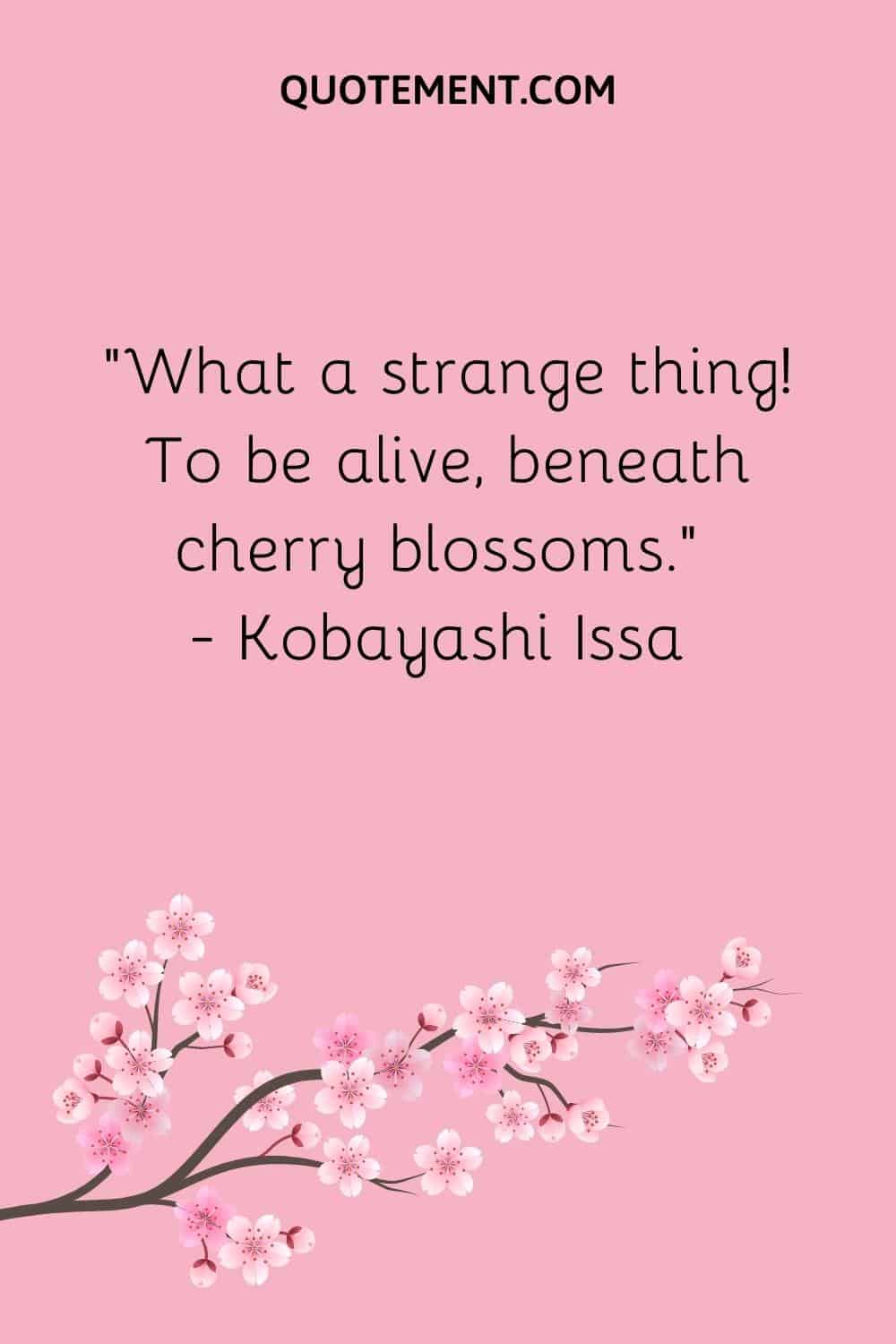 See also: 80 Best Cherry Blossom Quotes To Celebrate Perpetual Beauty
Catchy Short Flower Quotes
Whether you're looking for short flower quotes for your social media or you want to impress a friend, these catchy short flower quotes will do the job.
1. "Some people wait to get flowers while others grow gardens." — Chris McGeown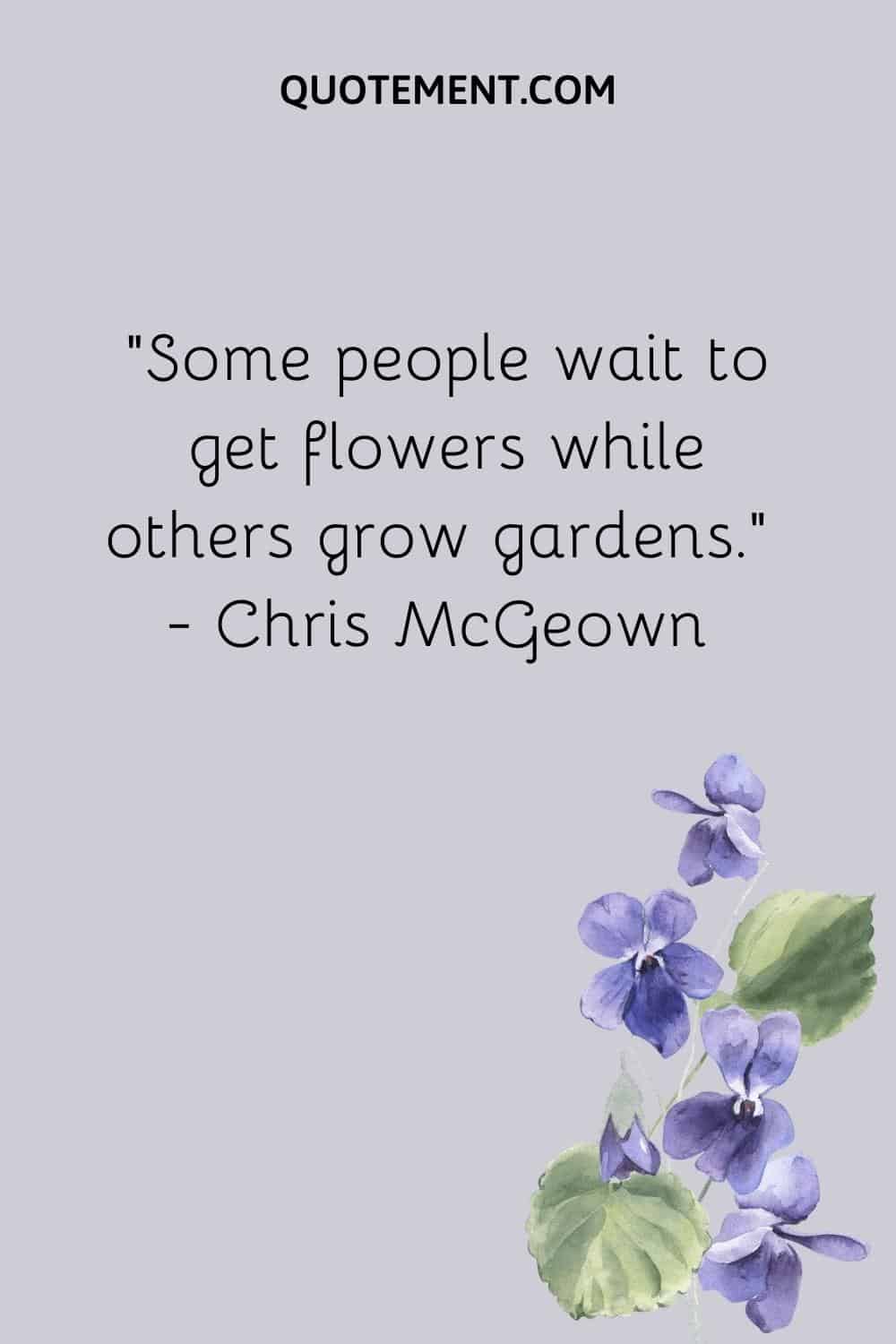 2. "Where flowers bloom, so does hope." — Lady Bird Johnson
3. "Even the tiniest of flowers can have the toughest roots." — Shannon Mullen
4. "If every tiny flower wanted to be a rose, spring would lose its loveliness." — Therese of Lisieux
5. "Minds are like flowers; they open only when the time is right." — Stephen Richards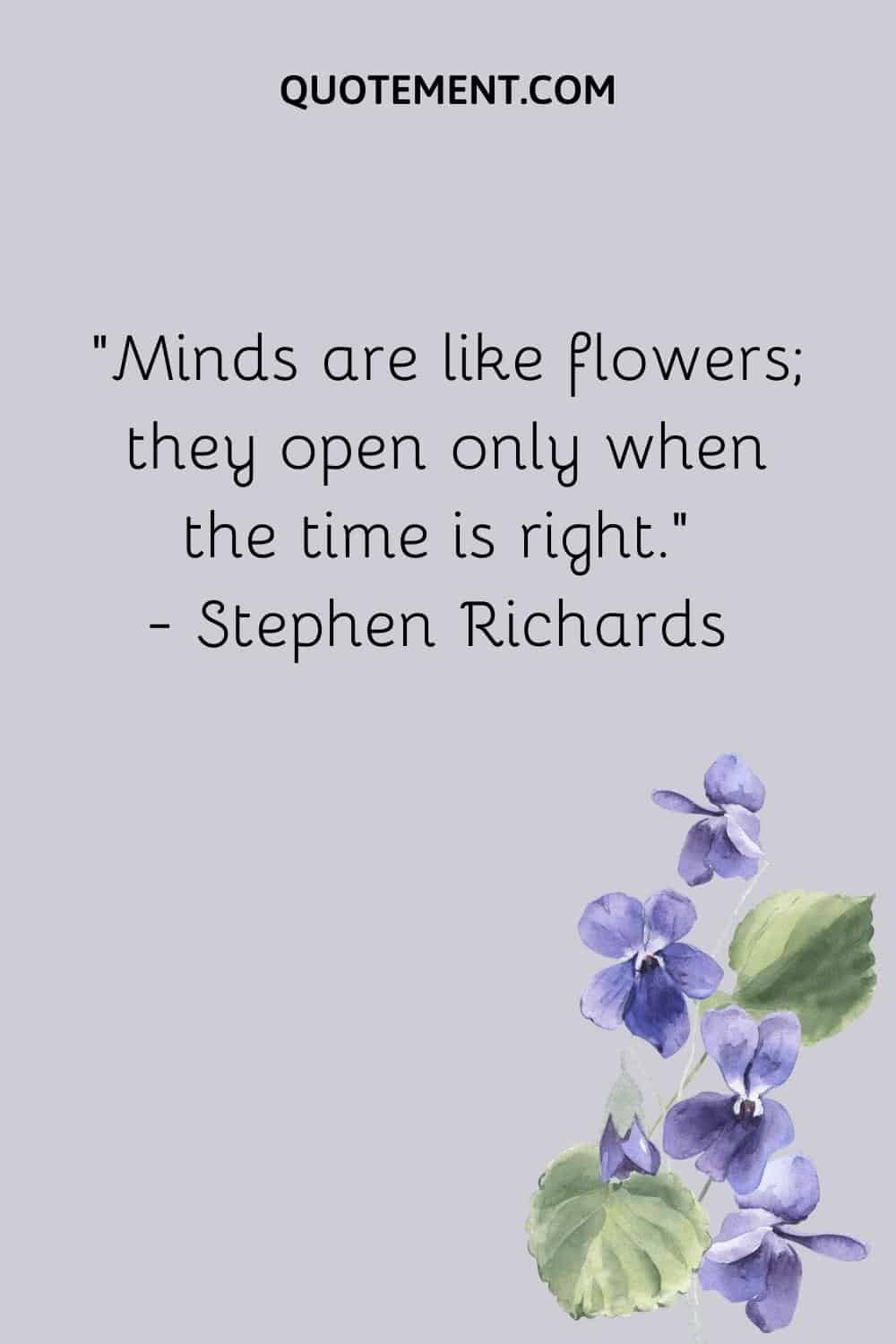 6. "Every flower must grow through dirt." — Laurie Jean Sennott
7. "Flowers whisper 'Beauty!' to the world, even as they fade, wilt, fall." — Dr. SunWolf
8. "I will be the gladdest thing under the sun! I will touch a hundred flowers and not pick one." — Edna St. Vincent Millay
9. "Gardens and flowers have a way of bringing people together, drawing them from their homes." — Clare Ansberry
10. "The violets in the mountains have broken the rocks." ― Tennessee Williams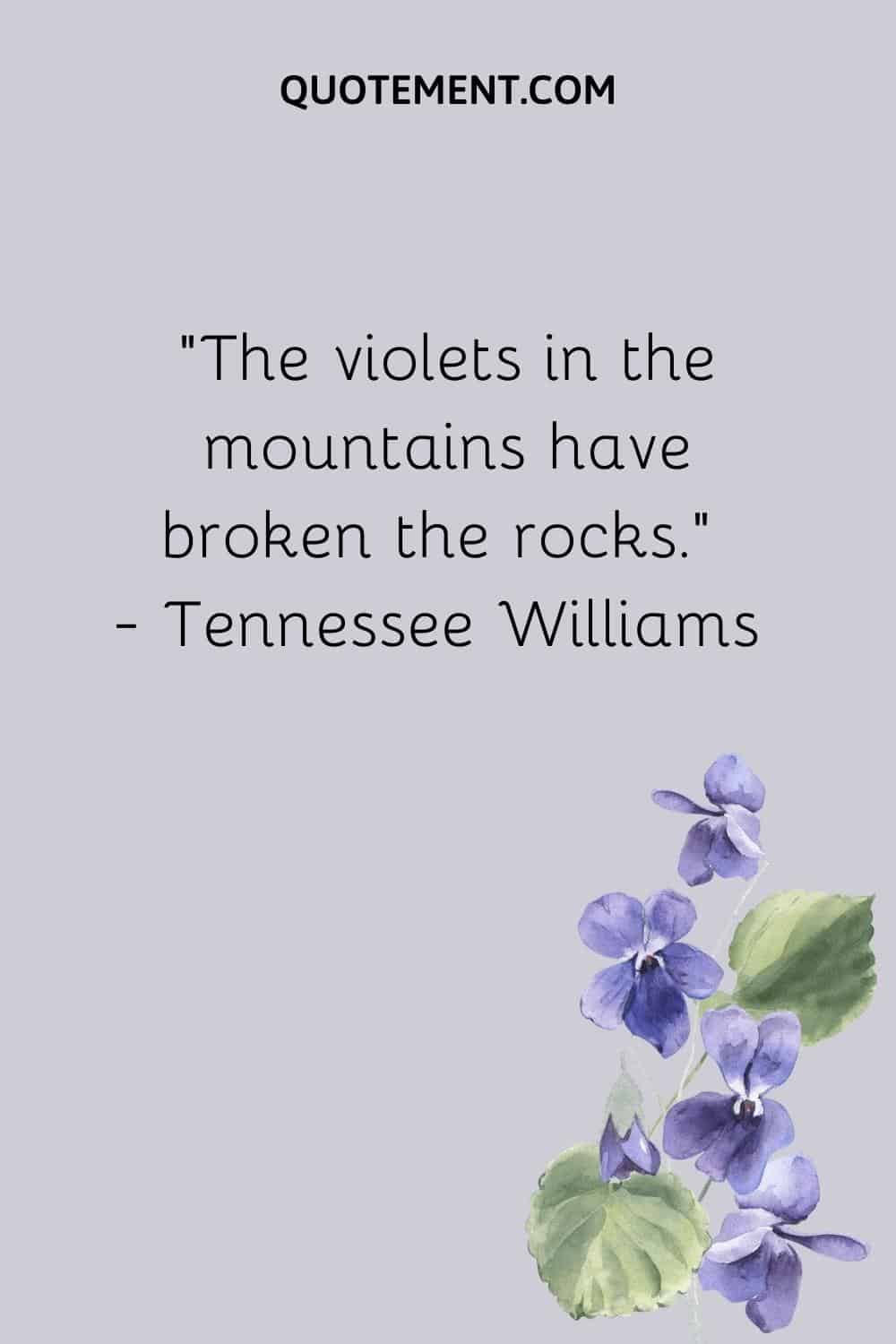 11. "If you take a flower in your hand and really look at it, it's your world for a moment." — Georgia OKeefe
12. "A flower falls, even though we love it; and a weed grows, even though we do not love it." — Dogen
13. "But he that dares not grasp the thorn, should never crave the rose." — Anne Bronte
14. "Many eyes go through the meadow, but few see the flowers in it." — Ralph Waldo Emmerson
15. "Nature does not hurry, yet everything is accomplished." — Lao Tzu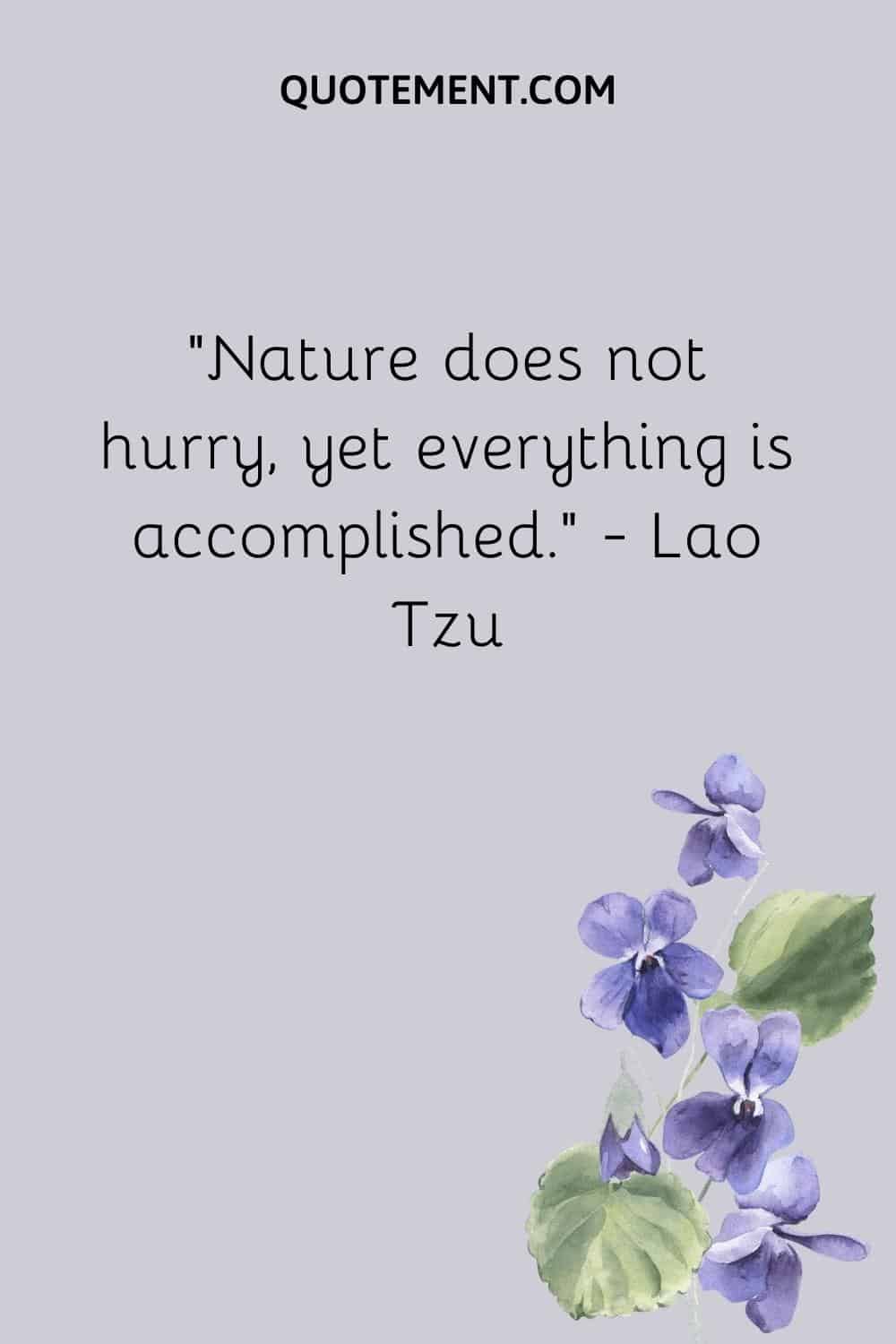 See also: 150 Nature Captions For Instagram For All The Nature Lovers
Beautiful Quotes On Flowers And Love
Check out these beautiful short flower quotes on love.
1. "Love is the flower you've got to let grow." — John Lennon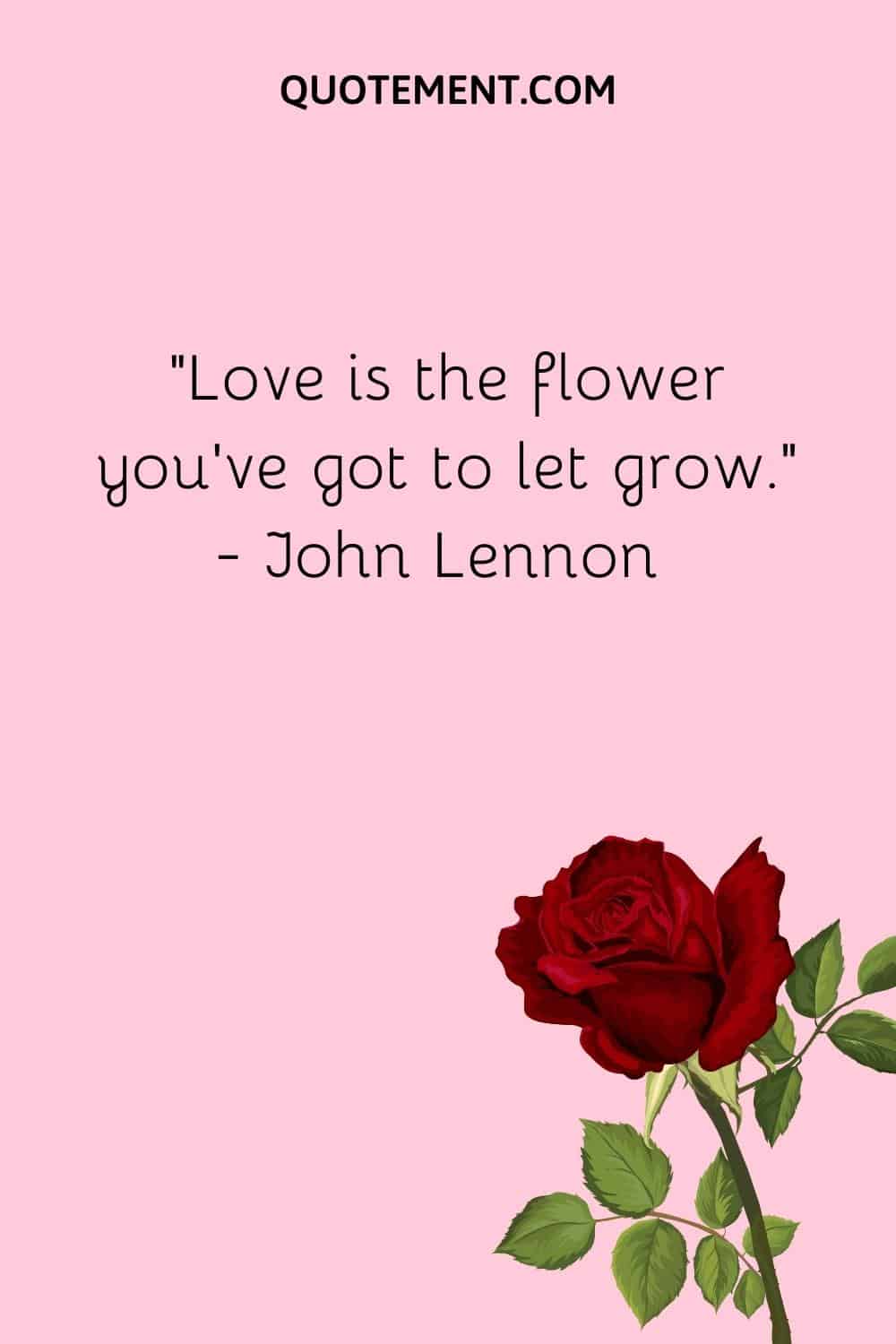 2. "Life is the flower for which love is the honey." — Victor Hugo
3. "A weed is but an unloved flower." — Ella Wheeler Wilcox
4. "She sprouted love like flowers, grew a garden in her mind." — Erin Hanson
5. "Love is flower-like; Friendship is like a sheltering tree." — Samuel Taylor Coleridge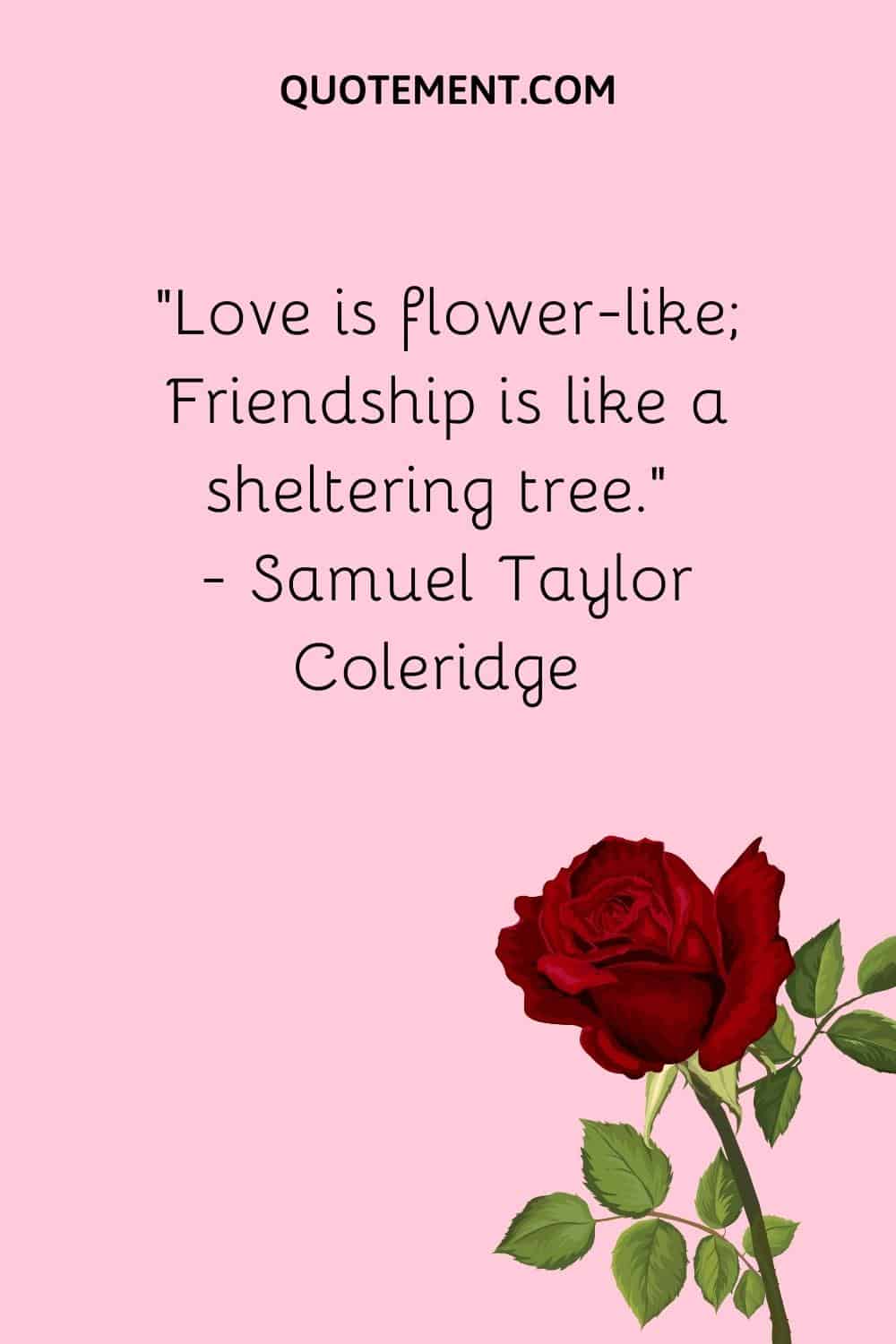 6. "If I had a single flower for every time I think about you, I could walk forever in my garden." — Claudia Adrienne Grandi
7. "A flower's appeal is in its contradictions — so delicate in form yet strong in fragrance, so small in size yet big in beauty, so short in life yet long on effect." — Terri Guillemets
8. "Mama was my greatest teacher, a teacher of compassion, love, and fearlessness. If love is sweet as a flower, then my mother is that sweet flower of love." — Stevie Wonder
9. "Flowers leave some of their fragrance in the hand that bestows them." — Chinese Proverb
10. "Love speaks in flowers. Truth requires thorns." ― Leigh Bardugo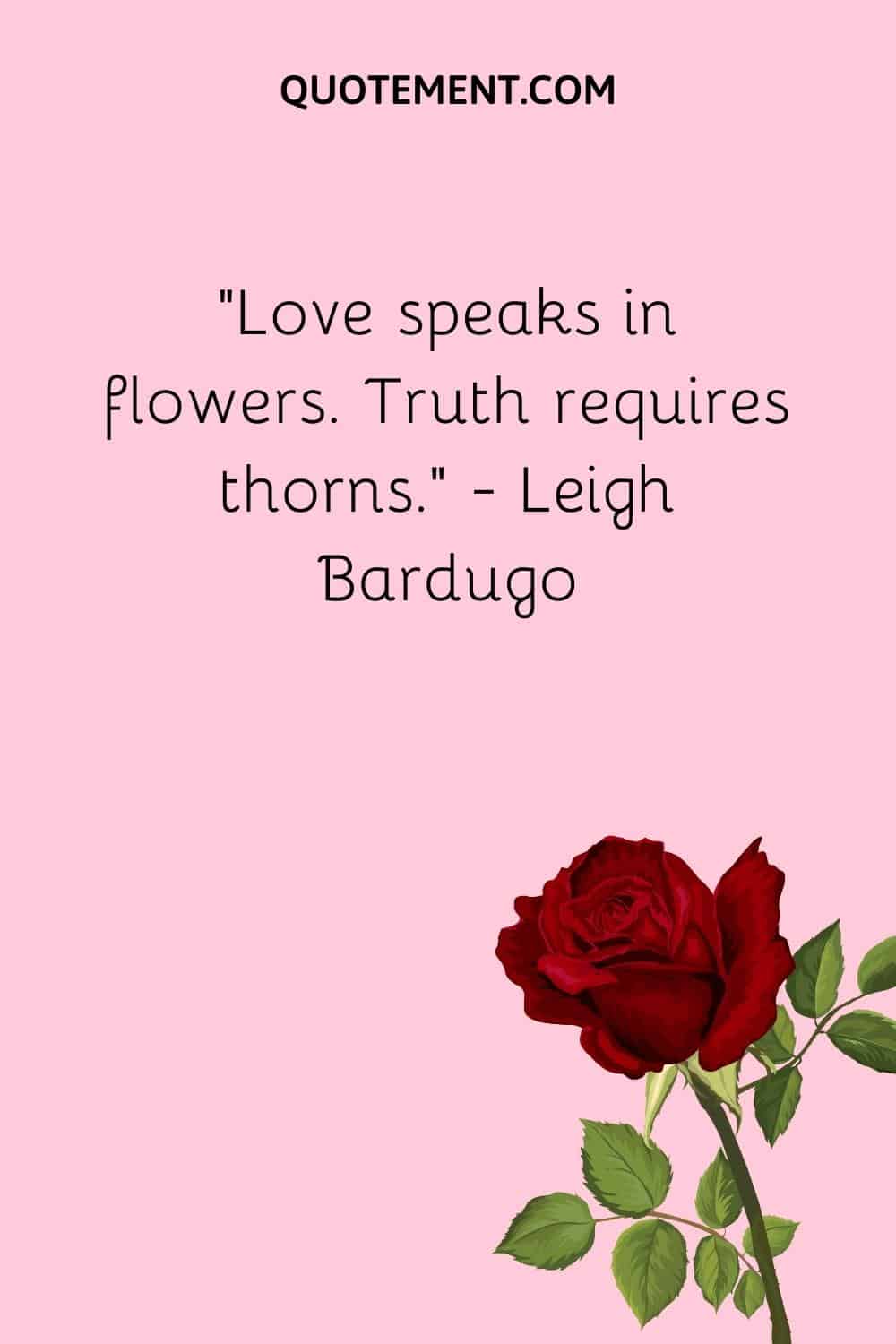 11. "A sunflower teaches us so much about love." — Samrah Ahmad
See also: 250 Unique Sunflower Captions To Spark Your Inspiration
12. "Rough winds do shake the darling buds of May." — William Shakespeare
13. "Humble yourself, and you will find that Love is spreading a carpet of flowers beneath your feet." — Hannah Hurnard
14. "May those whose hell it is to hate and hurt be turned into lovers bringing flowers." — Shantideva
15. "Give thanks for the rain in your life which waters the flowers of your soul." — Jonathan Lockwood Huie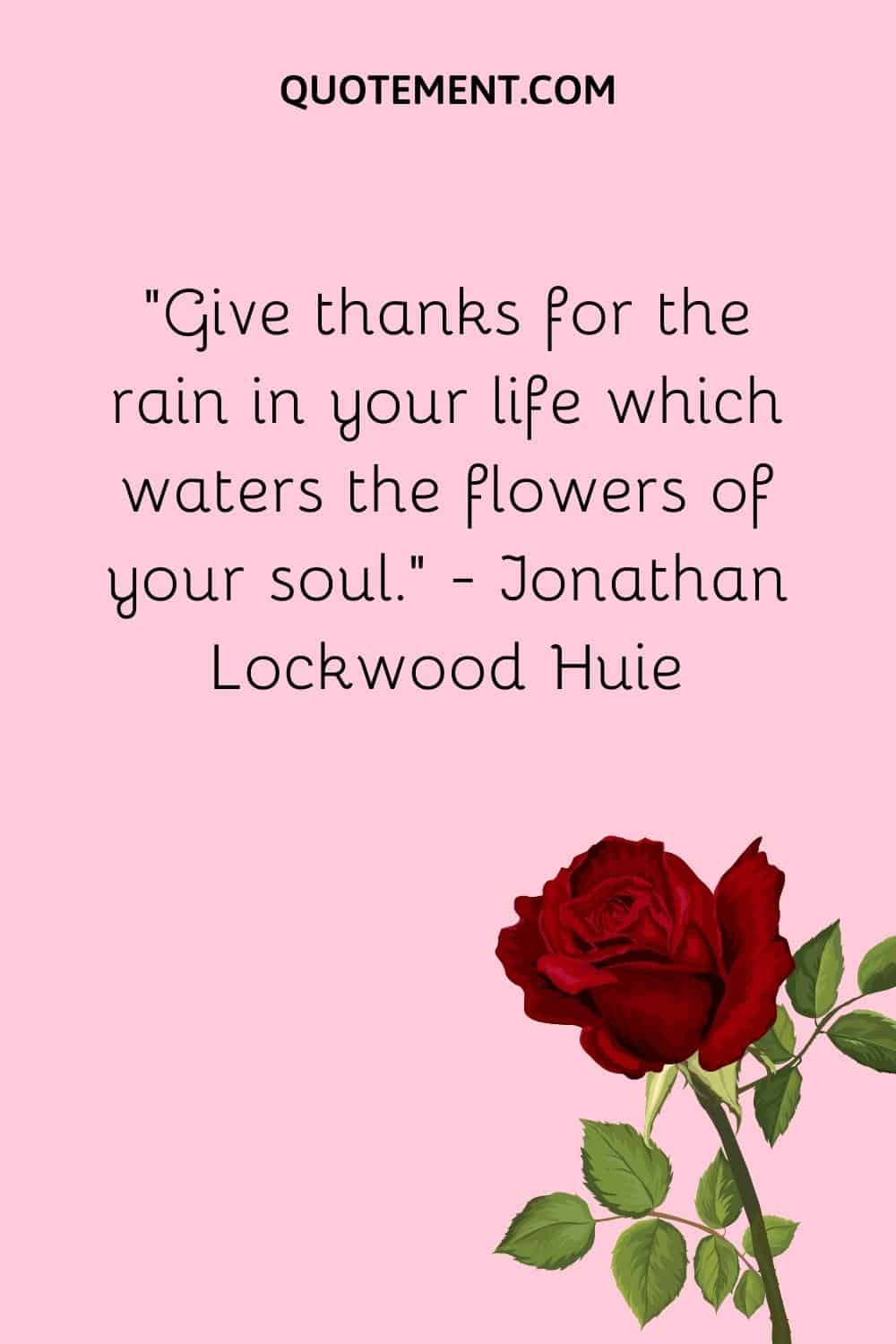 See also: 200 Best Rain Captions For Instagram To Boost Your Post
Short Flower Quotes On Beauty
Next up is a collection of short flower quotes about beauty.
1. "By plucking her petals, you do not gather the beauty of the flower." — Rabindranath Tagore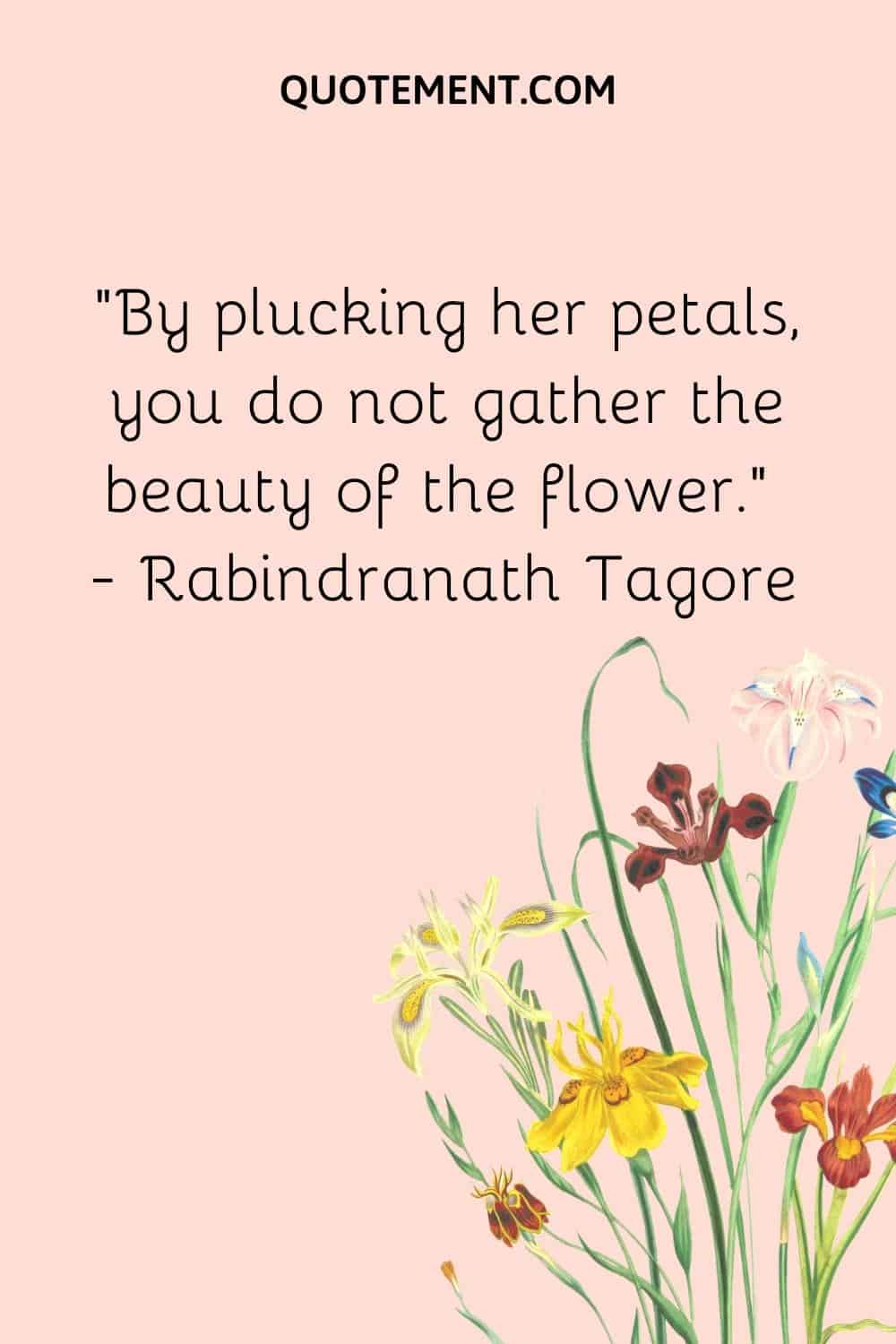 2. "Many people have never learned to see the beauty of flowers, especially those that grow unnoticed." — Erika Jus
3. "Stretching his hand up to reach the stars, too often man forgets the flowers at his feet." — Jeremy Bentham
4. "A flower is there to bloom and make the earth beautiful and full of the joy of life." — Debasish Mridha
5. "He is happiest who hath power to gather wisdom from a flower." — Mary Howitt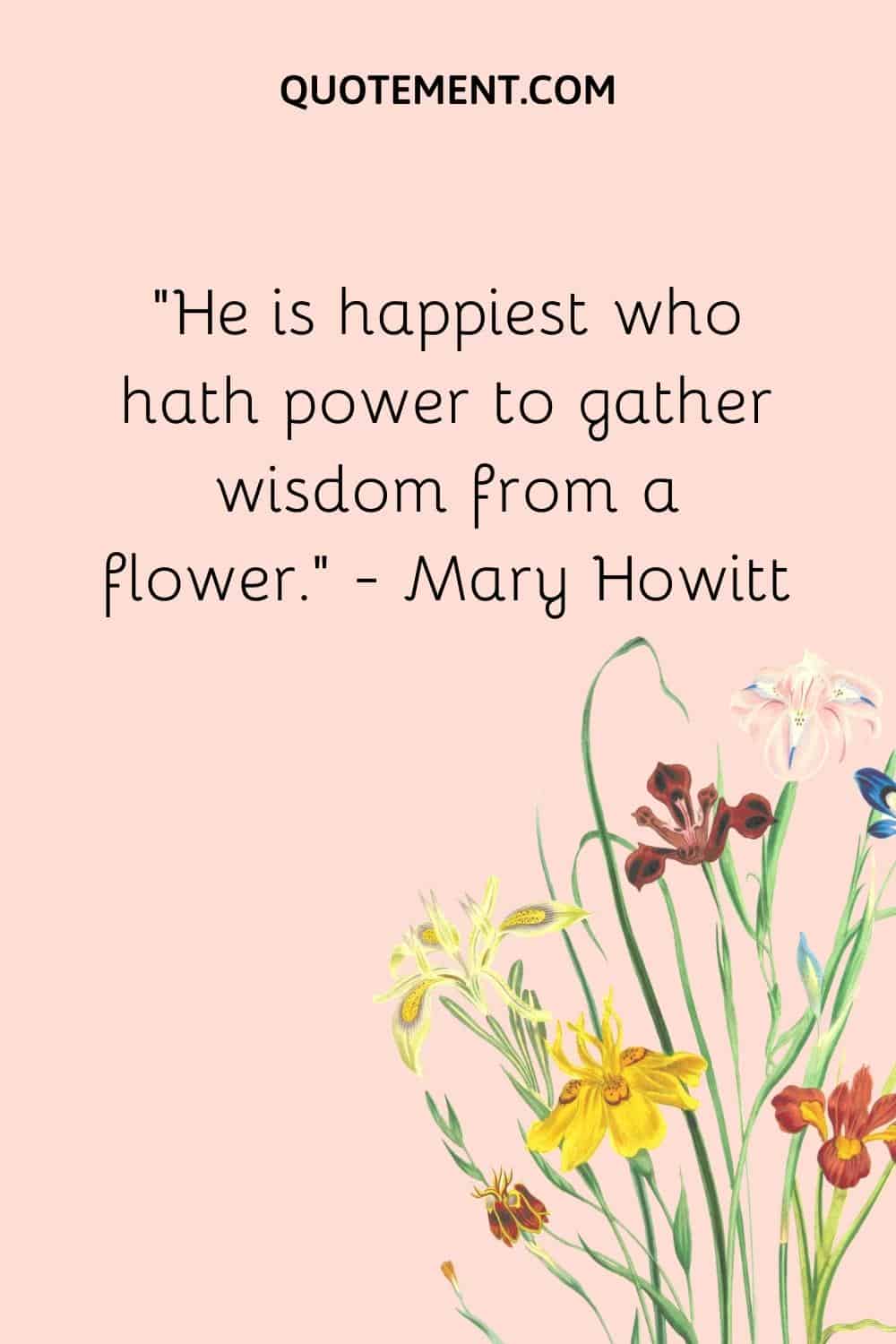 6. "Happiness radiates like the fragrance from a flower and draws all good things towards you." — Maharishi Mahesh Yogi​
7. "Be like a lotus. Let the beauty of your heart speak. Be grateful to the mud, water, air, and the light." — Amit Ray
8. "Deep in their roots, all flowers keep the light." — Theodore Roethke
9. "If you have a garden and a library, you have everything you need." — Marcus Tullius Cicero
10. "Raise your words, not voice. It is rain that grows flowers, not thunder." — Rumi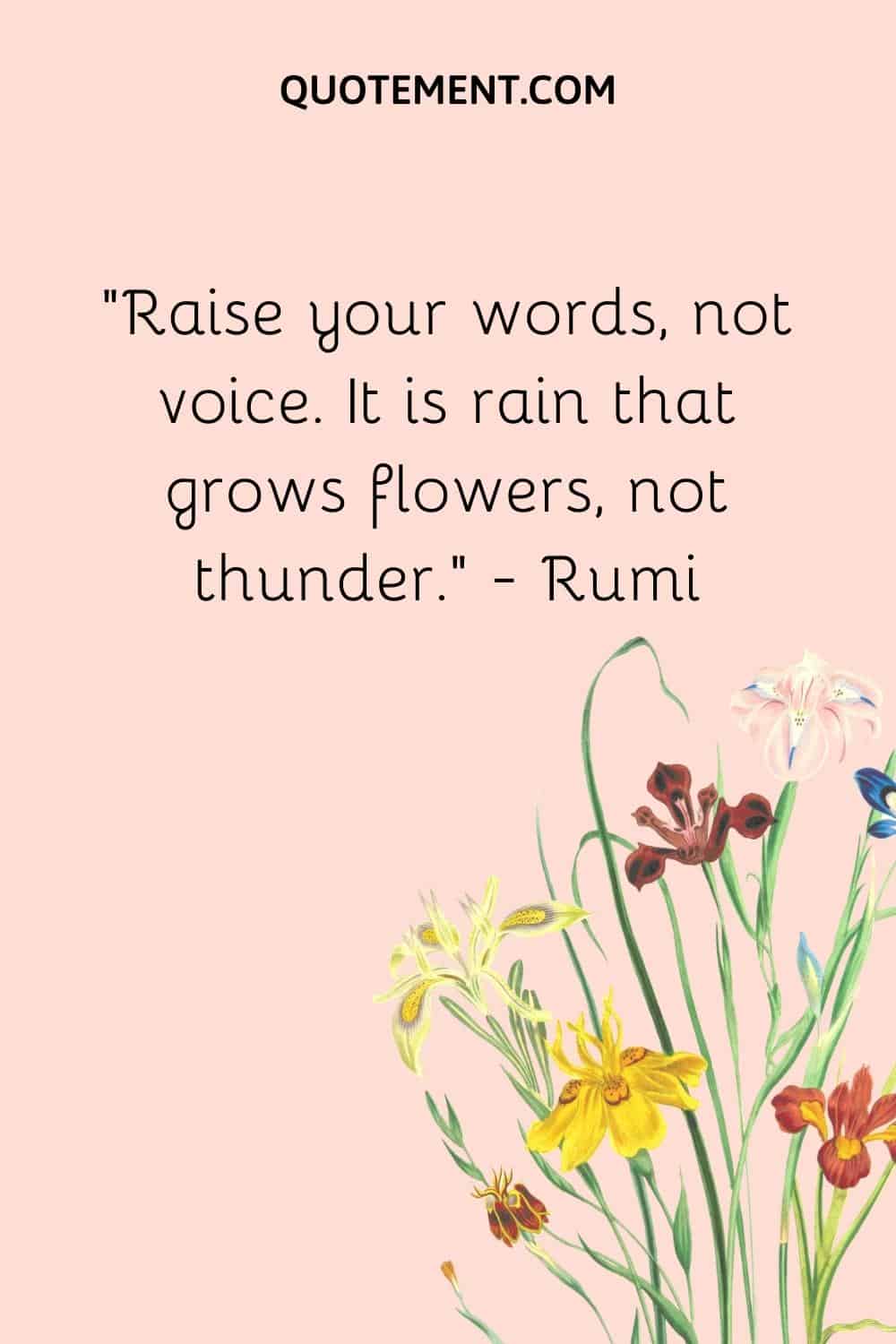 11. "I perhaps owe having become a painter to flowers." — Claude Monet
12. "God will reward you,' he said. 'You must be an angel since you care for flowers." — Victor Hugo
13. "Don't send me flowers when I'm dead. If you like me, send them while I'm alive." — Brian Clough
14. "Even though we know we'll get hurt by thorns, we still go for flowers." — Rupal Asodaria
15. "Dark clouds become heaven's flowers when kissed by light." — Rabindranath Tagore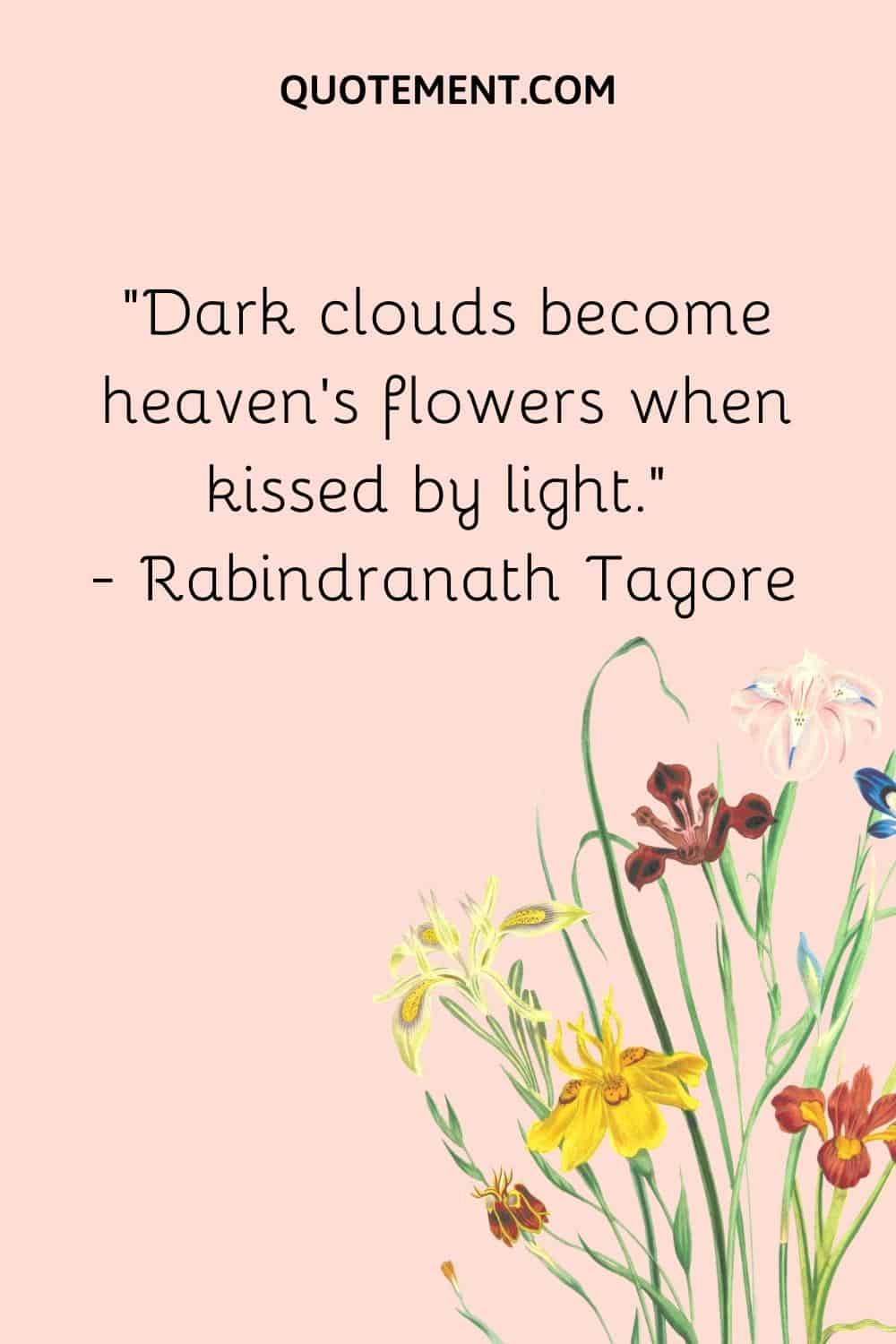 See also: 180 Beautiful Cloud Captions To Boost Your Instagram Post
Inspirational Flowers And Life Quotes
If you're looking for a dose of inspiration to keep you going, read these inspirational short flower quotes.
1. "Just living is not enough… one must have sunshine, freedom, and a little flower." — Hans Christian Andersen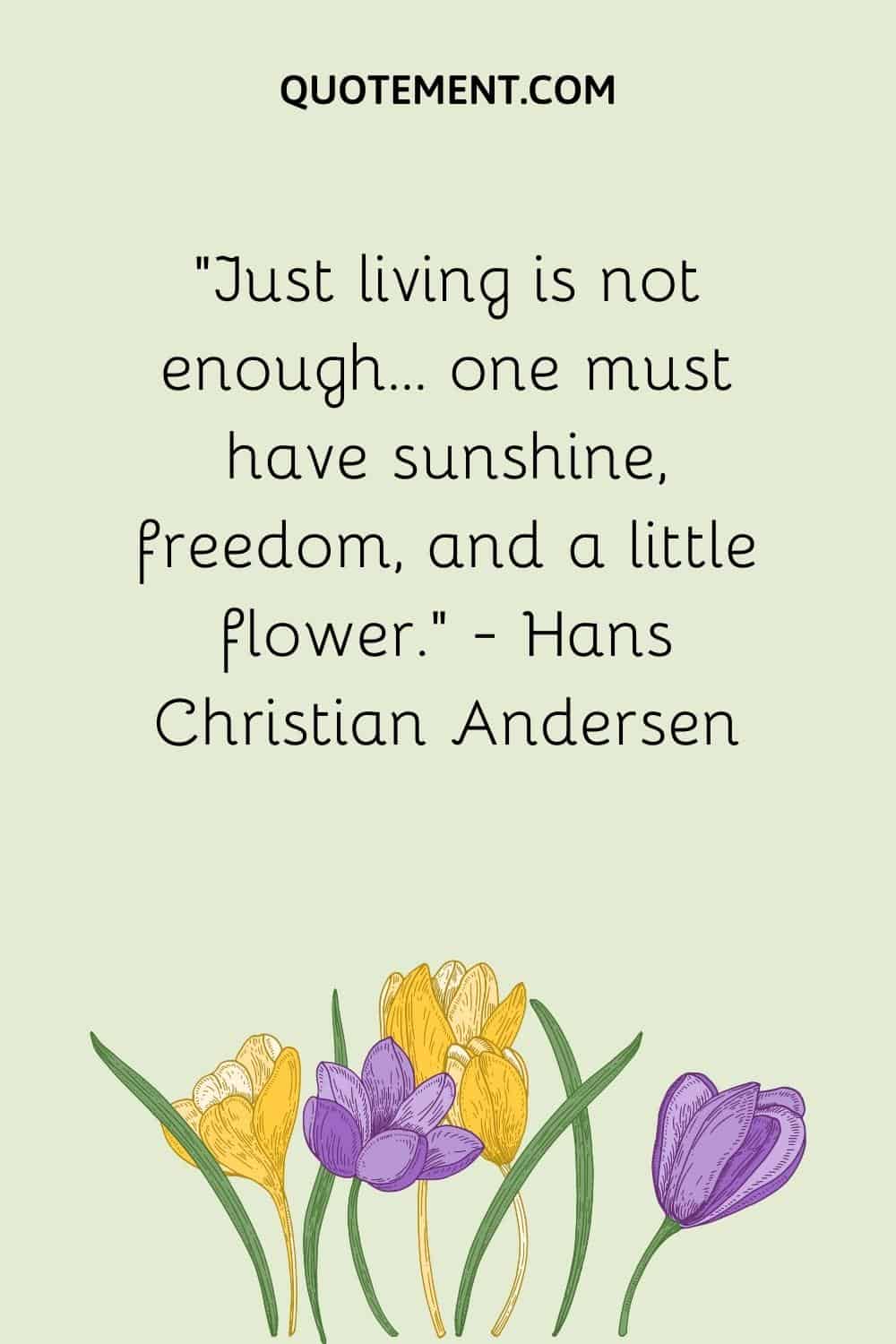 2. "Flowers don't worry about how they're going to bloom." — Jim Carrey
3. "Happiness held is the seed; Happiness shared is the flower." — John Harrigan
4. "In joy or sadness, flowers are our constant friends." — Okakura Kakuzo
5. "Don't let the tall weeds cast a shadow on the beautiful flowers in your garden." — Steve Maraboli
6. "Life is like a bud, it always dreams to bloom like a flower." — Debasish Mridha
7. "Roses do not bloom hurriedly; for beauty, like any masterpiece, takes time to blossom." — Matshona Dhliwayo
8. "Don't wait for someone to bring you flowers. Plant your own garden and decorate your own soul." — Luther Burbank
9. "Surely the flowers of a hundred springs are simply the souls of beautiful things!" — L.M. Montgomery
10. "Without darkness, nothing comes to birth, as without light, nothing flowers." — May Sarton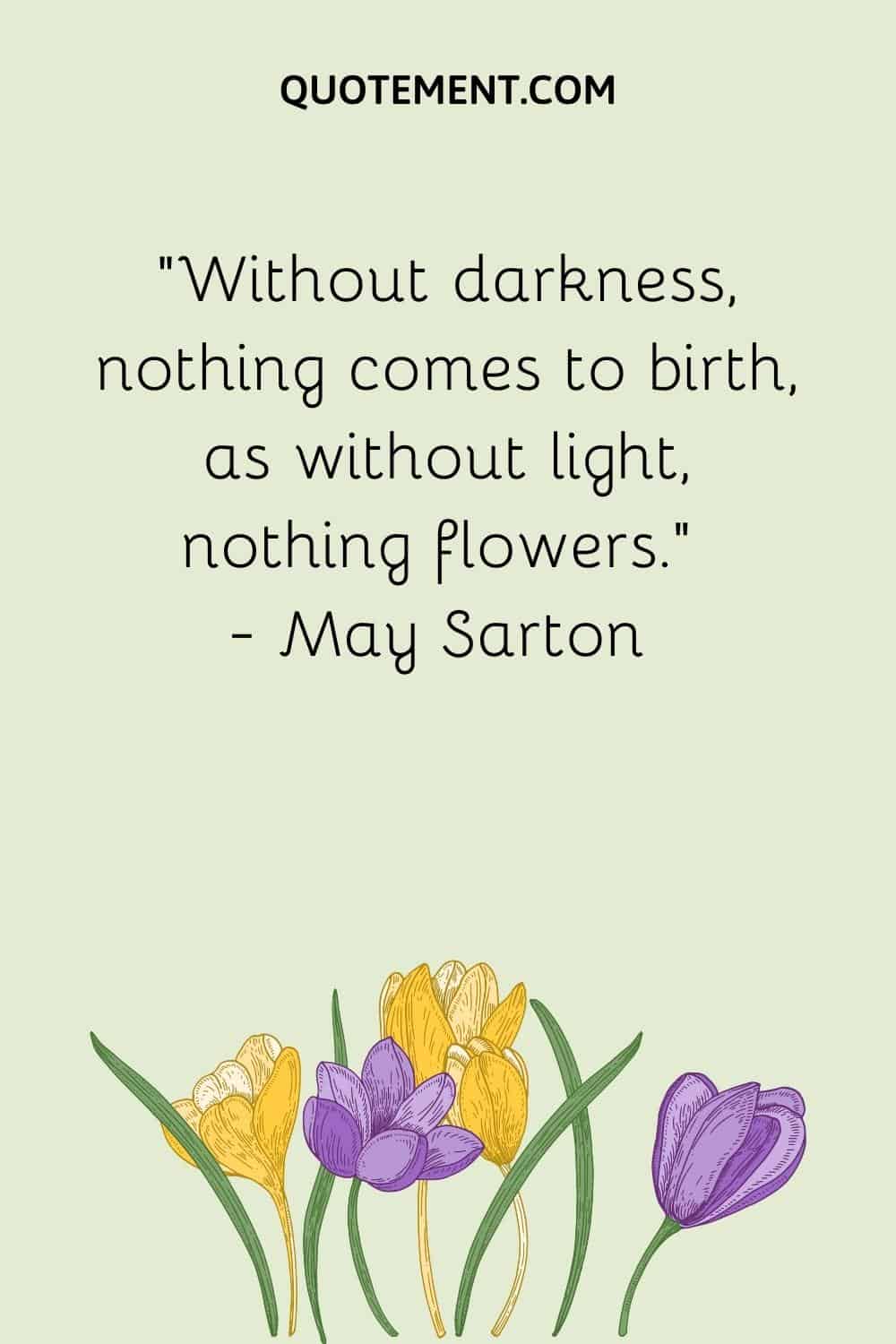 11. "Every flower blooms at its own pace." — Suzy Kassem
12. "What's in a name? That which we call a rose by any other name would smell as sweet." — William Shakespeare
13. "Blossom by blossom, the spring begins." — Algernon Charles Swinburne
14. "We are all golden sunflowers inside." — Allen Ginsberg
15. "A flower blooming in the desert proves to the world that adversity, no matter how great, can be overcome." — Matshona Dhliwayo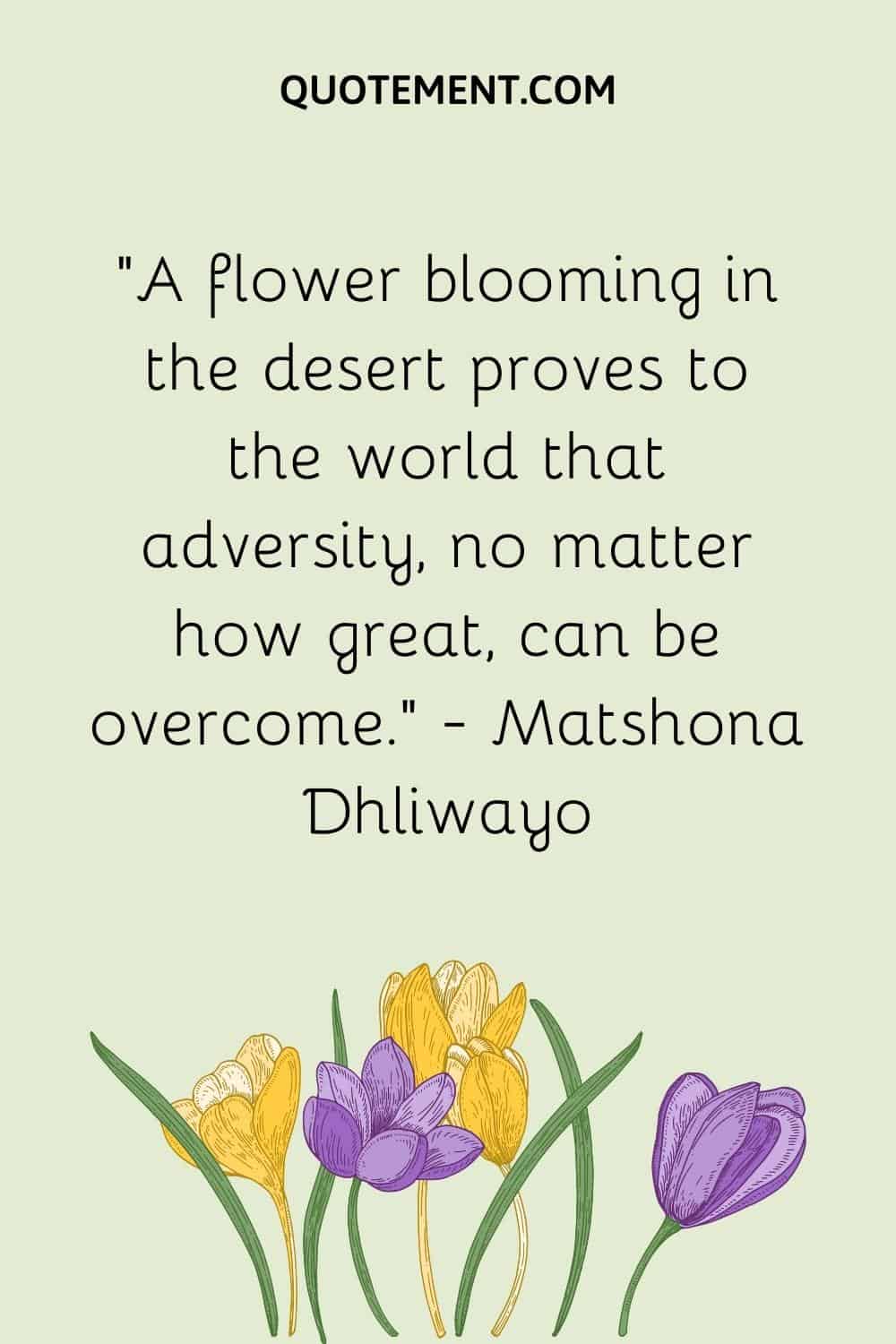 See also: 170 Best Desert Captions For Instagram To Inspire You
Short Flower Blossoms Quotes
Flowers teach us to have patience, believe in ourselves, and never compare ourselves to others. Your time will come, and you will blossom. Believe in yourself!
Check out this collection of short flower quotes on blossoming.
1. "When you bloom like a blossom, you must help other flower buds to bloom too." ― Munia Khan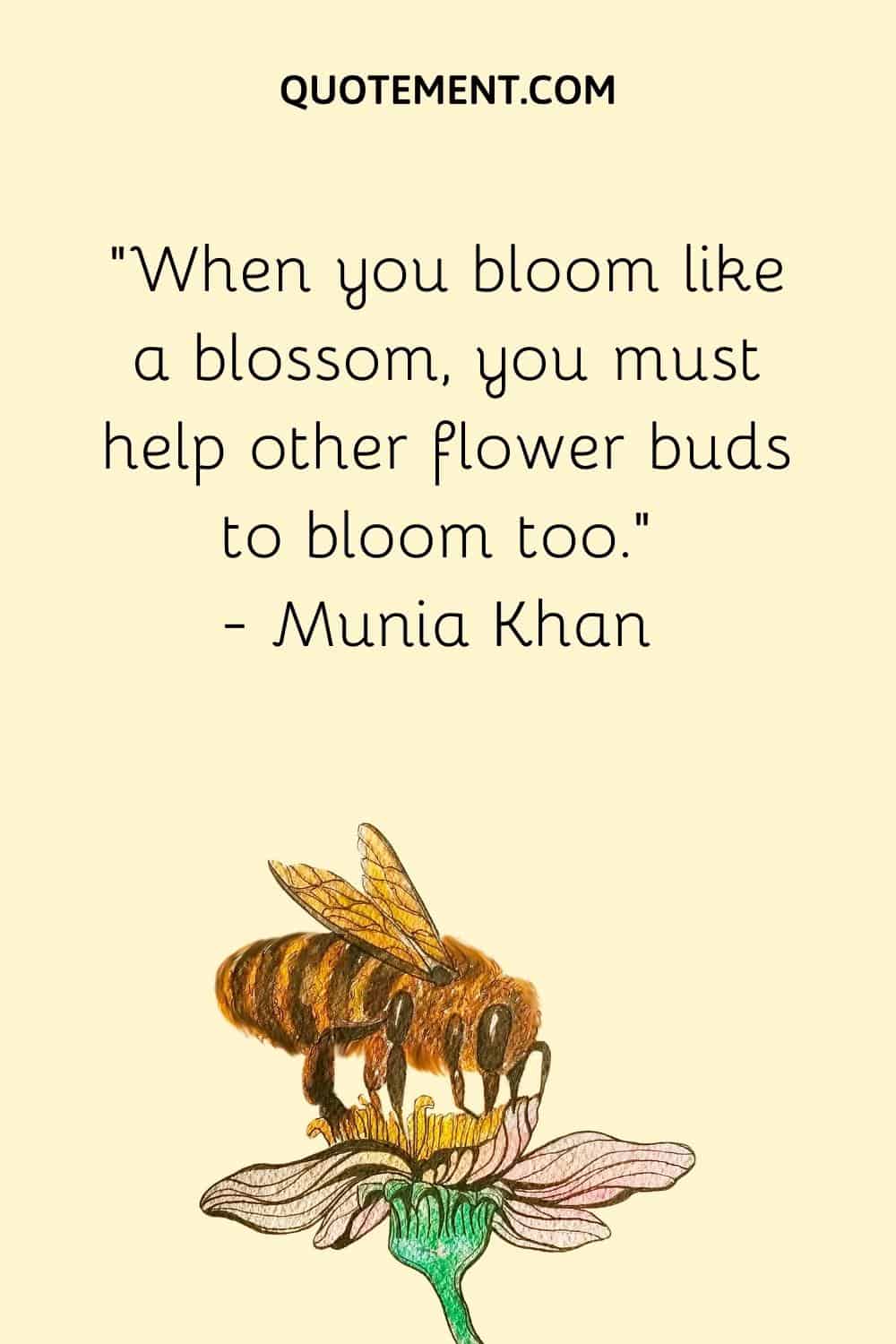 2. "A flower blossoms for its own joy." — Oscar Wilde
3. "Autumn had arrived, the last blossom whispered, let me stay awhile." — Meeta Ahluwalia
4. "A flower cannot blossom without sunshine, and a man cannot live without love." — Max Muller
5. "Kindness is a flower that only blooms when it is shared." — Jim Oliver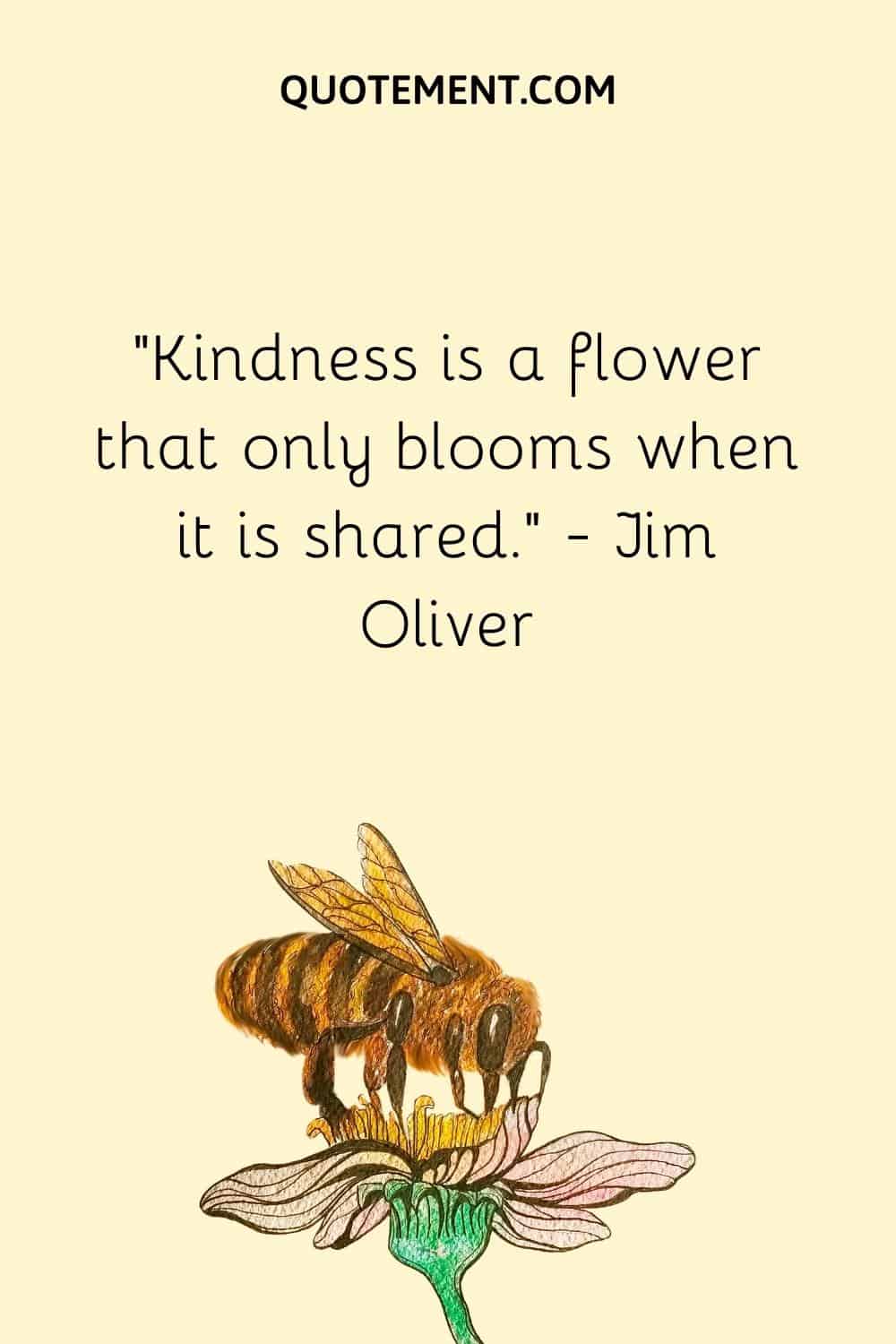 6. "The very best relationship has a gardener and a flower. The gardener nurtures, and the flower blooms." — Carole Radziwill
7. "You've got to be one that, wherever you are, like a flower, you've got to blossom where you're planted." — Cory Booker
8. "Everyone mourns the first blossom. Who will grieve the rest who fall?" ― Leigh Bardugo
9. "After women, flowers are the most lovely thing God has given to the world." — Christian Dior
10. "When the flower blooms, the bees come uninvited." — Ramakrishna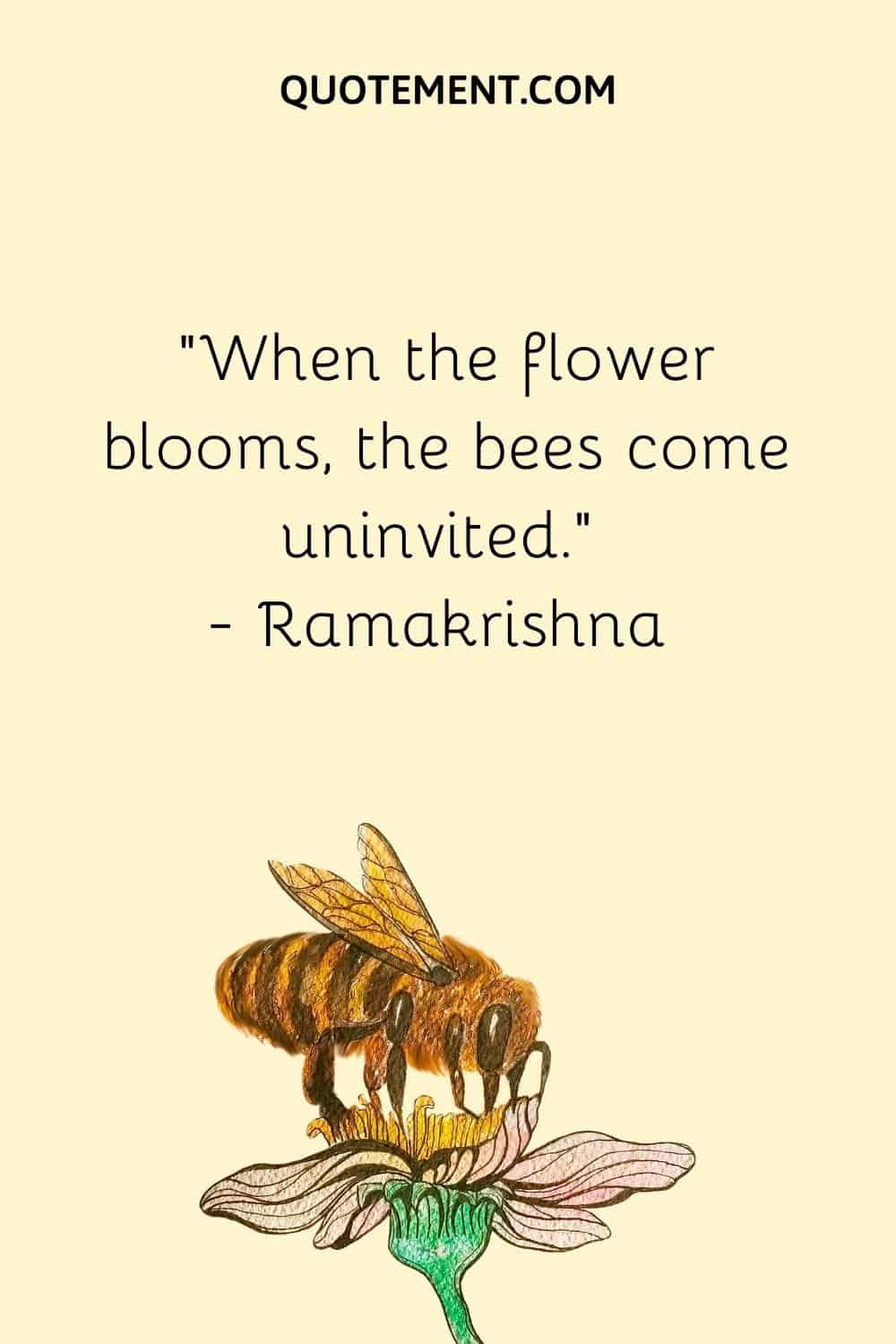 11. "Daffodils, blossom, and tulips jostle to the front of the stage in April." — Monty Don
12. "Never yet was a springtime, when the buds forgot to bloom." — Margaret Elizabeth Sangster
13. "Learn to spread joy and happiness like Spring Blossoms." — Purvi Raniga
14. "Be like a flower waiting to bloom despite winds and storms." — Anne Nolette Andre
15. "Be like a flower and turn your face to the sun." — Kahlil Gibran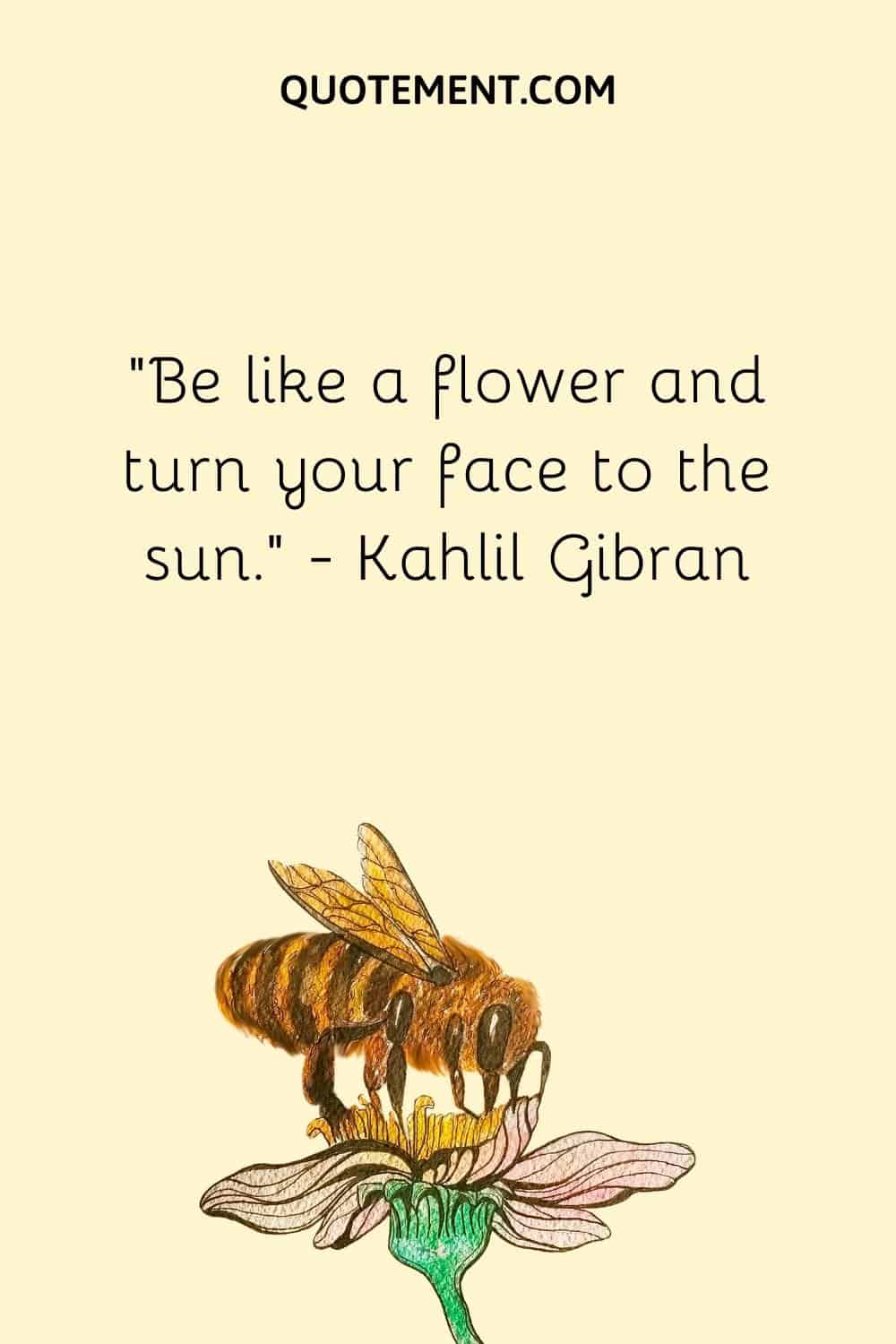 See also: 280 Best Sun Captions For Instagram For A Shiny Post
Short Flower Quotes For Instagram
These short flower quotes are perfect for Instagram. Take a look!
1. "She may lose a few petals, but it doesn't make her any less a flower." — Alicia Green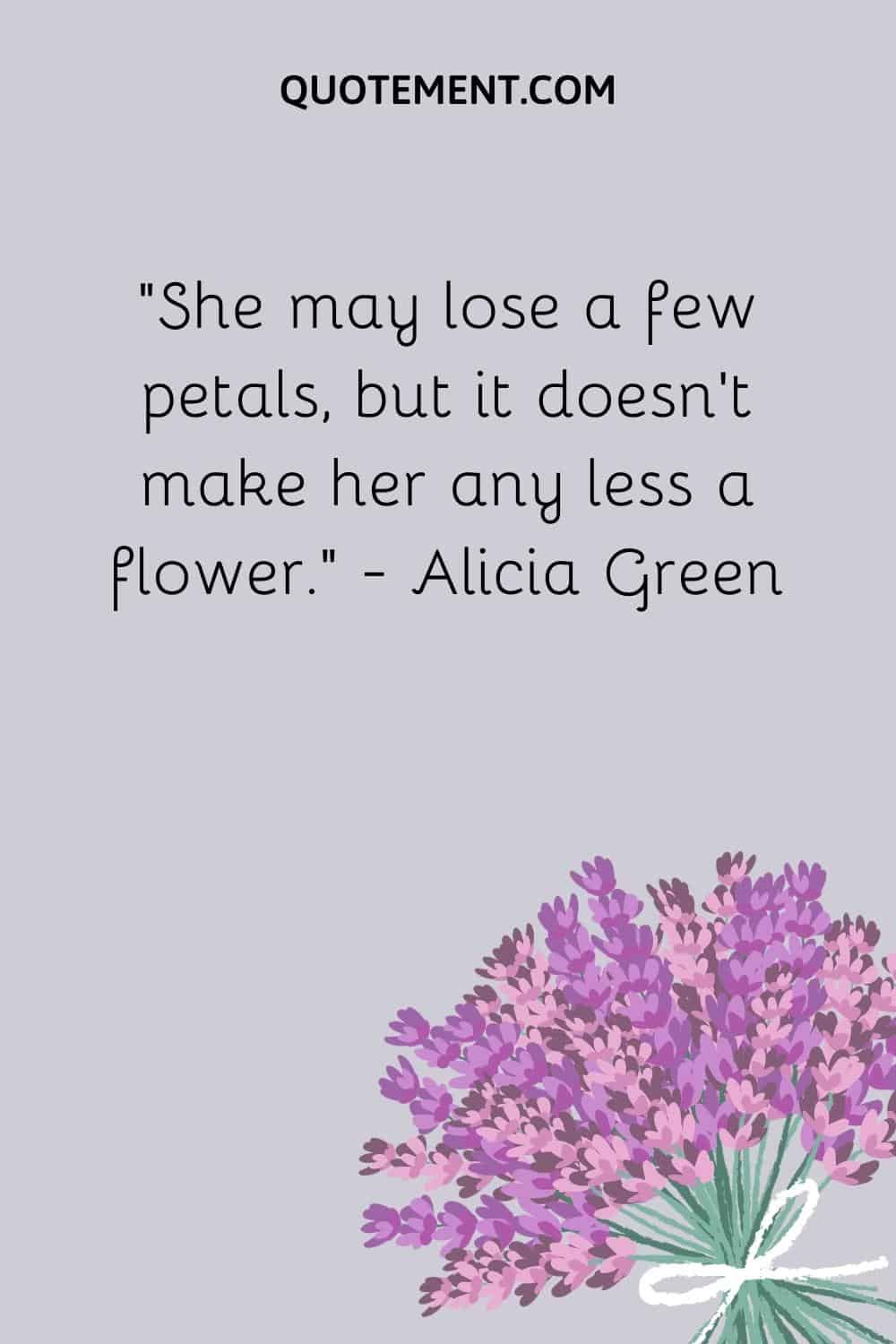 2. "Earth laughs in flowers." — Ralph Waldo Emerson
3. "Flowers don't tell, they show." — Stephanie Skeem
4. "Live Life in Full Bloom." — unknown
5. "Open the bloom of your heart and become a gift of beauty to the world." — Bryant McGill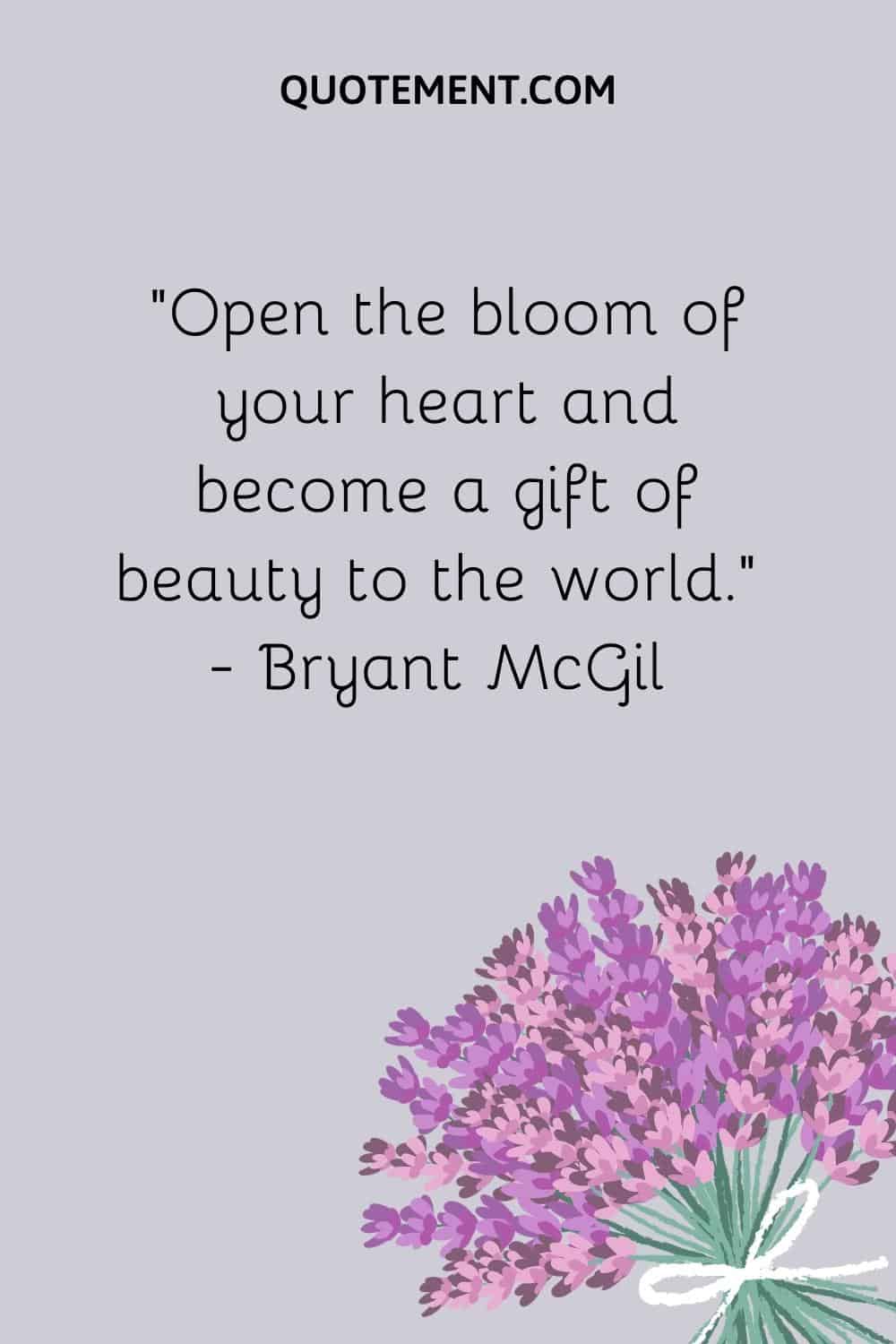 6. "Butterflies are self-propelled flowers." — Robert A. Heinlein
7. "If you look the right way, you can see that the whole world is a garden." — Frances Hodgson Burnett
8. "Live simple, love well, and take time to smell the flowers along the way." — Mark Twain
9. "Perfumes are the feelings of flowers." ― Heinrich Heine
10. "I love your roots, not the flower everybody sees!" — Akilnathan Logeswaran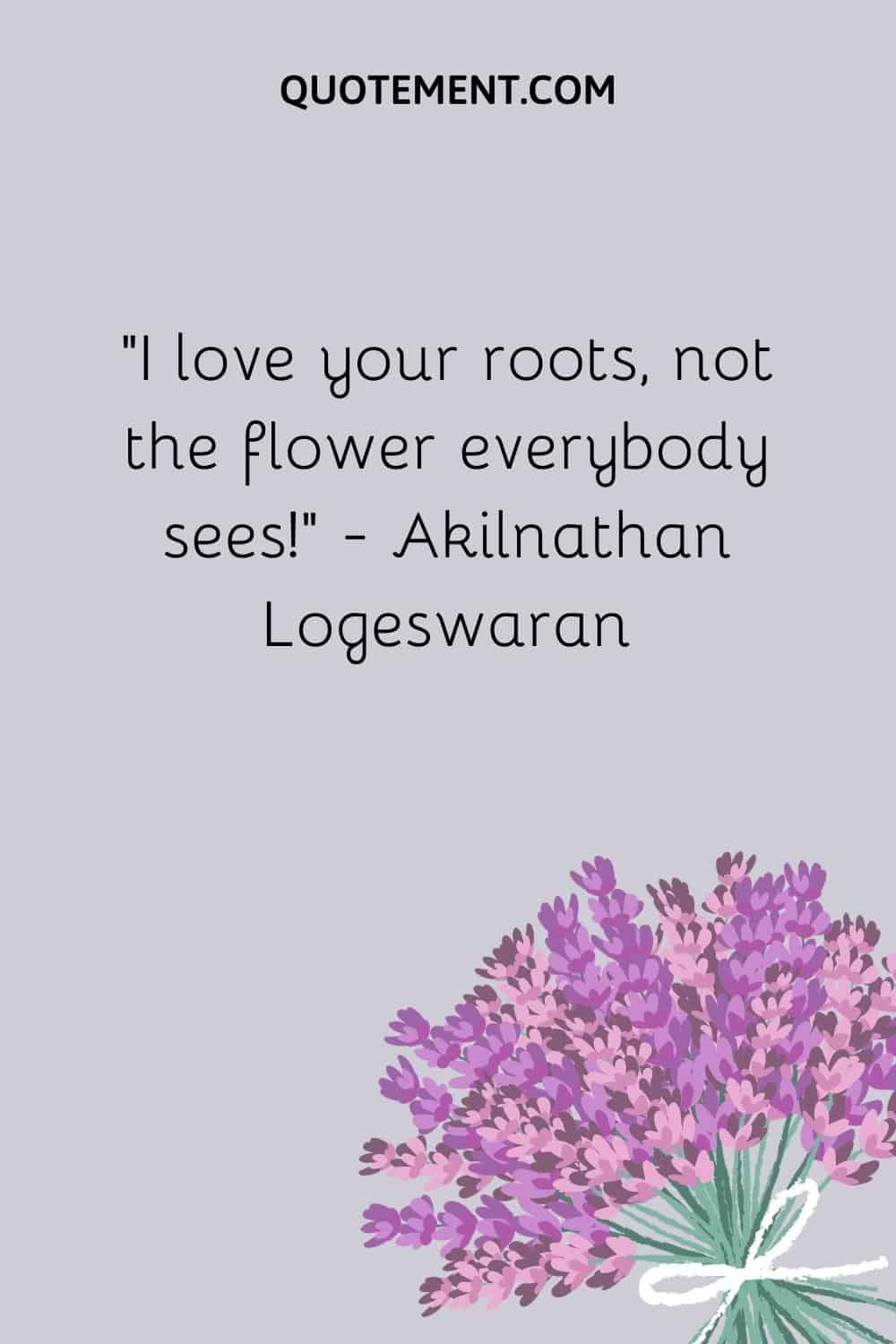 11. "The flower fades that is not looked upon." — Edward Counsel
12. "I'd rather have roses on my table than diamonds on my neck." — Emma Goldman
13. "He who wants a rose must respect her thorn." — André Gide
14. "The first blooms of spring always make my heart sing." — S. Brown
15. "Her love was like lavender, delicate and melancholy." ― Laura Chouette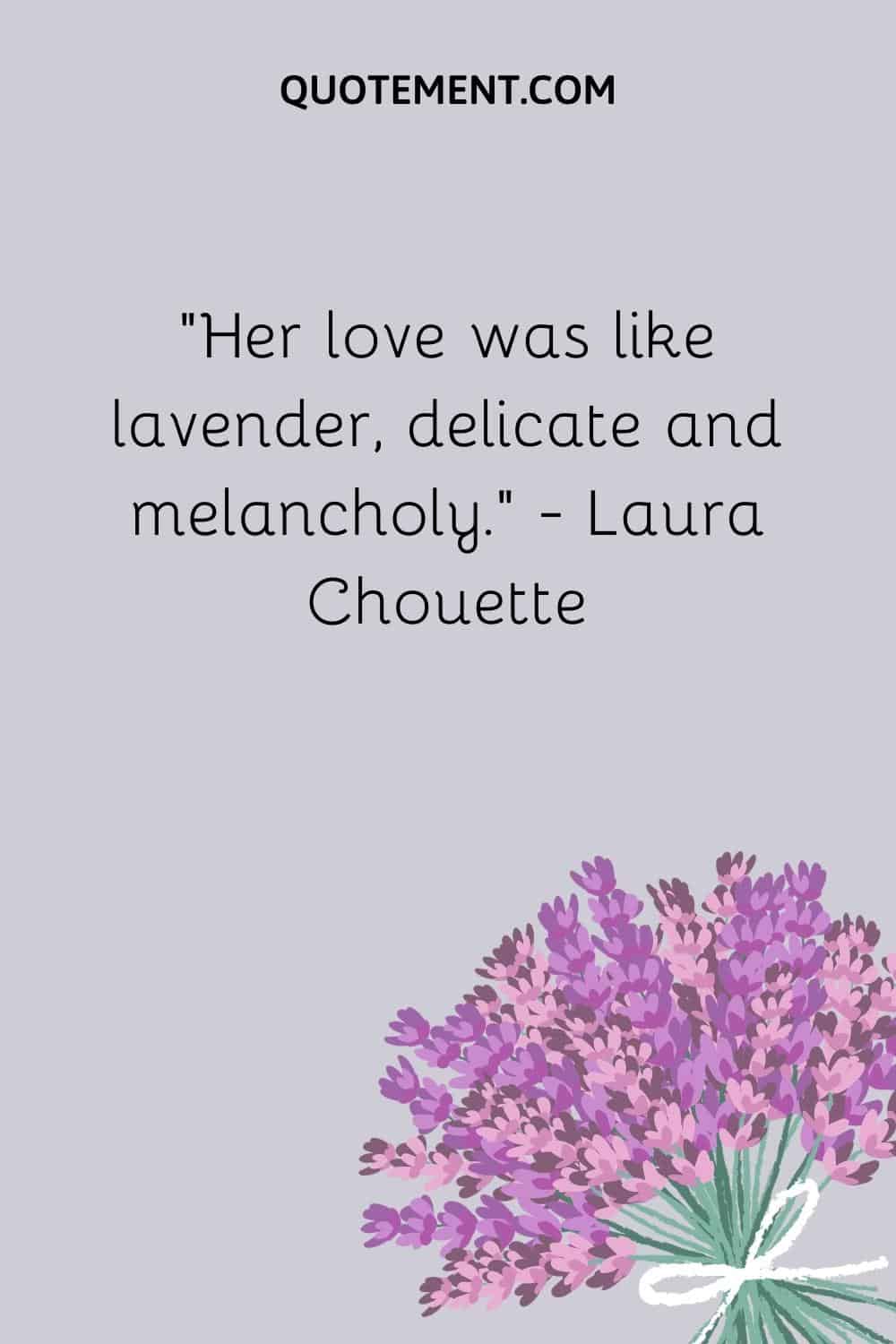 See also: 210 Perfect Lavender Captions For Your Instagram Post
Sweet Wildflowers Quotes
All flowers are beautiful, but wildflowers are something special. For our last chapter, I prepared a collection of shot flower quotes about wildflowers. Have a look!
1. "Almost every person, childhood, has been touched by the untamed beauty of wildflowers." — Lady Bird Johnson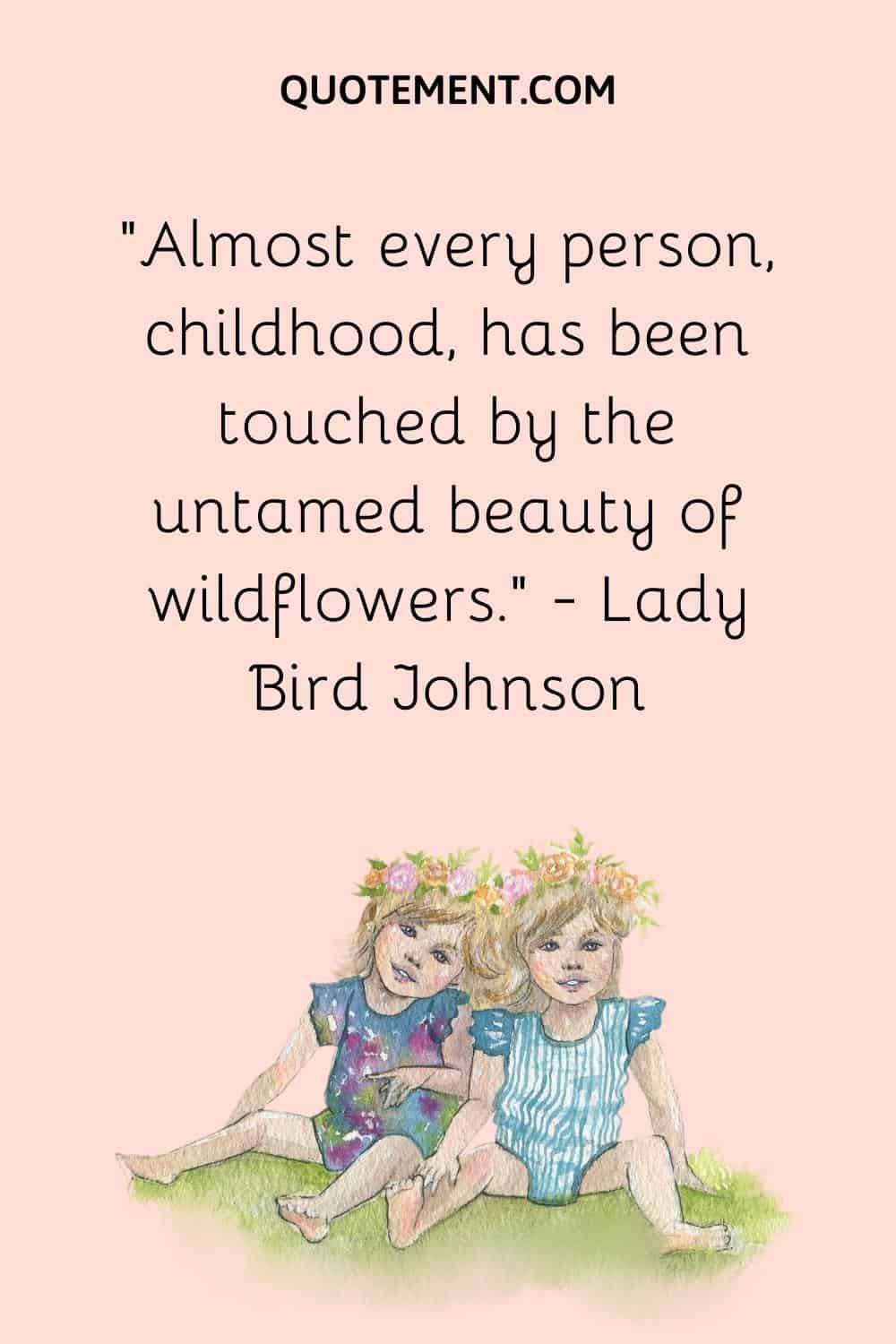 2. "Wildflowers are the stuff of my heart!" — Lady Bird Johnson
3. "May your life be like a wildflower, growing freely in the beauty and joy of each day." — Native American Proverb
4. "What a lonely place it would be to have a world without a wildflower!" — Roland R. Kemler
5. "Let us dance in the sun, wearing wild flowers in our hair…" — Susan Polis Shutz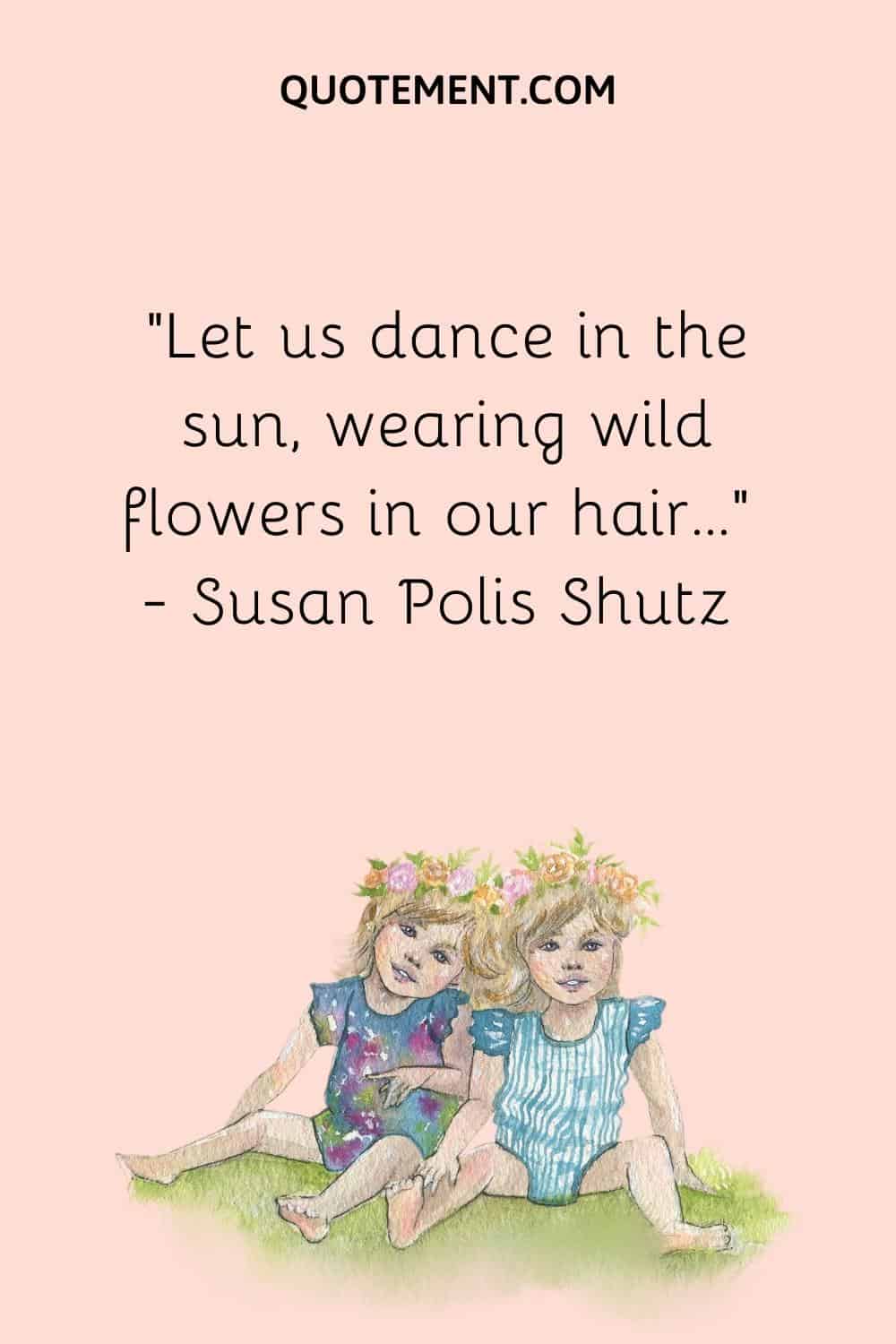 6. "A rose can never be a sunflower, and a sunflower can never be a rose." — Miranda Kerr
7. "No matter how chaotic it is, wildflowers will still spring up in the middle of nowhere." — Sheryl Crow
8. "Like wildflowers; You must allow yourself to grow in all the places people thought you never would." ― E.V
9. "Forever that girl who gets excited running through a wildflower meadow under a sugar coral sky." — Labhandar Rós
10. "One person's weed is another person's wildflower." ― Susan Wittig Albert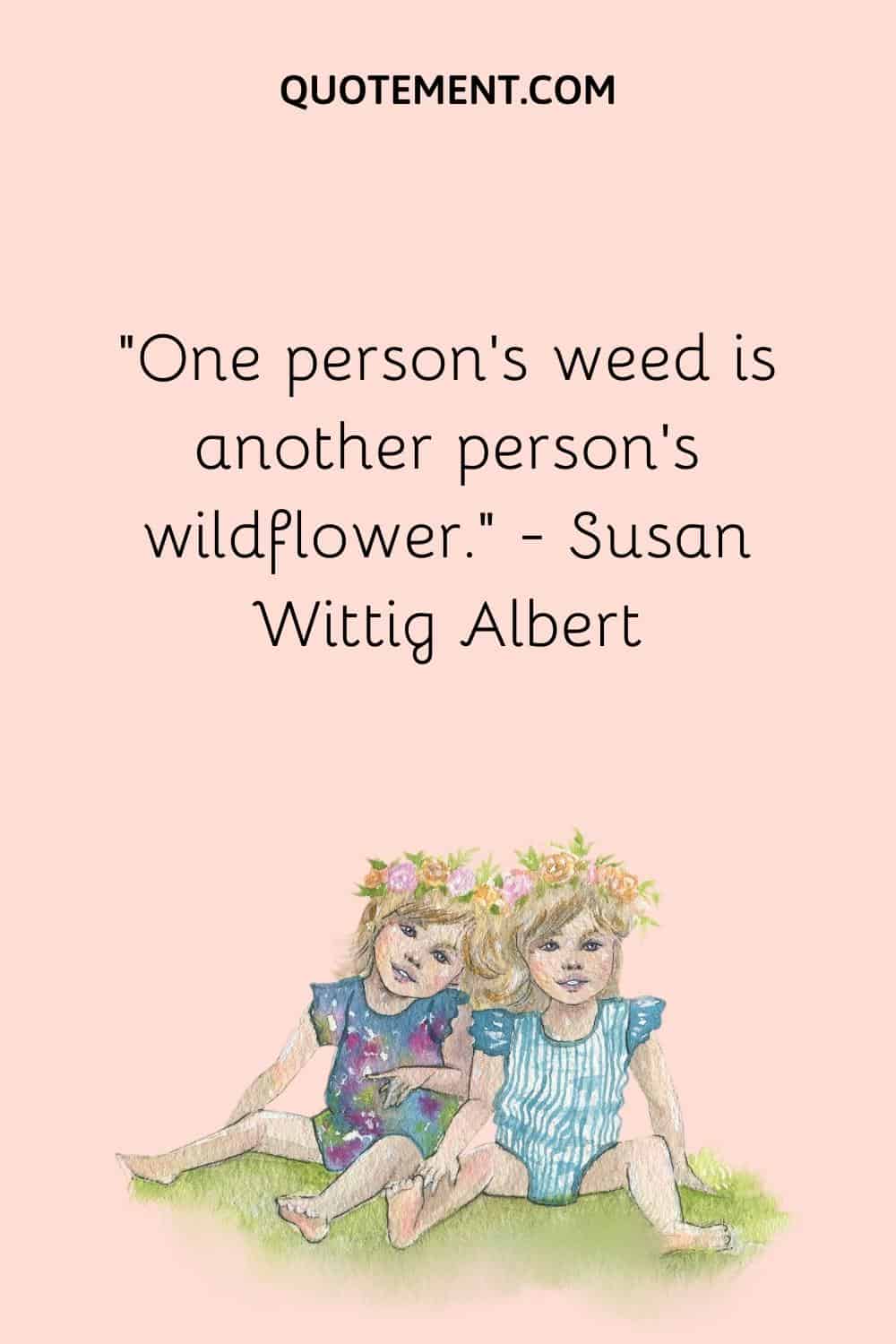 11. "There are as many ways of loving as there are people, and that wildflower variety is the great beauty of this dimension of existence." — Rumi
12. "Wildflowers aren't meant to be cut & tamed. They're meant to be loved & admired." — Anthony T. Hincks
13. "Love is like wildflowers; it's often found in the most unlikely places." — Ralph Waldo Emerson
14. "Wildflowers can't be controlled, and neither can the girl with a soul boundless as the sky and a spirit as free and wild as the ocean." — Melody Lee
15. "And so we are like flowers; and bloom only, when the sun kisses us." — Kristian Goldmund Aumann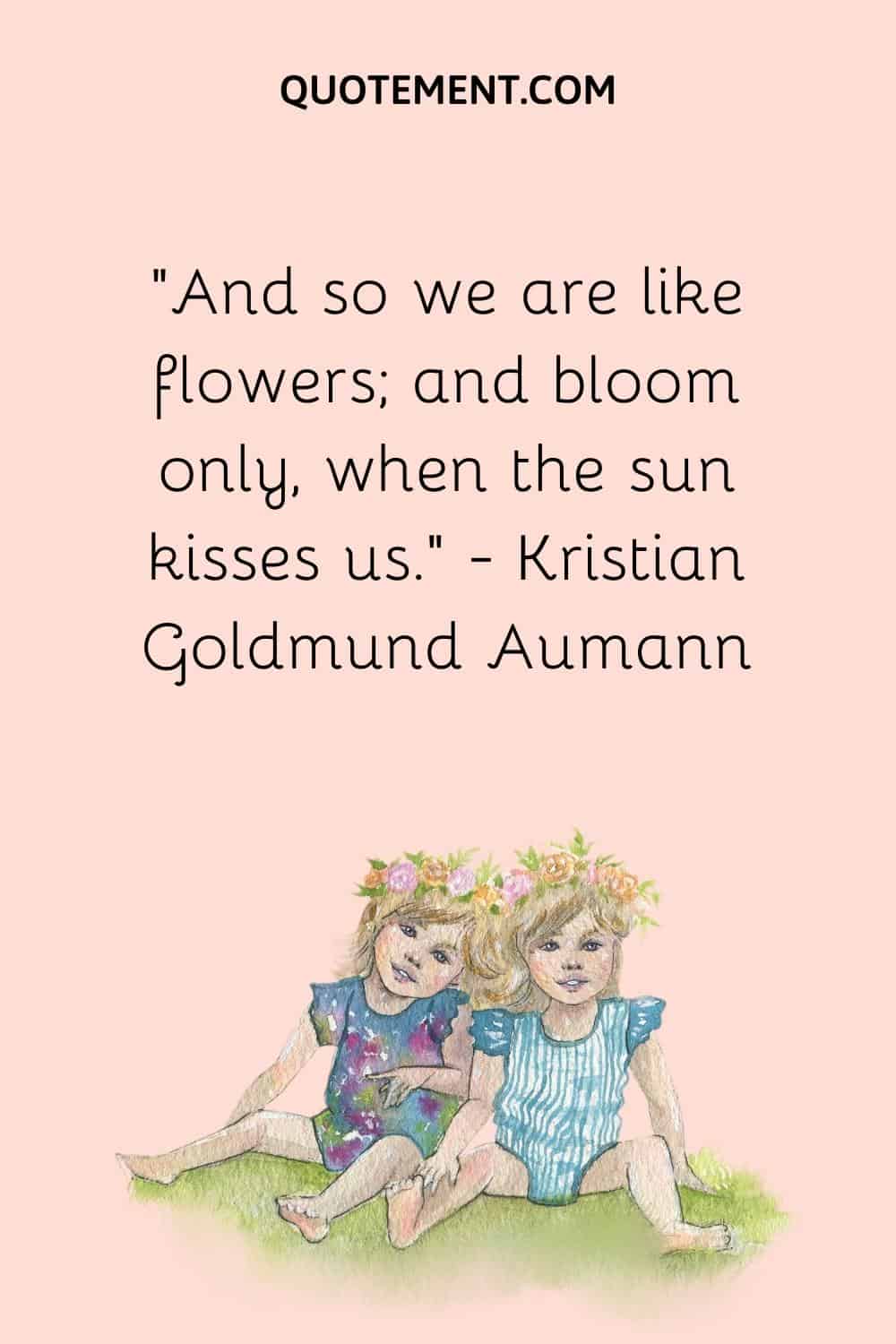 See also: 80 Glowing Sun Kissed Quotes For A Perfect Post
Wrapping Up
I hope these short flower quotes inspired you and added some positivity to your day.
Until next time!
Read next: 140 Beautiful Flower Captions To Make Your Post Stand Out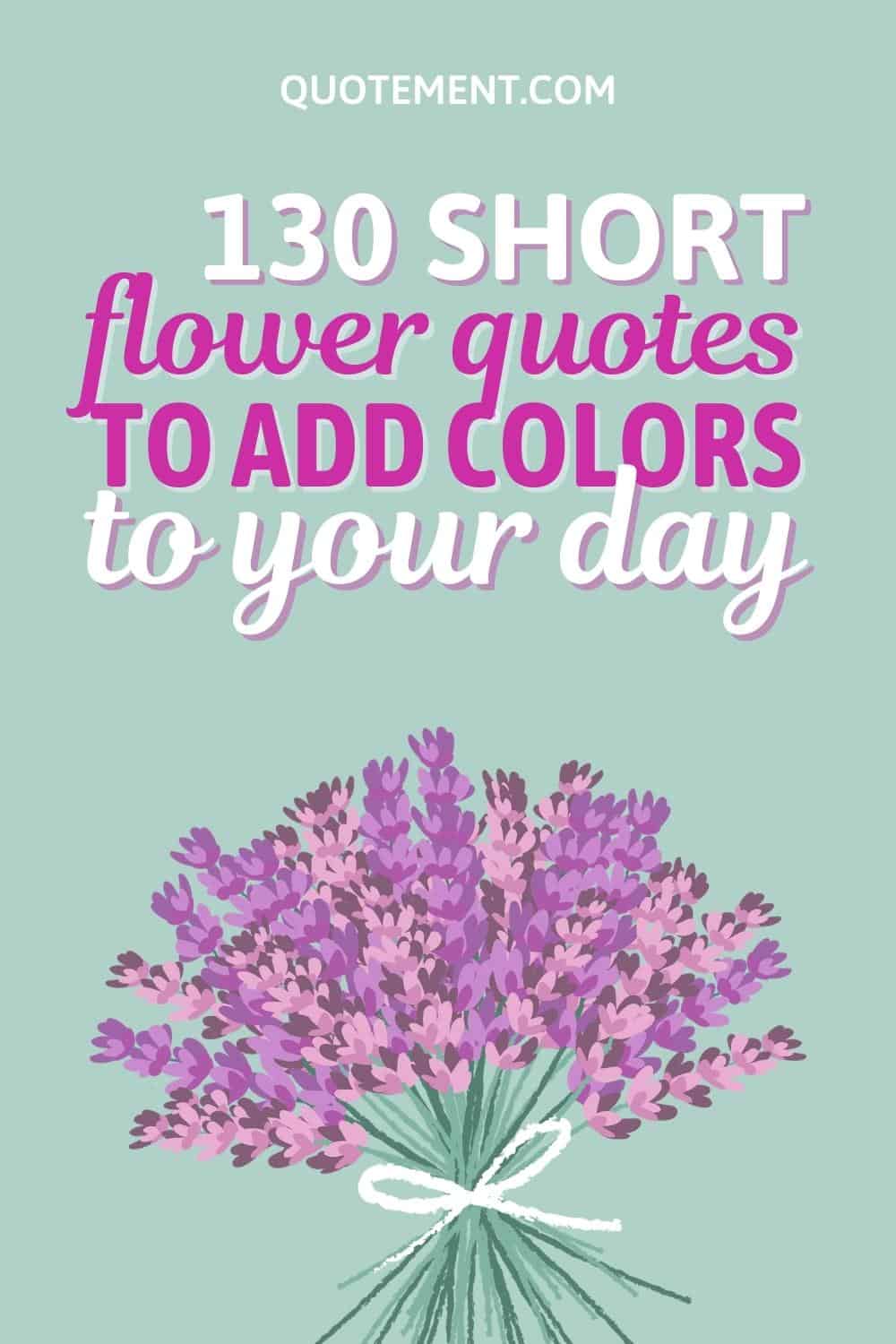 Emily Grant
A writer and poet at heart, Emily Grant has a talent for weaving words together in a way that inspires and delights. Her quotes reflect her love of nature, her appreciation for the simple things in life, and her optimistic outlook on the world.
Related posts