90 Secret Crush Quotes To Help You Express Your Feelings
Emily Grant
0
14 min

read
93
Having a secret crush is both beautiful and frustrating at the same time.
If you've been secretly fantasizing about someone, these secret crush quotes will help deal with the situation.
Infatuation is a bittersweet thing. You wake up with butterflies in your stomach and spend days daydreaming about your crush.
You're happy when they give you a glance and miserable when they don't notice you.
While you're going through a rollercoaster of emotions, this person probably has no clue that they're being admired from afar.
I've collected 90 great quotes on secret crushes to help you deal with your intense emotions. I searched tons of material and picked only the best quotes for this article.
You can use these secret crush quotes to contemplate your feelings and try to figure out what to do next.
If you're brave enough, you can even send one of these romantic quotes to your crush and give them a hint.
Let's dive in!
Top 10 Secret Crush Quotes
This is a list of my all-time favorite secret crush quotes. Have a look!
1. "To be your friend was all I ever wanted; to be your lover was all I ever dreamed." — Valerie Lombardo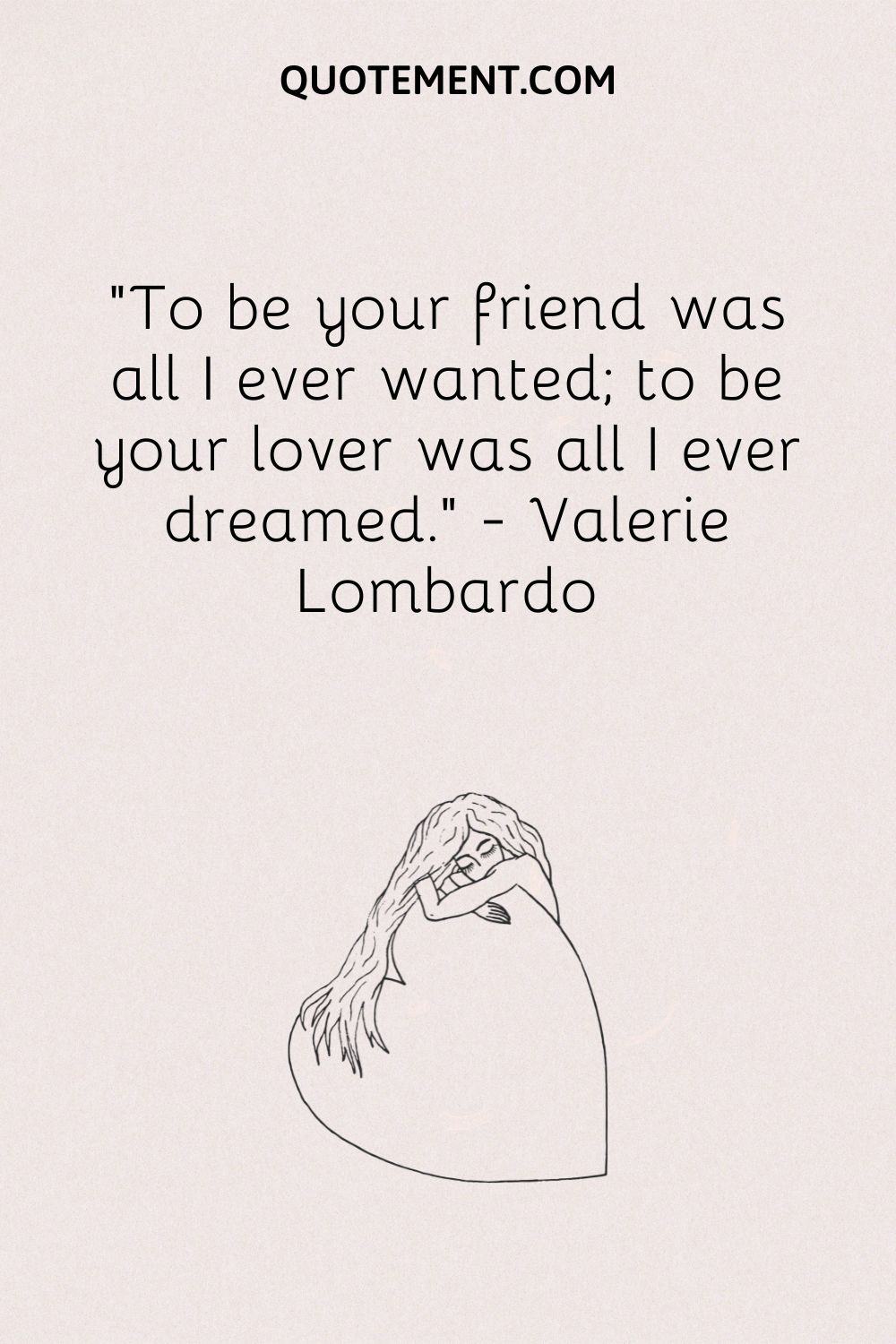 2. "It's nice to have a crush on someone. It feels like you're alive, you know?" — Scarlett Johansson
3. "Love isn't something you find. Love is something that finds you." — Loretta Young
4. "Love is a smoke made with the fume of sighs." — William Shakespeare
5. "The mark of a true crush… is that you fall in love first and grope for reasons afterward." — Shana Alexander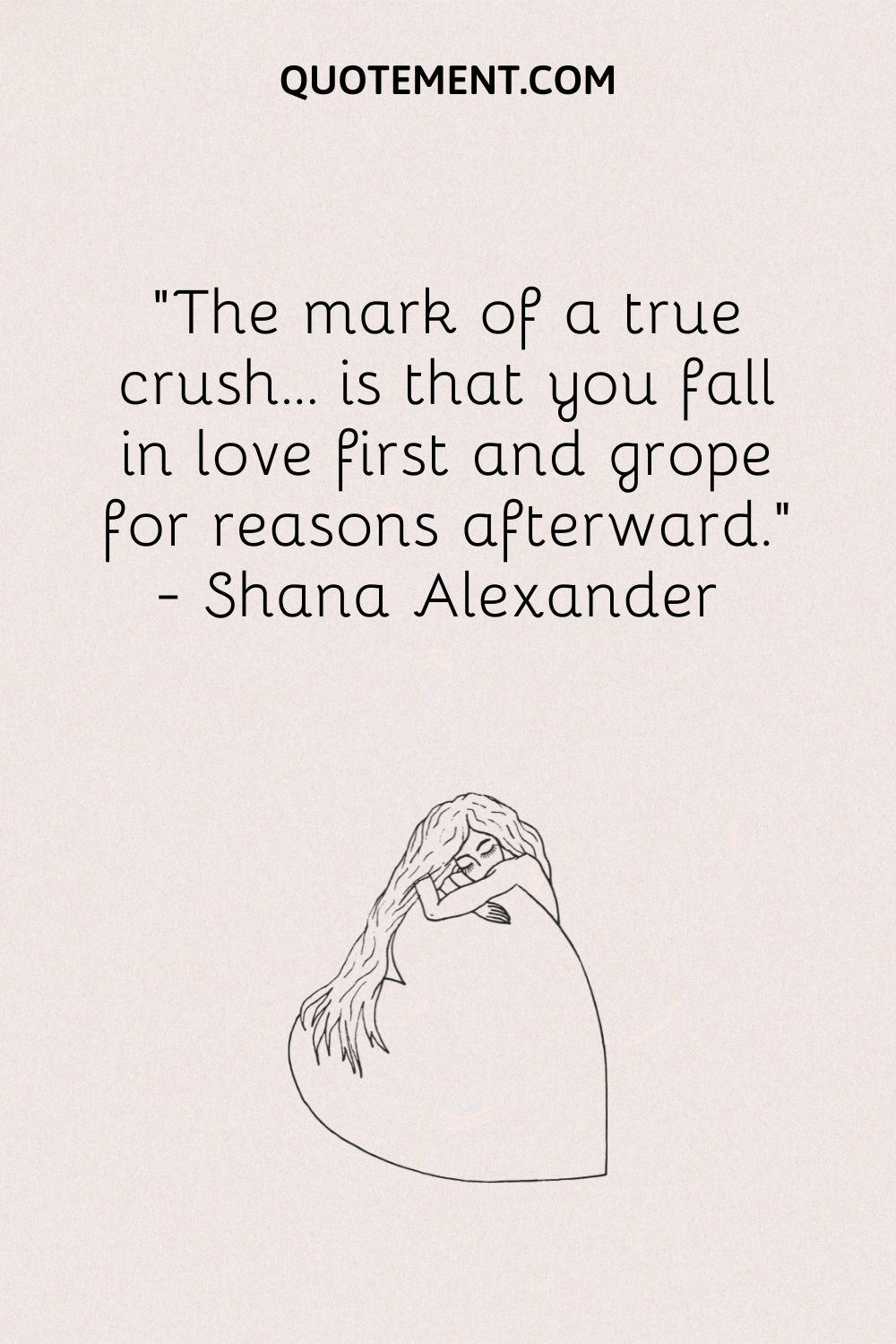 6. "I love you as certain dark things are to be loved, in secret, between the shadow and the soul." — Pablo Neruda
7. "Some crushes just never went away. They built, instead, into something permanent, obsessive, and all-consuming." — Maya Banks
8. "Infatuation is like a drug that gives you the best high yet gives you the worst headache after." — Luke Blaise Pereira
9. "If you reveal your secrets to the wind, you should not blame the wind for revealing them to the trees." — Khalil Gibran
10. "I don't believe in love at first sight. However, crush at first sight I've experienced many times." — Lauren Levine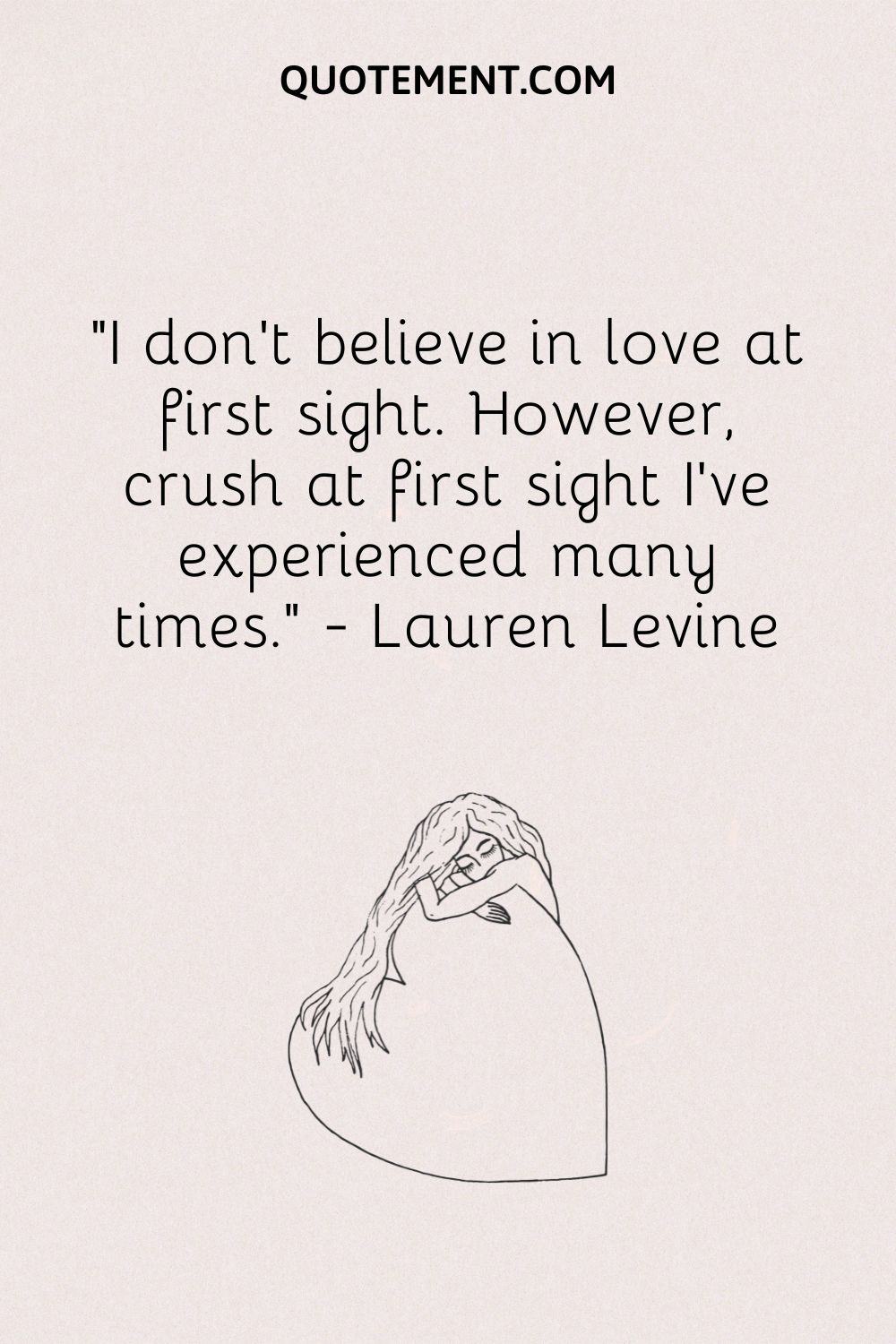 See also: 80 Love At First Sight Messages And Quotes For Your Loved One
Sweet Secret Crush Quotes
If you're looking for sweet crush quotes to help you express your feelings, make sure to check out these sweet secret crush quotes below.
1. "There is always some madness in love. But there is also always some reason in madness." — Friedrich Nietzsche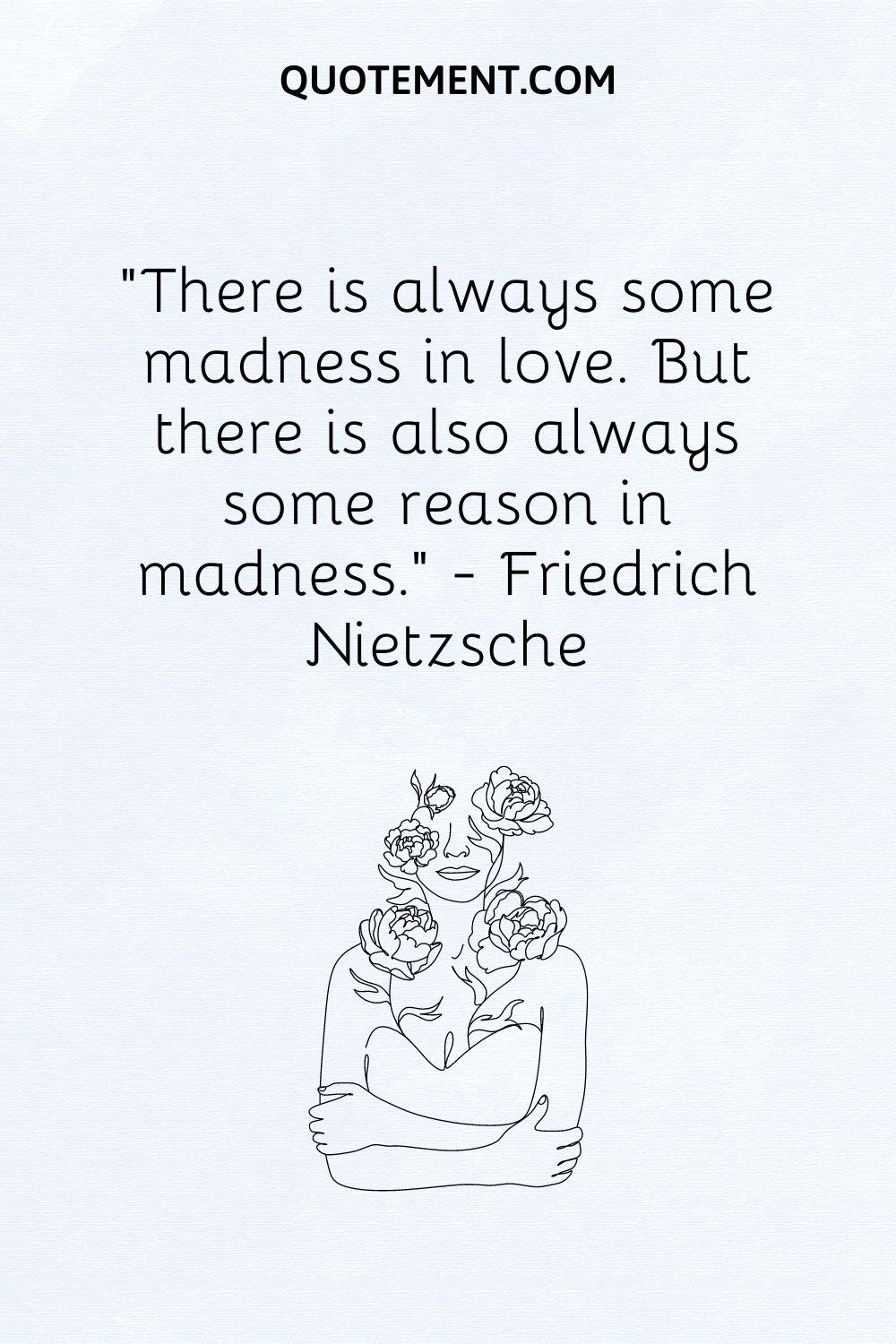 2. "Will you ever know how good you are at keeping me awake at night?"
3. "Because of your smile, you make life more beautiful." — Thich Nhat Hanh
4. "I couldn't take my eyes off him. Like a desert wanderer afraid of mirages, I gazed at my oasis, but he was real." — Laura Whitcomb
5. "If I had a single flower for every time I think of you, I could walk forever in my garden." — Claudia Adrienne Grandi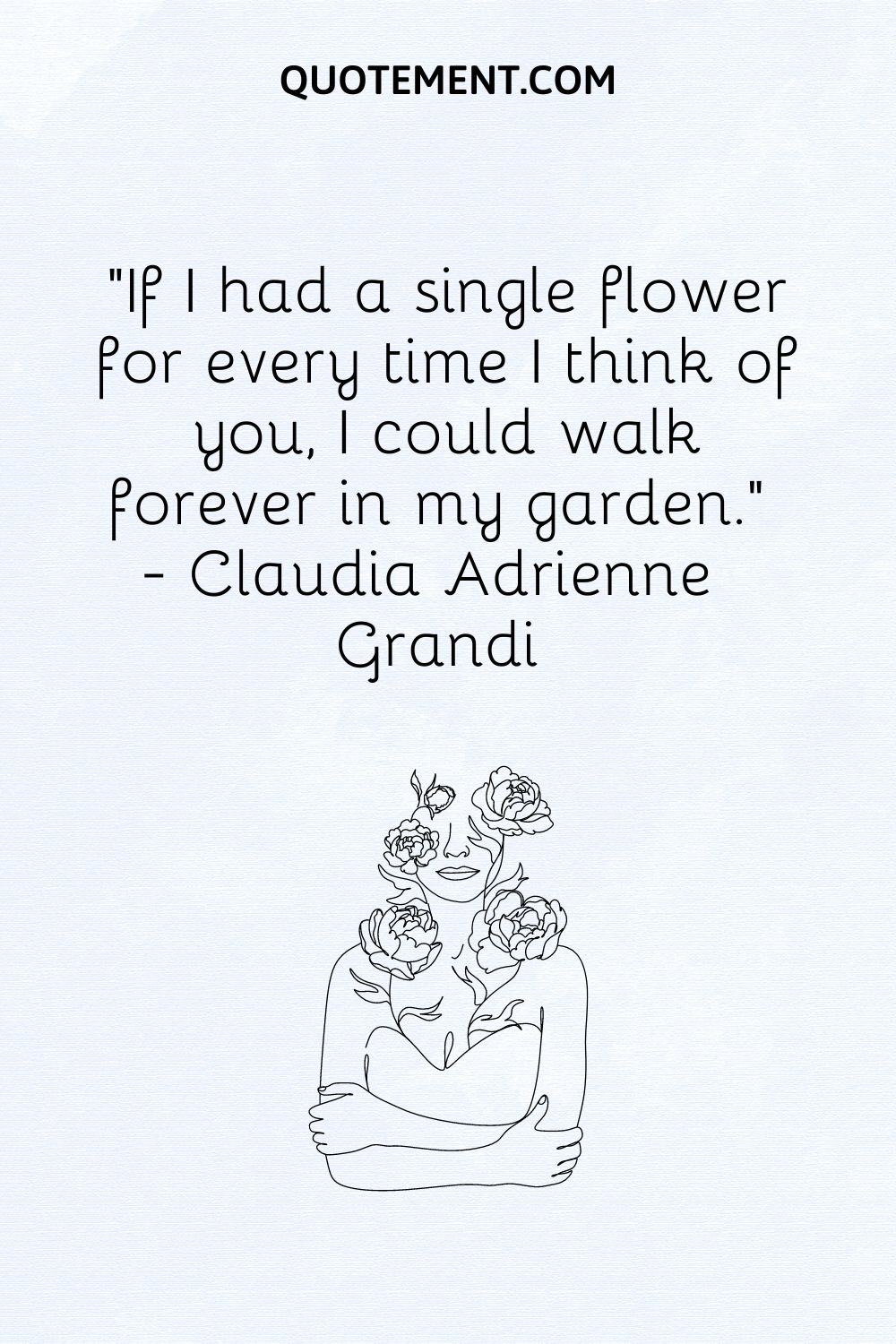 6. "I have a crush on your mind, I fell for your personality, and your looks are just a big bonus." — Nicholas Sparks
7. "I am secretly in love with my best friend, who makes me laugh and gives me the courage to move on."
8. "A secret love is beautiful, sweet, and sacred when it's just a light infatuation; but when that person reaches over and touches you in the heart, making it alive in a way it has never known, that secret love becomes frightening…" — Stefanie Schneider
9. "When I say I have a crush on you, what I'm saying is that I'm in love with the distance between us. I'm not in love with you: I don't even know you. I'm in love with the escape that fantasizing about your promises." ― Larissa Pham
10. "Your soft voice is music to my ears; your sweet smile is a beauty to my eyes."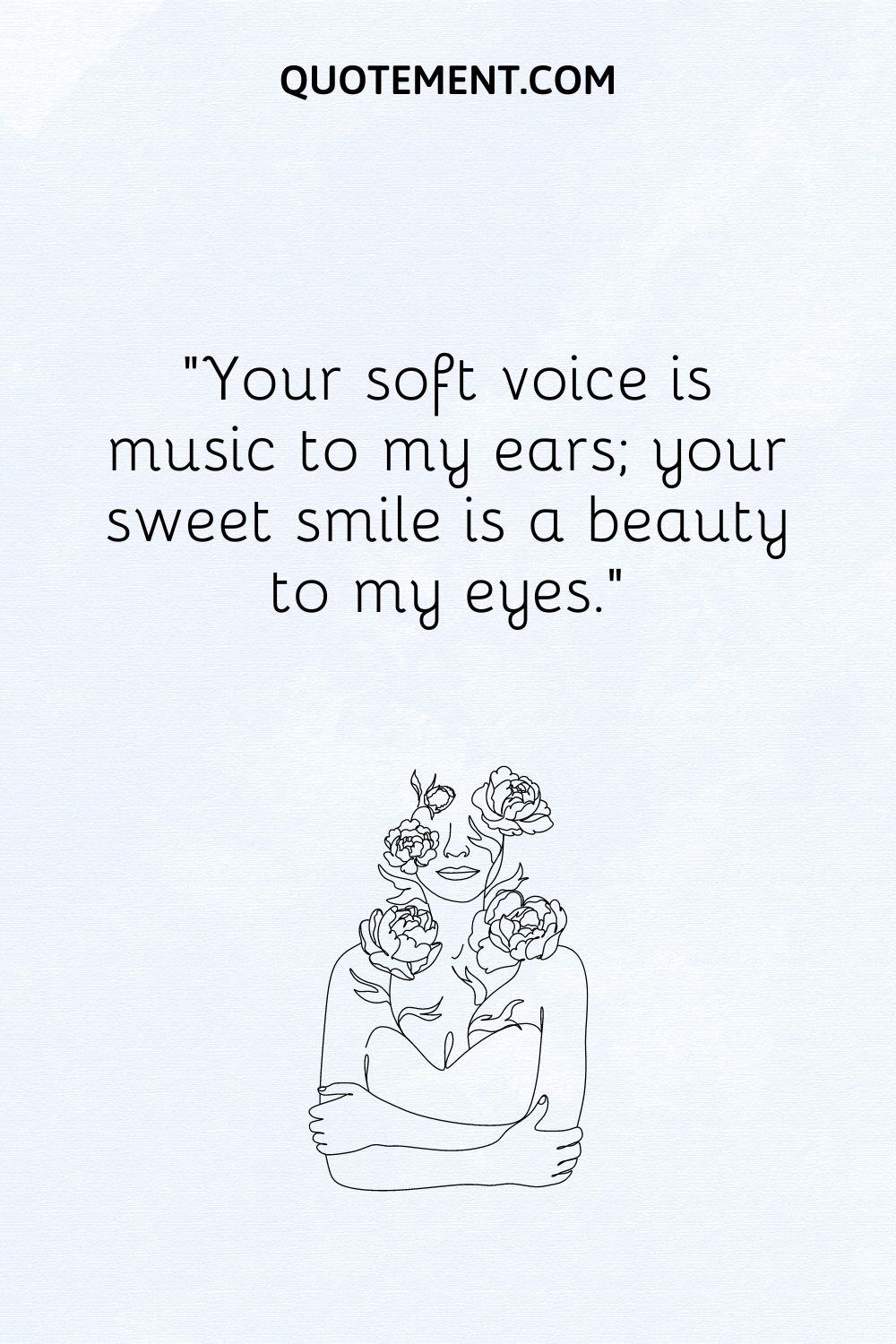 11. "It's your beautiful personality that I fell for, yet everything about you has looked very beautiful ever since."
12. "I couldn't take my eyes off him. Like a desert wanderer afraid of mirages, I gazed at my oasis, but he was real." — Laura Whitcomb
13. "I spent my days waiting for you, searching the crowds for your face. I stopped breathing the moment you recognized me, as you captured my soul with your gaze." — Christy A. Martine
14. "I had a dream that I saw shooting stars with you. Two things that will come close to never happening: Seeing shooting stars and being with you." ― Karen Quan
15. "You are the reason I wake up with a smile every morning. You are the secret to my peaceful nights."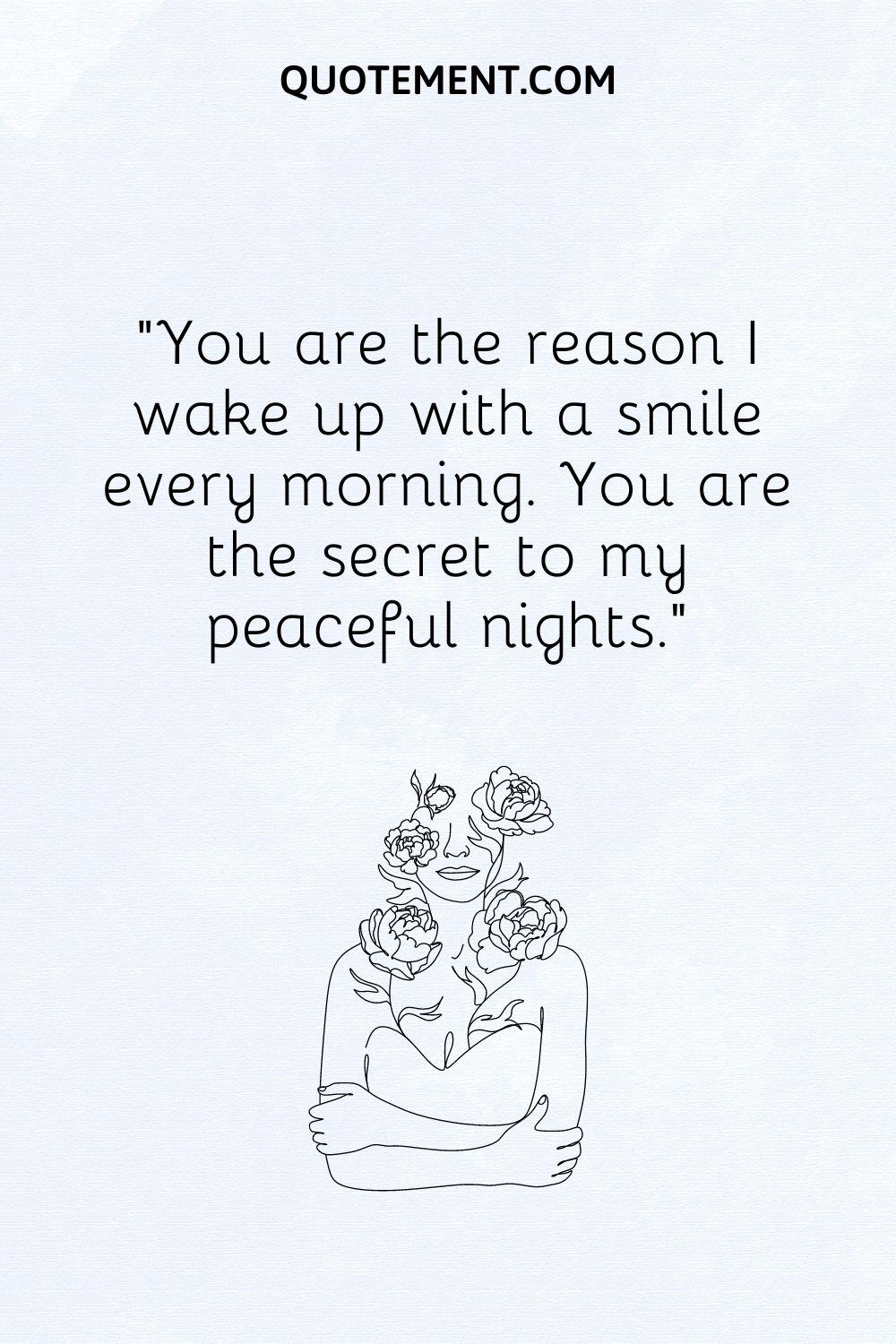 See also: 150 Sweet You Make Me Smile Quotes To Spread Joy & Love
Secret Admirer Quotes
Have you been considering confessing your feelings to your secret crush? These cool quotes can help you do it in style.
1. "She is admired from afar. These admirers court her in secret, in the safety of their dreams." — Whitney Otto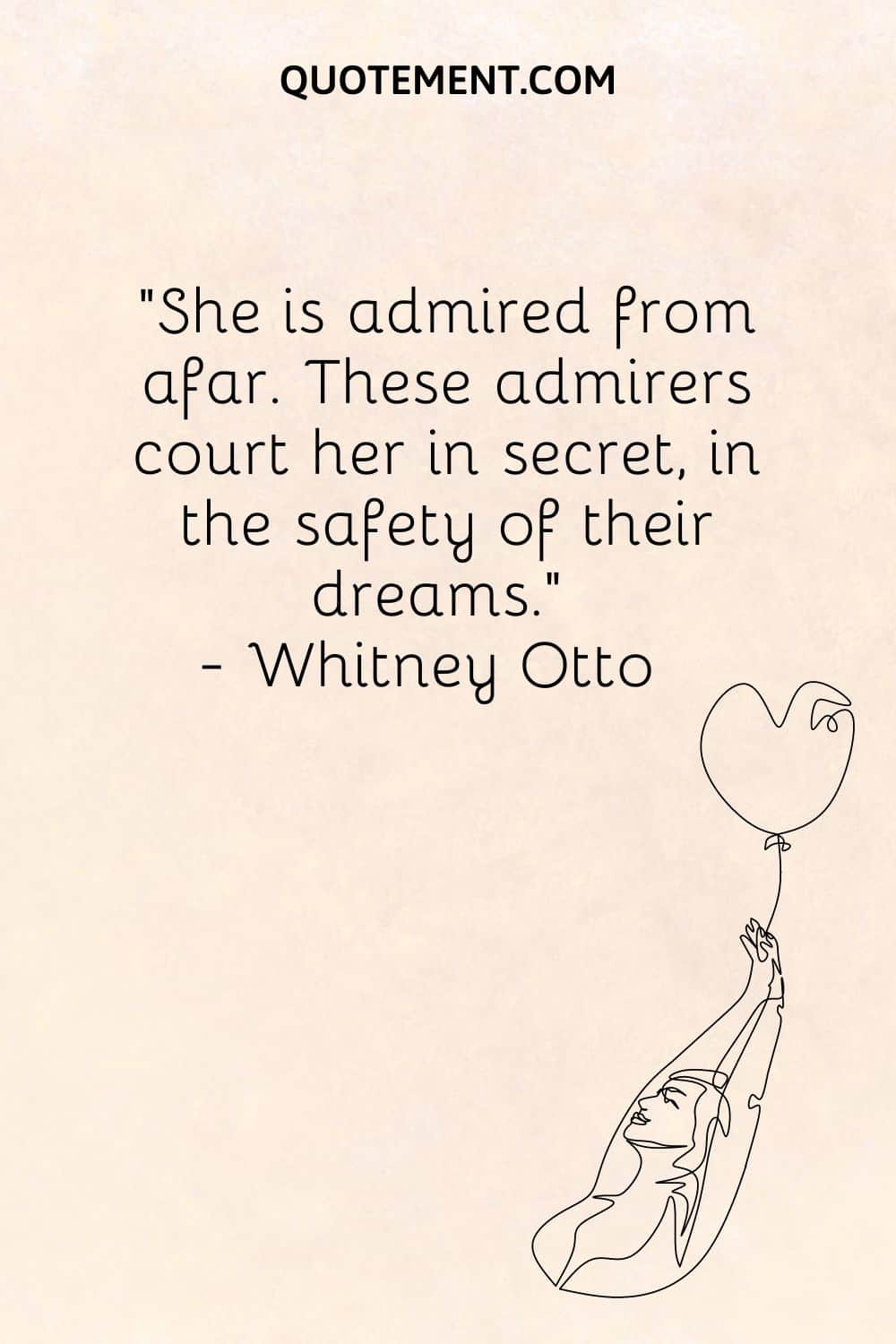 2. "I know that someday my dreams will come true, and that includes being with you."
3. "His presence, so strange and wonderful, seemed to fill the room and press against me. I didn't think I'd ever sleep again." ― Maggie Stiefvater
4. "If you asked me how many times you've crossed my mind, I would say once because you never really left."
5. "Love's gift cannot be given. It waits to be accepted." — Rabindranath Tagore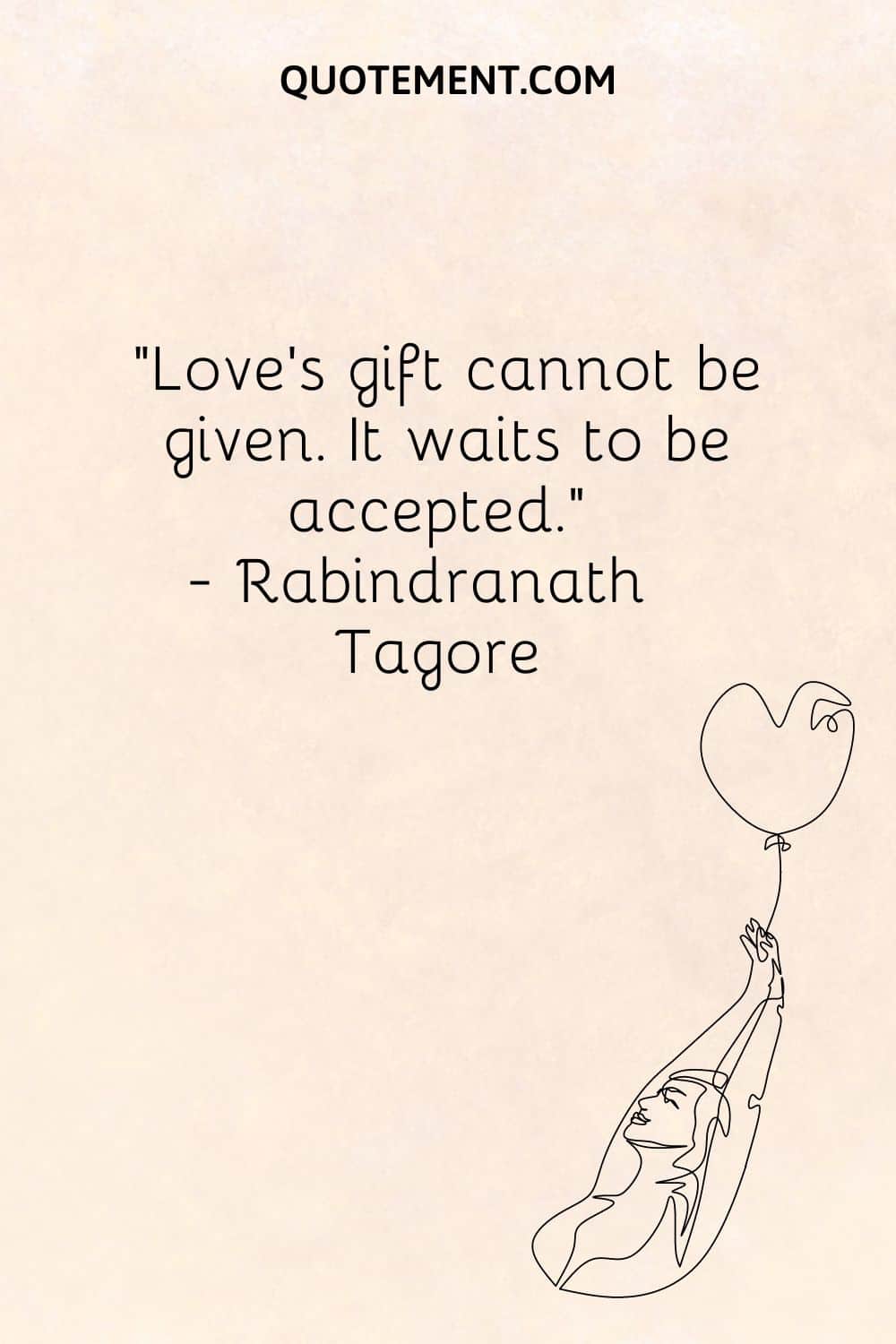 6. "It takes a minute to have a crush on someone, an hour to like someone, and a day to love someone… but it takes a lifetime to forget someone." — Khalil Gibran
7. "Maybe the fantasy is better than the reality, but I would love to see what happens if we can be together."
8. "I can't wait to see you again, even if just for a few moments… my heart skips a beat, and I get a silly smile that takes over my face… maybe someday you will feel the same way too…" — Karen Kostyla
9. "He's just my first love. My first crush. Maybe that's why they called it a crush. Because it indeed crushes you. Literally. Break your heart. Leave pain. Rip you apart." ― Yuli Pritania
10. "You must allow me to tell you how ardently I admire and love you." — Jane Austen
11. "I've had many crushes before, but none so deep as this. Your scent's the only thing I crave; you're the only one I miss." ― Veronica Nagorny
12. "Sweetheart, someone, somewhere is madly crushing on you right now even while you crib about your crush showering attention elsewhere." ― Nitya Prakash
13. "How could a smile reduce me to such a mess? I was tempted to go to him and put my arms around him. Is it part of love for women to become weak and foolish?" ― Somi Ekhasomhi
14. "Why is it so embarrassing to admit you like someone? It should be a compliment to them, and even if they don't like you back, they should at least commend you on your refined taste." ― Dalya Moon
15. "Isn't it funny how just one little phone call or text can make your bad day suddenly wonderful!" — Nishan Panwar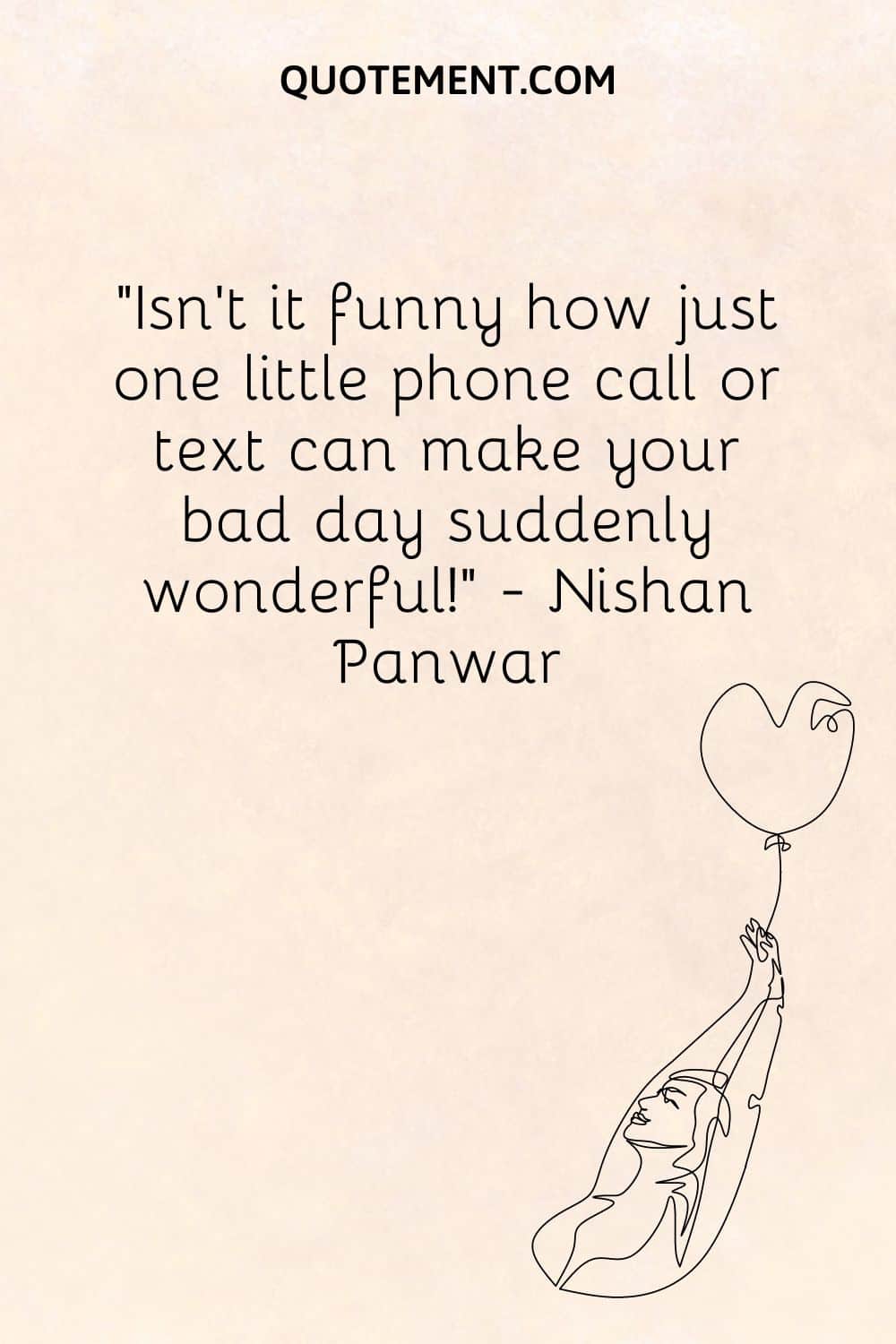 See also: 50 Adorable Unexpected You Made My Day Quotes & Messages
Shy Crush Quotes
Take a look at these cute secret crush quotes to help you overcome your shyness.
1. "You know you're in love when you can't fall asleep because reality is finally better than your dreams." — Dr. Seuss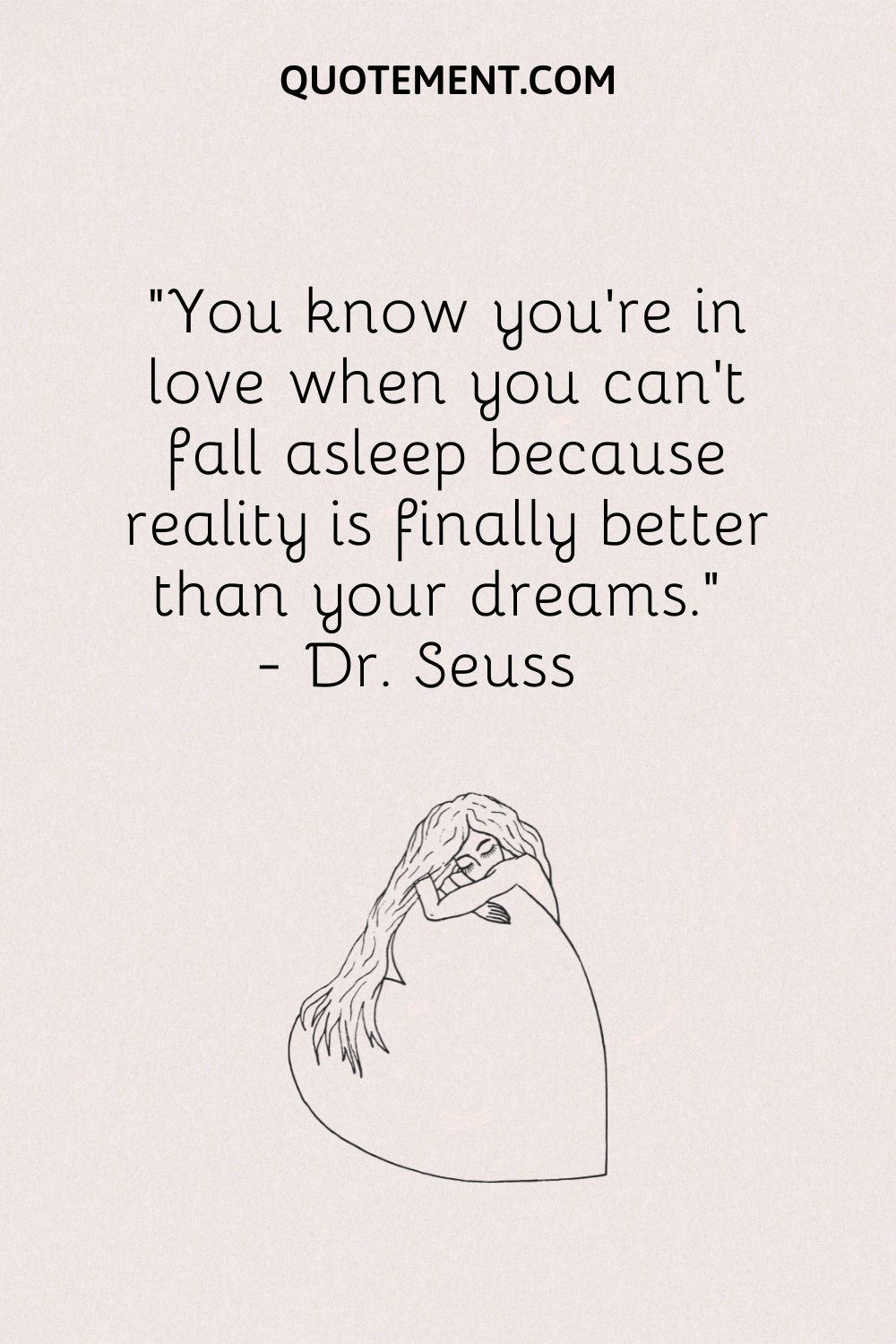 2. "Just thinking about you brings a smile to my face, a twinkle to my eye, and a skipped beat to my heart." — Ash Sweeney
3. "I spend most nights at home falling in love with the idea of being with you."
4. "Every single time you looked at me, through the corner of your eye, and smiled. My heart pushed the ribs with all the force towards my lungs until it got crushed, and I could not breathe anymore." ― Akshay Vasu
5. "I'd thought that gazing at her would satisfy my raging fire, but instead, I was aching all over." ― Anoir Ou-Chad
6. "Your name is a golden bell hung in my heart. I would break my body to pieces to call you once by your name." — Peter S. Beagle
7. "It's like I'm thirteen again, and he's my crush. All I'm aware of in this entire roomful of people is him. Where he is, what he's doing, who he's talking to." ― Sophie Kinsella
8. "It's a crush because it's not real. Not yet, not maybe ever. I'd be content to spend forever in this liminal, cresting place, the interval before we know each other." ― Larissa Pham
9. "I don't remember having a crush on a boy when I was a girl. I don't even remember my first kiss." — Maureen O'Hara
10. "I may not be the prettiest girl, but I loved you the most. How long will I have to wait for you to see that?"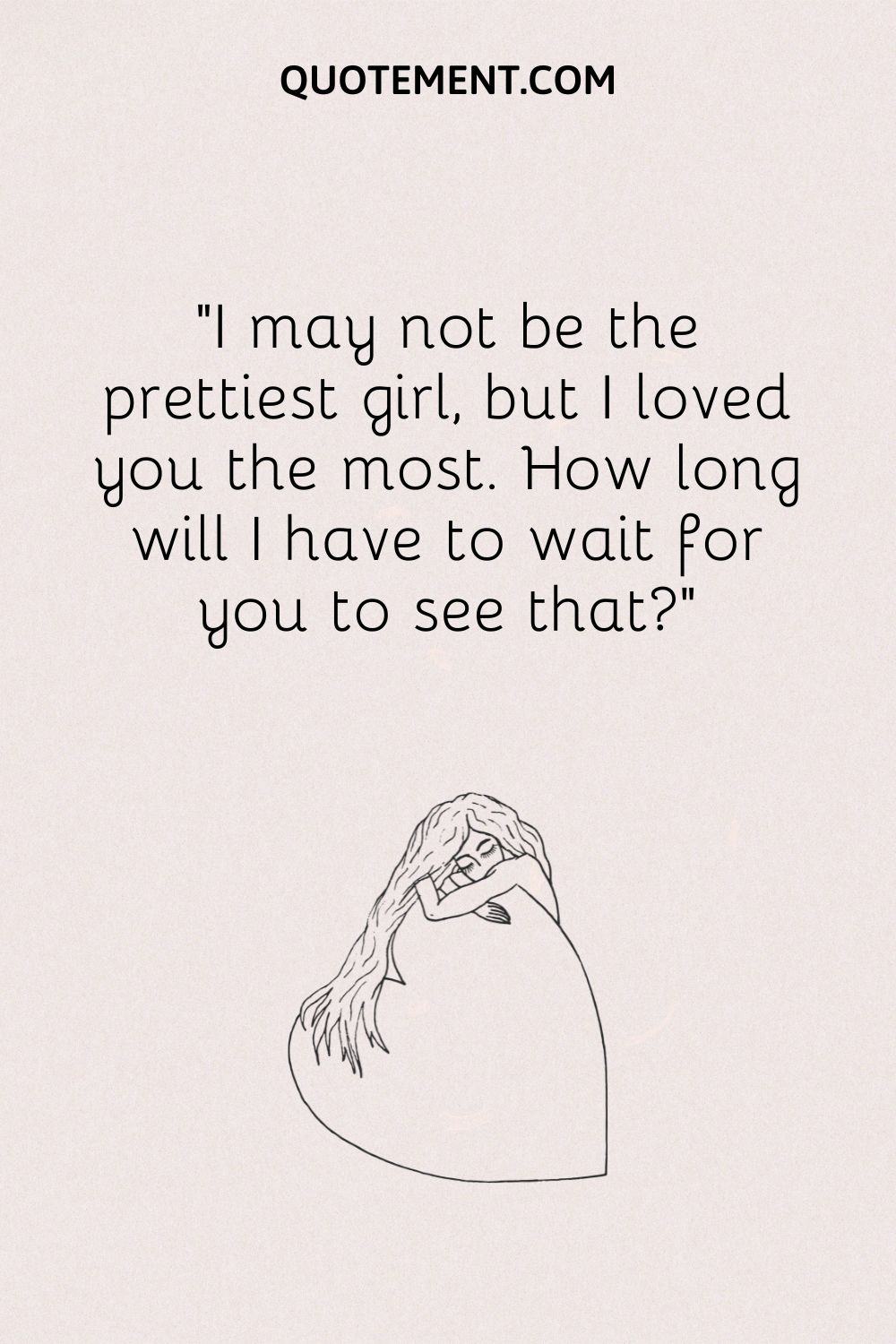 See also: 210 Lovely Captions For Crush To Let Them Know How You Feel
Secret Love Quotes To Your Crush
Here are some more lovely secret crush quotes for you to check out.
1. "When I find myself thinking of you, it is all the good memories that we had that bring a smile to my face." — Catherine Pulsifer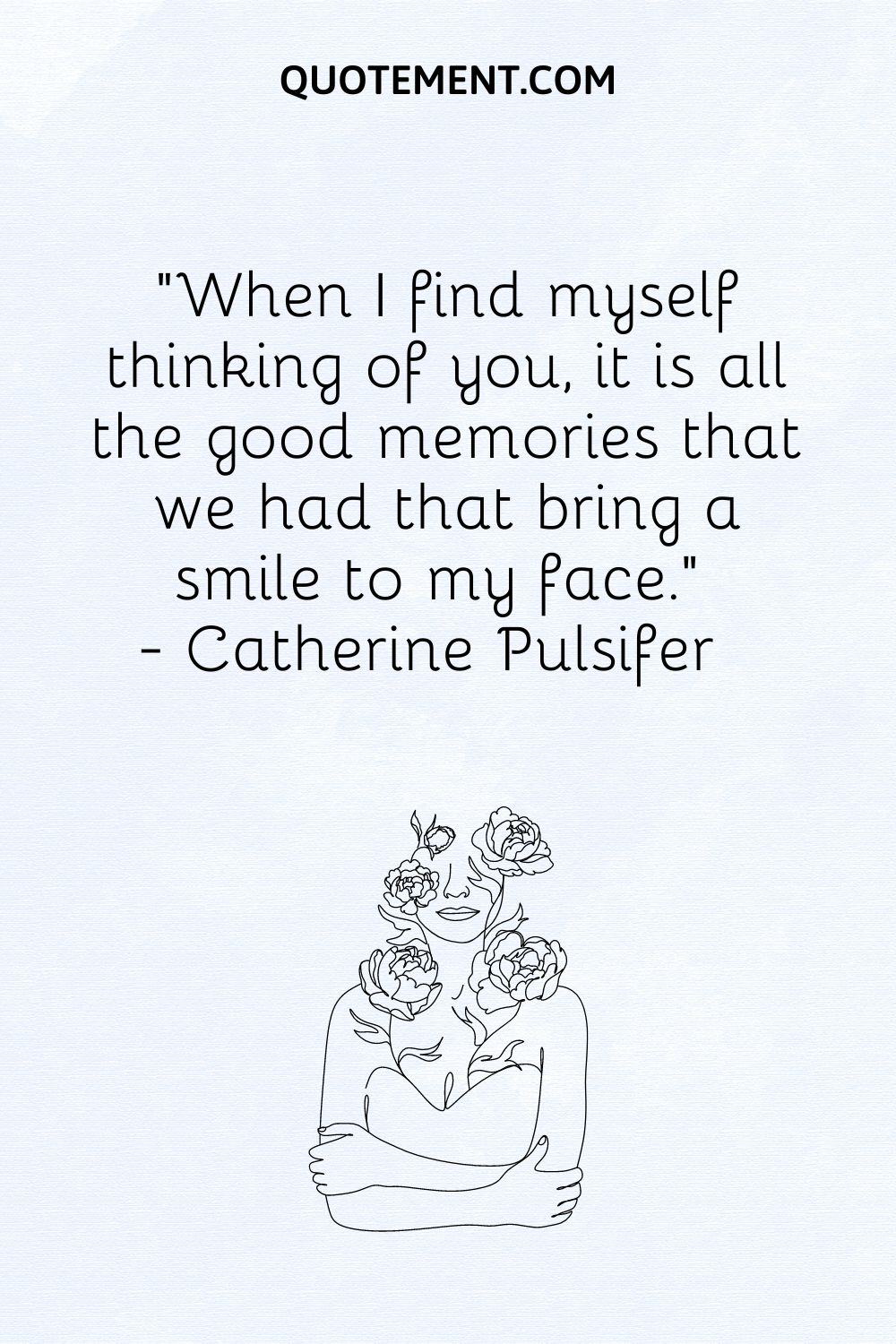 2. "I want you to be happy with someone you love, even when it means that you have to be with someone else other than me."
3. "I don't miss this opportunity to tell you that the moment I saw you, I felt my heart create a new rhythm."
4. "If I can keep loving you in silence, it will not change anything that we have. I do not mind loving you in secret for the rest of my life."
5. "The feeling was wild and sort of unpredictable, like a good summer storm." ― Ashley Herring Blake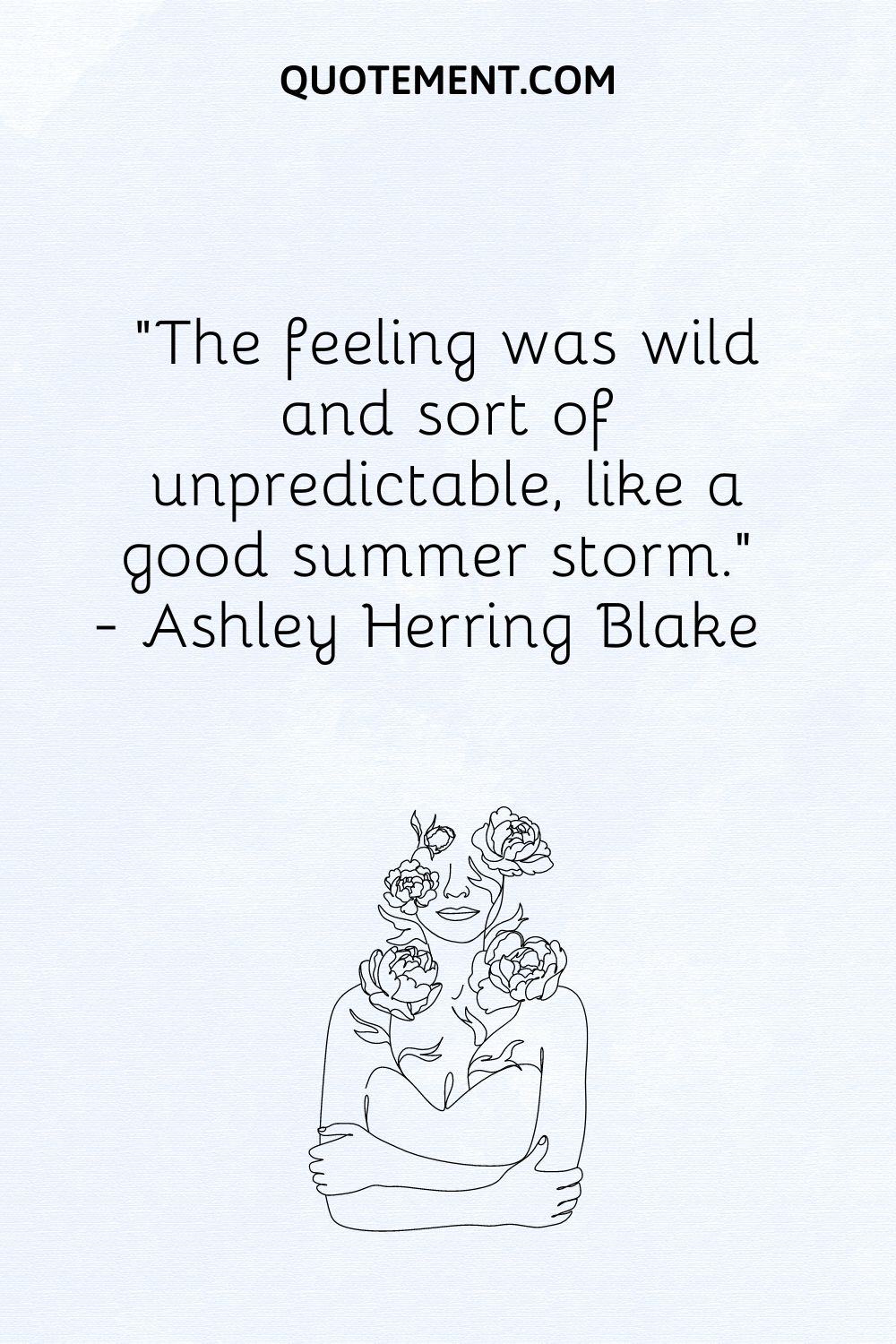 6. "Theoretical crushes could remain perfect and flawless because you never actually had to find out what that person was really like or deal with the weird way they chewed or anything." — Morgan Matson
7. "I feel love is like a cigarette – you know it is not good for you, but by the time you realize, you are so addicted to it that you can't leave it." ― Shreya Gupta
8. "Being secretly in love with someone is the hardest feeling. You get hurt, you get jealous, you cry, and you get broken…but the saddest part is he/she doesn't know about it."
9. "I have a crush on you" lies somewhere between "I like you" and "I love you". A beautiful possibility of turning, either way, depending upon the reaction it evokes. Value it." ― Nitya Prakash
10. "Every word you've ever said is written somewhere in my mind." — Crystal Woods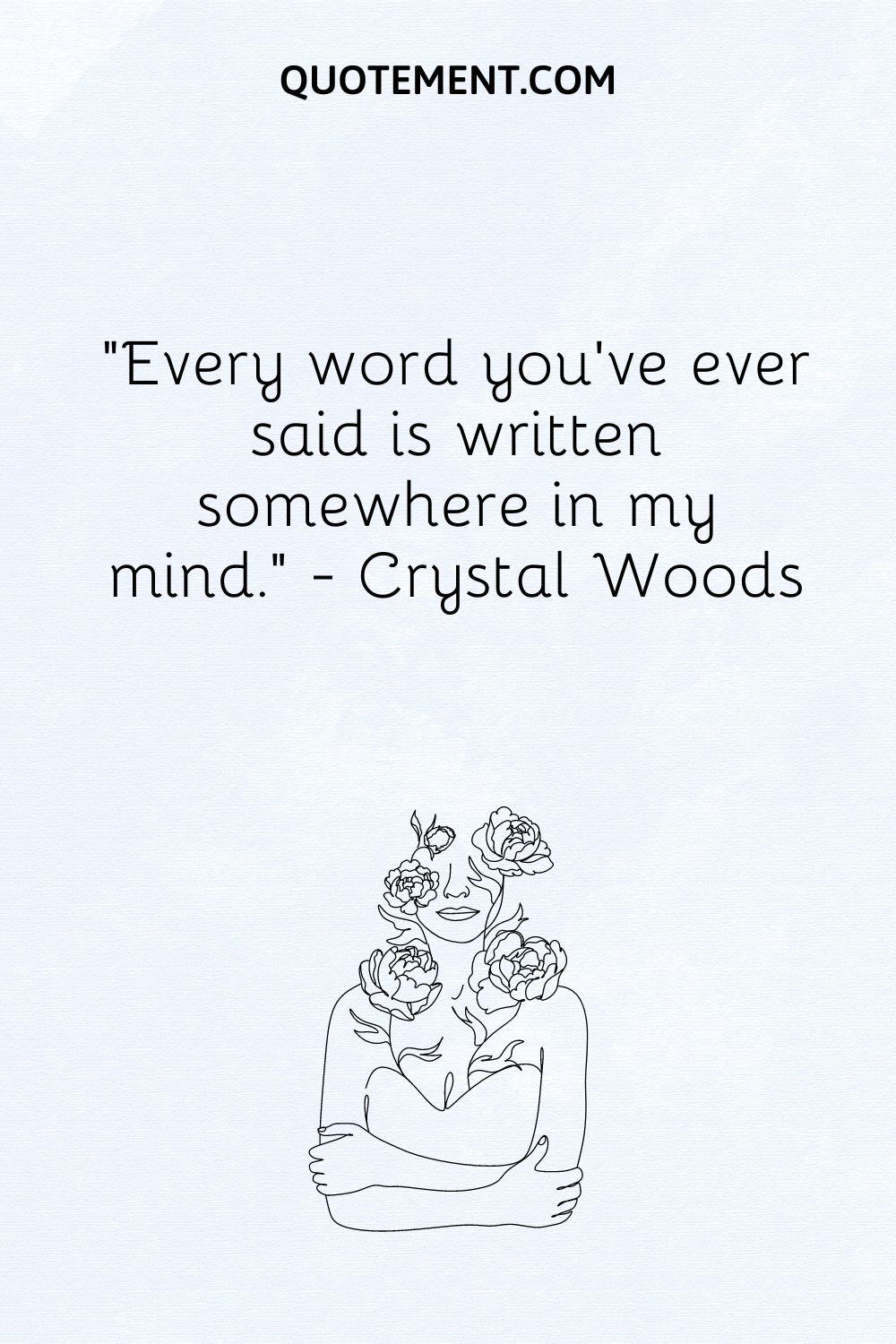 Sad Crush Quotes
Dreaming about a person you're unlikely ever going to be with can be heartbreaking.
Below you'll find a selection of sad secret crush quotes for those who suffer because of unrequited love.
1. "You have broken my heart a million times without you even knowing it."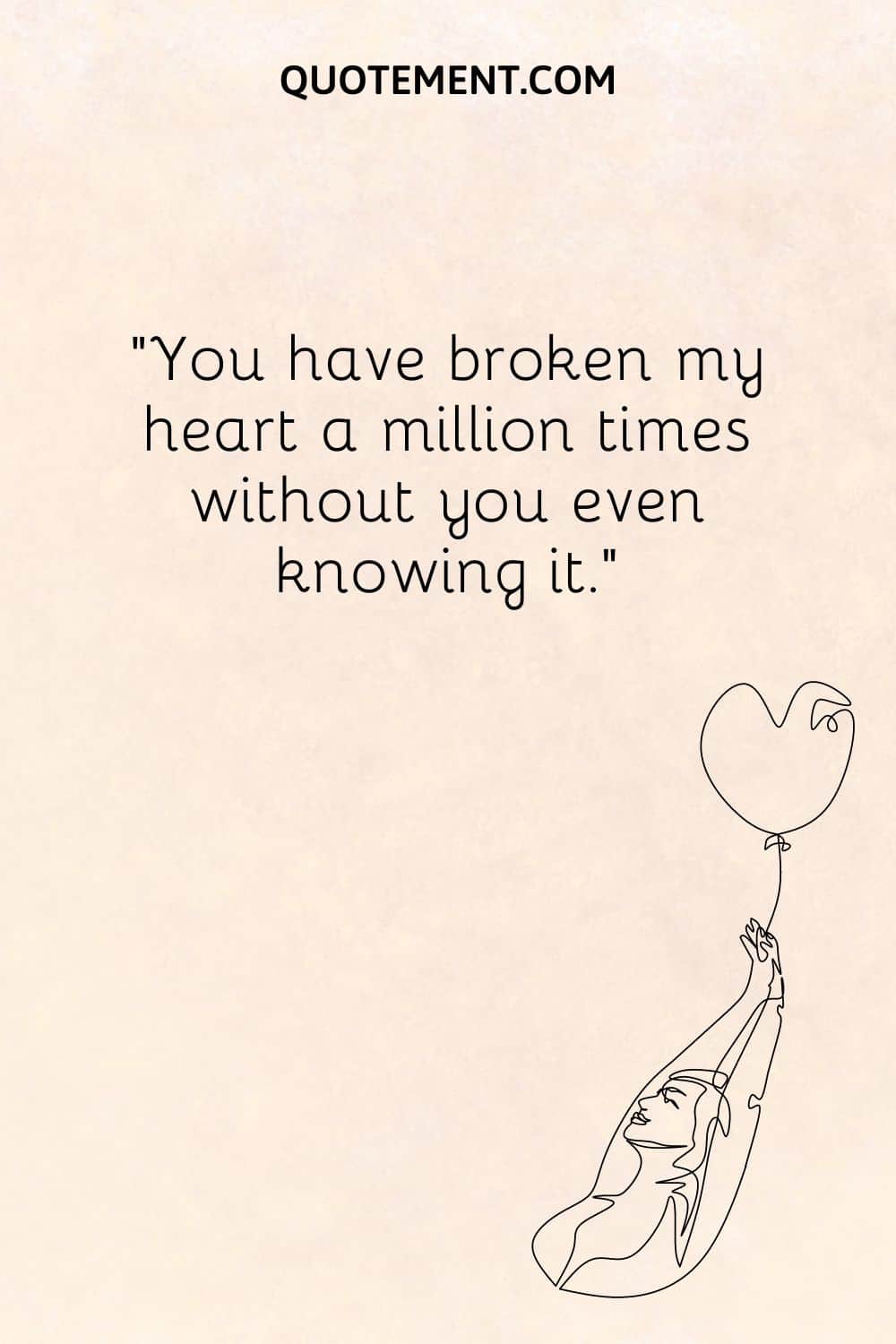 2. "I'm afraid to lose you, and you're not even mine." — Drake
3. "I am so afraid to tell you I love you, and now I have to suffer the view of you loving someone else."
4. "To him, I'm just another girl. Sitting in class with my head on my desk. To me, he's that guy. With that smile, those eyes, that laugh, and the boy I can never have."
5. "I know I am but summer to your heart, and not the full four seasons of the year." — Edna St. Vincent Millay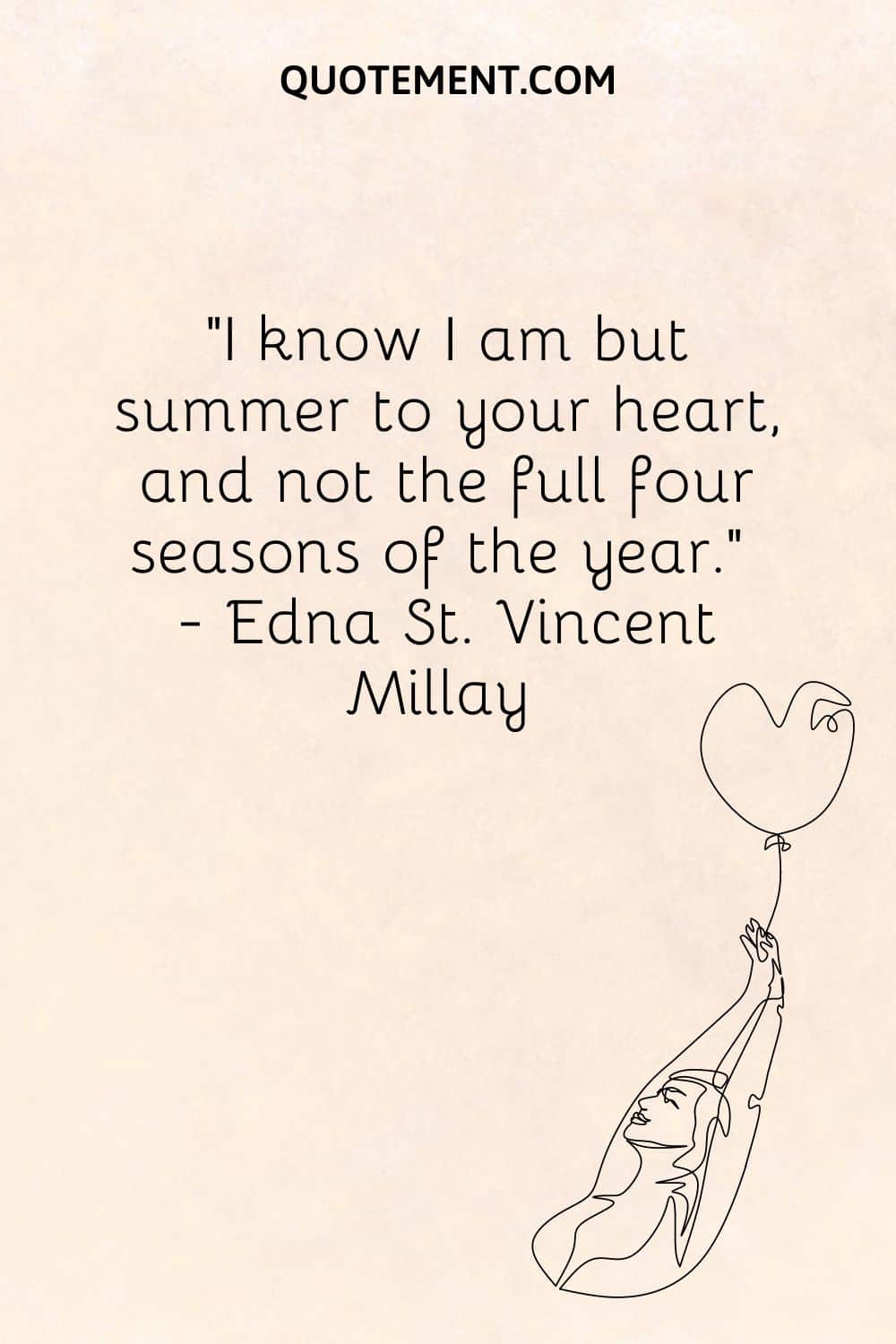 6. "If in silence I can love you with no limit and if in the darkness I can see you clearly, I will not mind loving you even if you will never know how sweet it is."
7. "Loving you is like torturing myself because I know you would never love me back."
8. "Do you know what it's like to like someone so much you can't stand it and know that they'll never feel the same way?" — Jenny Han
9. "I never admitted I loved you then, and I will never admit it now because it is too late."
10. "If it's not making you better, it isn't love. True love makes you more of who you are, not less." — Mandy Hale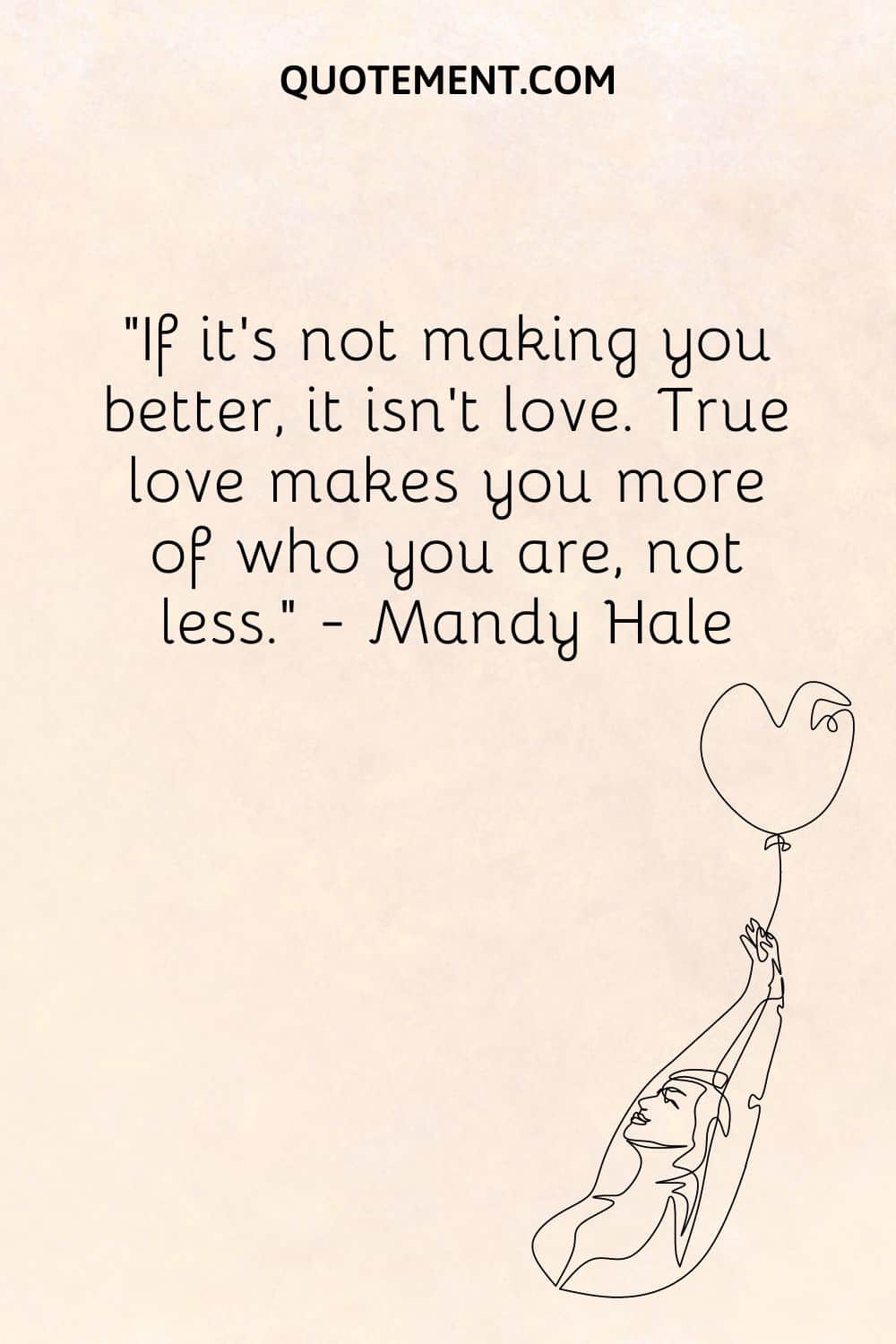 See also: 140 Heart Touching True Love Quotes For Your Sweetheart
I Have A Secret Crush On You Quotes
These beautiful secret crush quotes will help you put your feelings into words.
1. "You are the unwritten poem that I always carry folded in the pocket of my heart." — Curtis Tyrone Jones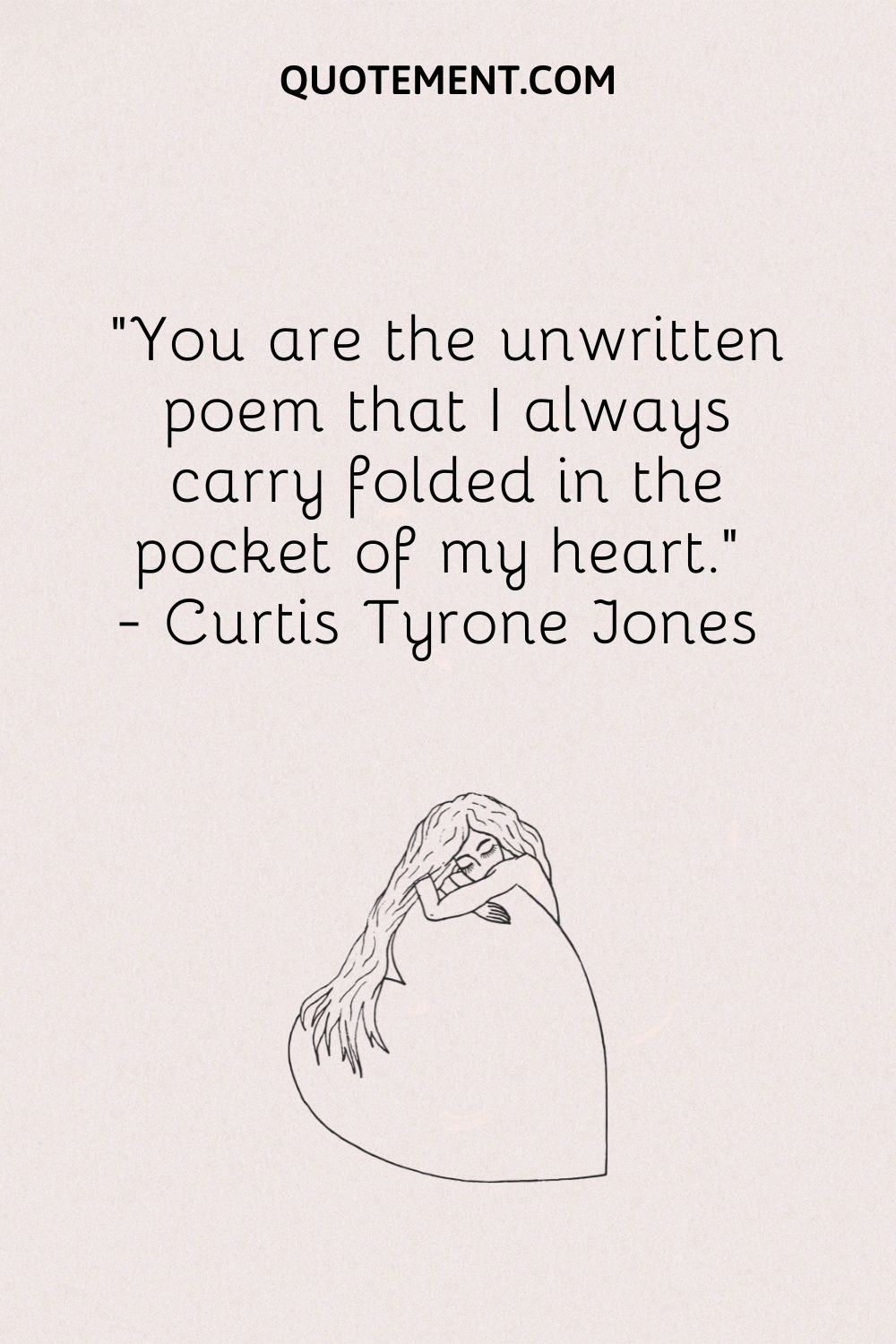 2. "I was praying that someday you would notice me and tell me that you love me like I pictured you would live in my countless daydreams about us."
3. "Great hearts steadily send forth the secret forces that incessantly draw great events." — Ralph Waldo Emerson
4. "It was so easy to get excited about someone I didn't know, so easy to play 'crush' from afar, just like with a fictional character. As long as I never talked to Cute Boy, he was going to be perfect, a good reason to wake up tomorrow." — Gaia B. Amman
5. "I forgot to breathe for a moment when our eyes met and his lips curved up." — Amy Tintera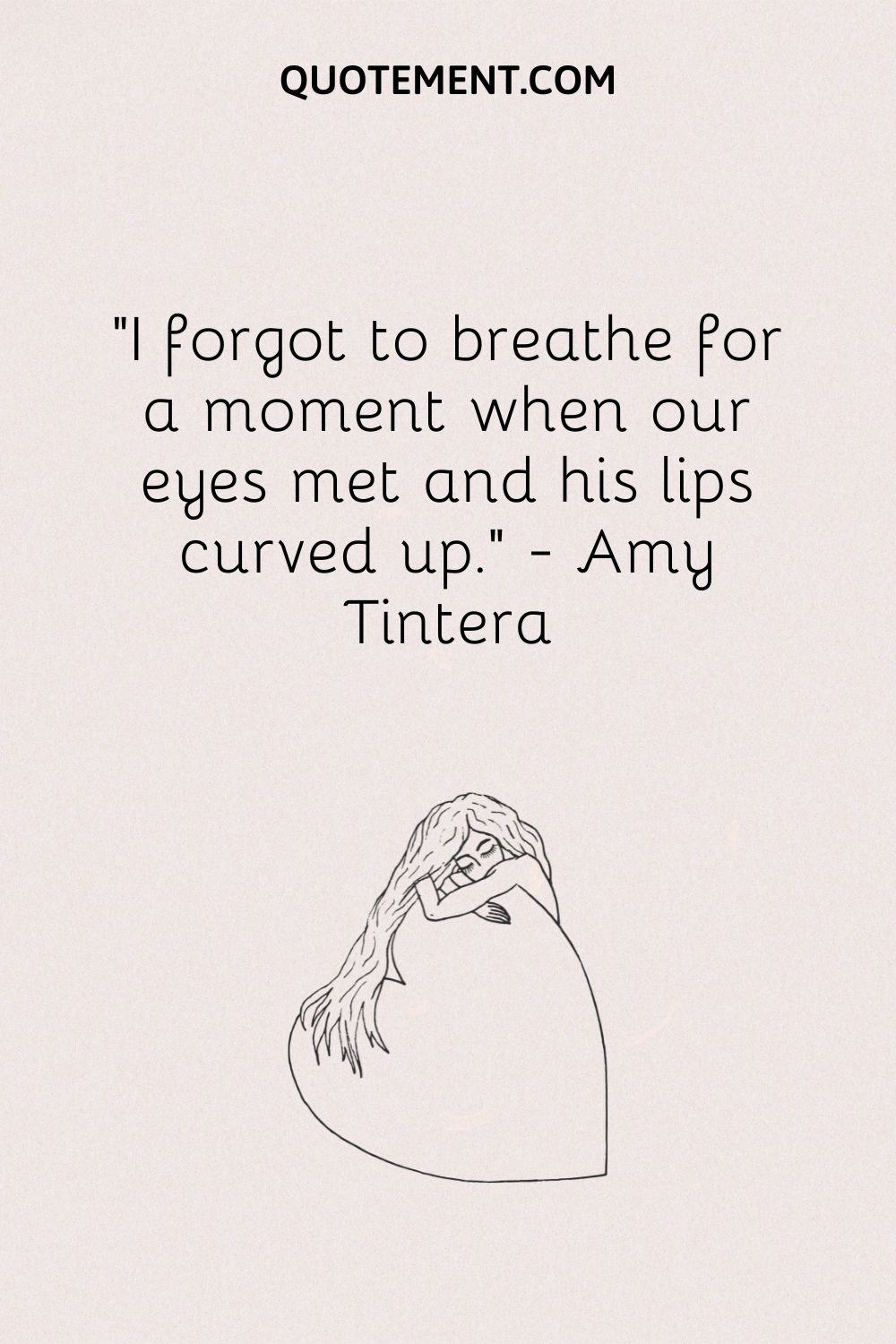 6. "Can you tell how you make me smile and laugh and cry and believe that I only like you as a friend?"
7. "I had the most beautiful dream, and then I fell asleep in your arms, and my dream turned lovelier still." ― Richelle E. Goodrich
8. "You are my first thought when I wake up and the last when I sleep. I wonder if the same goes for you too."
9. "Let us be grateful to people who make us happy, they are the charming gardeners who make our souls blossom." — Marcel Proust
10. "Love took me by surprise, love led me to you, and love opened up my eyes." — Michelle Branch
See also: 160 Unexpected Falling In Love Quotes To Give You Hope
Cute Love Quotes For Your Secret Crush
Next up is a collection of cute crush quotes for your secret crush.
1. "Even without a kiss, this moment is perfect, and you wouldn't trade it for anything." ― Jill Santopolo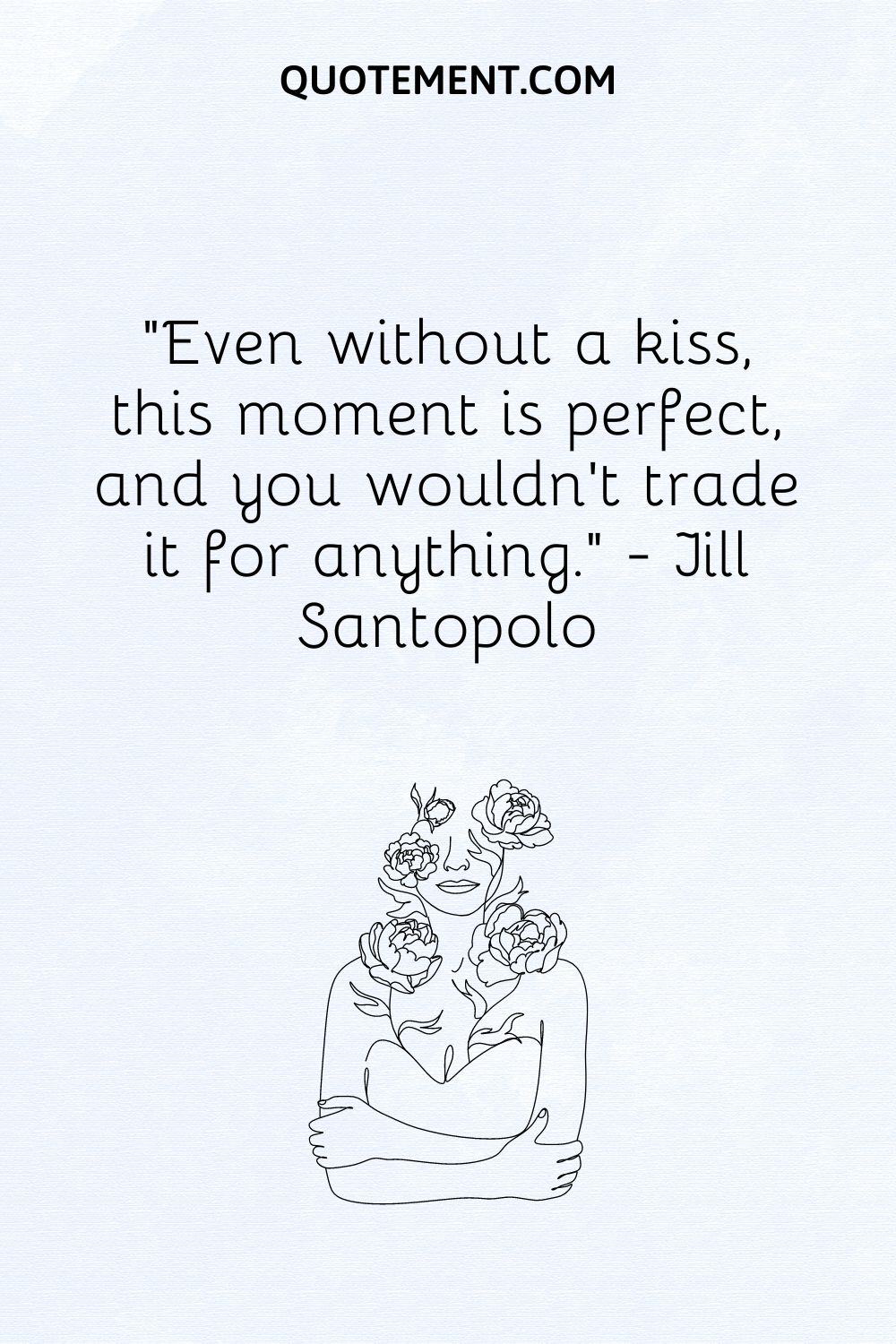 2. "Everything in the least connected with him has value for me; if someone even mentions his name, it is like a little present to me–and I long to mention it myself, I start subjects leading up to it, and then feel myself going red. I keep swearing to myself not to speak of him again- and then an opportunity occurs, and I jump at it." ― Dodie Smith
3. "When you love someone, all your saved-up wishes start coming out." — Elizabeth Bowen
4. "My heart had a crush on him from the moment we met, but it was faint, and the rest of me stubbornly refused to play along." ― Jennifer Harrison
5. "Like other secret lovers, many speak mockingly about popular culture to conceal their passion for it." — Mason Cooley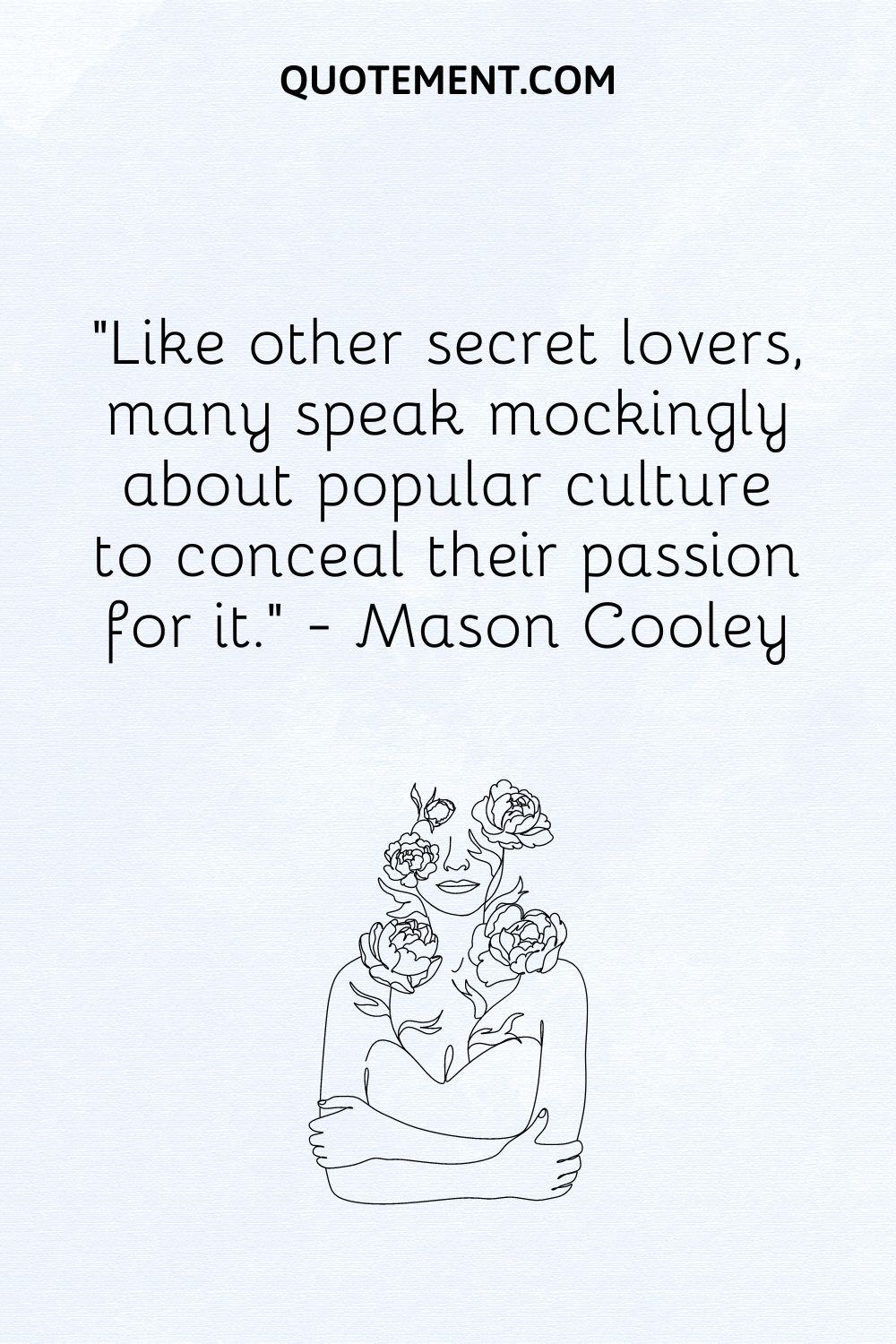 6. "Crushes are so awful. I wonder if they suck worse for the crush-er or the crush-ee. I consider my three years of watching Josh from afar. Yeah, definitely the crush-er." ― Stephanie Perkins
7. "Funny how perfection can mean a million things. Tonight, it's a boy and supermarket salads, the air tasting of salt and second chances, and a butterfly feeling in my chest." ― Caroline George
8. "How could a smile reduce me to such a mess? I was tempted to go to him and put my arms around him. Is it part of love for women to become weak and foolish?" ― Somi Ekhasomhi
9. "I was obsessed with him. I wasn't quite in love, nor was I simply harboring a mild crush. I was never not thinking of him. Everything he said intrigued me, everything he did fascinated me. I revered even the parts in him I knew cerebrally would have frustrated me were I not in such a foolheartedly, dreamy plight." ― Tali Sara
10. "Everything changed the day I met you. Now, I have a new hobby, I draw hearts around your name." — unknown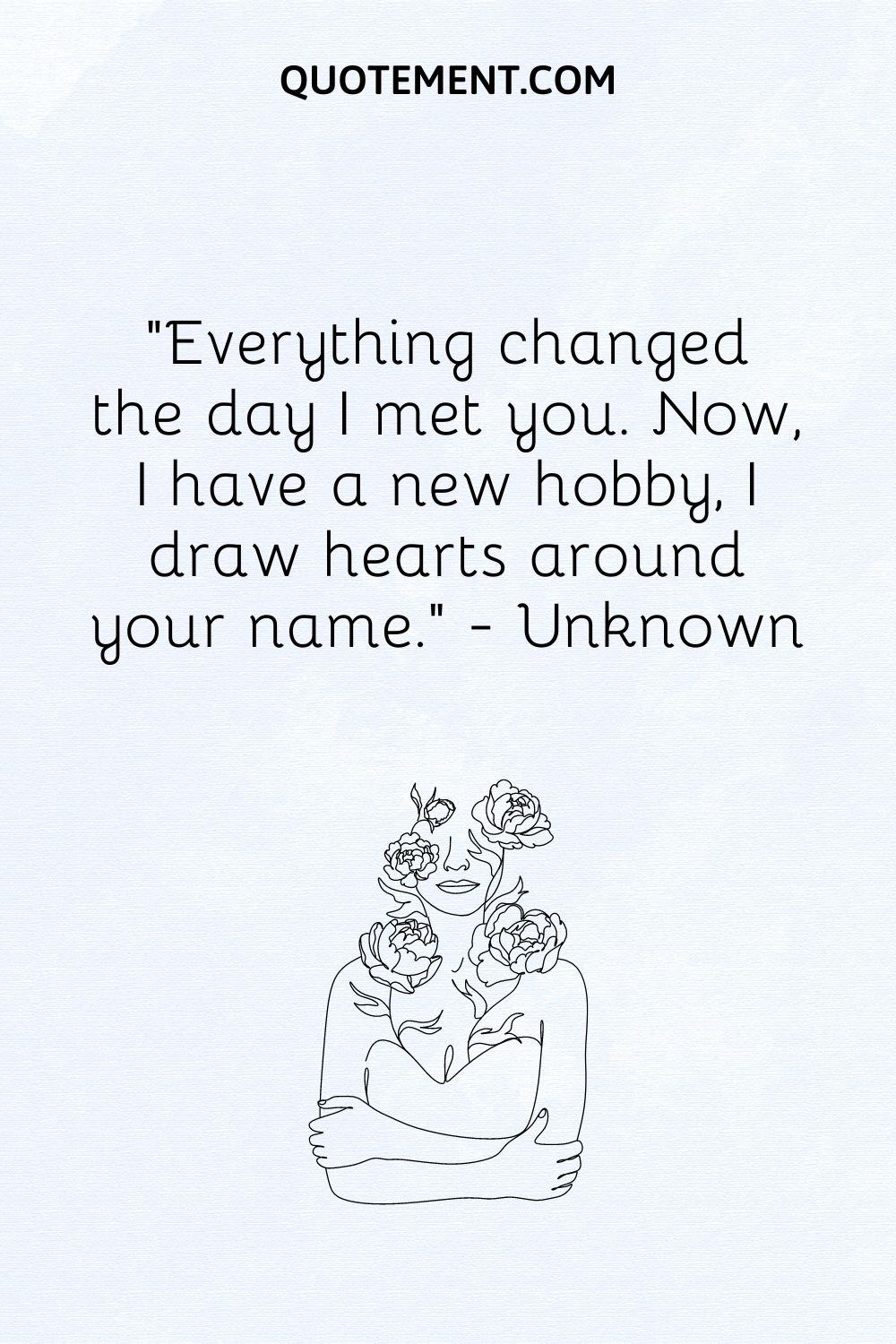 See also: 80 Today Is The Day We First Met Quotes For Your Love
Final Words
Thank you for taking the time to read my article. I hope you find these secret crush quotes helpful and inspiring.
Until next time!Read next: 100 Heart Melting Love Paragraphs To Send To Your Crush!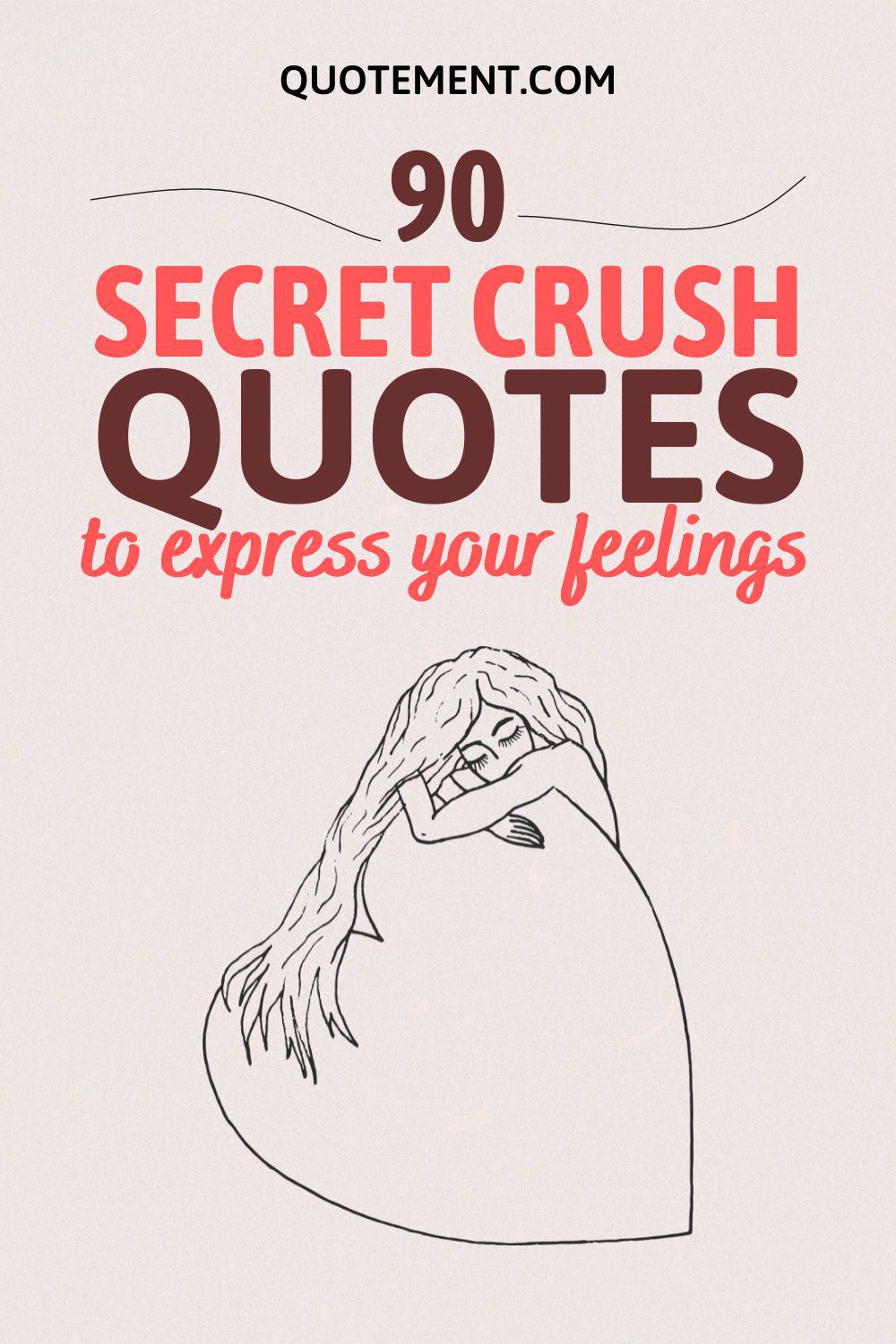 Emily Grant
A writer and poet at heart, Emily Grant has a talent for weaving words together in a way that inspires and delights. Her quotes reflect her love of nature, her appreciation for the simple things in life, and her optimistic outlook on the world.
Related posts