Has your morning cup of coffee inspired you to become a photographer and take cute coffee pics for Instagram?
In that case, you also need some cute coffee captions to complete your Instagram post!
Every coffee lover knows that each coffee cup is a true art piece. Espresso, latte, mocha, sweet or bitter, hot or iced, every coffee is beautiful.
There's nothing wrong with wanting to share your obsession with this dark, bitter, and heavenly liquid on your social media.
As a coffee addict myself, I'm always happy to see a fellow coffee lover enjoying their little cup of joy.
If it comes with a cute and catchy caption, I'm giving it a double-tap right away!
If you want your audience to react the same way, make sure you choose a captivating coffee caption that matches the charm of your photo.
I've picked the 280 best coffee captions for Instagram you will love! Each caption is coffee lover-approved (By me!).
Let's get to it!
Top 30 Coffee Captions For Instagram
I'll start off with the 30 best coffee captions for Instagram in the world!
1. I like my coffee how I like myself: dark, bitter, and too hot for you.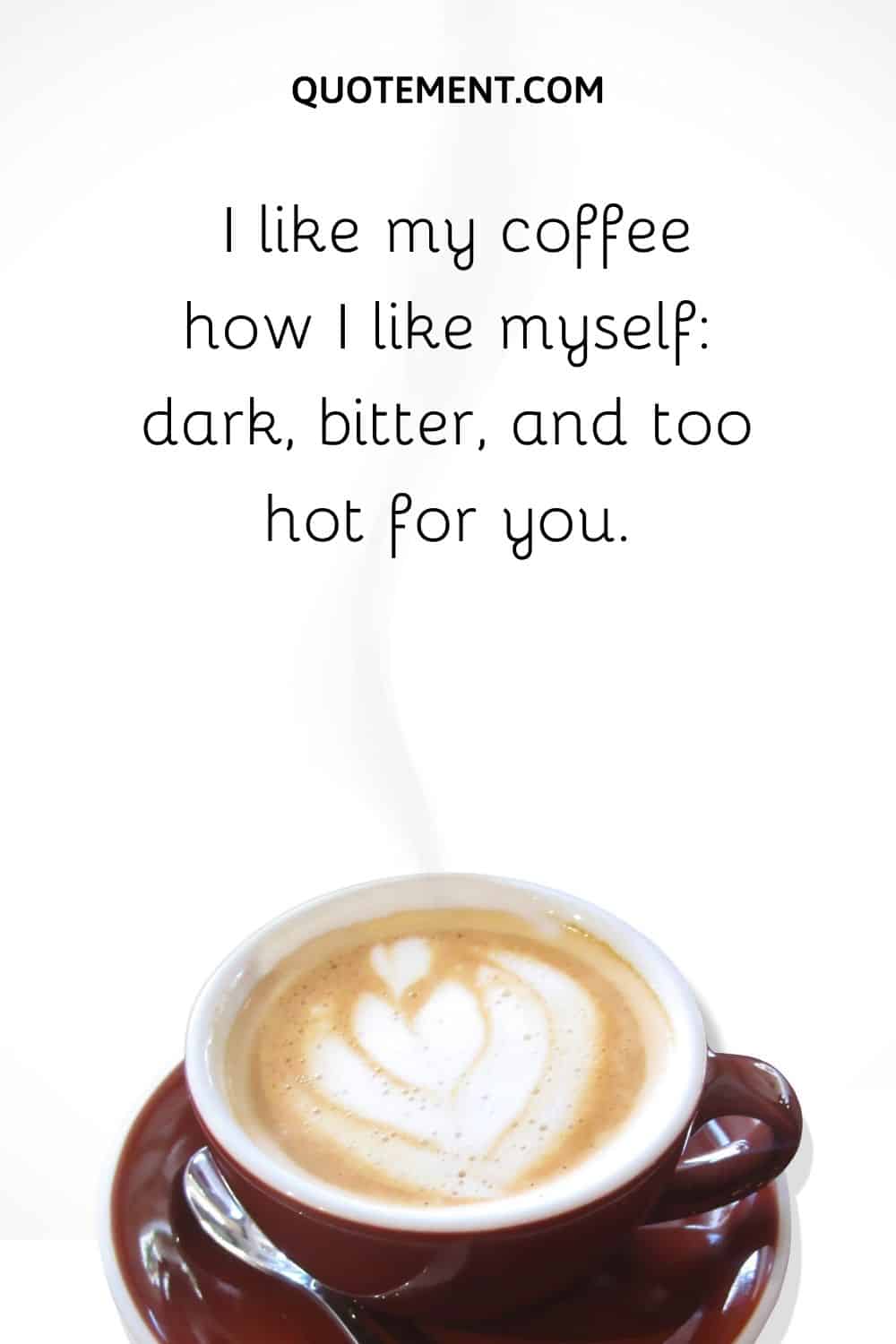 2. Coffee and love are best when they are hot.
3. Experience love at first sip.
4. My good manners only manifest when there's enough caffeine in my system.
5. Grab some strong coffee, take control of your mindset, and leave your excuses at the door.
6. Just got checked at the hospital, and they found traces of blood in my coffee stream.
7. A coffee, black as the devil, hot as hell, pure as an angel, sweet as love.
8. Coffee – the most important meal of the day.
9. The most dangerous drinking game is seeing how long I can go without coffee.
10. Decaf coffee only works if you throw it at people.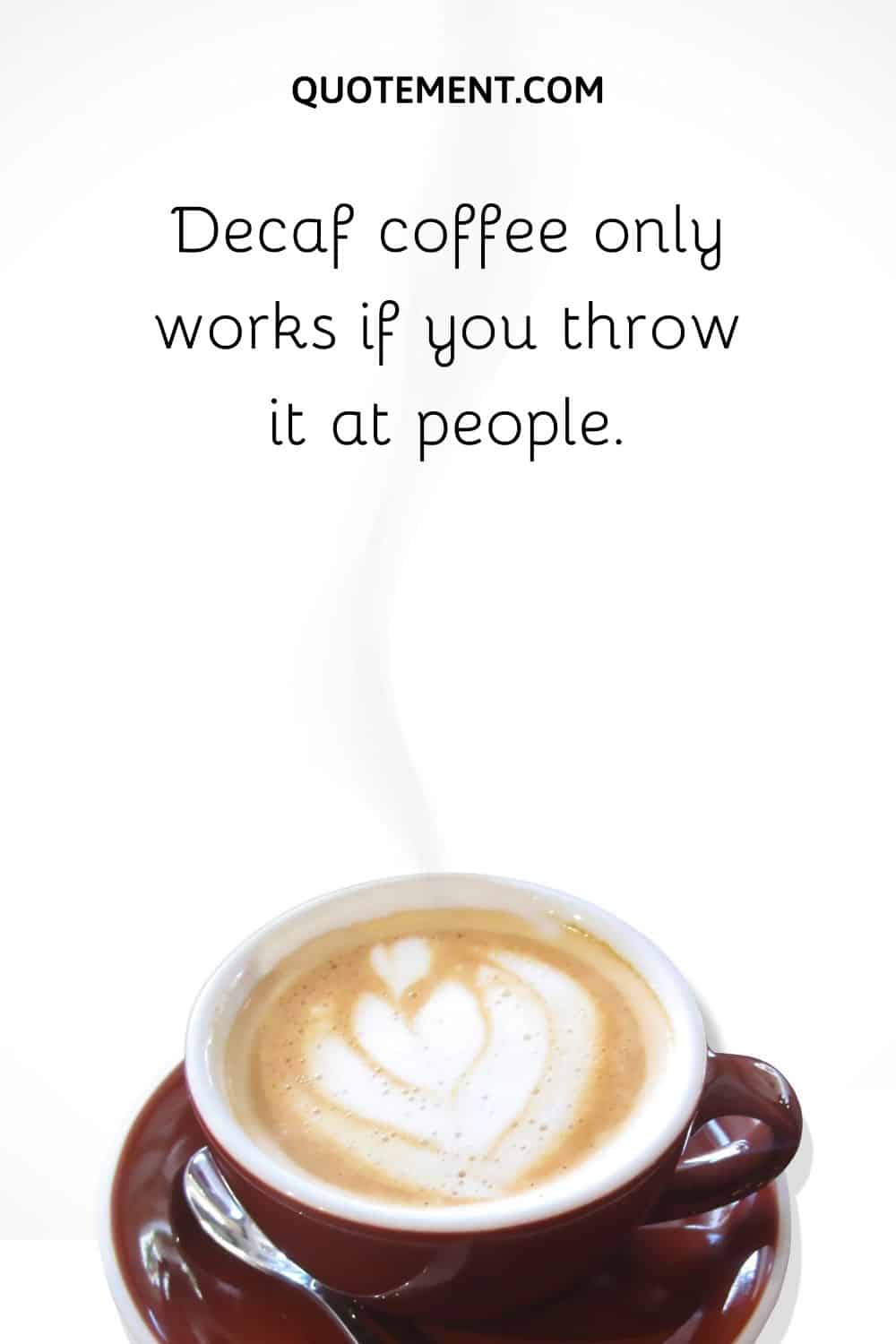 11. I can speak in fluent beans.
12. When that first sip of coffee touches your soul.
13. Coffee is my must-have accessory.
14. Either you choose your espresso, or you let espresso choose you.
15. Coffee is my love language.
16. How do I take my coffee? Seriously. Very seriously.
17. Coffee and friends make the perfect blend.
18. Given enough coffee, I could conquer the world and make everything mine.
19. My birthstone is coffee beans.
20. Drink coffee and pretend to know what you're doing.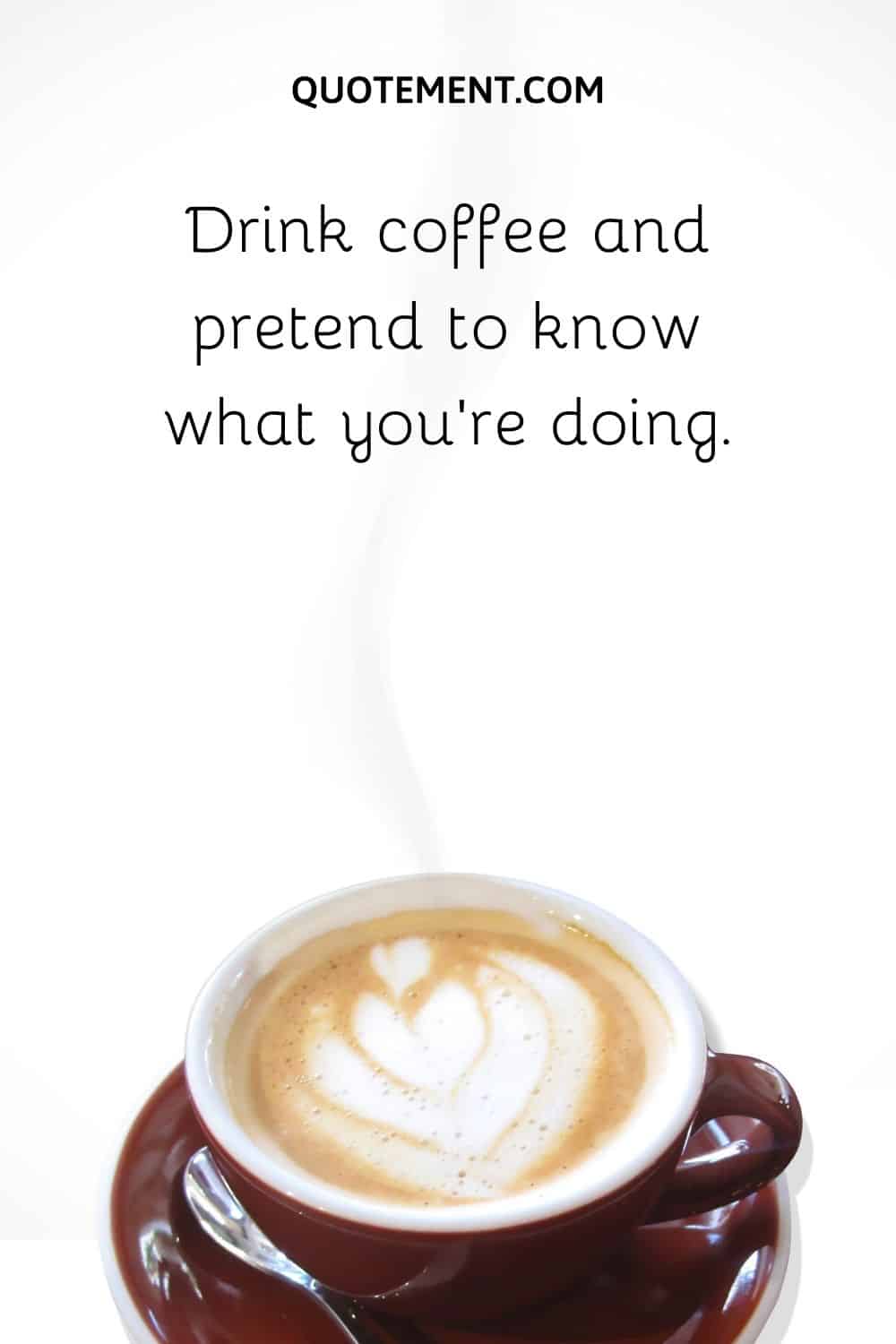 21. Give me some wifi, a pair of heels, a cup of coffee, and watch me make the world go round.
22. No coffee, no workee.
23. A coffee a day keeps the grumpy away.
24. Caffeine is the foundation of the food pyramid.
25. I'm a good person after coffee.
26. Decaffeinated coffee is the devil's blend.
27. Way too much coffee? But if it weren't for coffee, I wouldn't be able to manifest my real self.
28. I'm just sitting here, drinking coffee and making plans for world domination.
29. The powers of a man's mind are directly proportional to the quantity of coffee he drinks.
30. An espresso in one hand, confidence in the other.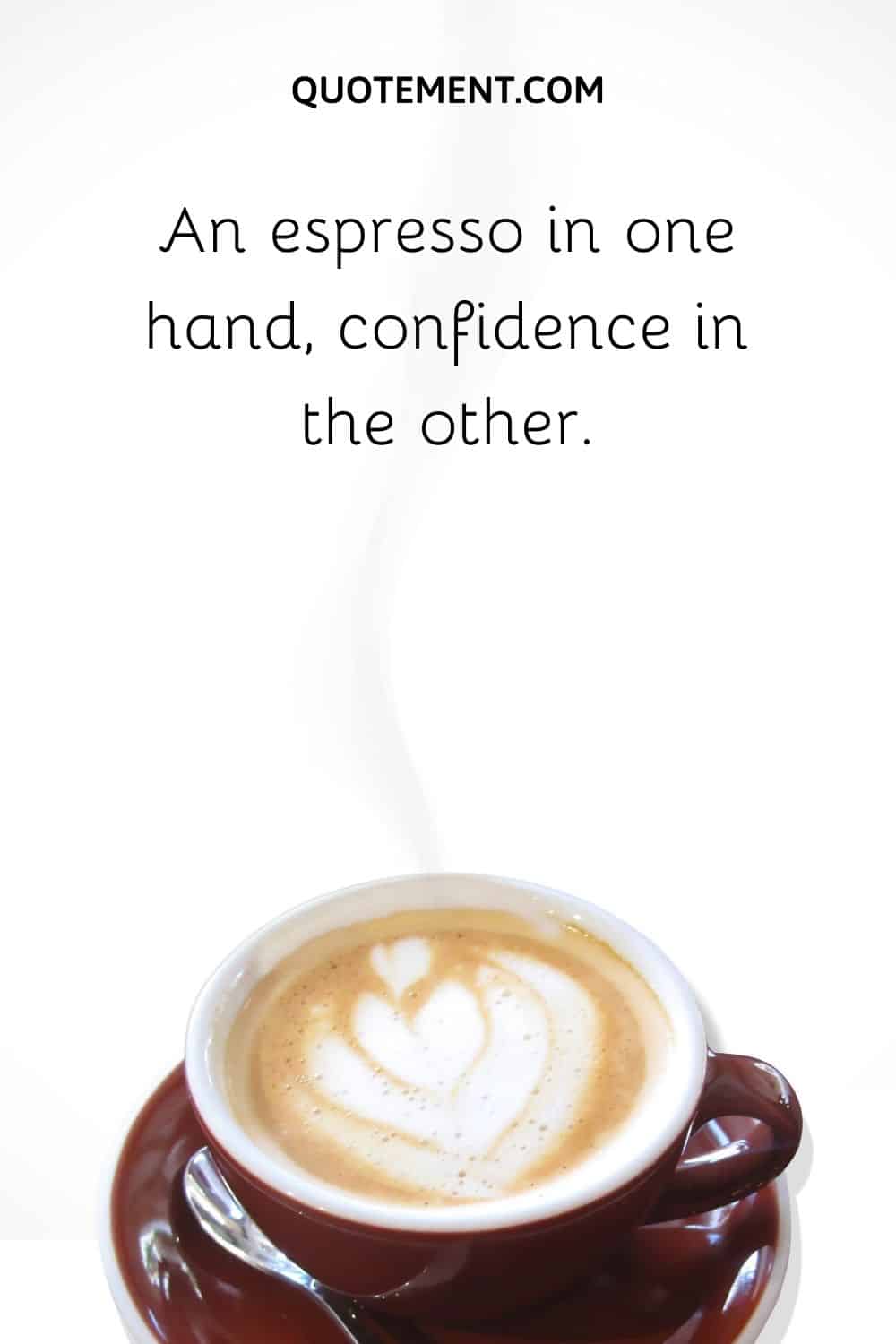 Cute Coffee Instagram Captions
Here are some more cute coffee captions for Instagram you don't want to miss!
1. Maybe she's born with it. Maybe it's caffeine.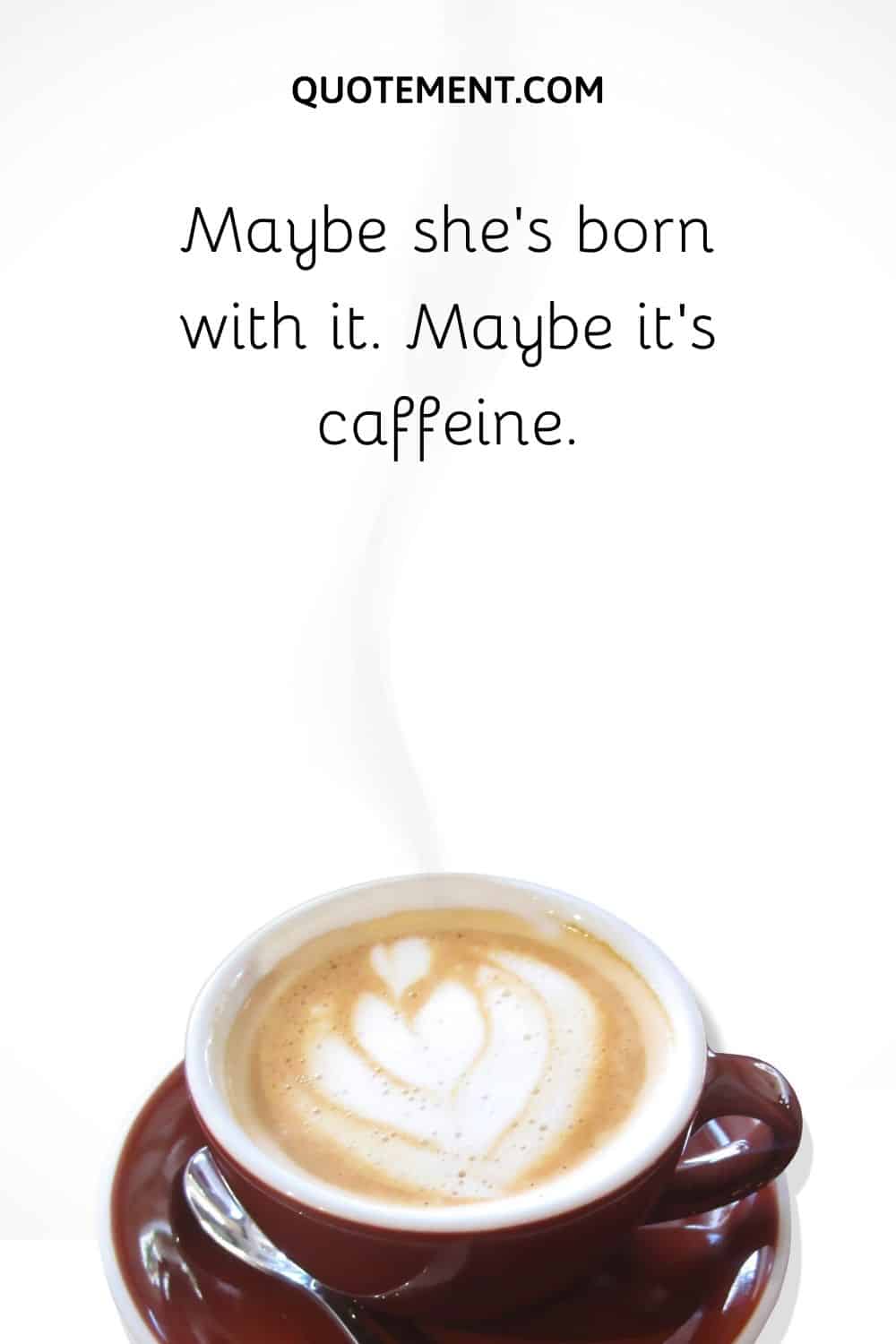 2. I want someone to look at me the way I look at coffee.
3. No talkie before coffee.
4. This is the hot friend of mine that I keep telling you about.
5. I drink coffee because adulting is hard.
6. Hello darkness, my old friend.
7. Friends are better than coffee. But only by a tiny margin.
8. Everything I brew, I brew for you.
9. Good communication rarely happens before the first sip of espresso.
10. Too much morning, not enough coffee.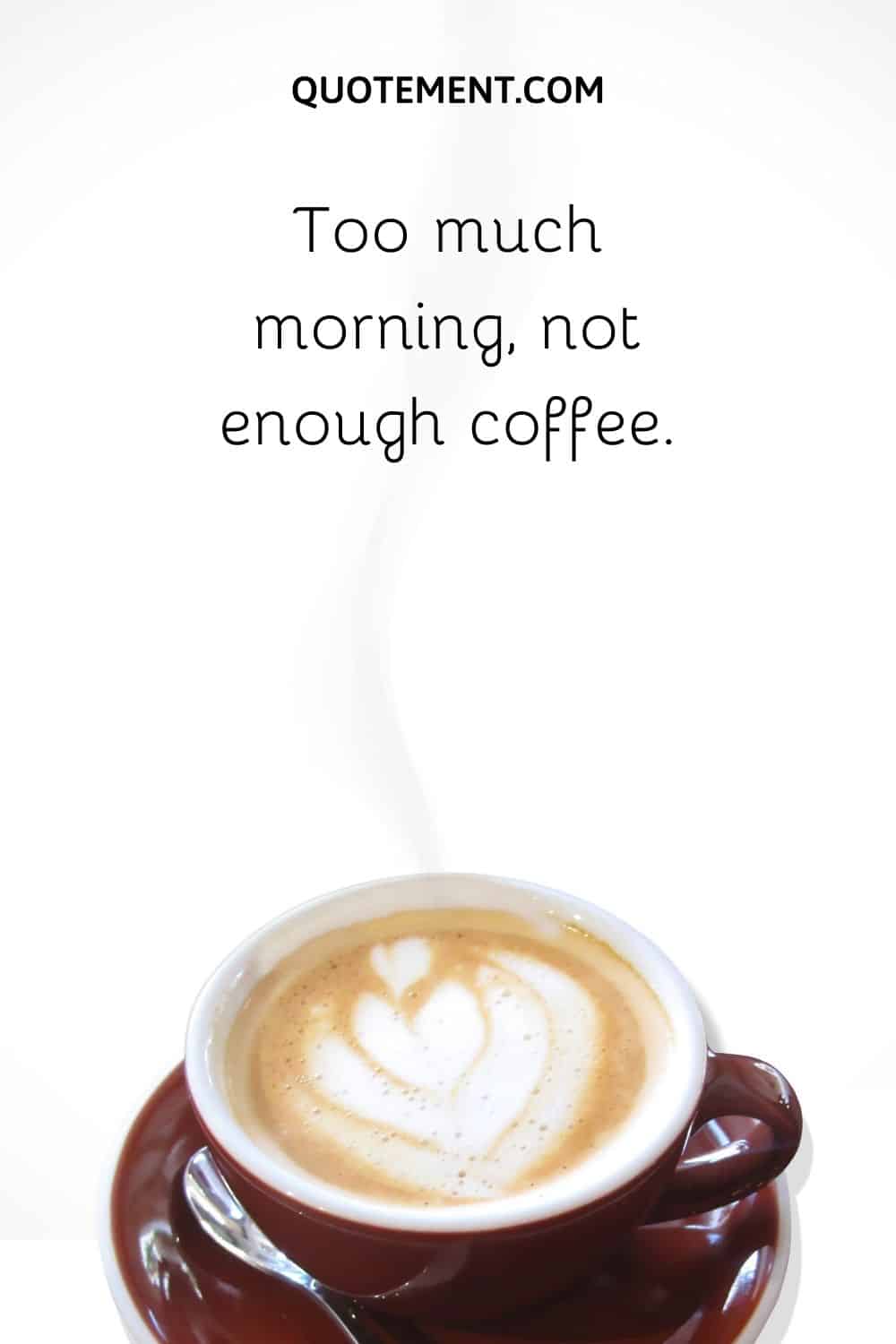 11. Coffee is the gasoline of life.
12. Sometimes, I think I can do anything. Then, the coffee stops working.
13. Sip sip, hooray!
14. Shout-out to wifi, coffee, and ambition.
15. More coffee, more progress.
16. And summer, best of all – iced coffee. The love of my life. The love of your life. The bringer of joy.
17. Keep your head high, your glutes tight, and your coffee strong.
18. "Why did the hipster burn his tongue? Because he drank his coffee before it was cool." — Barista Life
19. Espresso now, compliments later.
20. Black as night, rich as heaven, sweet as sin.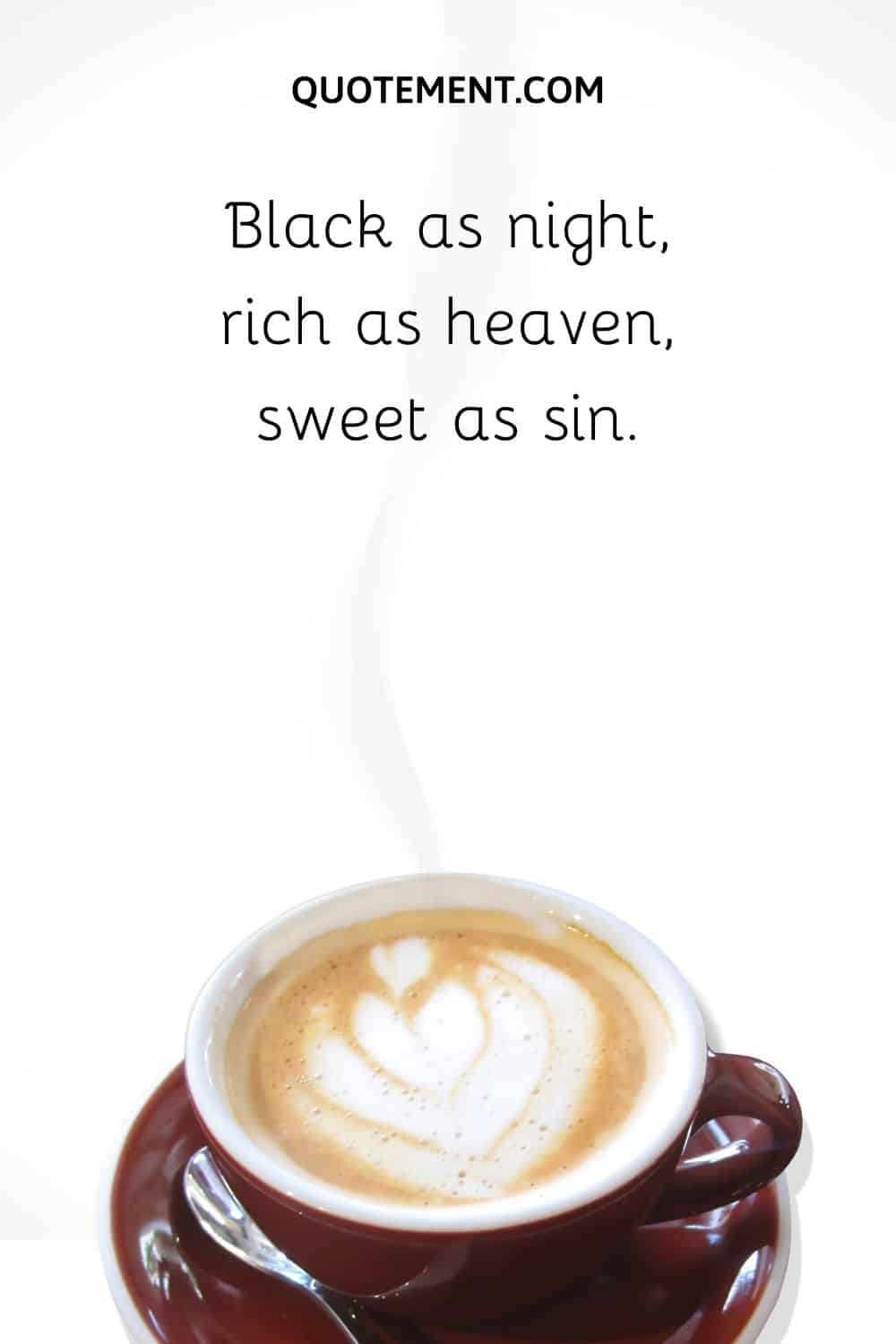 21. Forget love, fall in coffee.
22. How far behind would technology be if no one ever discovered coffee?
23. Don't cha wish your coffee was hot like me?
24. Today's forecast – 100% chance of coffee.
25. Don't tell anyone, but my favorite coworker is the coffee machine.
26. Seven days without coffee makes one weak.
27. Let's stir up some trouble!
28. What did the coffee say to its date? Hey there, hot stuff!
29. All you need is love and good coffee.
30. Love is in the air, and it smells like coffee.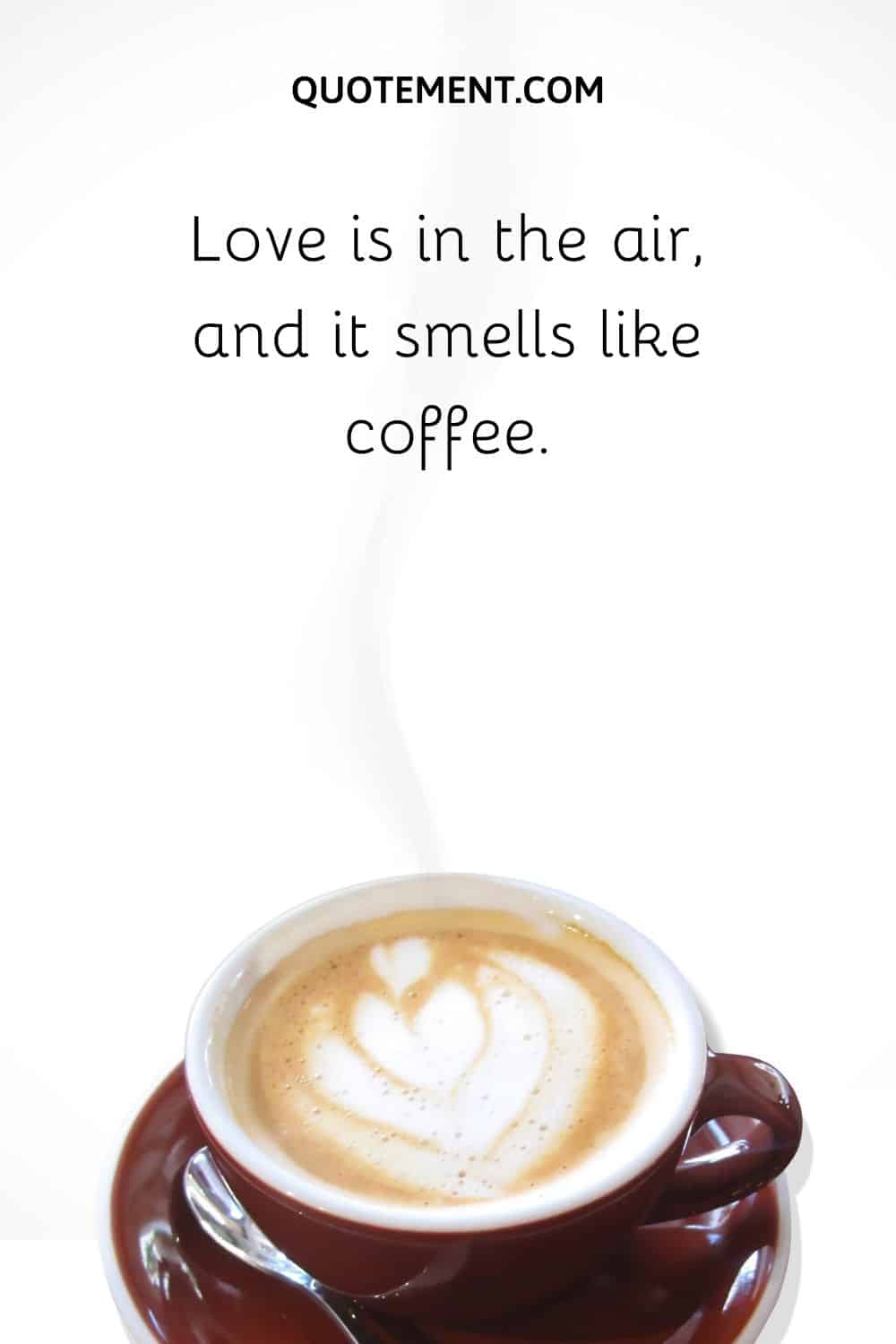 31. Coffee in England is just toasted milk.
32. All you need is coffee and wifi.
33. Caffeine is the other Vitamin C.
34. Coffee is the best medicine.
35. Life begins after coffee.
Sassy Coffee Captions For Instagram
1. You can all come out of your hiding spots now, I've had my coffee.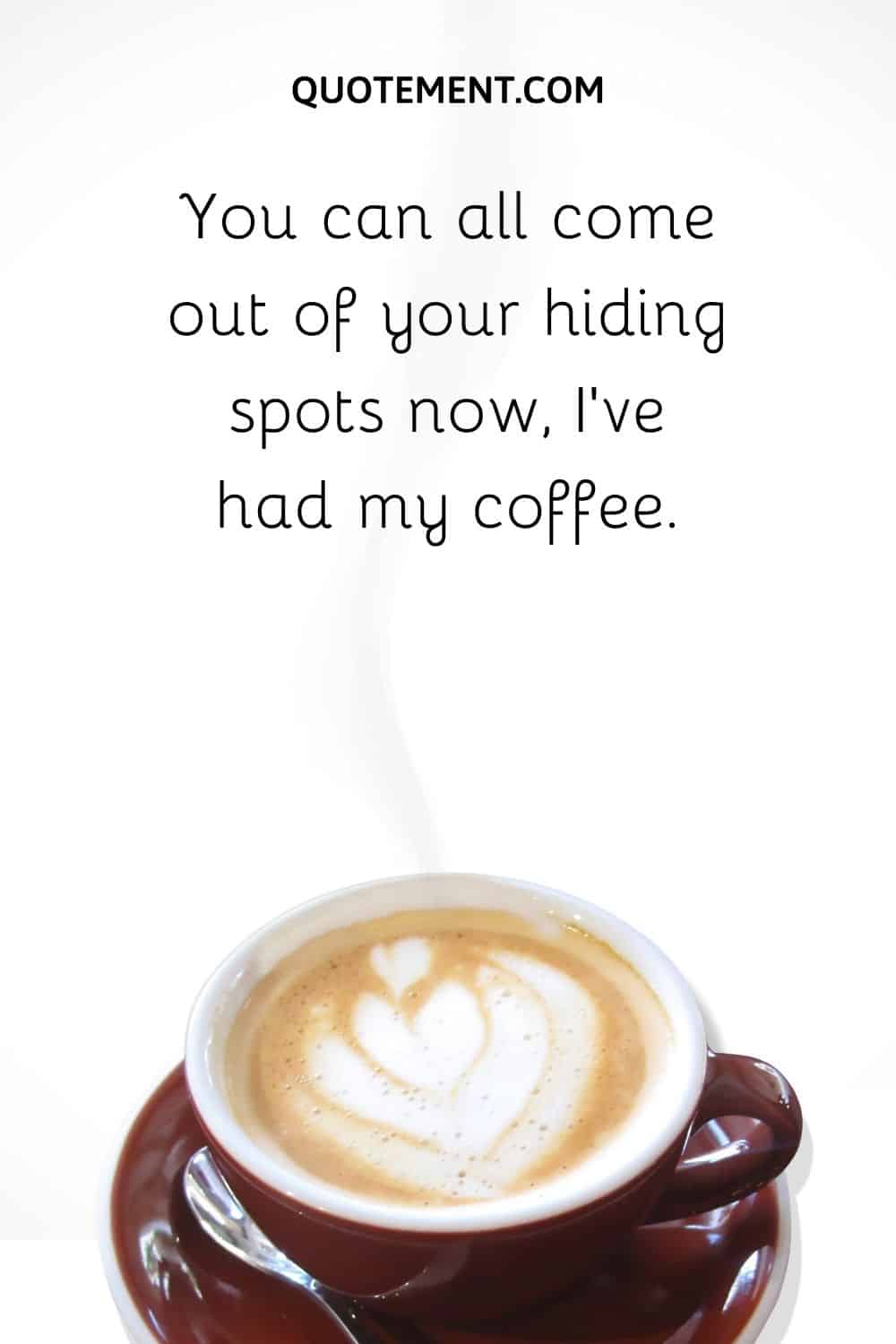 2. Sometimes you meet people who change you for the better. These people are called baristas.
3. Now that I've had my fill of coffee, it's time to do business!
4. Better latte than never!
5. Just add coffee, and I'll be what everyone calls an instant human.
6. All things are possible with coffee and mascara.
7. Here's to motivation and inspiration!
8. Adventure in life is good… consistency in coffee is even better.
9. Change the world. Start with coffee.
10. Just so you know, this is my resting coffee face.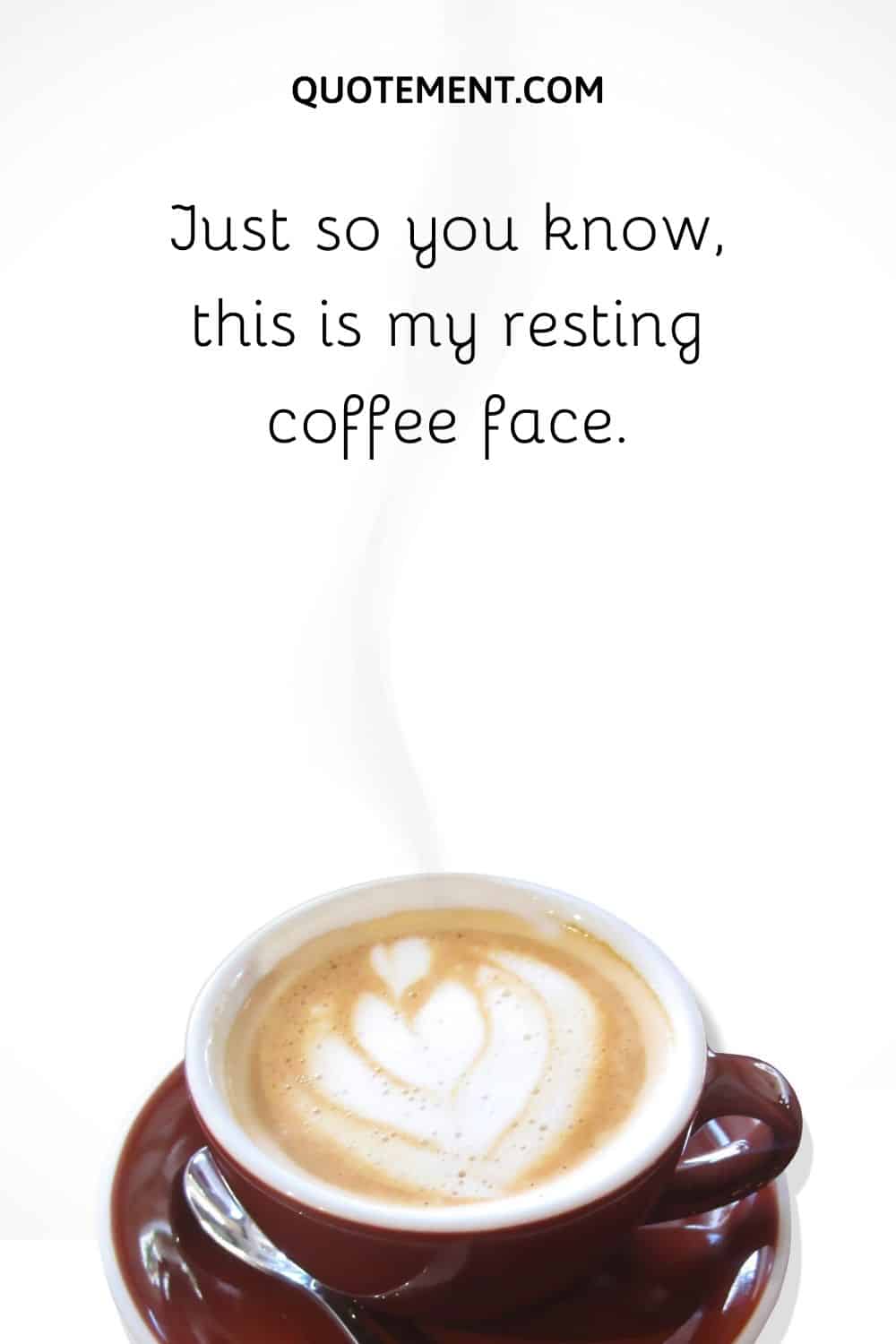 11. A yawn is a silent scream for coffee.
12. Coffee makes us severe, grave, and philosophical.
13. I'm a real zombie without coffee.
14. A coffee an hour keeps me from going sour.
15. Coffee owns me, and I'm fine with that.
16. Drink coffee, make money.
17. Because crack isn't accepted in the workplace.
18. The difference between coffee and your opinion is that I asked for coffee.
19. If I were a wizard, I'm pretty sure my Patronus would be coffee.
20. Relationship status: looking for a tall, dark, rich cup of coffee.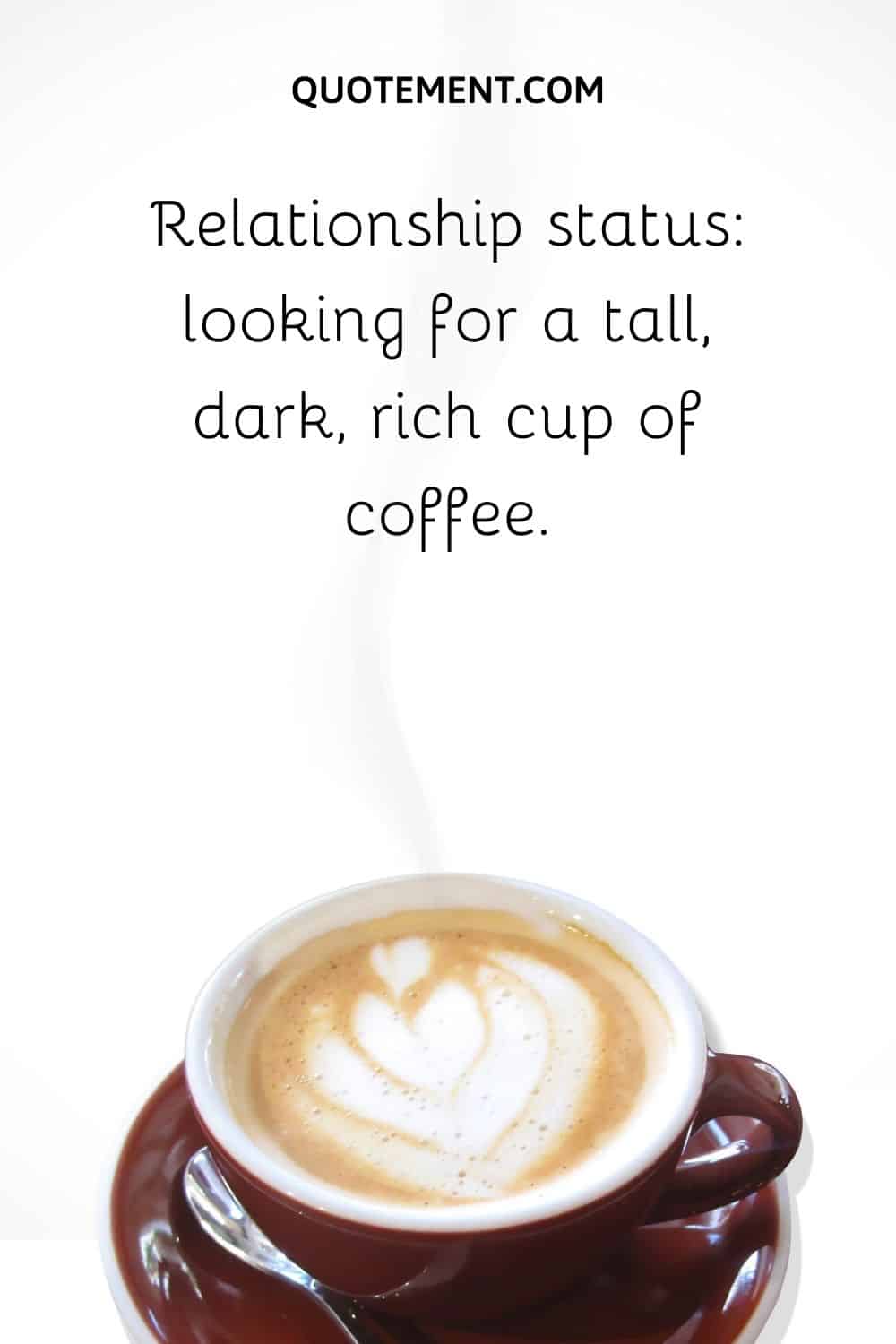 21. Fire burns and cauldrons bubble. This hot brew shall keep me out of trouble.
22. Coffee. Creative lighter fluid.
23. As soon as coffee goes down into the tummy, ideas start to move.
24. Coffee: because crack is bad for you.
25. You keep me grounded.
26. For me, the most beautiful person in the world is my coffee machine.
27. Doing justice to the beans!
28. Friends don't let a friend drink bad coffee.
29. No, it's not a game of thrones, it's a game of coffee.
30. Caffeine deprivation only leads to sleep.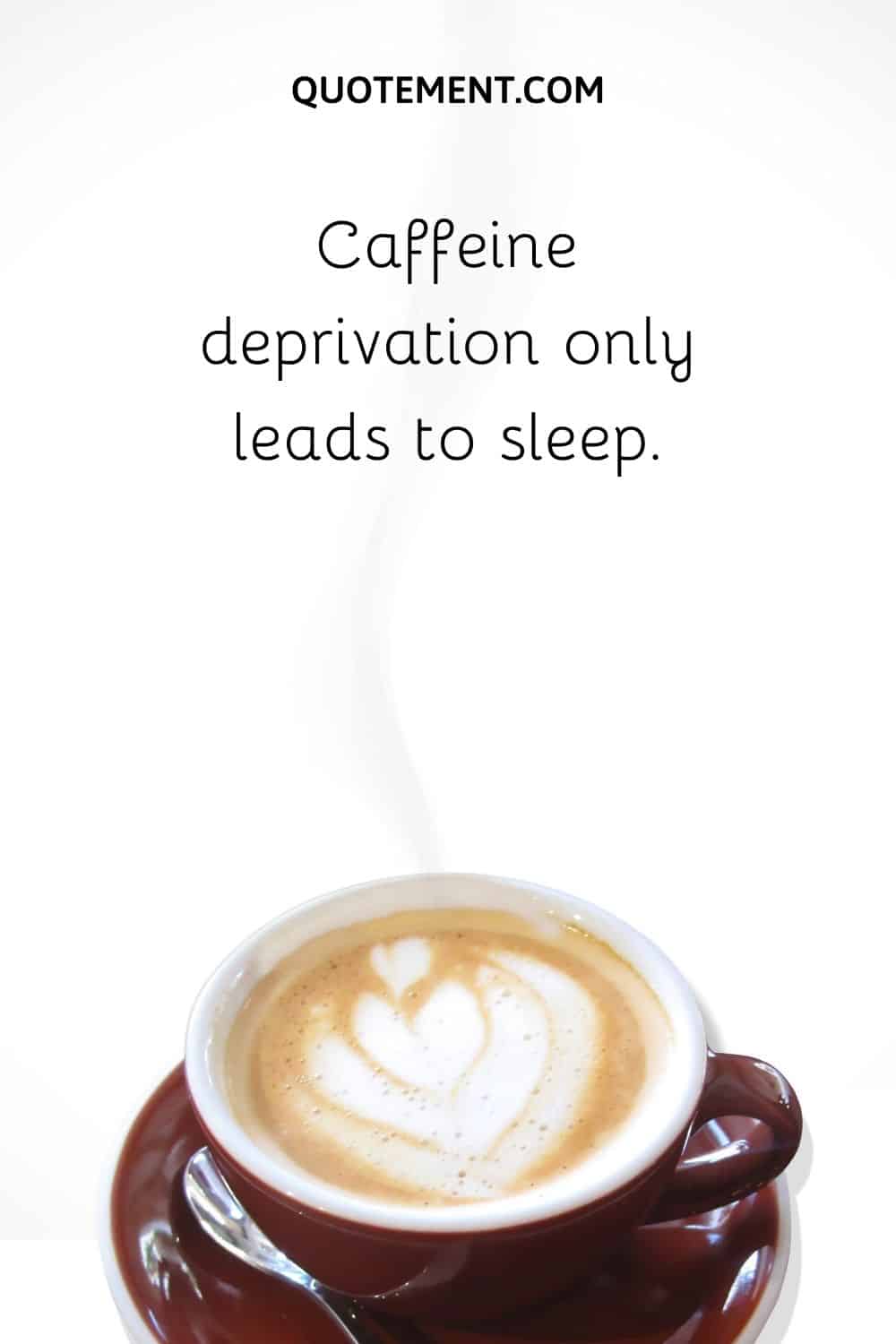 31. Coffee is a beverage that puts one to sleep when not drunk.
32. I prefer it black, just like my soul.
33. My morning coffee makes me feel like I have my life together. I don't, but it feels like it.
34. I just want to drink coffee, create stuff, and sleep.
35. Dear coffee, you bring out the best in me.
Morning Coffee Captions
1. Why do I drink coffee in the morning? Because it's too early for wine.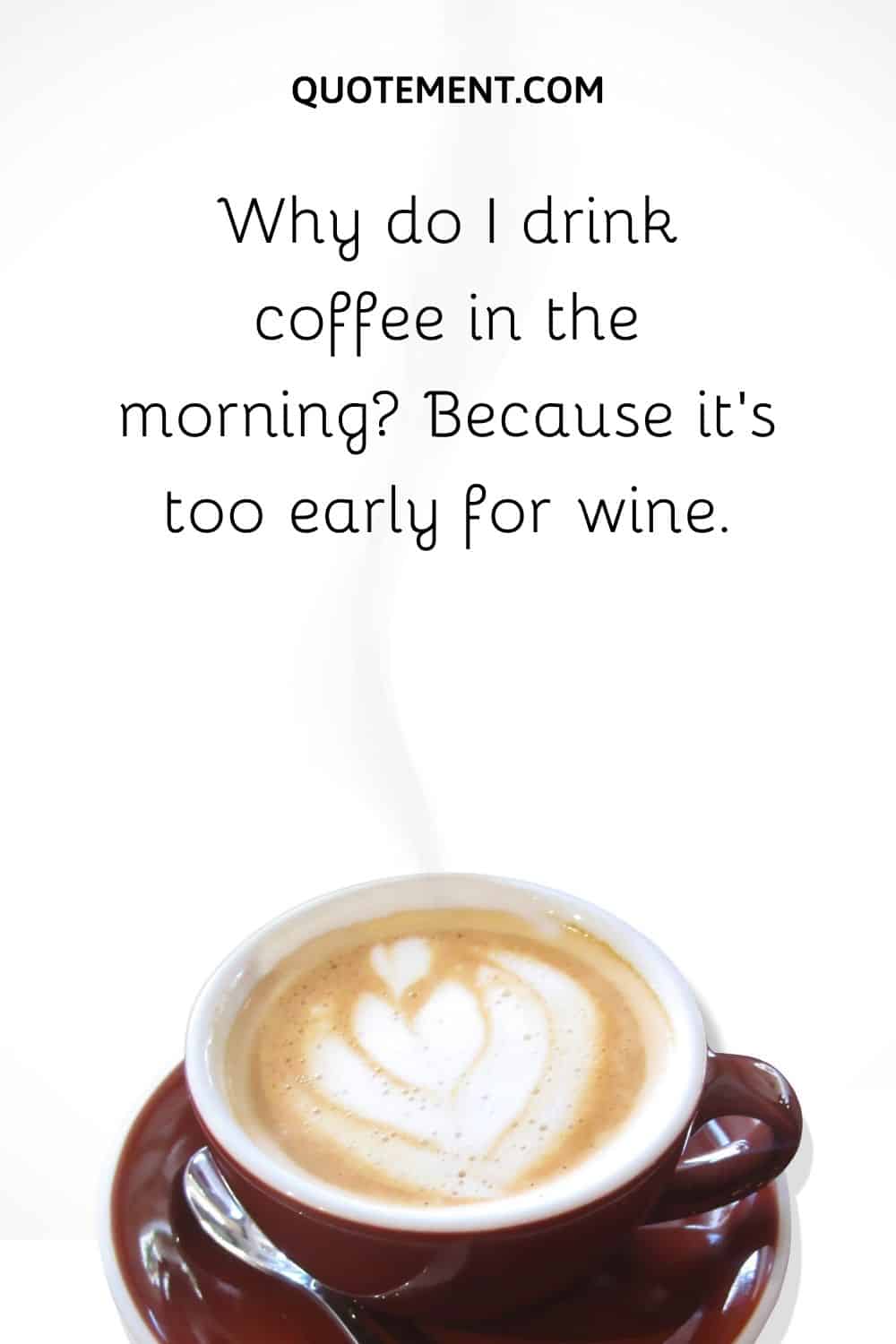 2. A morning without coffee is like…you know…sleep.
3. May your coffee kick in before reality does.
4. Today will be one of these days when even my coffee needs a coffee.
5. When life delivers you lemons, exchange them for coffee beans.
6. I never smile or laugh. Well, not until I've had my first coffee of the day.
7. Now serving good looks and cold brews!
8. Coffee and then the world.
9. I don't need an inspirational quote. I need coffee.
10. Turn every morning into an orchestra that is played to the tune of coffee.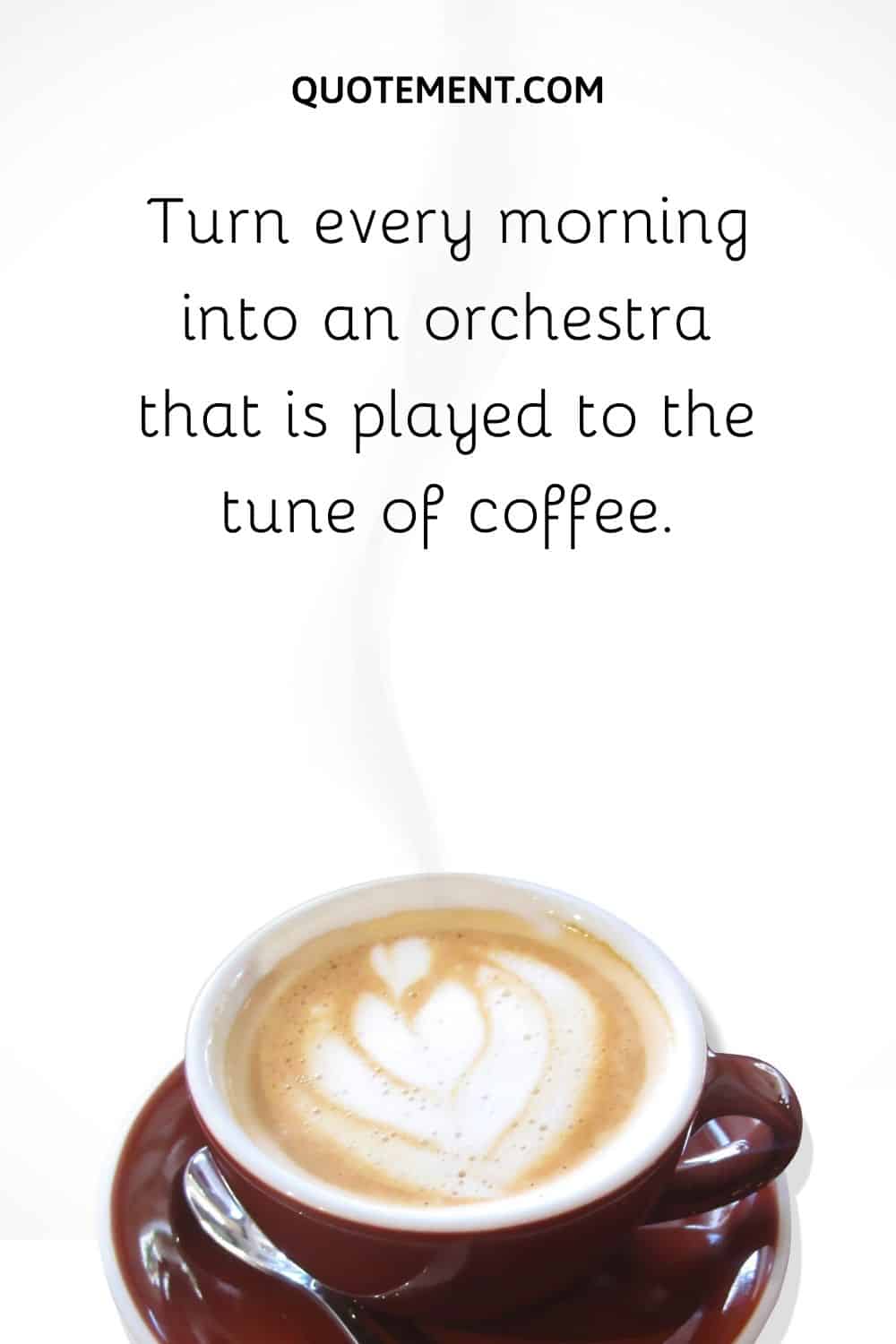 11. Once you wake up and smell the coffee, it's hard to go back to sleep.
12. Morning coffee is one type of heaven.
13. Hit me with your best espresso shot.
14. Coffee, aka survival juice.
15. Behind every successful person is a significant amount of coffee.
16. Mend the broken morning with broken beans.
17. What goes best with a cup of coffee? Another cup.
18. Pressing my lips to the enameled rim of the cup.
19. When life gives you lemons, trade them for coffee.
20. Support your local caffeine dealers.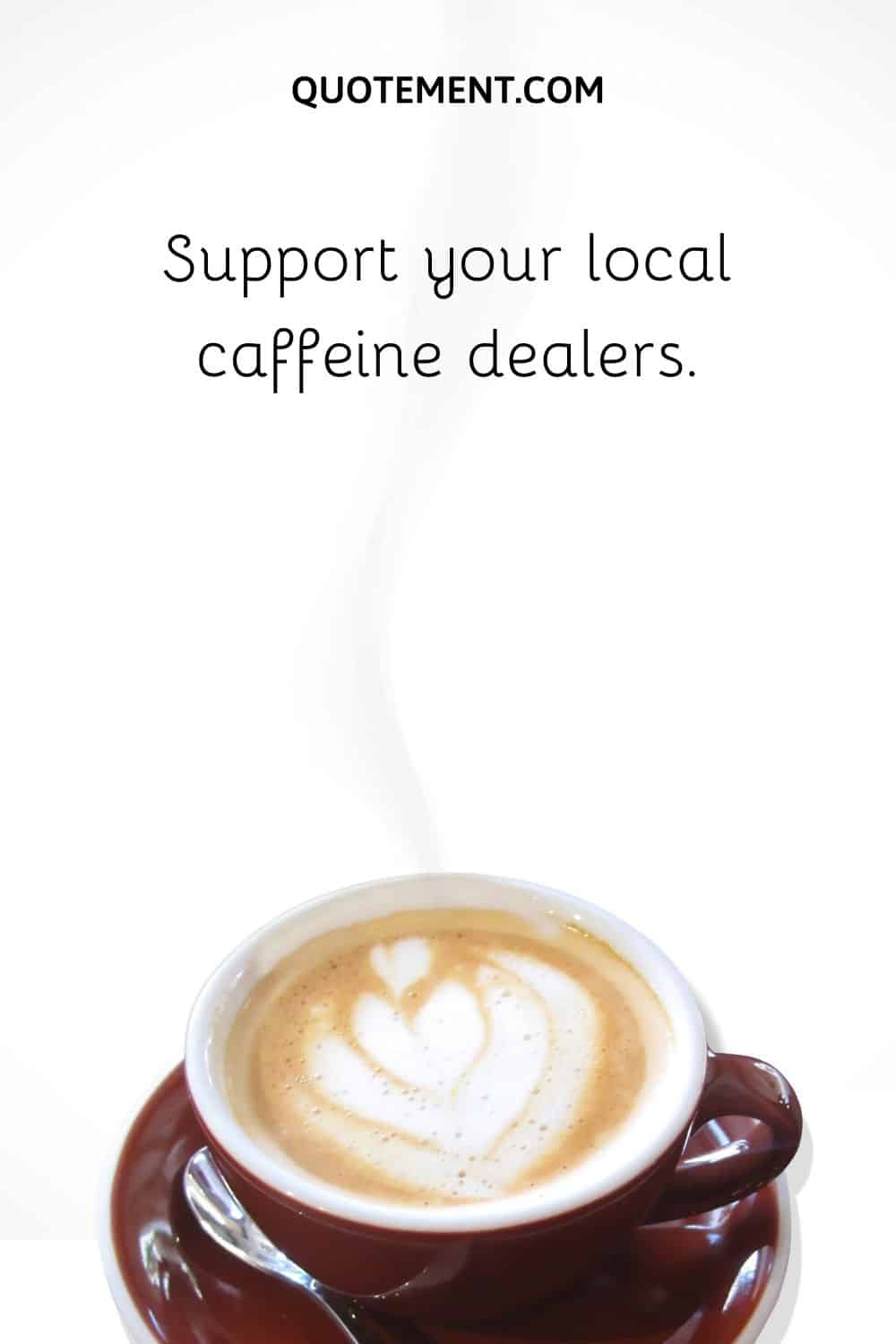 21. Guess what? It's coffee o'clock!
22. Everyone should believe in something. I believe I will have another coffee.
23. First I drink the coffee, then I do the things.
24. Mornings were made for coffee.
25. I never laugh until I've had my coffee.
26. I'll take a coffee with my sunshine.
27. I'll give it my best shot.
28. I never drink coffee alone, somewhere someone else is drinking coffee too.
29. Studies show that coffee tastes better after taking a photo and posting it on Instagram.
30. I love the smell of freshly brewed coffee in the morning, and I love the sound of no one talking.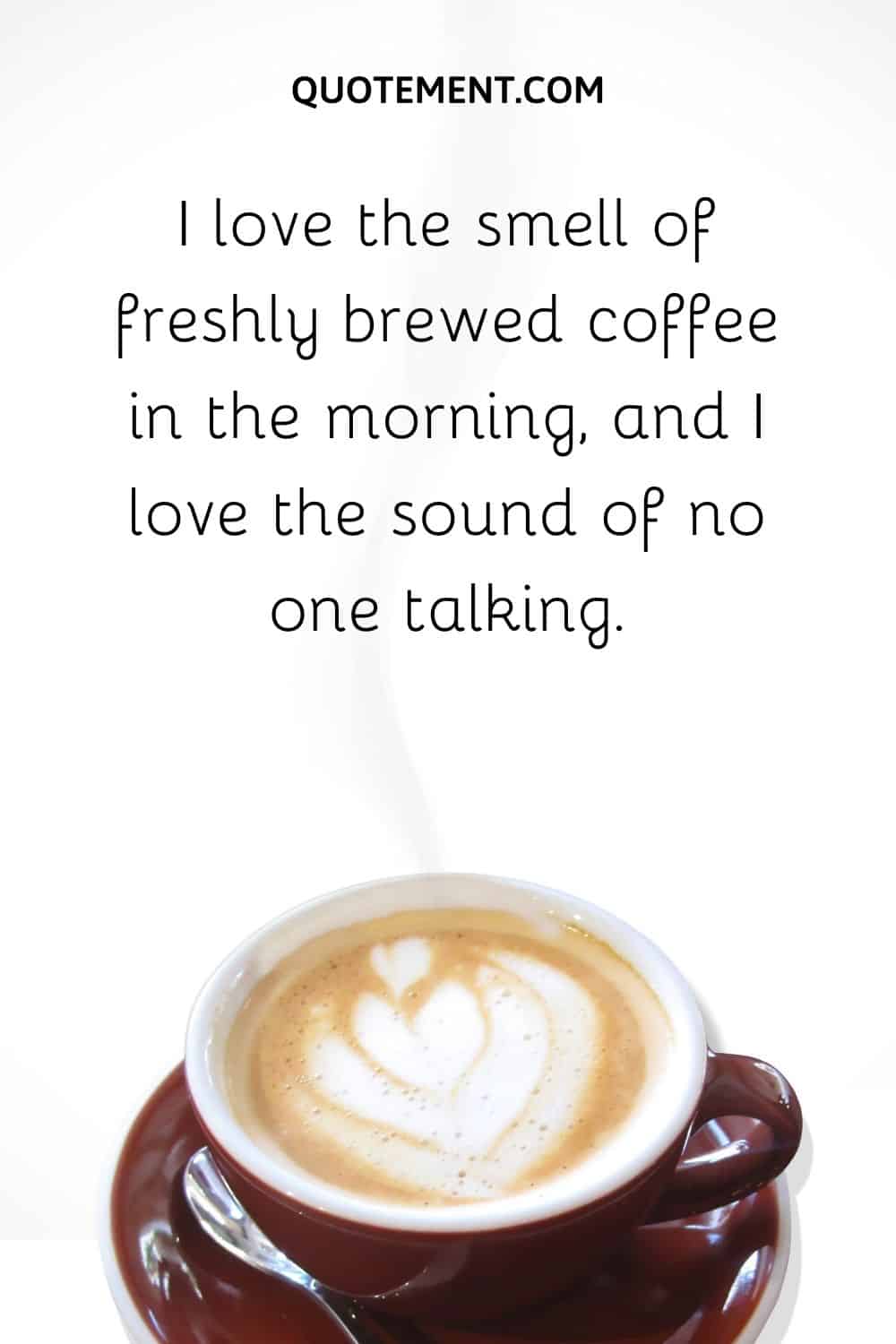 31. As a matter of fact, coffee and love have the same taste – bittersweet!
32. The first sip always touches the soul.
33. Walking a few kilometers doesn't seem so bad if there's a coffee shop at the destination.
34. Coffee is love, and love is coffee.
35. Life is what happens between coffee and wine.
See also: 340 Ultimate Best Wine Captions For Wine Lovers Everywhere
Sunday Coffee Captions
1. Coffee with a friend is like capturing happiness in a cup.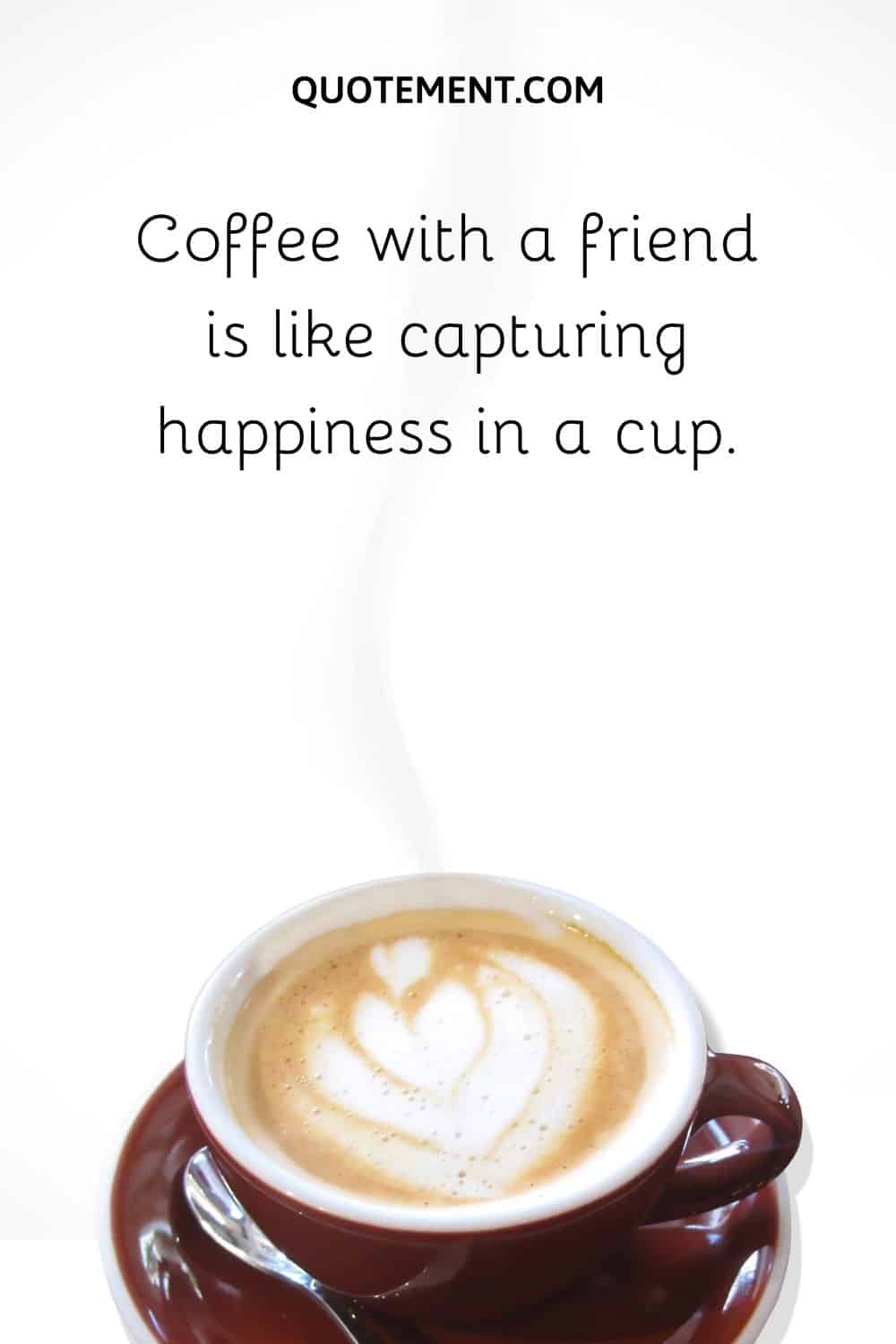 2. But first, coffee.
3. If your brain is not working, please drink a cup of coffee.
4. Inhale coffee, exhale bad thoughts.
5. No one can stop me from drinking this whole pot of coffee. Don't even try getting in my way!
6. Nothing can stand between me and my coffee.
7. Just one more cup before I hit the road.
8. Follow your heart, but take a cup of coffee with you.
9. Coffee! Because anger management is too expensive.
10. Espresso helps me to do stupid things at greater efficiency.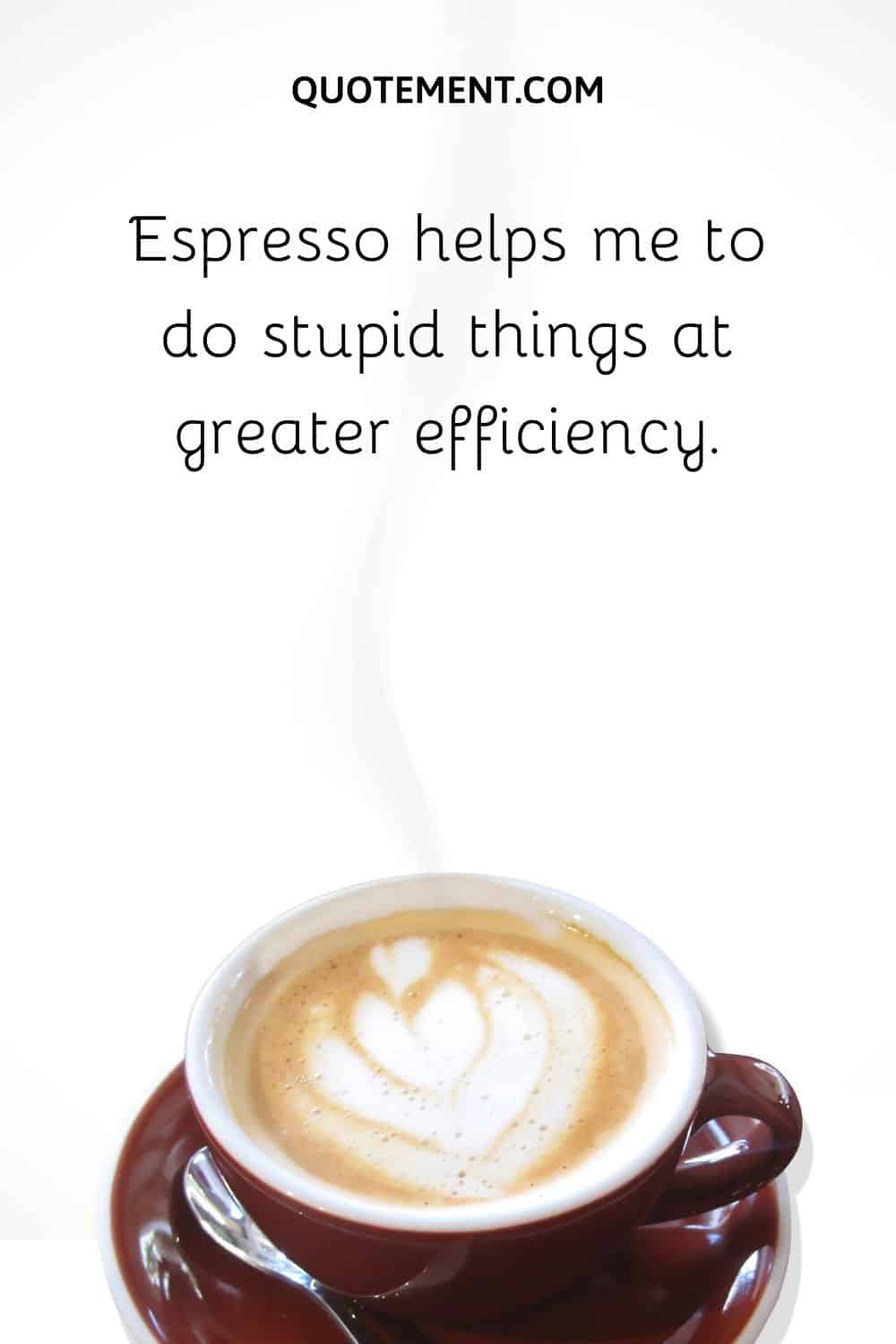 11. Coffee is like drinking sunshine!
12. Dear coffee, you were in my dreams last night.
13. Hot coffee can change your mood.
14. Our society wouldn't operate if coffee didn't exist.
15. Where have you bean all my life?
16. All you need is love and more coffee.
17. Good ideas start with brainstorming, great ideas start with coffee.
18. You can cry over spilled milk all you want. But with spilled coffee, no amount of crying will save you.
19. Now watch me sip. Now watch me nae nae.
20. You can't buy happiness, but you can buy coffee, and that's pretty close.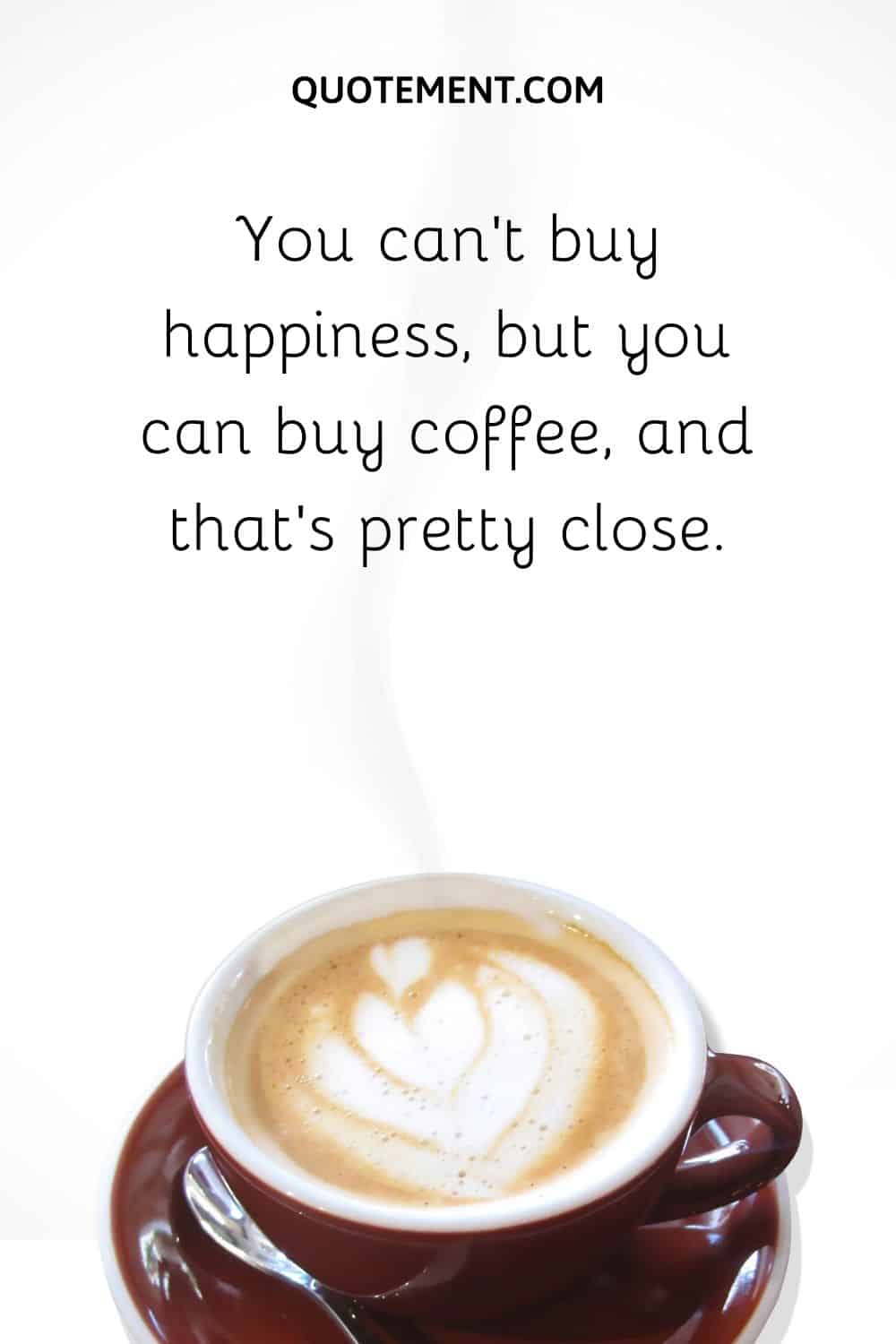 21. I make coffee disappear. What's your superpower?
22. Sending you a whole latte love.
23. Most philosophical ideas are born during coffee breaks.
24. I'd rather take coffee than compliments just now.
25. Drinking eight cups of water is really hard! But drinking eight cups of coffee in one go? Now that's one of the world's greatest mysteries!
26. I have measured out my life with coffee spoons.
27. Know your worth, and get some coffee.
28. Make some coffee and own the day.
29. Coffee smells like magic and fairy tales.
30. If you are not coffee, chocolate or bacon, I'm going to need you to go away.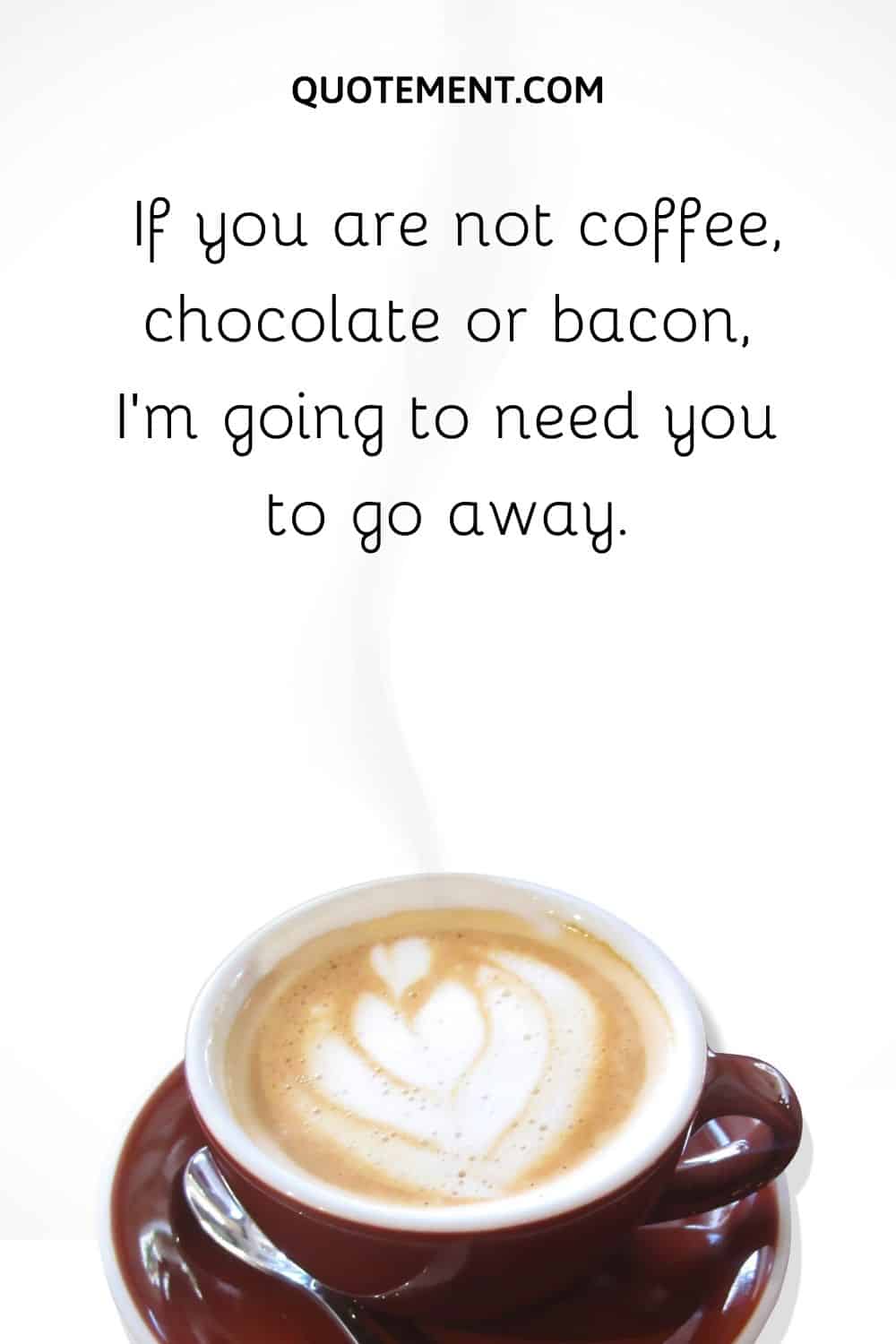 31. There's nothing sweeter than a cup of bitter coffee.
32. It's amazing when the coffee starts kicking in, and I realize what an endearing daredevil I'm going to be today.
33. Espresso is the panacea to all of our mundane physical and mental problems.
34. Of course, size matters? Nobody wants a small cup of coffee.
35. The road to success isn't actually a road. It's a river channel that is overflowing with coffee.
36. Do you know what a dream looks like? It's a rainy weeknight with your friends over, sharing stories while enjoying coffee.
Caption For Coffee Lovers
1. I don't drink coffee to wake up, I wake up to drink coffee.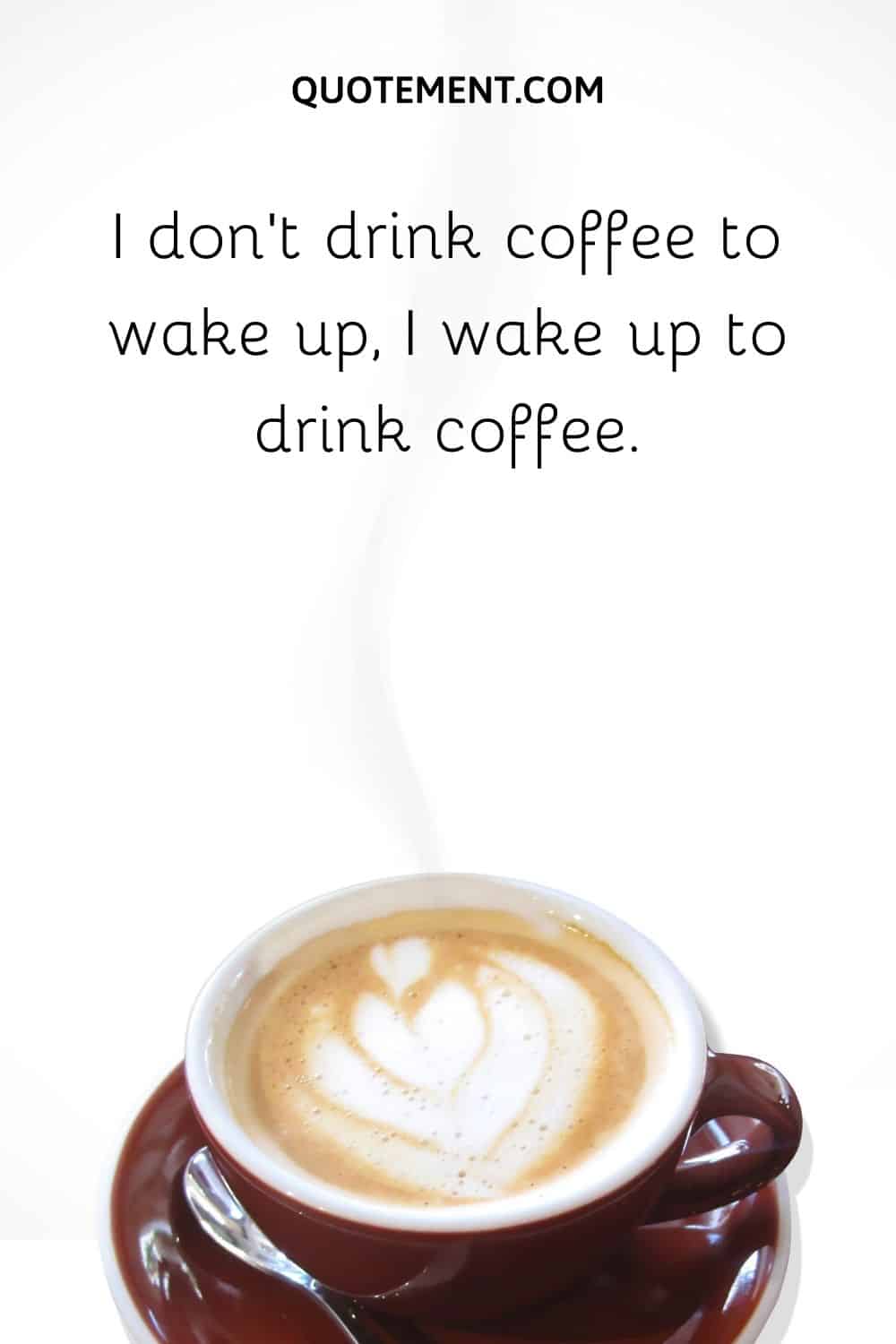 2. Wanna hear a joke? Decaf.
3. This is how we brew it.
4. Life's short, drink lots of coffee.
5. Coffee always sounds like a brilliant idea.
6. Don't worry, be frappé.
7. I love you more than coffee, but not always before coffee.
8. Coffee is not a drug. It's a vitamin.
9. Have coffee first, be epic next.
10. Stressed, blessed and coffee obsessed.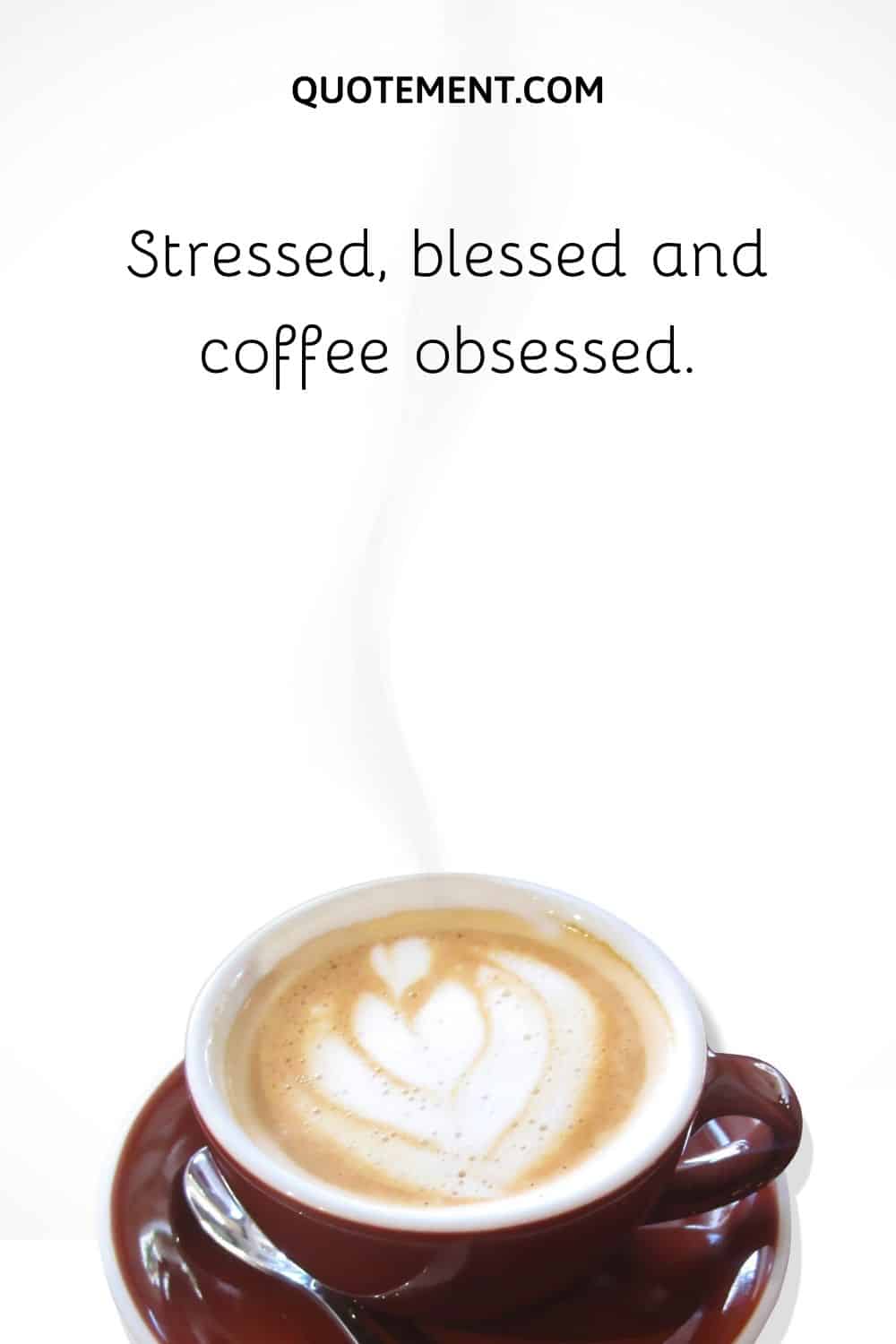 11. Fortunately, our awful lack of middle fingers can be compensated by enough coffee.
12. All you need is coffee, wifi, and a dream.
13. Drink coffee and do good.
14. I order six shots.
15. Life begins after coffee.
16. A comfy sofa, a good book, and a warm cup of coffee – everything I need is here!
17. Before coffee, I'm a hot mess. After coffee? I'm a wide-awake hot mess!
18. Nothing is as sweet as a cup of bitter coffee.
19. I just like coffee, coffee is my favorite.
20. I need a hug…..e cup of coffee.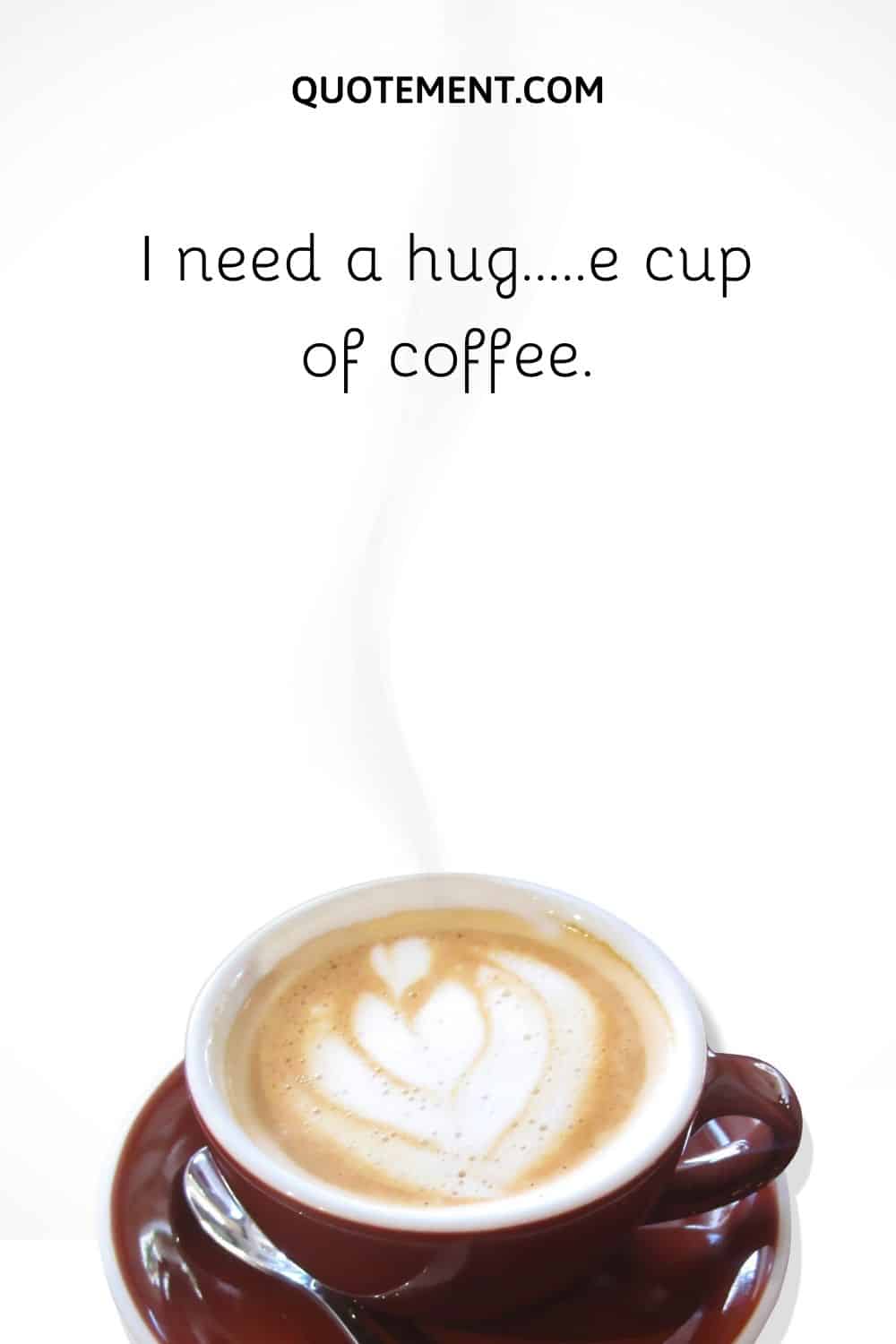 21. Mental health problems are no match to coffee therapy!
22. Humanity would stagnate without the fuel that drives them to get things done.
23. Take life one sip at a time.
24. Coffee helps me person, personing is hard without caffeine.
25. When my blood runs black as the abyss, and my heart beats fast like a wildebeest stampede, only then would I be able to say: "I've had enough coffee."
26. Never underestimate the power of a good cup of coffee.
27. Woah, was that an earthquake? Oh, it was just me palpitating.
28. Coffee; you can sleep when you're dead!
29. Caffeine and sugar are definitely the two most basic food groups.
30. Coffee: the favorite drink of the civilized world.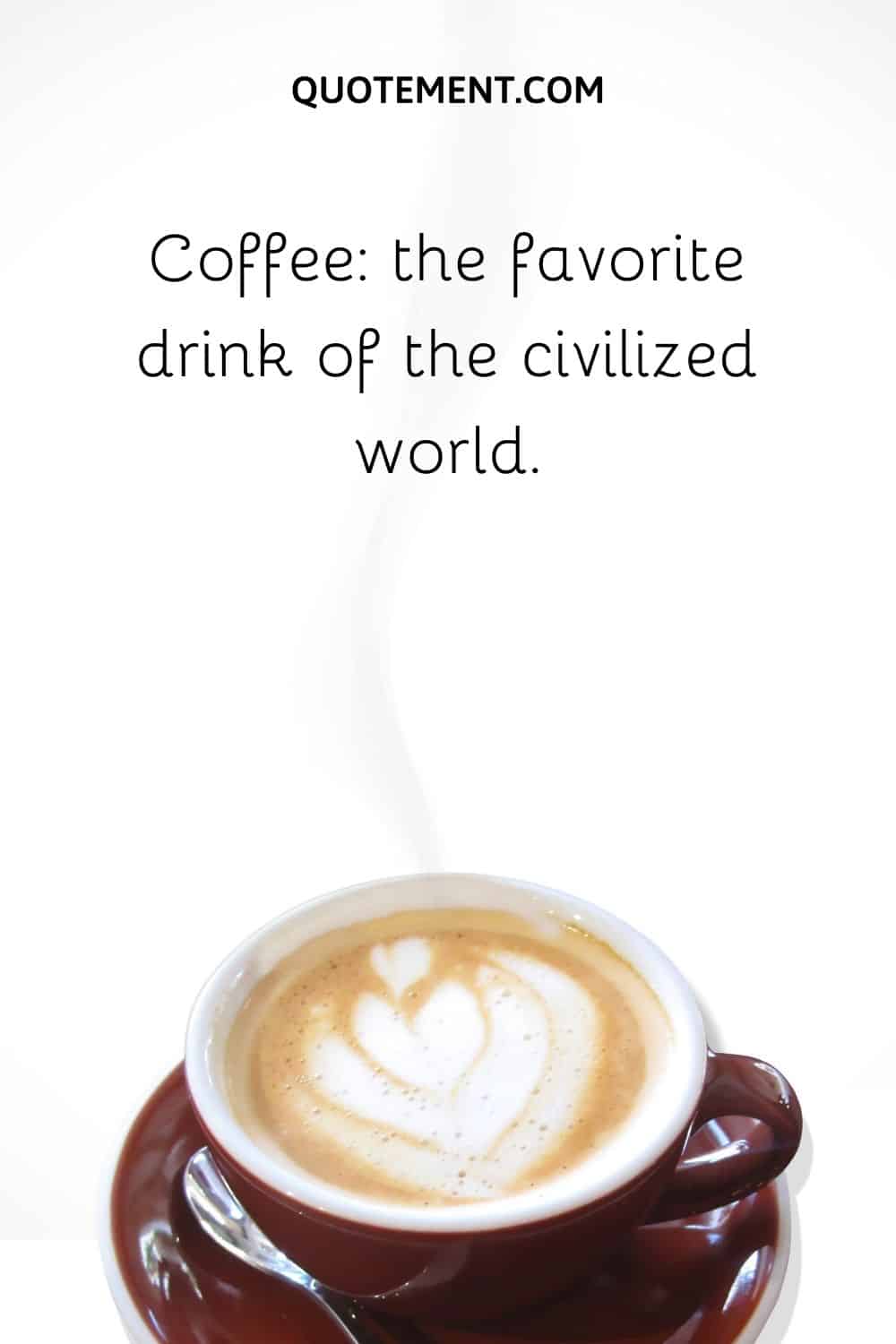 31. You are all mine, and I am not sharing.
32. Water is the most essential element of life. Without it, it would be impossible to make coffee.
33. Excited and intoxicated.
34. This is unquestionably a human necessity.
35. Your local baristas don't ask for your name anymore, and they even know your order by heart.
36. Mornings are better with delicious breakfast food and coffee.
Funny Coffee Captions For Instagram
1. I am not addicted to coffee. We are just in a committed relationship.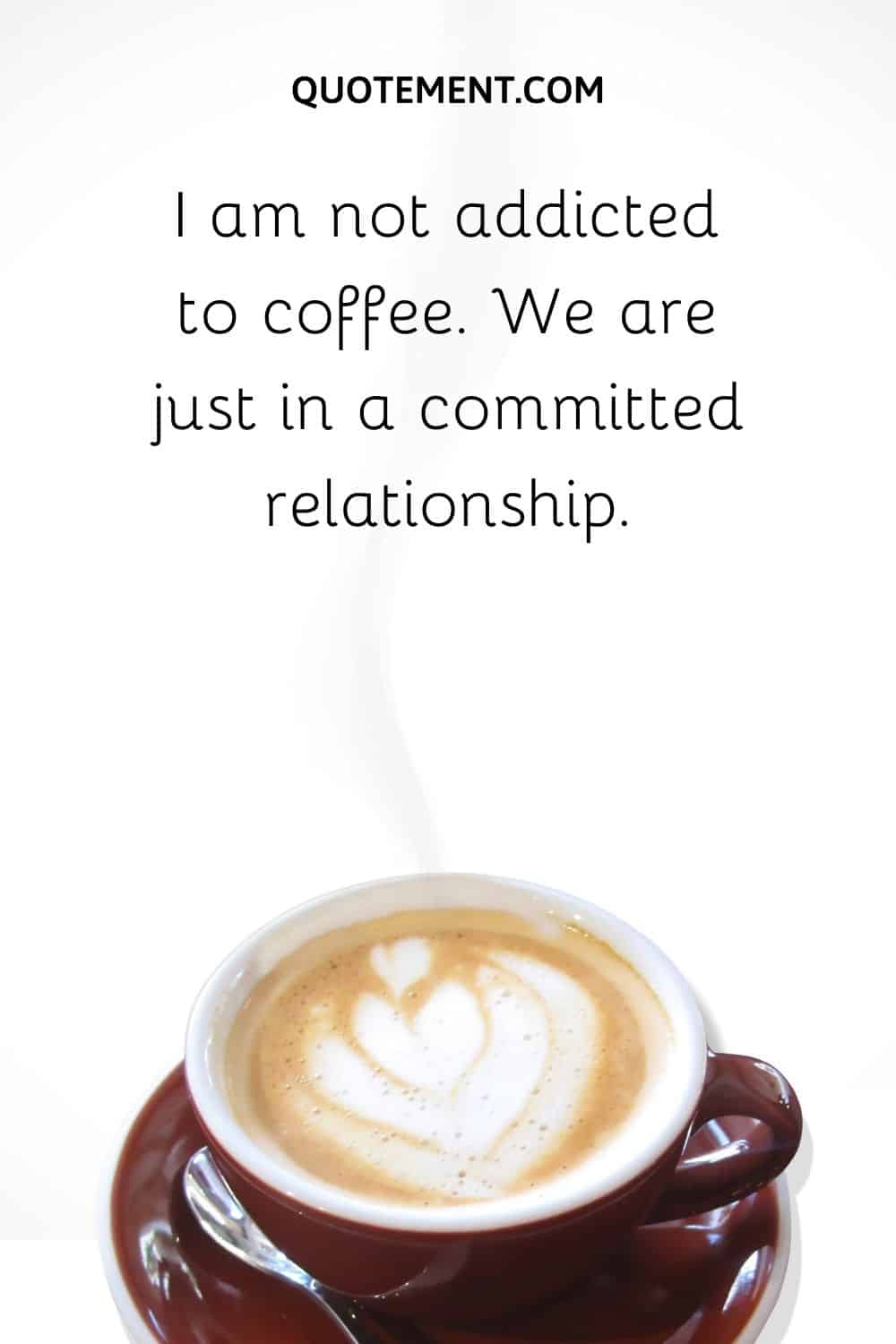 2. Cappuccino? More like Cappucci-yes!
3. I don't give a frappe about anything else.
4. Until further notice, just assume that I have a latte going on in my day.
5. I've bean thinking about you a latte.
6. This must be deja brew. I could've sworn I've had this cup of coffee before.
7. I love you a latte.
8. Coffee: because hating your job should be done with enthusiasm.
9. Bottomless thanks!
10. Sometimes, I go hours without drinking coffee. It's called sleeping.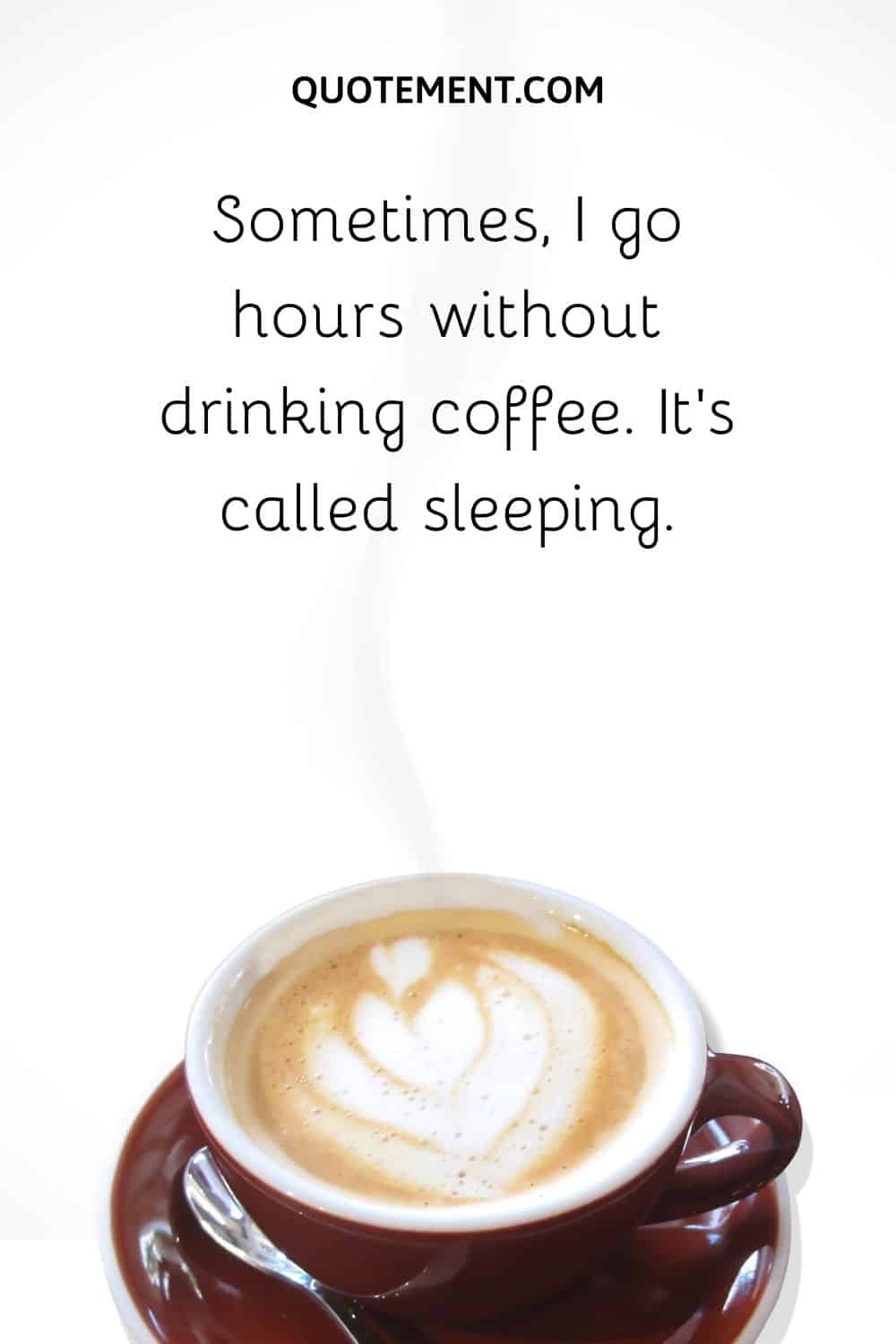 11. I like big cups, and I cannot lie.
12. It's a brew-tiful day.
13. I came, I ordered a latte, I conquered.
14. Hocus pocus! I need coffee to focus!
15. Can you forgive me for what I said before my morning coffee?
16. You mocha me very happy.
17. Coffee will always be the answer. The question is irrelevant.
18. You can brew it.
19. I'm not everyone's cup of tea…but I drink coffee, so who cares?
20. I can't espresso how much you bean to me.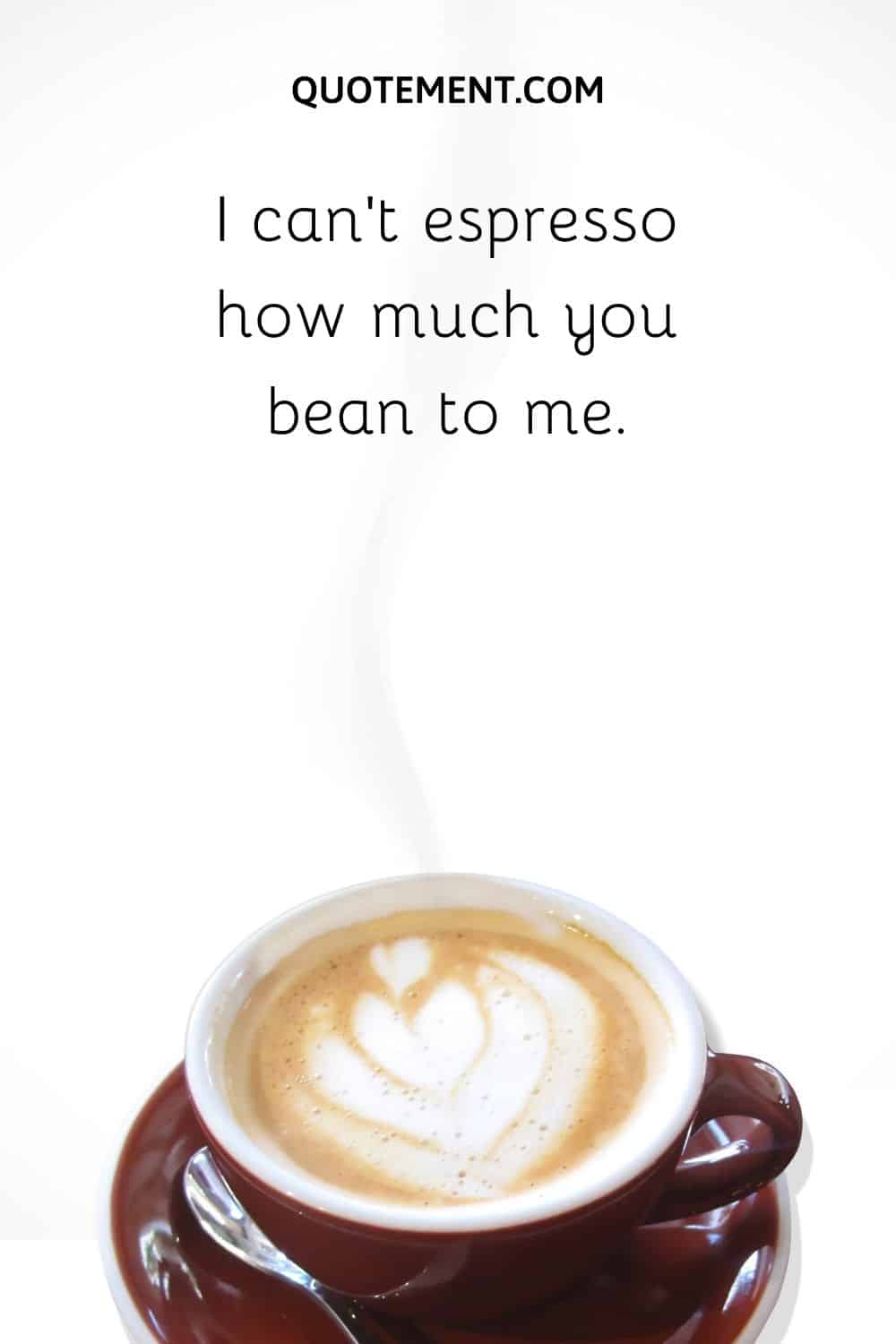 21. No matter what historians claimed, BC really stood for 'before coffee.'
22. Today's good mood is sponsored by coffee.
23. Espresso yourself.
24. More espresso, less depresso.
25. My body is just a filter. Coffee goes in, sarcasm comes out.
26. But first, champagne…I mean coffee…it's only Monday.
27. Depresso: the feeling you get when you've run out of coffee.
28. Coffee is the best thing to douse the sunrise with.
29. May your coffee be strong, and your Monday be short.
30. I'm going to get coffee by whatever beans necessary.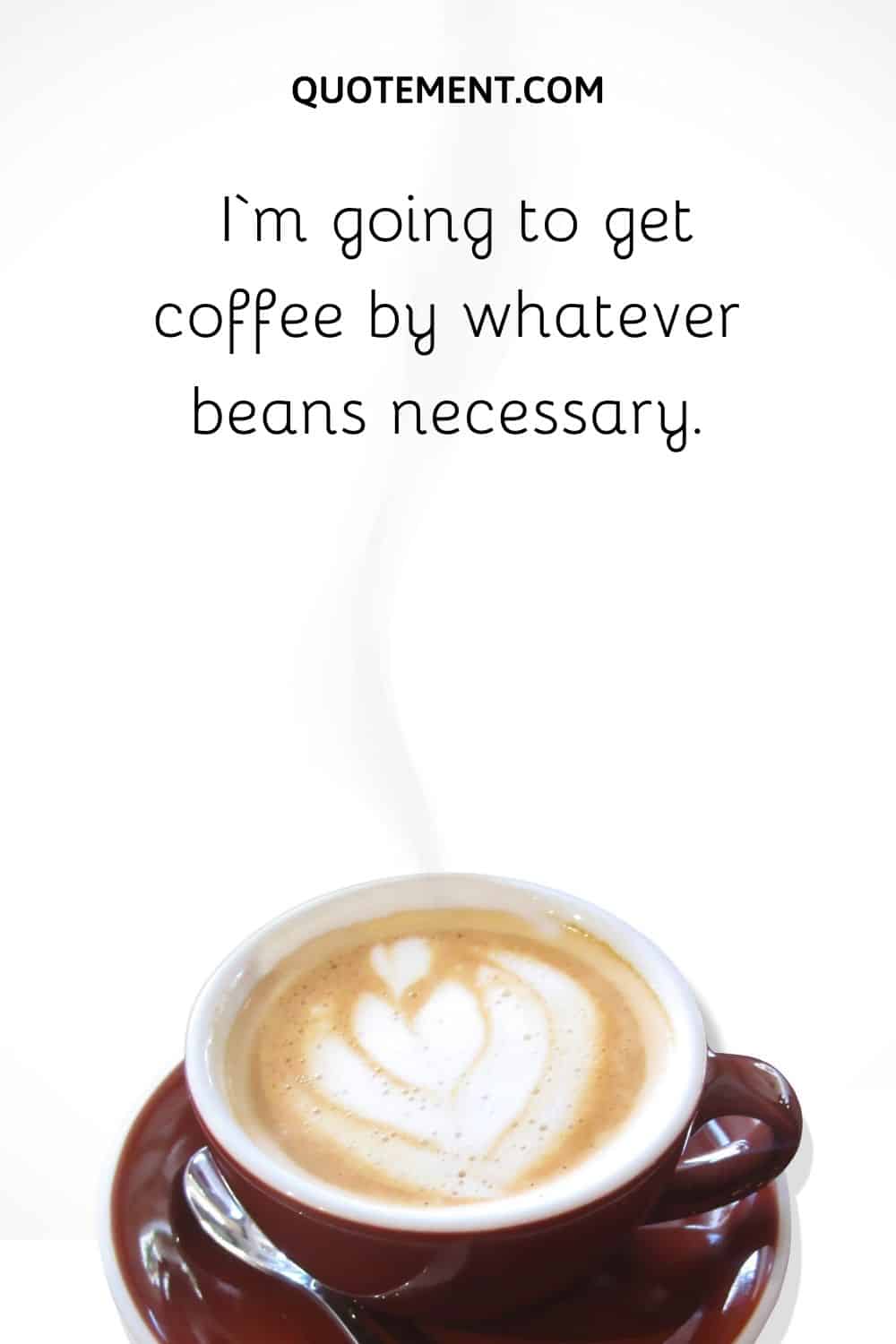 31. I don't care if the glass is half, full or empty. Is there coffee in it?
32. Drinking coffee doesn't make me awesome. I'm already awesome. But things get more interesting and fun when I'm awesome and awake.
Coffee Time Instagram Captions
The best time of the day is coffee time. While enjoying your cup of coffee, you can post a cute coffee pic on your Instagram using one of these coffee captions.
1. The mind is only as strong as the strength of your brew.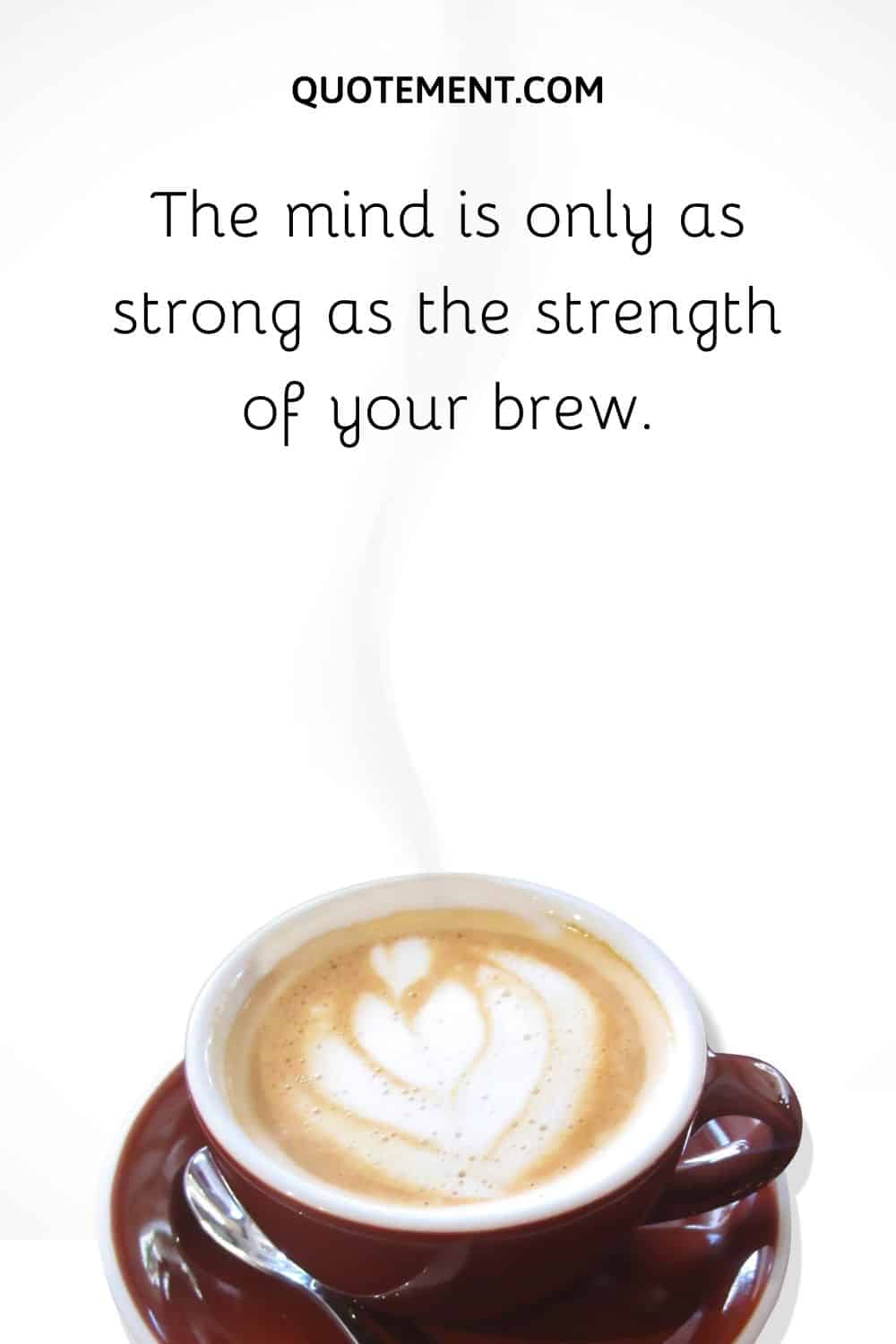 2. Coffee isn't just a drink; it's a cup of sanity.
3. Coffee has given me an unrealistic expectation of productivity.
4. Whoever thought it was a good idea to crush coffee beans and mix them with water deserves to be canonized as a saint.
5. The truth becomes clearer once you look at it with a caffeinated spirit.
6. Life without espresso is similar to something without something. Please pardon my nonsense, I haven't had my shot yet.
7. In a world full of chaos and dreary days, coffee is our cup of hope.
8. I didn't choose the mug life, the mug life chose me.
9. Coffee, all the goodness of life in a cup.
10. To drink is human. To drink coffee is divine.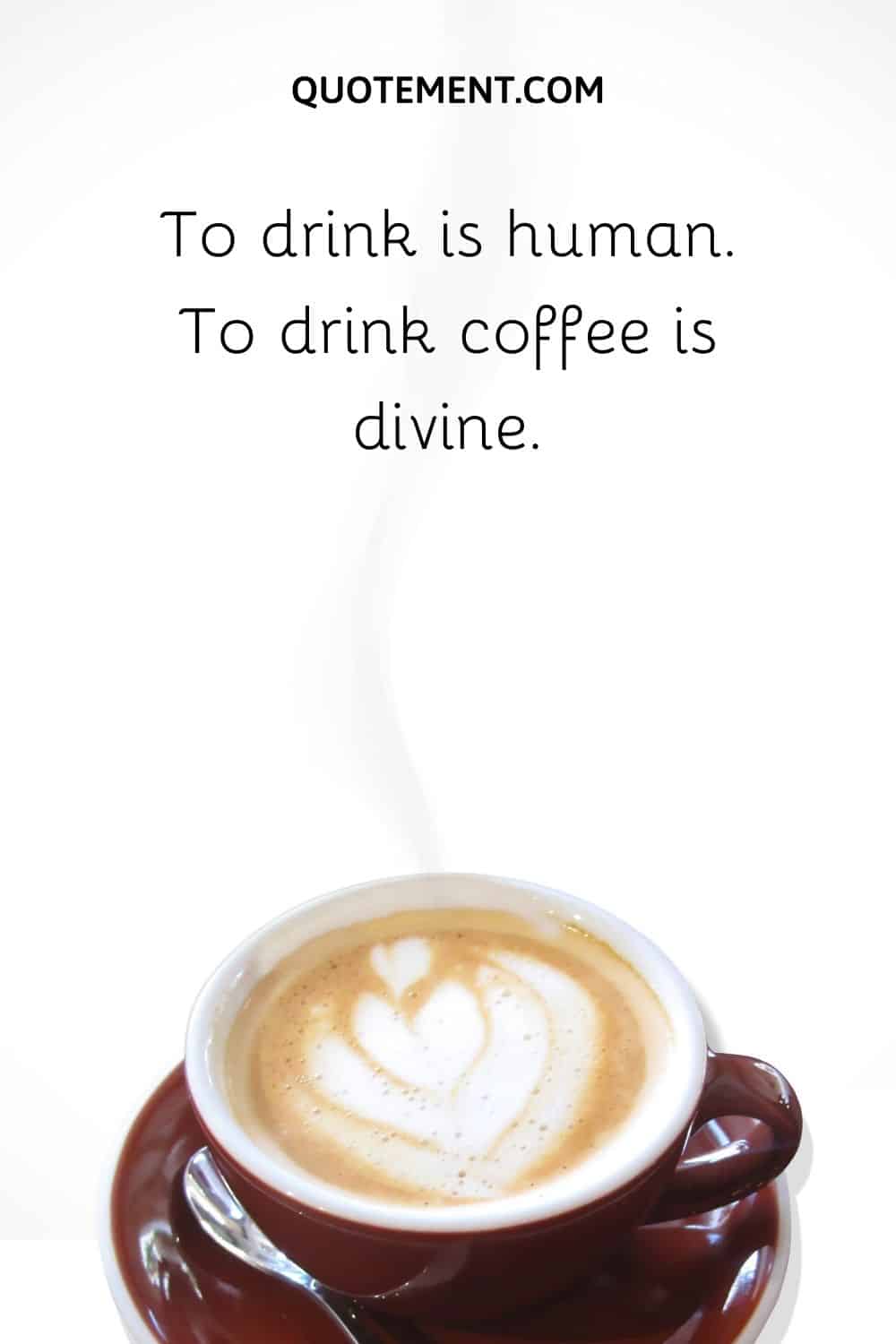 11. Humans get a lot of work done, not because of their motivation, but because of coffee.
12. My morning brew kick-starts my day. It helps my nerves to settle so that they don't fray later on.
13. Thanks to coffee, I've managed to keep my serial killer disposition at bay.
14. The moment you see me holding a mug of coffee in my hand, that means I'm busy.
15. As a night owl, I usually have my morning coffee before I go to bed.
16. Life happens. Coffee helps.
17. There's no life without water because water is needed to make coffee.
18. People say money can't buy happiness. They're all a bunch of liars. Money can buy a cup of coffee. And coffee makes me happy!
19. Put your hair up in a bun, drink some coffee, and handle it.
20. I don't have a problem with caffeine. I have a problem without it.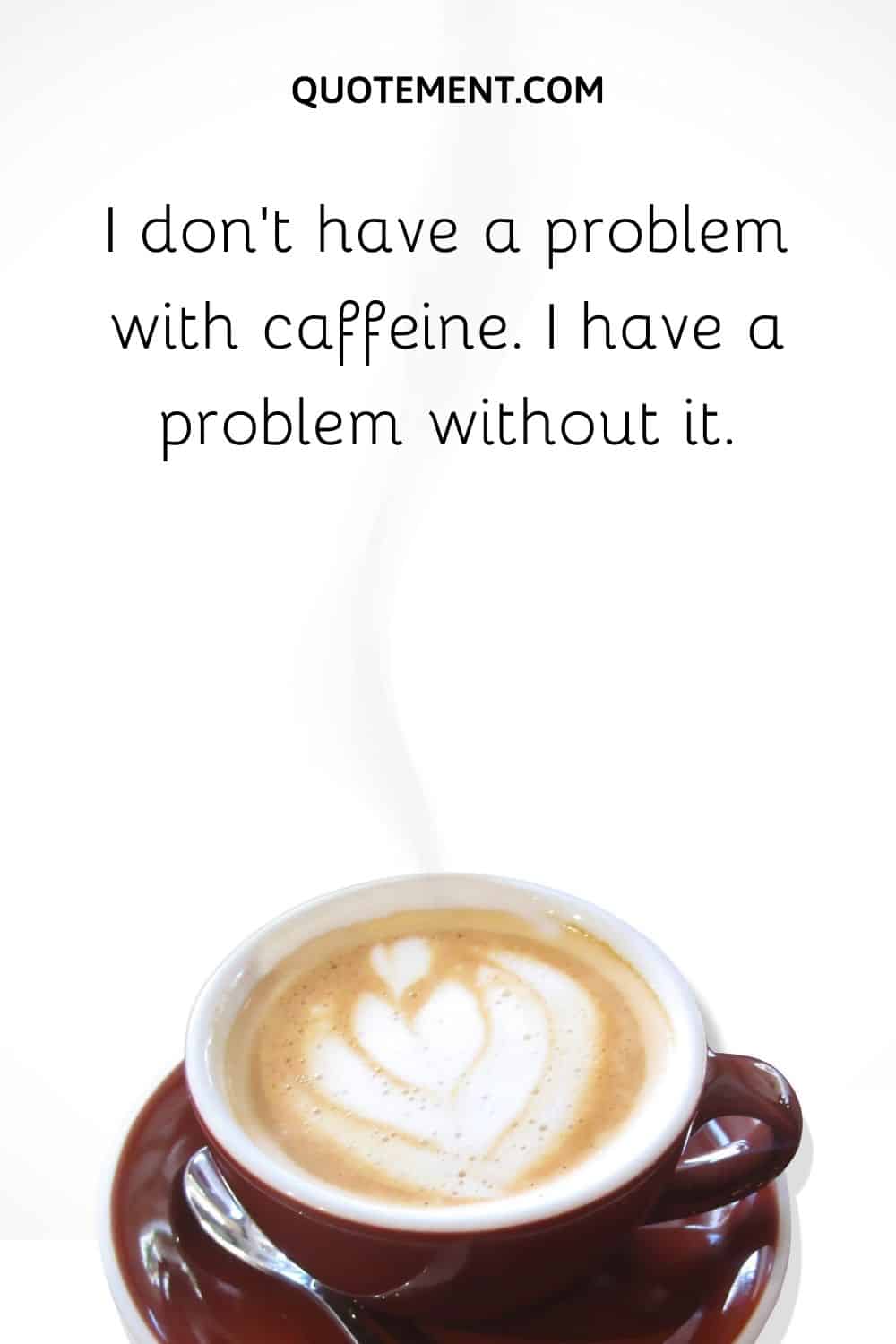 21. Life isn't perfect, but your coffee can be.
22. You call it Starbucks, I call it love.
23. You're cute and all, but I'm not sharing my coffee.
24. It's always coffee time.
25. As long as coffee exists in this world, we will always be a step further from the worst-case scenario.
26. I will start working when my coffee does.
27. My coffee kicks harder than you do.
28. It's always the perfect time for a great coffee run!
29. I'm a proud coffee addict who can't stand sweet coffee. I always go for strong, black coffee.
30. May your coffee be hot, and your eyeliner be slayin'.
31. Coffee is a cup of hope in a world full of chaos and Mondays.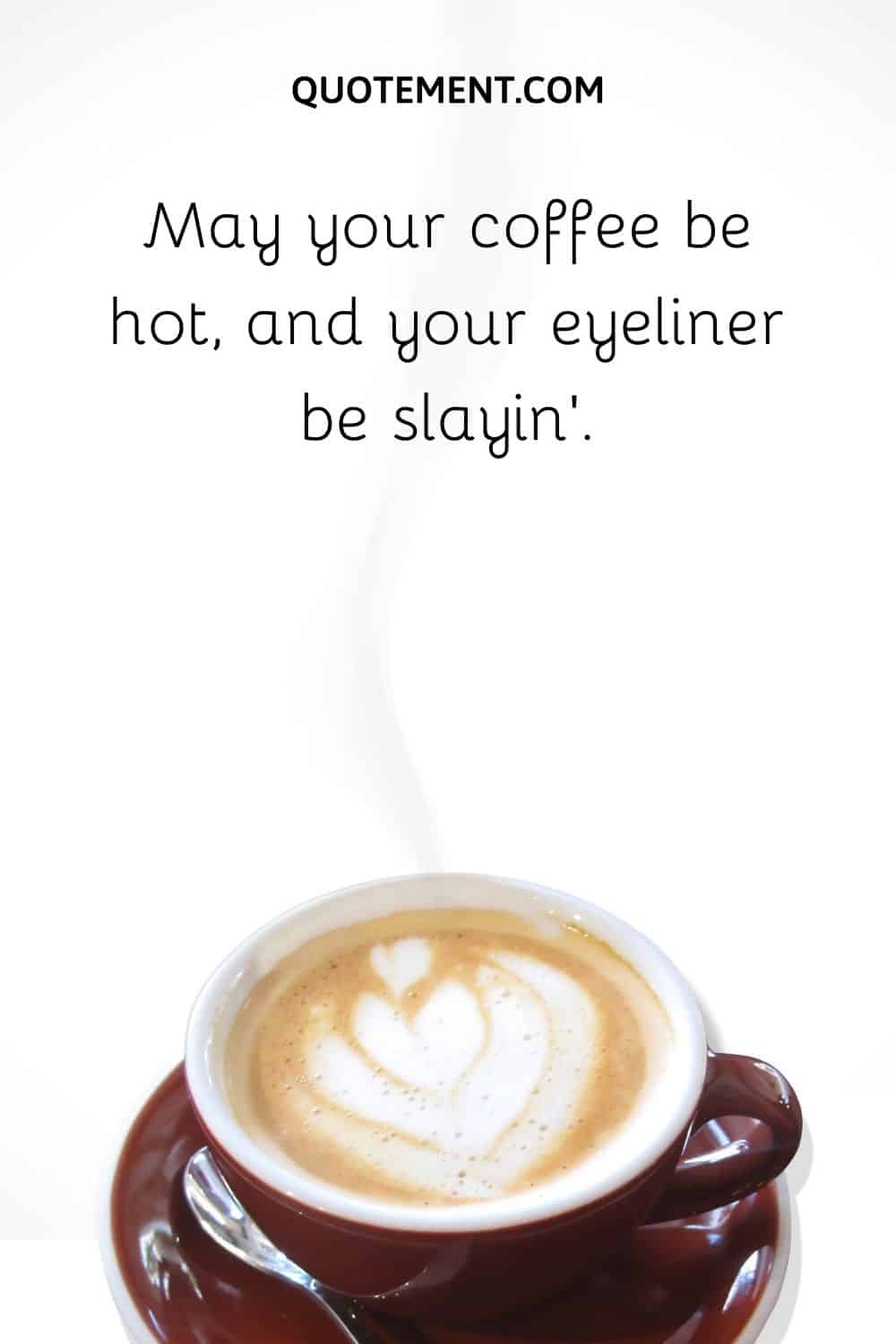 Coffee Quotes That Can Be Used As Captions
Why not use a captivating quote as a coffee caption for Instagram?
1. "I like coffee because it gives me the illusion that I might be awake." — Lewis Black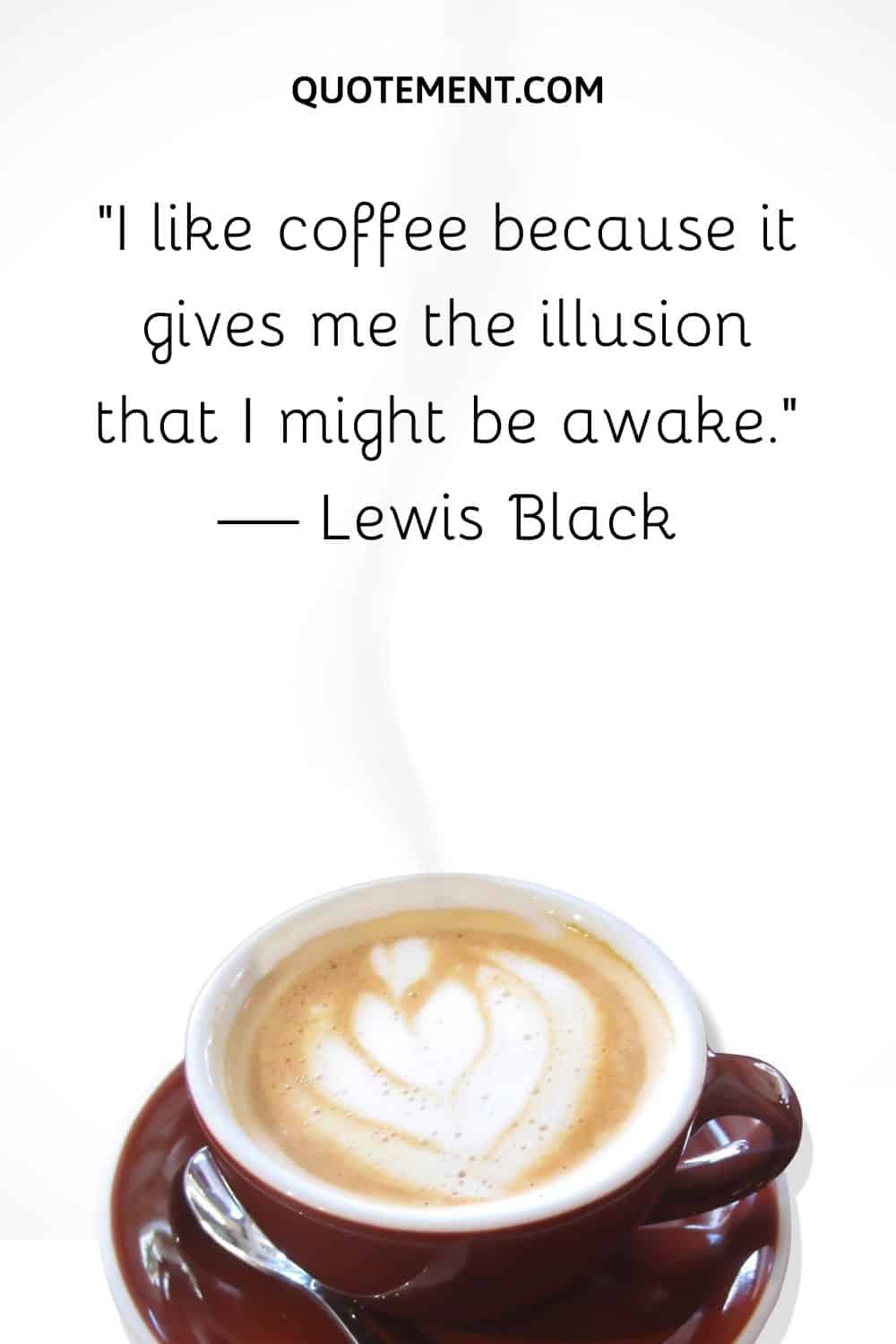 2. "Good communication is just as stimulating as black coffee, and just as hard to sleep after." — Anne Morrow Lindbergh
3. "I never drink coffee at lunch. I find it keeps me awake for the afternoon." — Ronald Reagan
4. "Even bad coffee is better than no coffee at all." — David Lynch
5. "Coffee smells like freshly ground heaven." – Jesse Lane Adams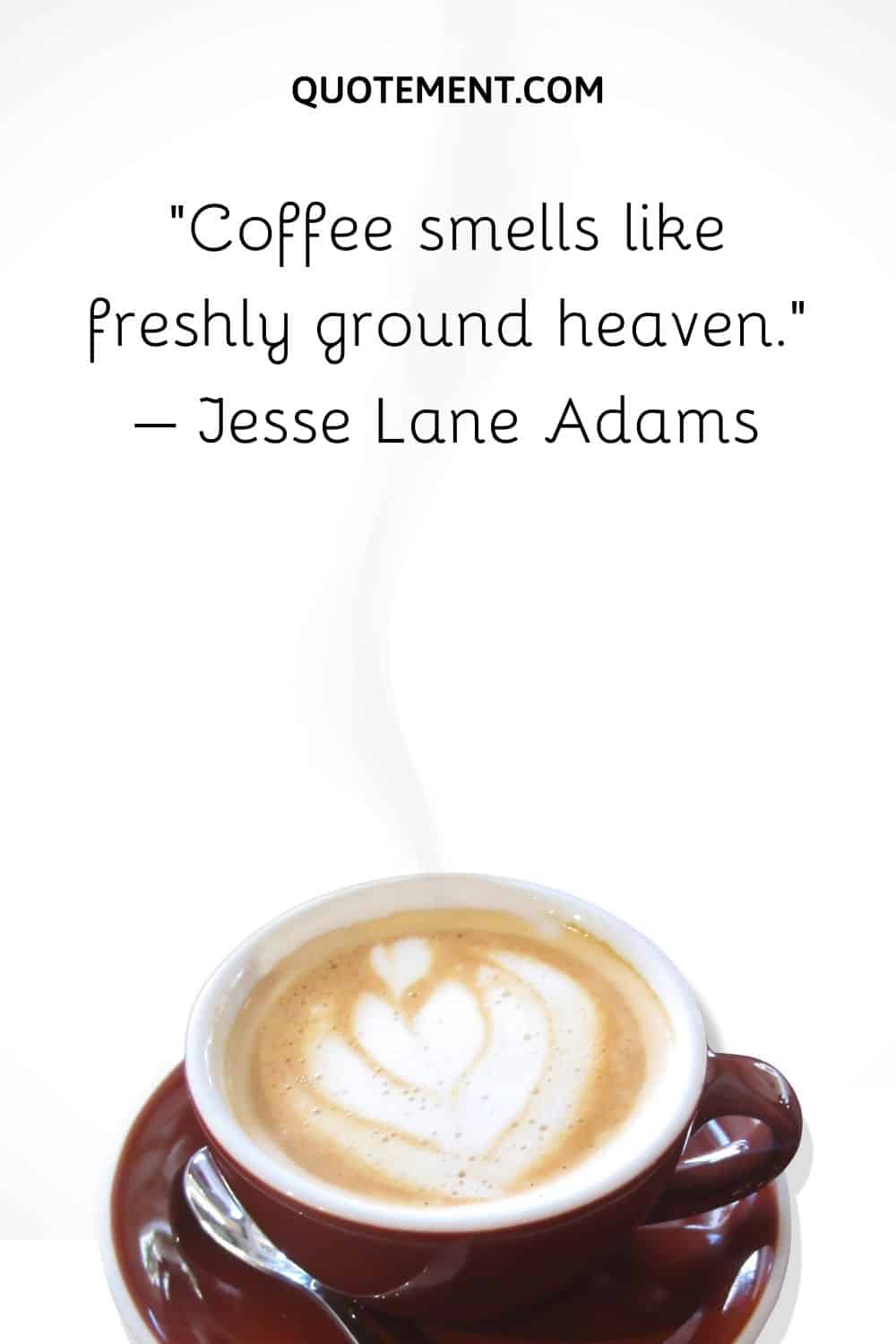 6. "If it wasn't for coffee, I'd have no discernible personality at all." — David Letterman
7. "Science may never come up with a better office communication system than the coffee break." — Earl Wilson
8. "As long as there was coffee in the world, how bad could things be?" — Cassandra Clare
9. "I judge a restaurant by the bread and by the coffee." — Burt Lancaster
10. "Coffee is a language in itself." — Jackie Chan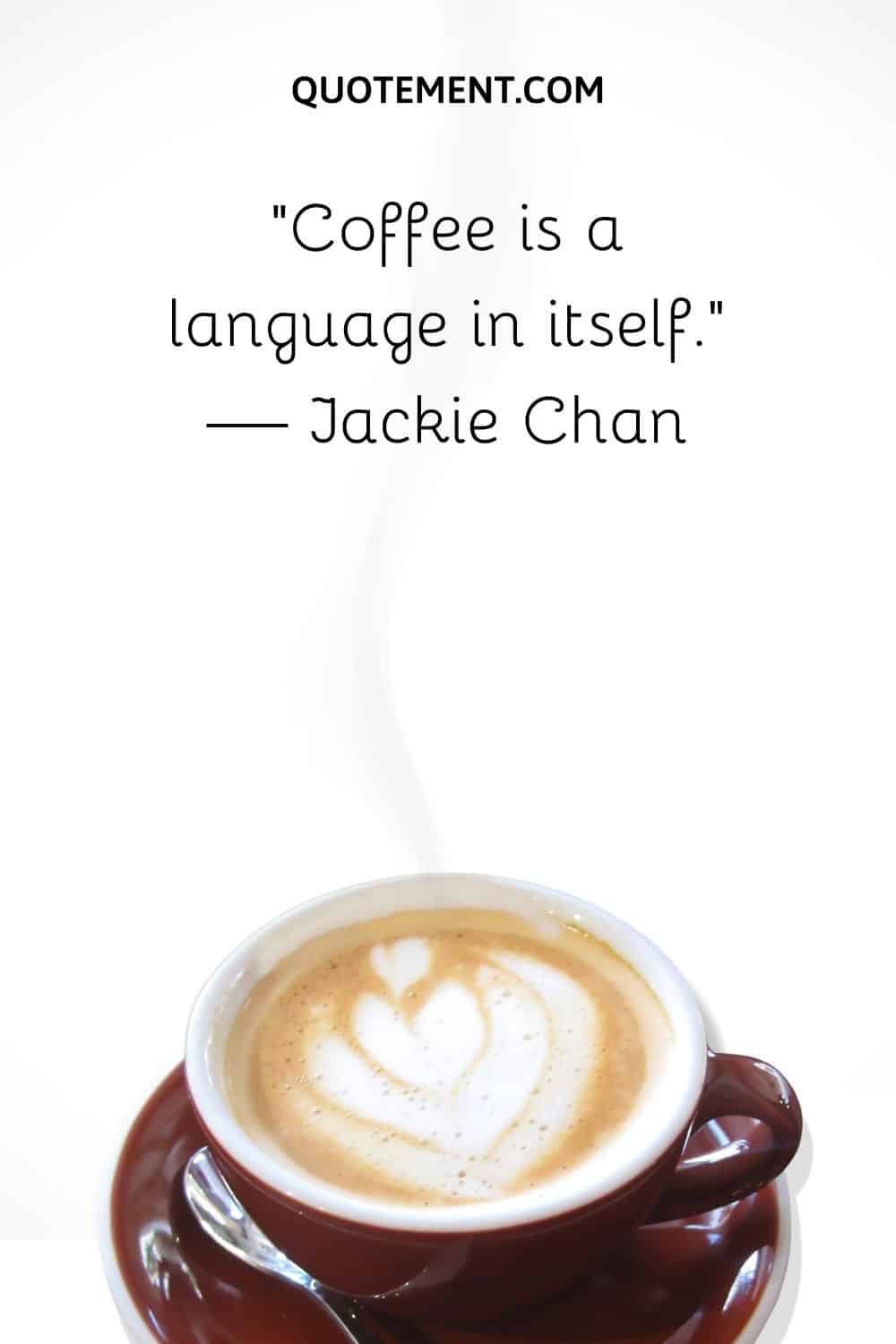 Final Words
There you have it, a collection of the best coffee captions for Instagram anywhere on the web!
I hope you liked it.
I'm going to get myself a nice hot cup of coffee now, it's been three long hours since I had my last one. I suggest you do the same.
It's time for a bit of me-time, work can wait.
Until next time!
Read next: 90 Genius Coffee Pick Up Lines Proven To Work Every Time!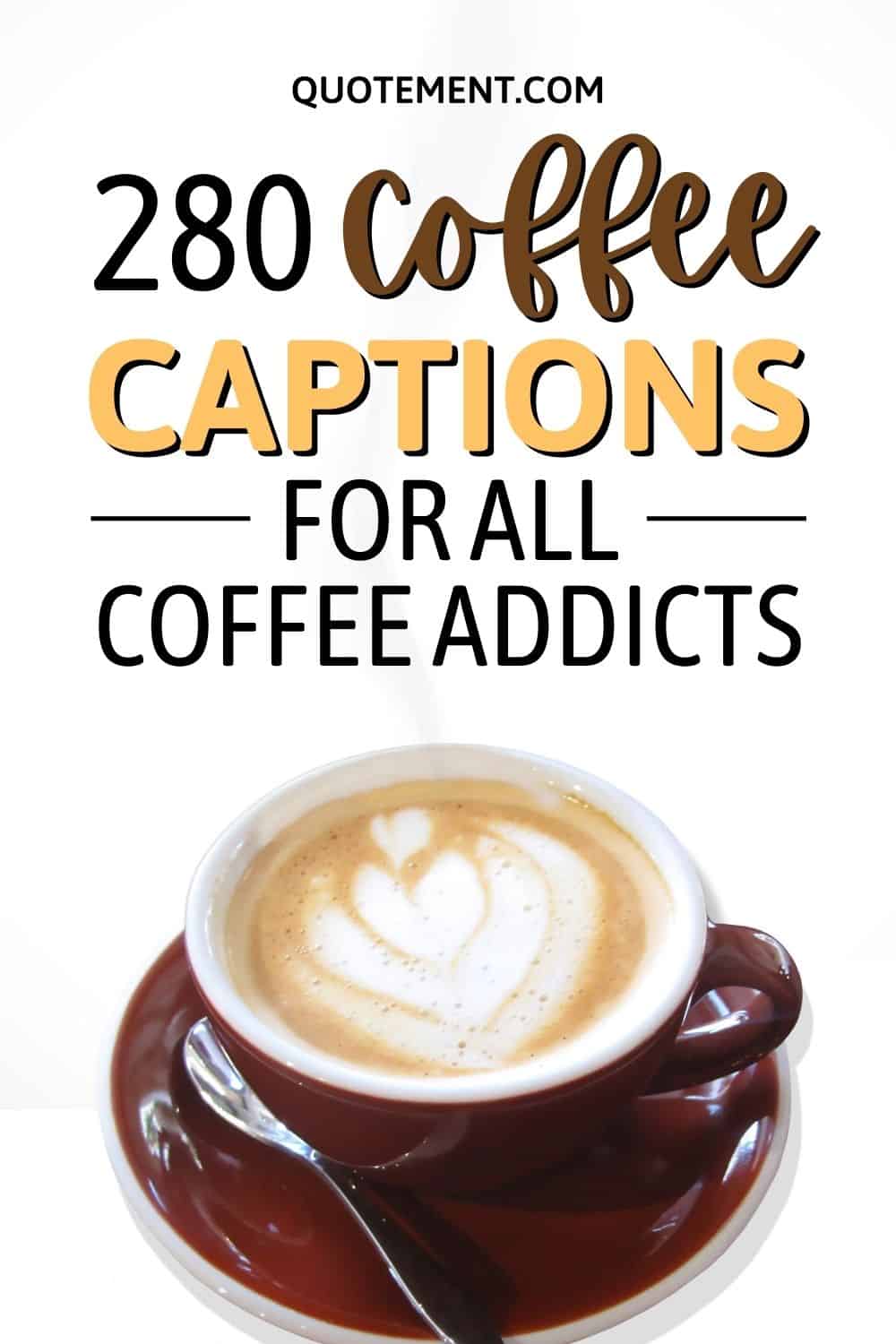 Emily Grant
A writer and poet at heart, Emily Grant has a talent for weaving words together in a way that inspires and delights. Her quotes reflect her love of nature, her appreciation for the simple things in life, and her optimistic outlook on the world.
Related posts