130 Perfect Captions + Quotes
Emily Grant
0
10 min

read
37
If you want to post a bomb photo of yourself in that majestic black dress you wore the other day on your social media, you're going to need a perfect caption for black dress!
The black dress is iconic. No matter the occasion, season, or age, everyone and everything looks good in black.
It will make you feel confident and look sophisticated without any effort. No other piece of clothing can do what a black dress does, which is turn you into a diva in a split second!
Just like the black dress itself, a good caption should be two things: simple and powerful.
I've collected the 130 most sassy, classy, and powerful black dress fashion captions and fashion quotes in the world to ensure your Instagram post is fire!
Let's take a look!
Top 20 Caption For Black Dress
Thanks to your fabulous black dress, all eyes are on you. But, we all know that the caption is equally important if you want your social media audience to pay attention and engage with you.
Here are some of the best Instagram caption for black dress ideas you can use with your stunning photo.
1. A black dress is the oxygen of fashion.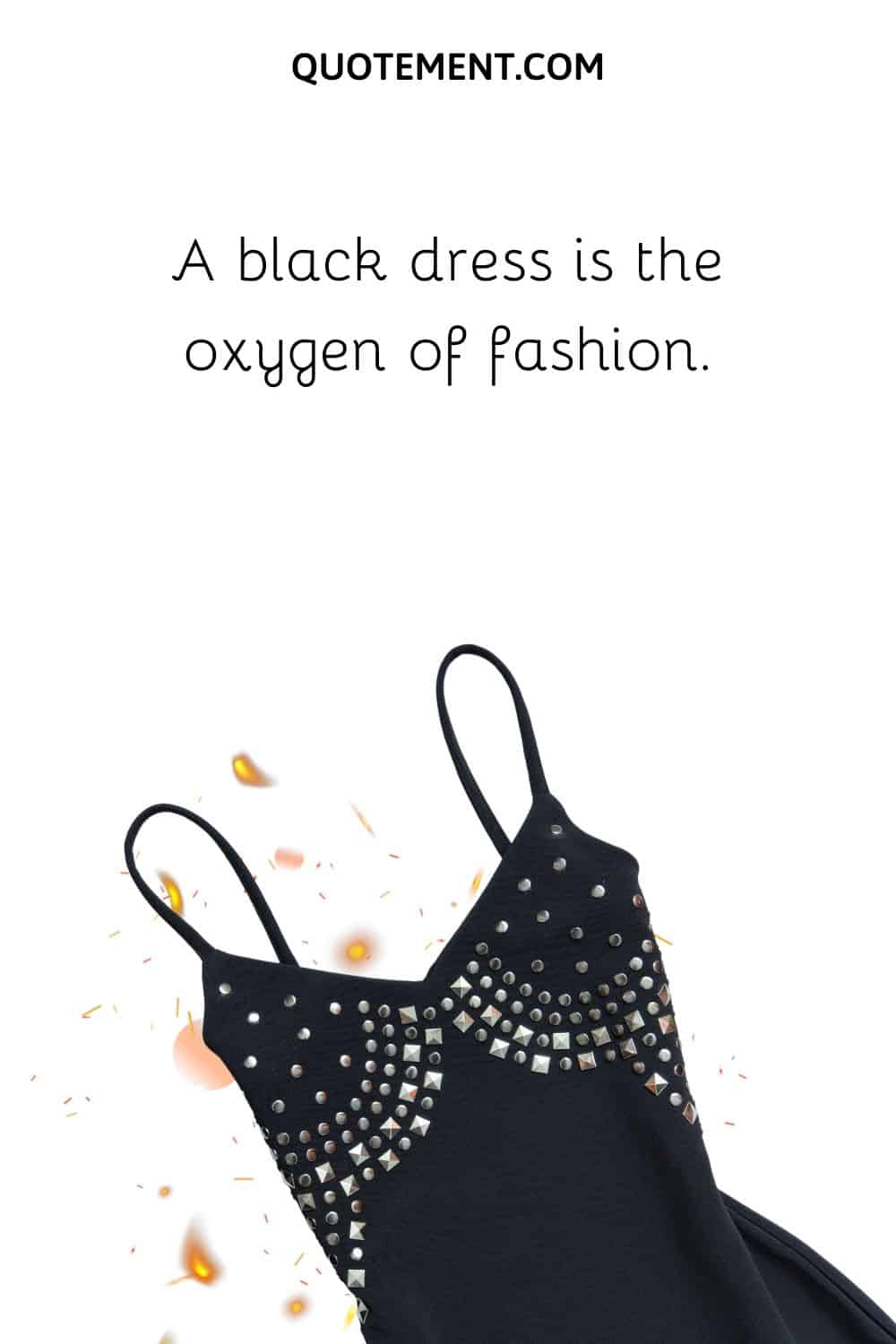 2. Two things in the world are not meant to be hidden – love and your black dress.
3. The magic and mystique of black never fail to amaze me.
4. The night sky doesn't always need shining stars to look beautiful, and a black dress has no jewelry.
5. I've got the dress—the perfect black pattern.
6. I'm the darkness, forever shrouded in mystery.
7. I'm meaner than my demons when I'm wearing black.
8. I only wear two colors – black and noir.
9. Black is my happy color.
10. A dress as black as my heart.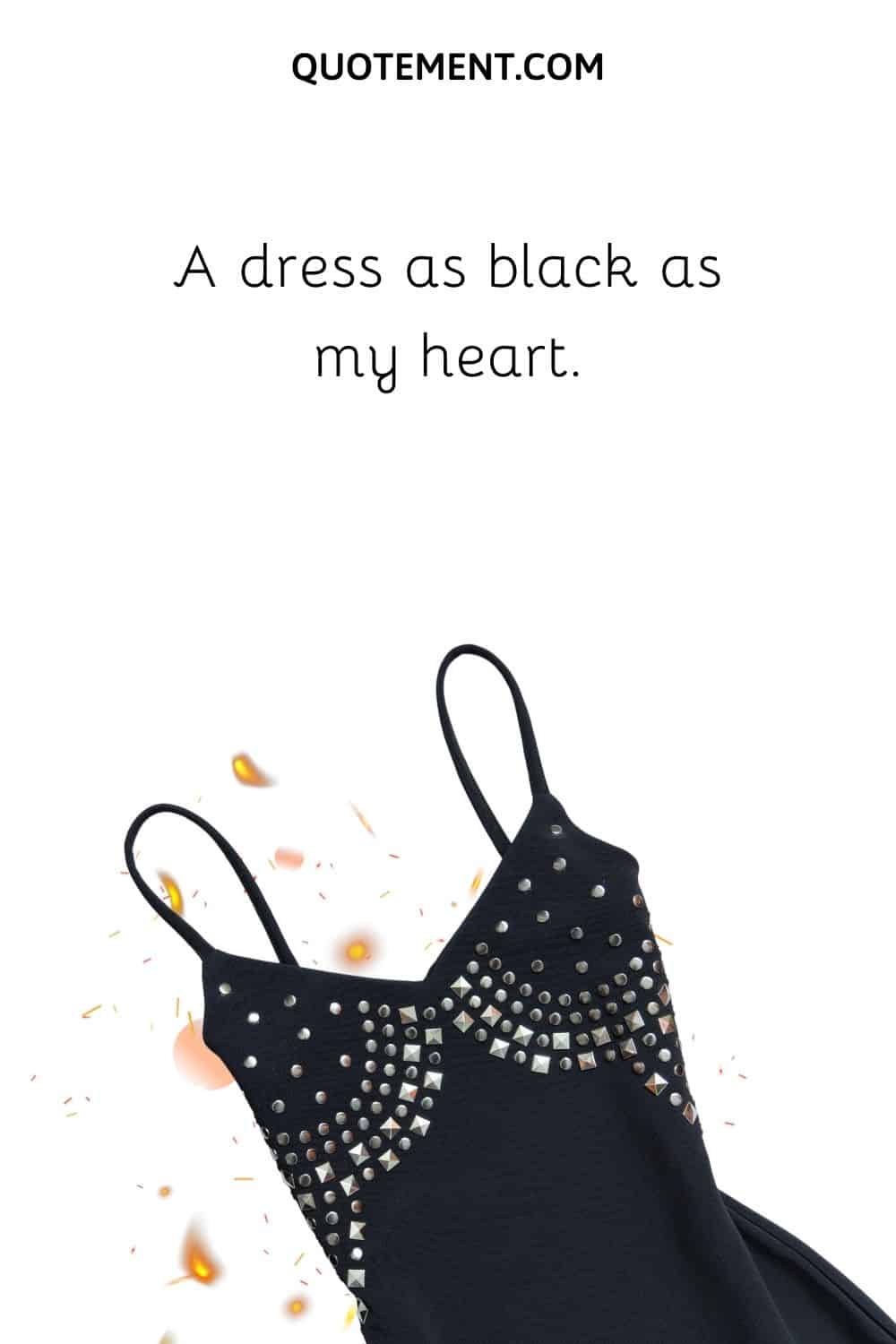 11. It's such a lovely day outside. I think I'll wear black.
12. An infinity of fashion can be contained in one – color black.
13. Color is just fine, but black is majestic.
14. Black is modest and arrogant at the same time. Black is lazy and easy – but mysterious. But above all, black says this: I don't bother you – don't bother me.
15. I could wear other colors, but what's the fun in that?!
16. If you're going to wear a black dress, you might as well own it.
17. Blood type: Matte Black with a hint of gold.
18. When in doubt, wear black.
19. I love black dresses. I think everyone should own a lot.
20. I like my dresses just as I like my coffee. Black.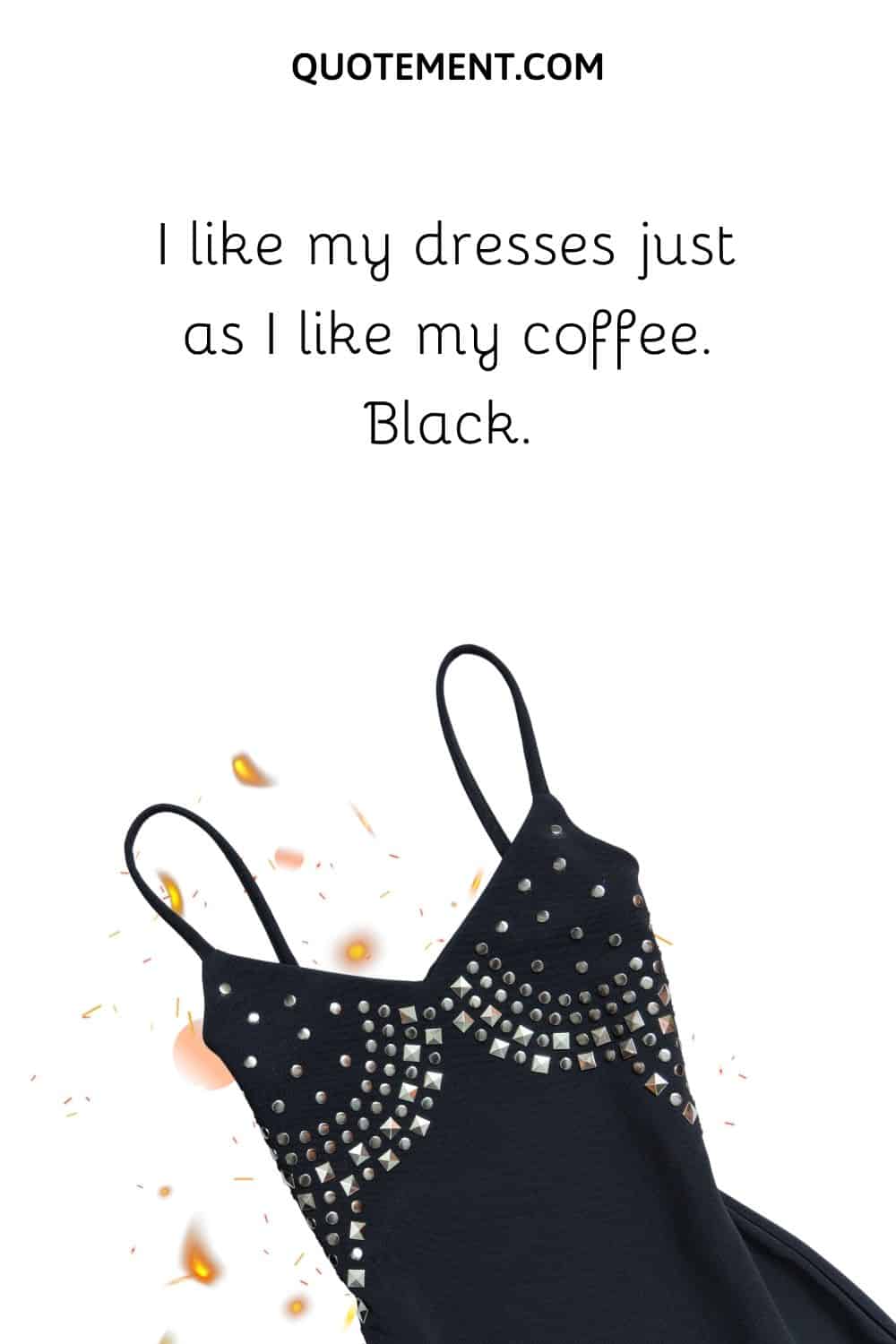 Black Dress Captions For Instagram
I can't think of a situation where a black dress would be inappropriate, except maybe when you're getting married!
But even then, why not try something a little different?
Here are some more black dress captions you can use with your insta pic.
1. Back in black.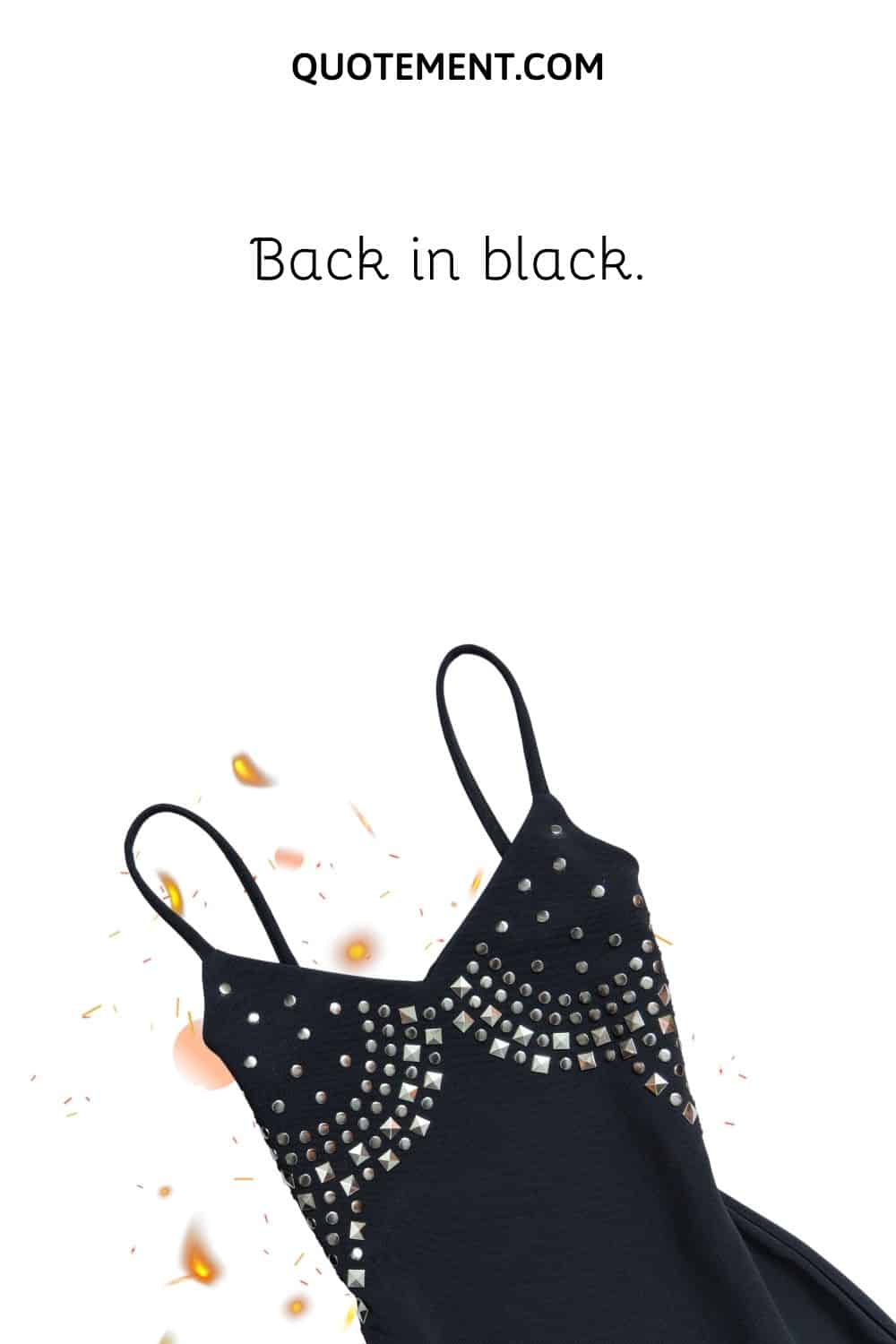 2. A black dress that will make you feel like a million bucks.
3. Black – the timeless color instantly lifts up my whole look.
4. Keep calm and join the dark side.
5. Wearing this gown makes me feel like a real gothic queen.
See also: 250 Absolutely Best Goth Instagram Captions And Quotes
6. Life is not always black and white, but there's no harm in wearing it.
7. On Wednesdays, we wear black, just like any other day.
8. Classy is the original black.
9. Wearing black is a lifestyle.
10. Shopping rule: If it's not black… put it back.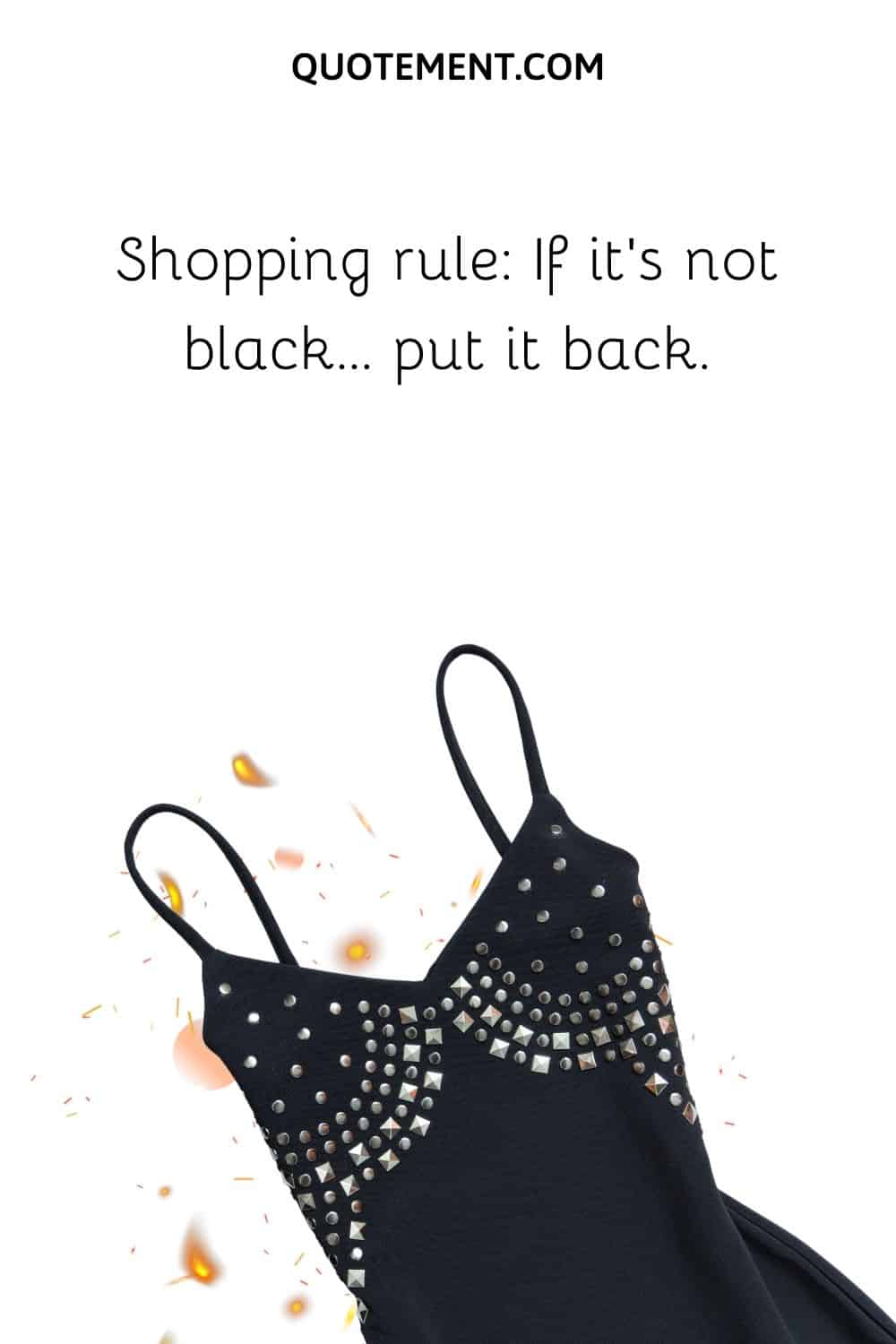 11. Unleashing the darkness within…
12. Shopping trips are simple – there's always a nice new black dress to bring home!
13. The depth of your soul is on display with this classic black dress.
14. You'll look amazing in the black pearl dress!
15. Hey, I've got a black dress. Do you want to come over?
16. The more black you wear, the more powerful you look.
17. Black is a universal taste but an acquired obsession.
18. I wore black dresses because I liked it.
19. Addicted to black.
20. A color that makes me look slim, makes me feel mysterious, and doesn't need a wash every time? What's not to love!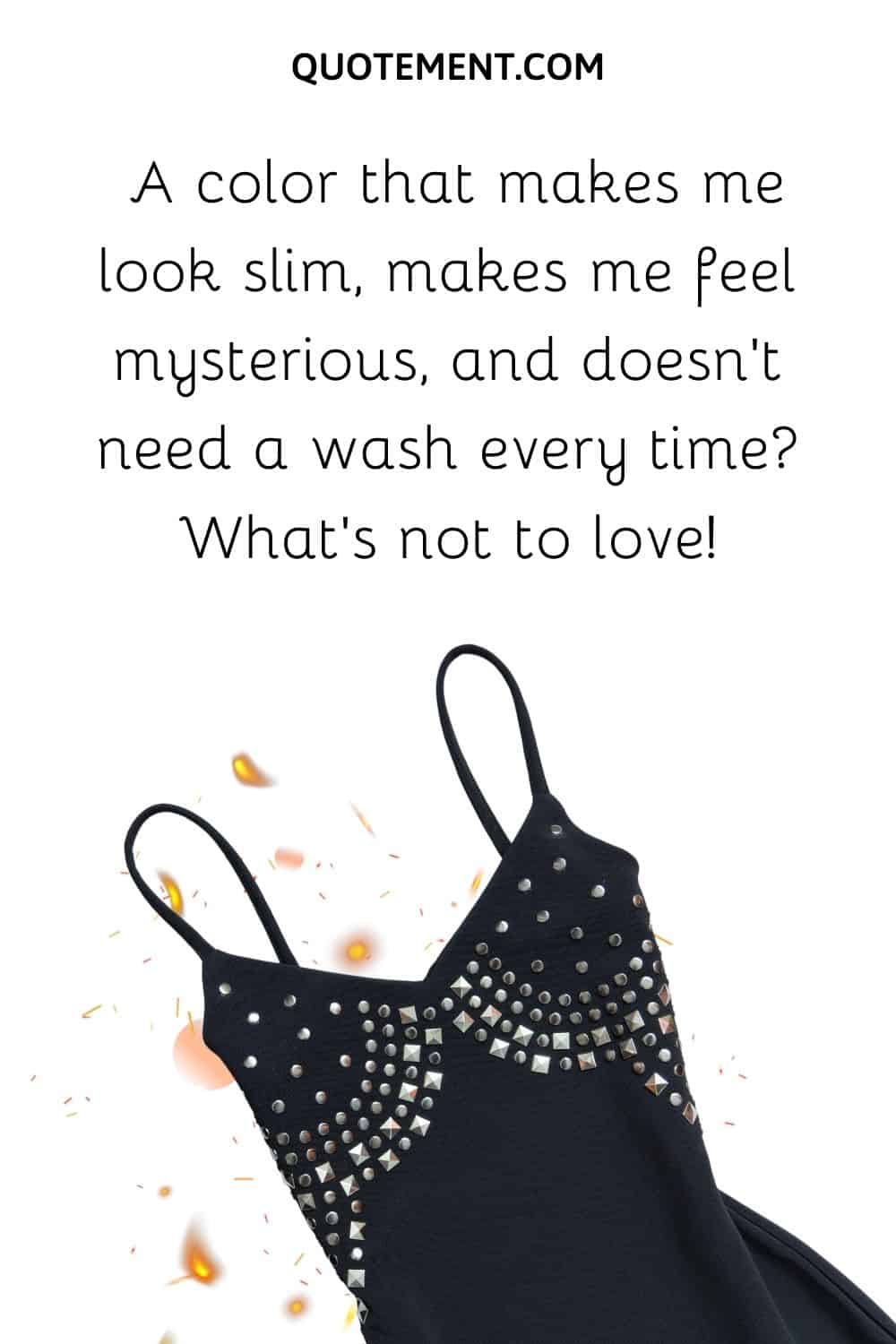 21. I decided to wear my favorite black dress. It's called confidence.
22. The little black dress expresses a moment of freedom and individuality every time.
23. I'm so reckless when I rock my Givenchy black dress.
24. I think in black.
25. Black is infinitely chic, undeniably mysterious, and deeply misunderstood.
26. Felt like a black rose.
27. I chill harder than you party.
28. When my best friends doubt their little black dresses, they call me on the telephone seeking reassurance.
29. She's wearing all black.
30. There is something about black. You feel hidden away in it.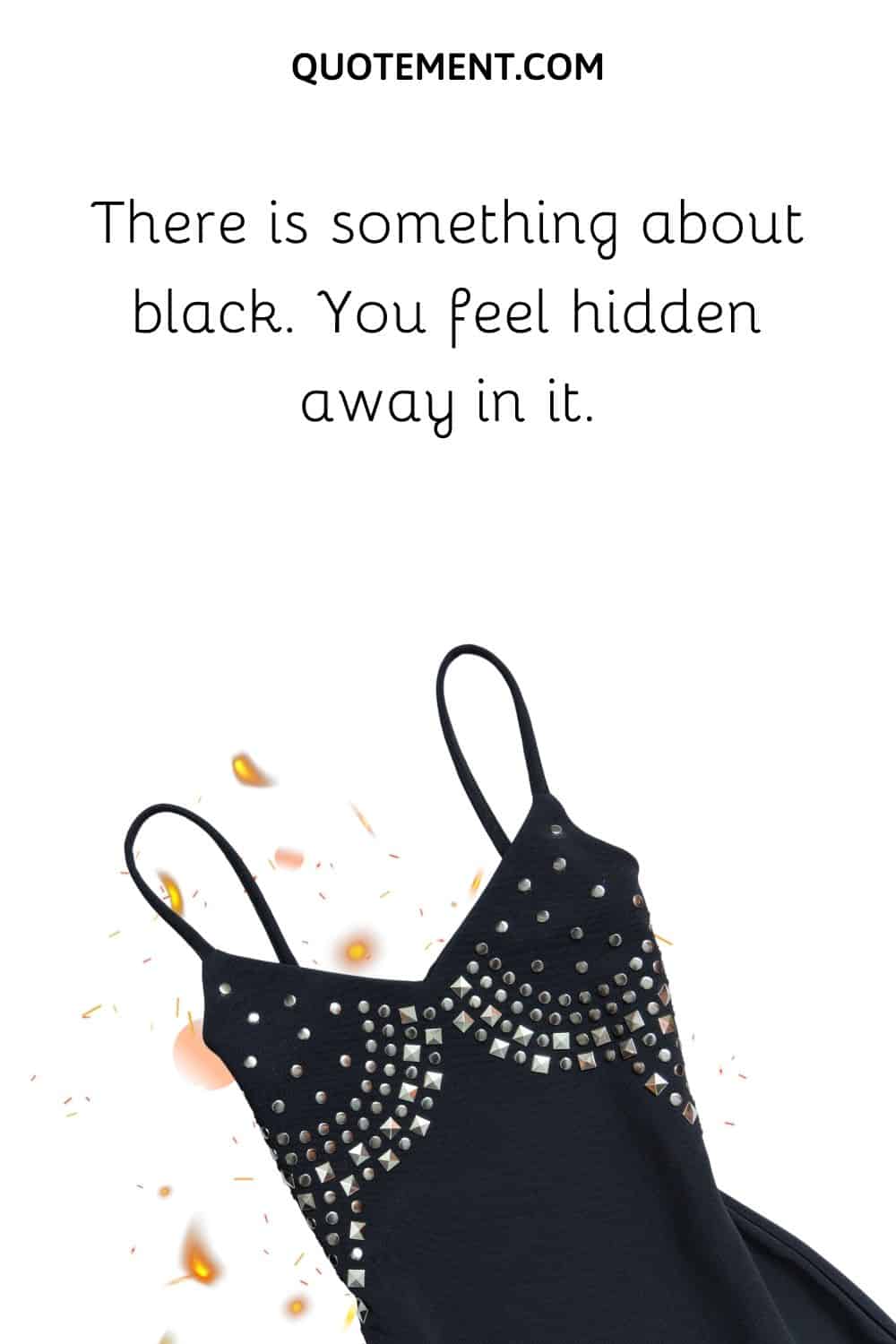 31. But when I fell in love with a black dress, it contained all colors.
32. I try not to wear black but I choose to end up wearing black more than anything else.
33. You can wear black at any time. You can wear it at any age. And, you may wear it for almost any occasion.
34. Reason to buy too many black clothes: There's always a black darker than all your blacks.
35. Say yes to a black prom dress.
See also: 180 Fantastic Prom Captions For Your Stunning Prom Pics
Short And Sweet Black Dress Instagram Captions
A caption for black dress should tell a story without too many words. These captions do exactly that!
1. Always in love with black.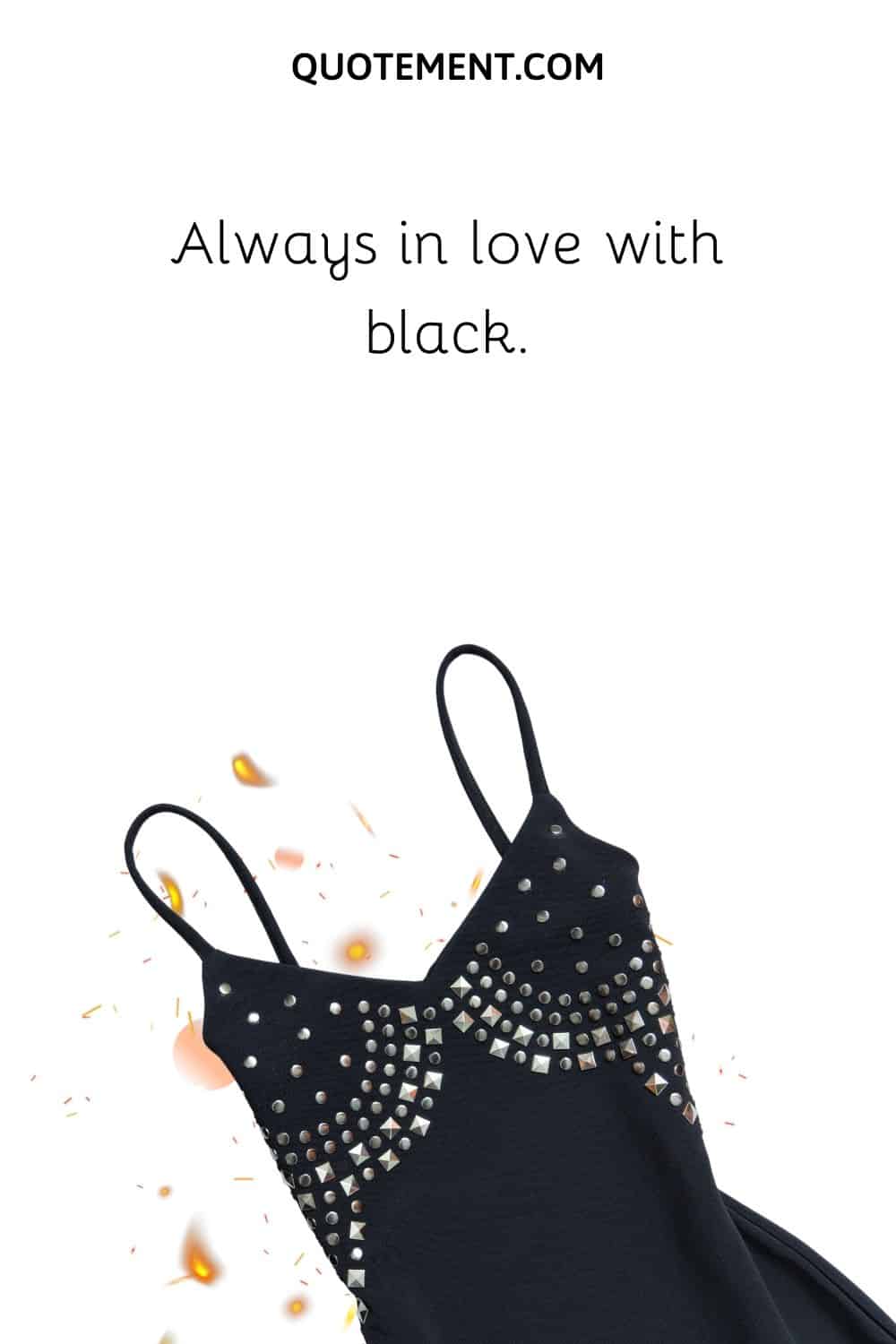 2. The black dress is the best thing you can wear to look stylish and hot.
3. Stepping out in style in a black dress is no small feat.
4. Depressed, stressed but still well dressed
5. I'm wearing this black dress tonight for a casual dinner!
6. Black… Enough to show my evil spirit.
7. Note to self.. must get more black.
8. She always wears black but she has the most colorful mind.
9. Black makes everything more elegant or classy.
10. She wore her darkness like some girls wear a little black dress.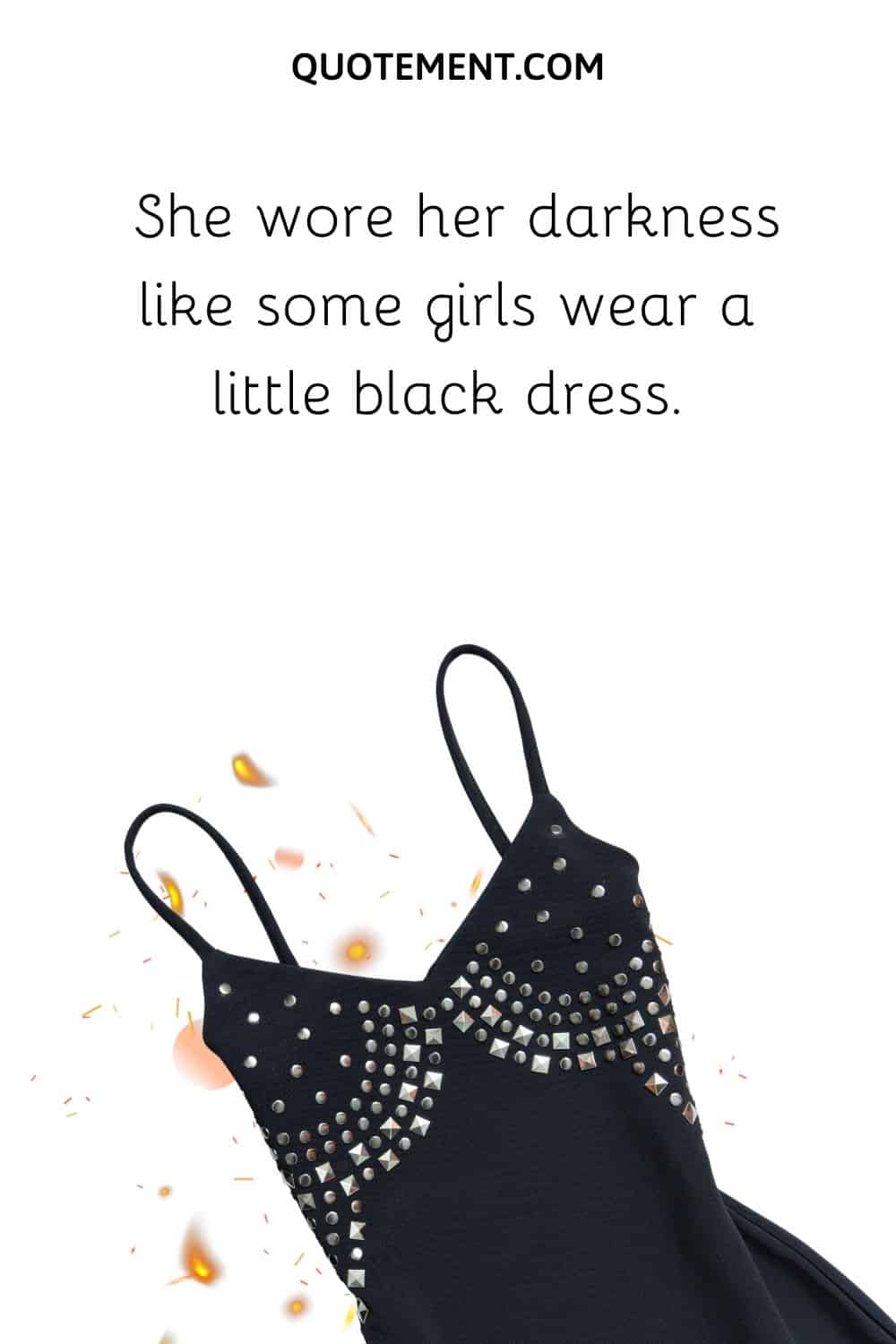 11. Why do I always wear black? It matches my soul.
12. The perfect dress to flatter your figure and create a killer look!
13. Black is an unstoppable force.
14. You say I'm wearing too much black, but all I hear is I look great.
15. Black is the only color that's enough to make up a whole wardrobe.
16. Embrace your dark side, wear black.
17. Black Poison.
18. Black is always elegant. It is the most complete color in the whole world, made of all the colors in the palette.
19. Black is natural evil.
20. Black is the only color that can make you look classy and simple, charming yet effortless, attractive yet elegant – all at the same time.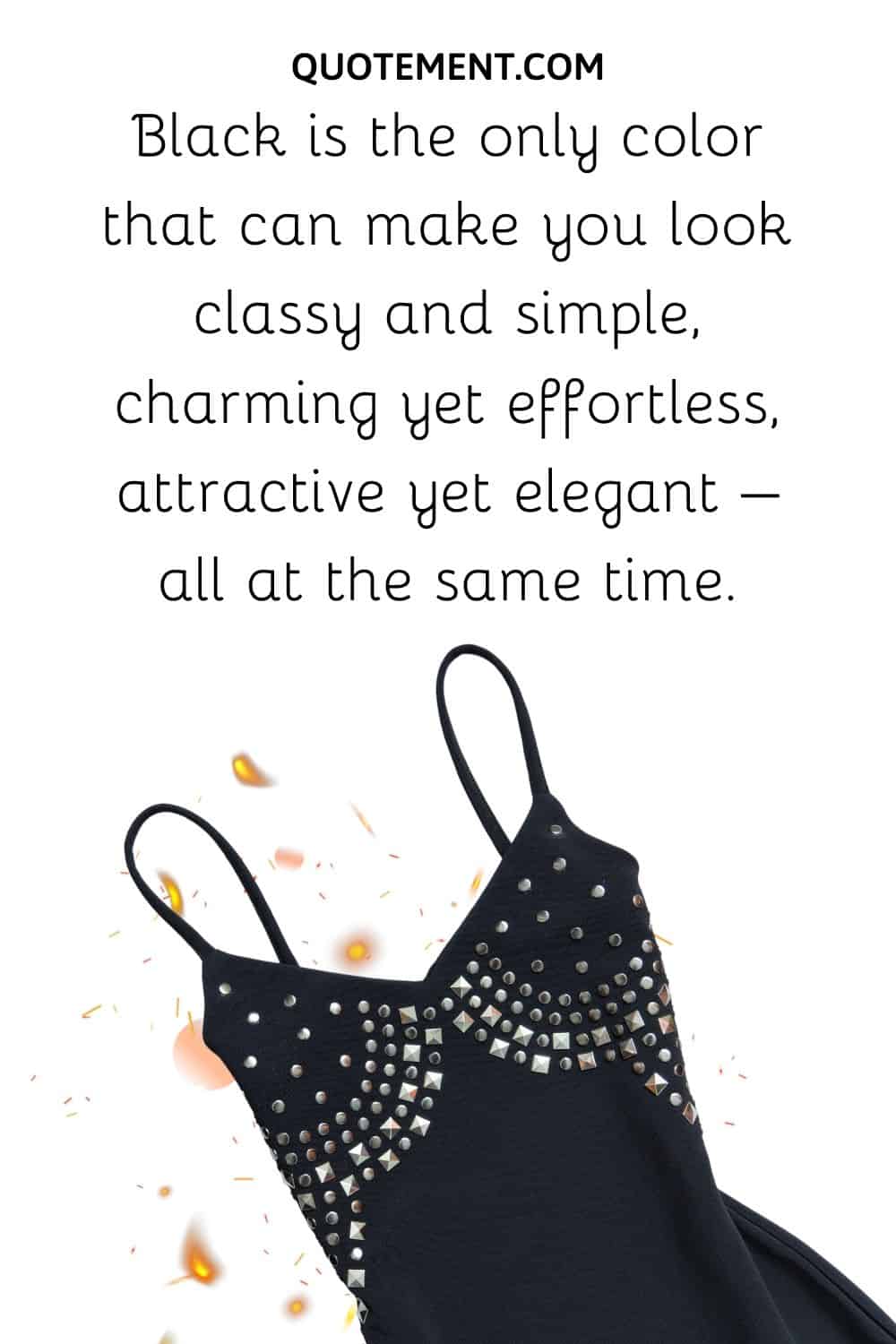 21. If I want to wear a dress, I'll wear a black dress.
22. Black is my power.
23. Season changes but my love for black clothes is still the same.
24. Black is out of fashion.. said nobody ever.
25. I'd buy anything as long as it's in black.
26. Showing off my dark side today…
27. I love black because it is a neutral color that goes with everything.
28. First lesson about fashion: The color black.
29. Should I wear all black or all black today?
30. Black is always elegant. It is the most complete color in the whole world, made of all the colors in the palette.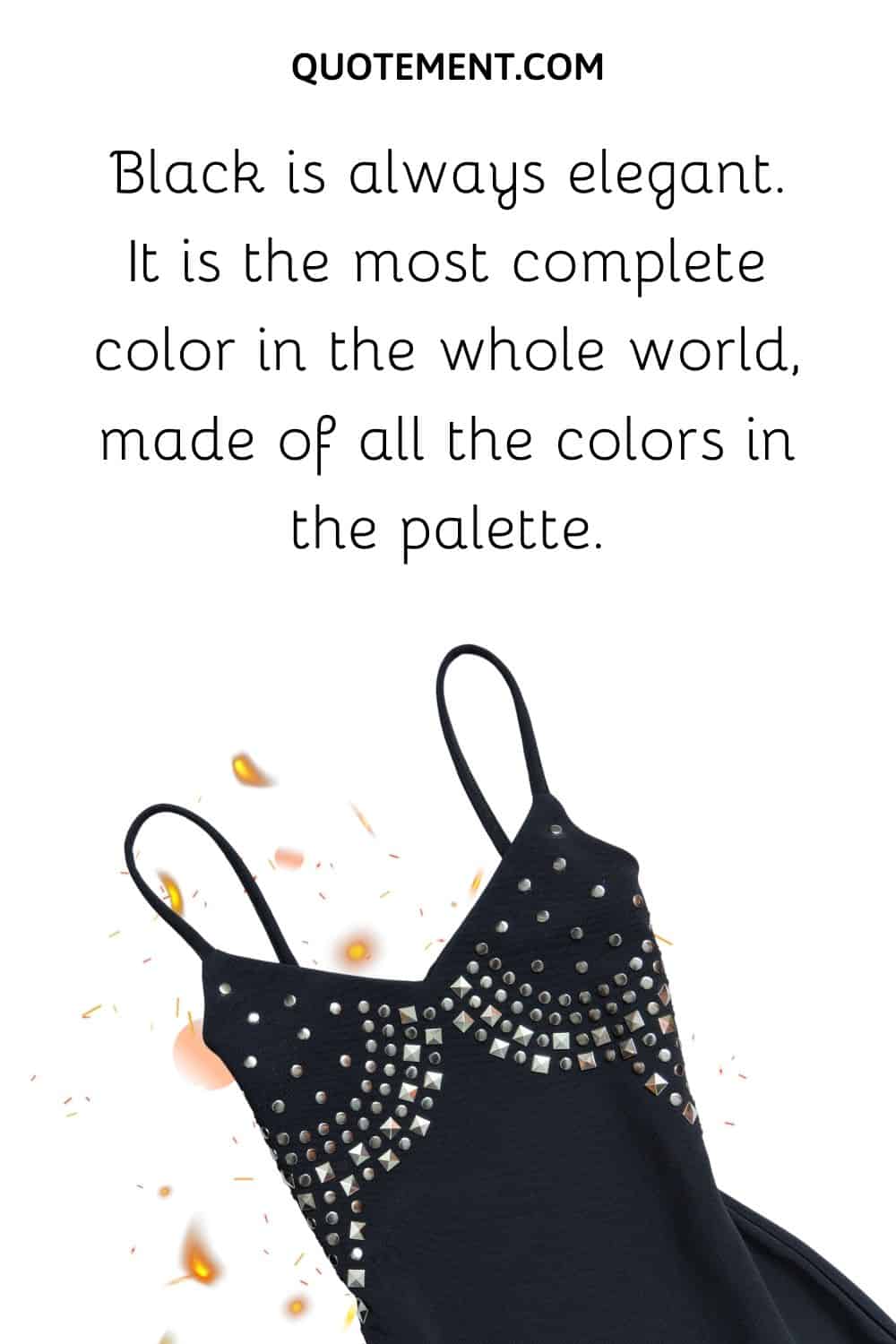 31. It's not just about the dress you wear, but also how you wear it.
32. A black dress is something I can wear anywhere.
33. Black dress is always a good idea.
34. Best in black.
35. BLACK… the only true color.
Black Outfit Captions
An all-black outfit is always a good idea. Check out these attention-grabbing captions you can use with any of your all-black outfit pics.
1. Fashion comes from within.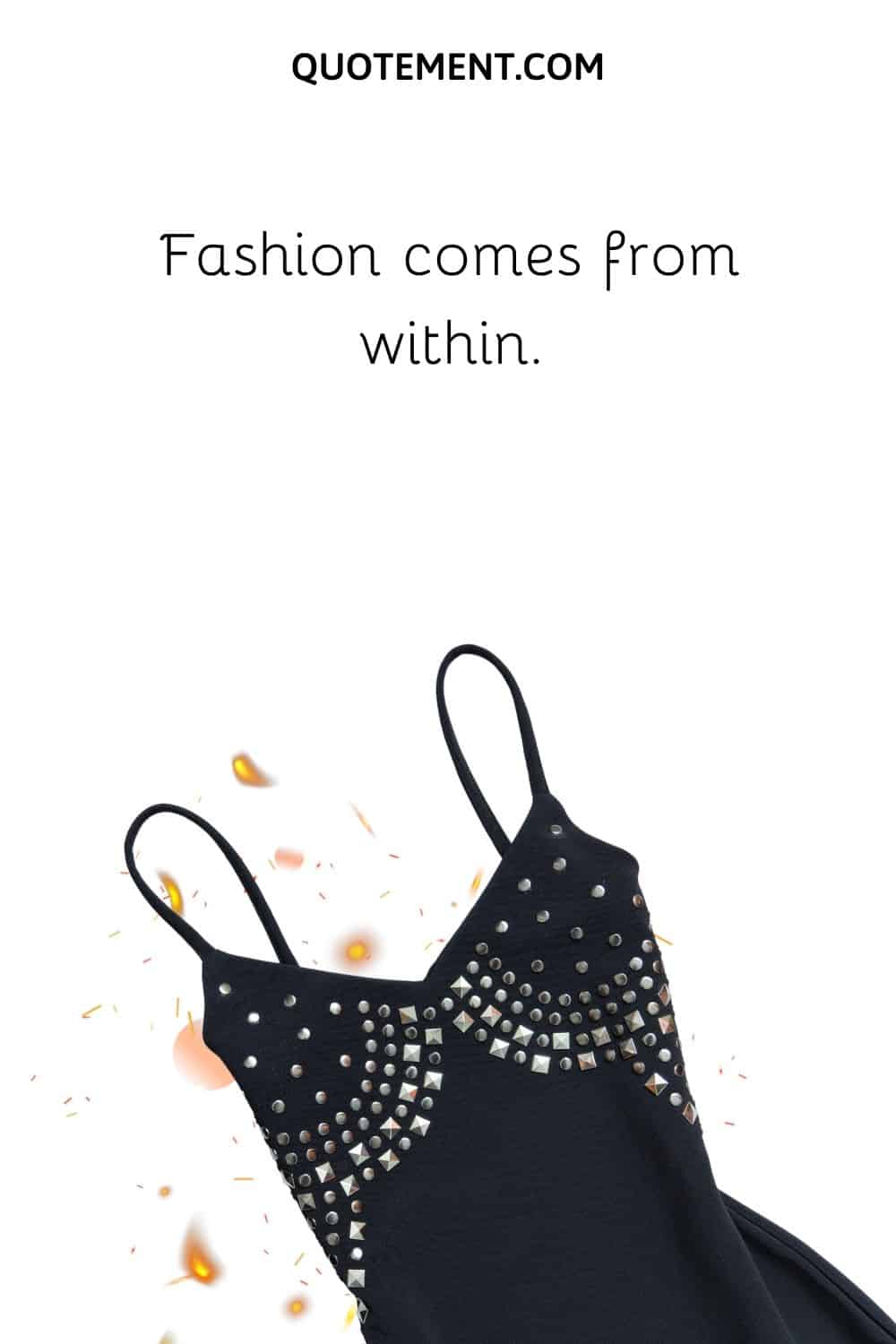 2. Wearing all black today to mourn the death of my motivation.
3. Black outfits are definitely on the agenda for summer looks.
4. A reason to buy too many black clothes? There's always a black darker than all your blacks!
5. I own too much black… said no one ever.
6. People who can't handle all-black outfits are weak.
7. A color should be two things – dark and powerful.
8. A black dress is a must-have in everyone's wardrobe.
9. Even God wears black when He goes to a party.
10. Black shirt, black jeans, black shoes, black everything.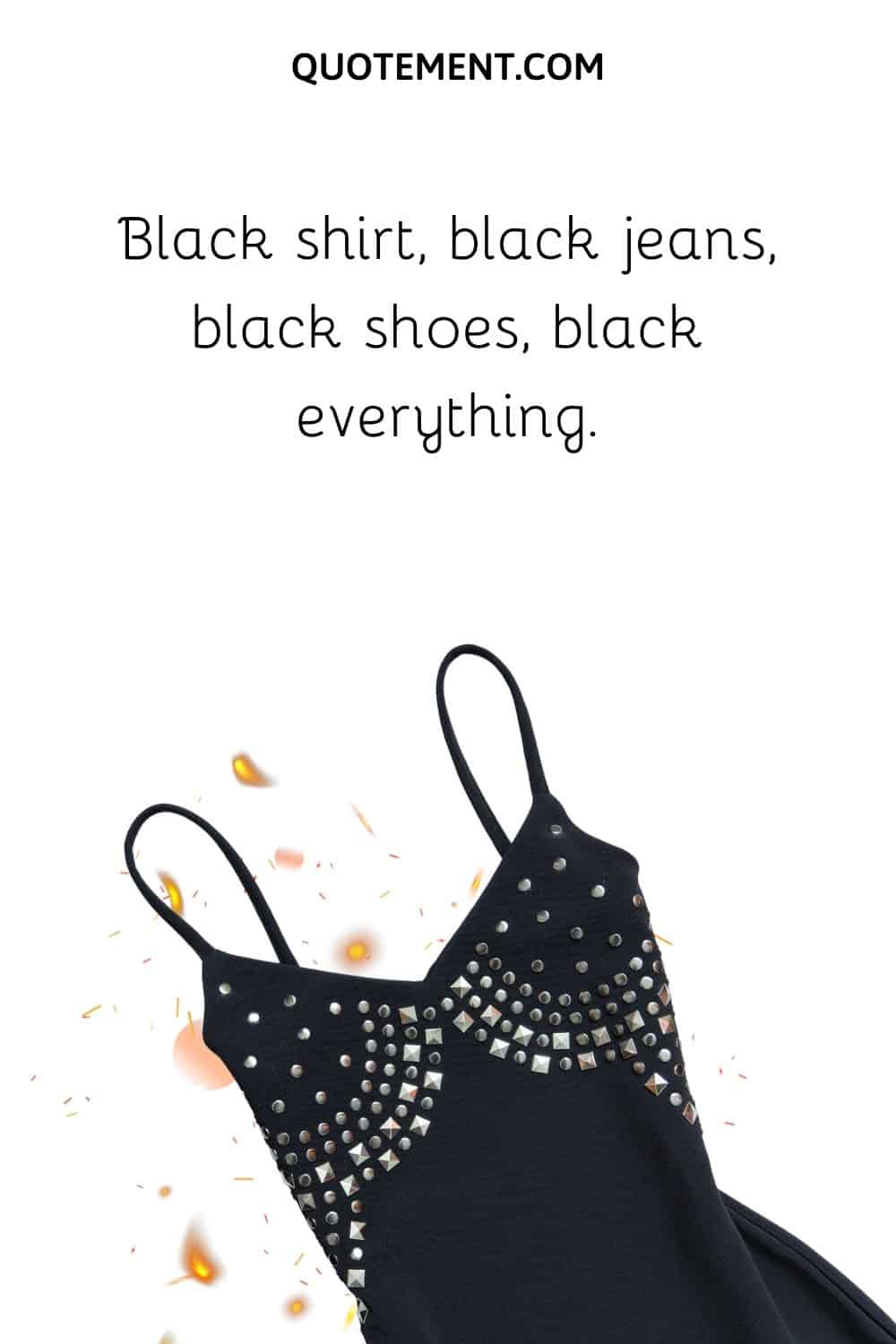 11. I hate it when my blacks don't match.
12. I feel comfortable in black.
13. The picture is meaningless without a black dress for taking selfies.
14. I love all black clothing. I think it's timeless and beautiful.
15. Wearing black makes me smile from inside.
16. Don't ask why I just wear black.
17. Whoever said red is the color of romance didn't understand fashion's love for black. Fashion has been courting black for centuries.
18. A black can be worn in a variety of ways.
19. Black is the new Black.
20. All black everything.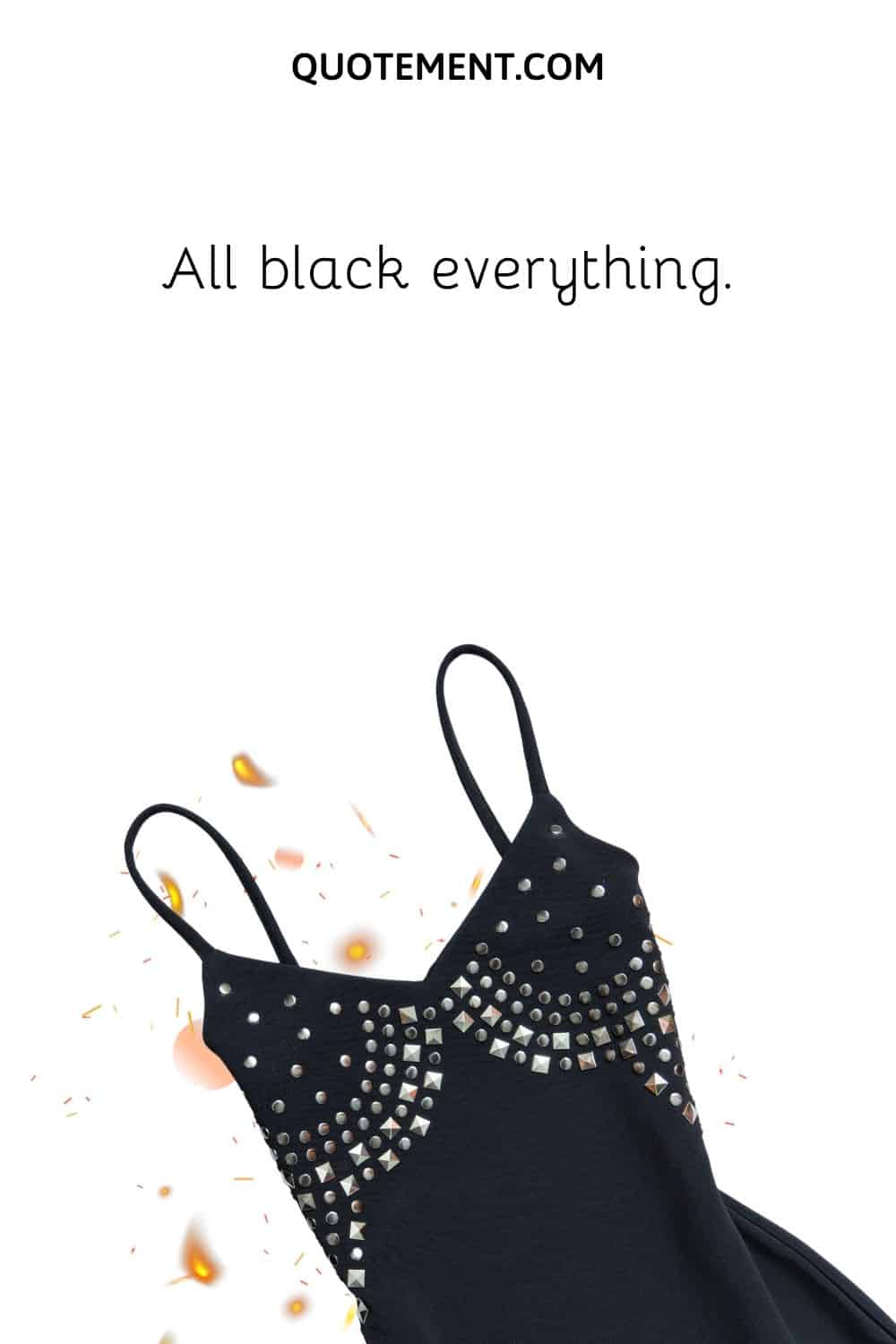 Black Captions For Instagram
Black isn't a color; black is all colors. It's so powerful. Use one of these captions when you want to emphasize the power of the color black.
1. You can't unravel me. Why bother trying?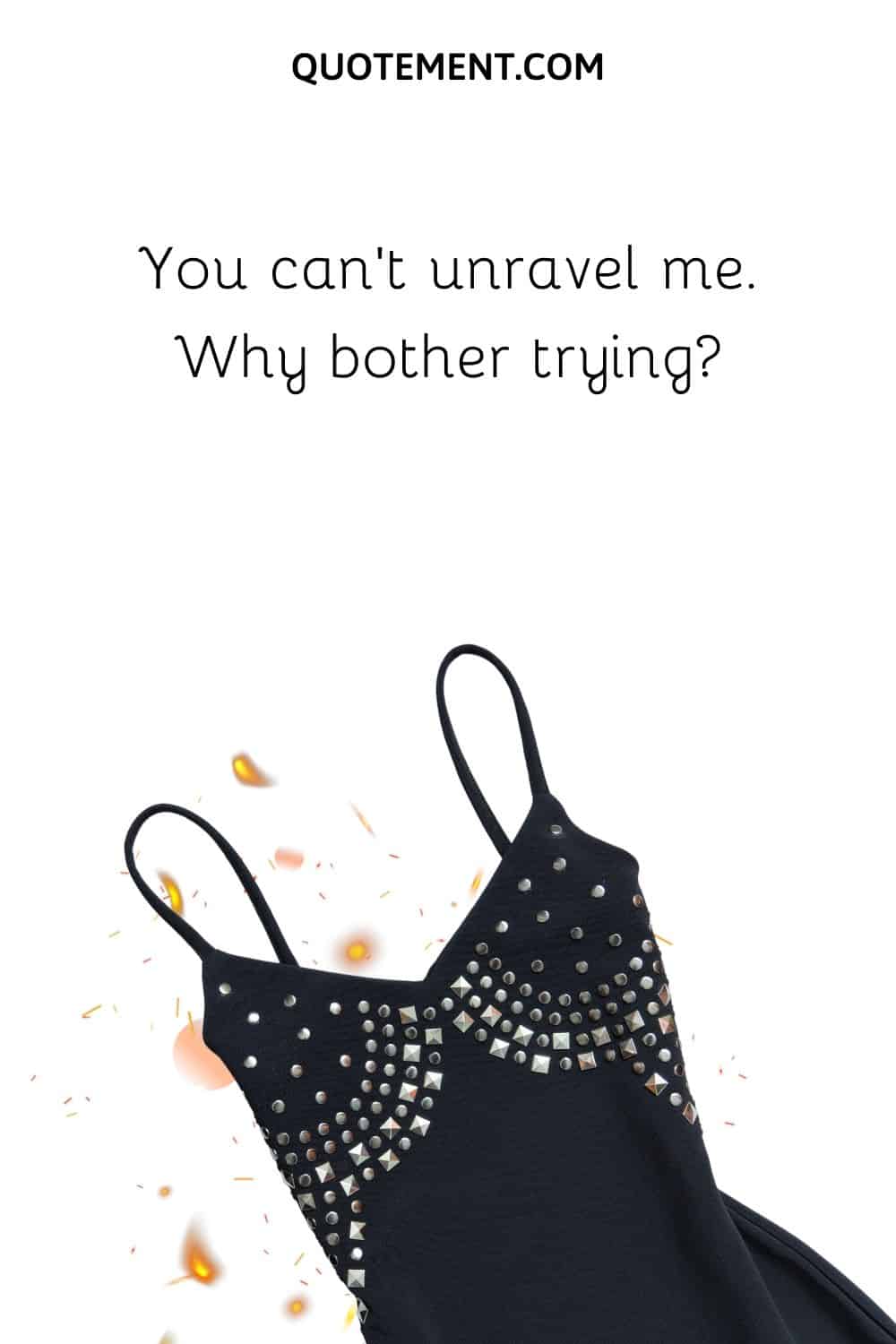 2. Stars can't shine without darkness.
3. Let us step into the night and pursue that flighty temptress adventure.
4. I work in three shades of black.
5. I'm all black, all the time.
6. Even a white rose has a black shadow.
7. Black is the hardest color in the world to get right – except for gray …
8. The queen of all colors is black.
9. Black is the color of a predator.
10. Black and white images erase time from the equation.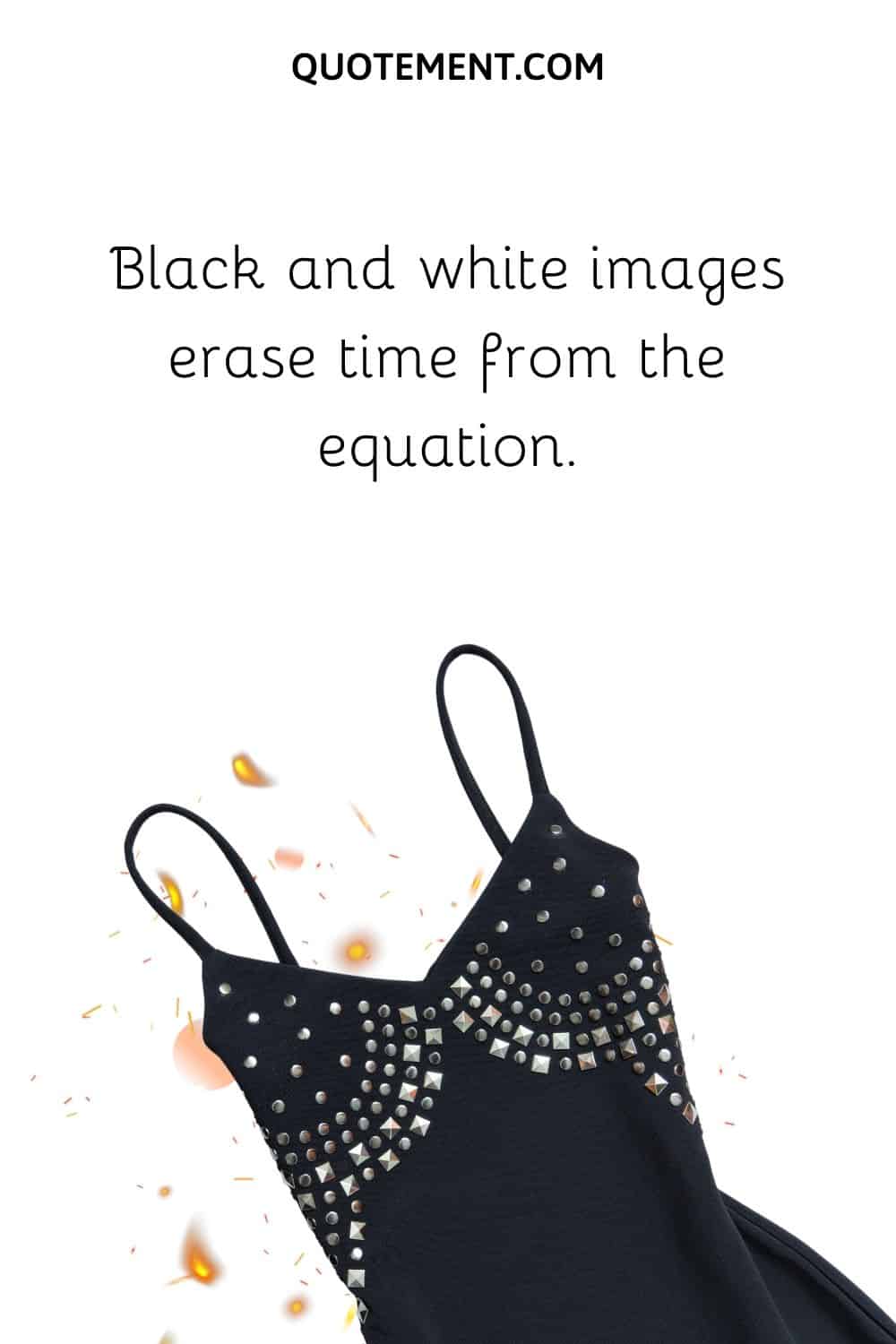 Black Dress Quotes
Designers adore black, and so should you!
Use one of these Instagram quotes as a caption for black dress to make your Instagram post really stand out.
1. "One is never over- or underdressed with a little black dress." — Karl Lagerfeld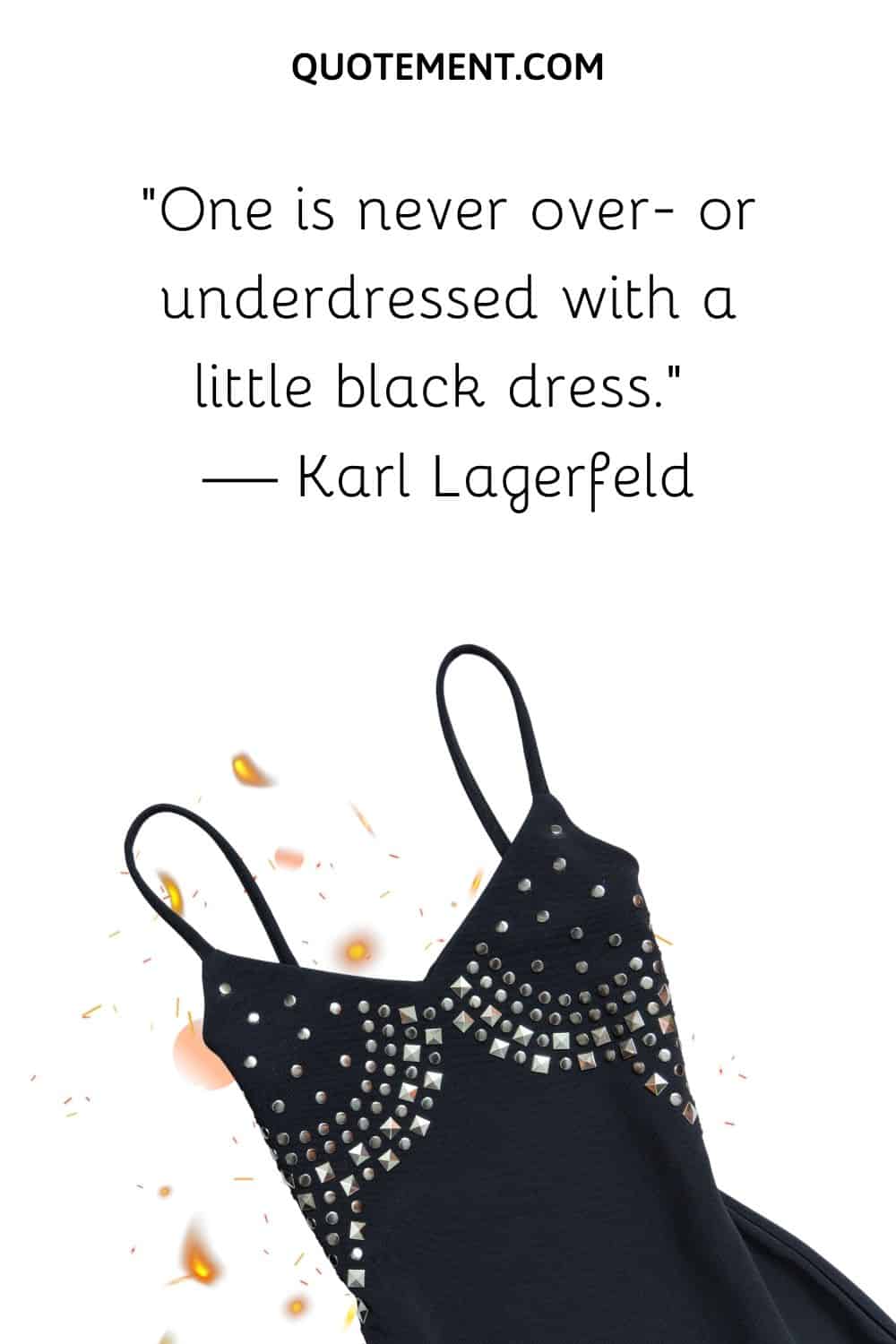 2. "Women who wear black lead colorful lives." — Neiman Marcus
3. "For me black is not dark, it's poetic." — Ann Demeulemeester
4. "I'll stop wearing black when they make a darker color." — Wednesday Addams
5. "The zenith of elegance in any woman's wardrobe is the little black dress, the power of which suggests dash and refinement." — Andre Leon Talley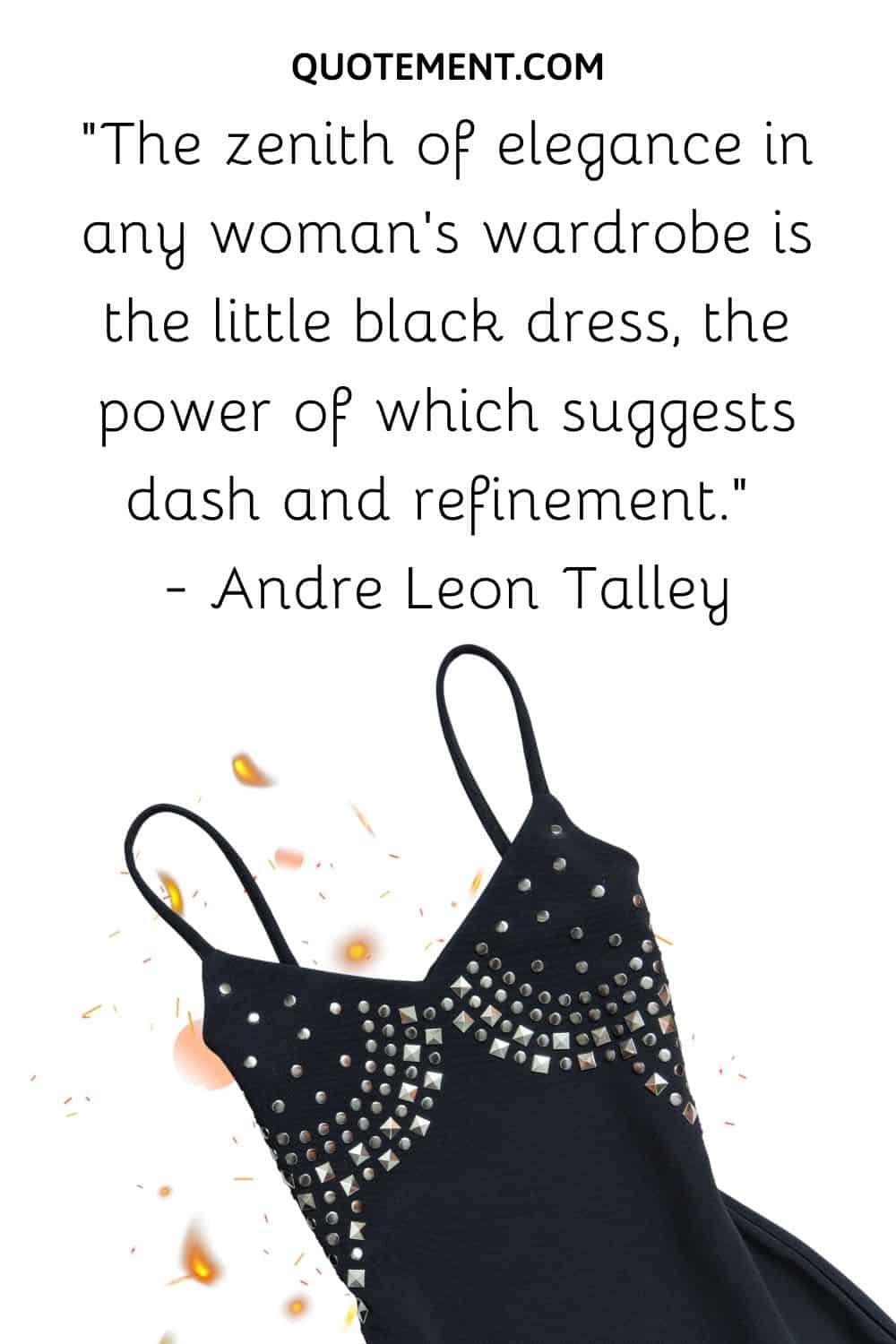 6. "Five pieces every girl needs in her closet are; a great pair of jeans, a good black heel, a great little black dress, tank tops for layering, and a jacket that can be worn day or night." — Kristin Cavallari
7. "Women think of all colors except the absence of color. I have said that black has it all. White too. Their beauty is absolute. It is perfect harmony." — Coco Chanel
8. "You can have any color, as long as it's black." — Henry Ford
9. "A little black dress is beautiful.It's a good choice. It could be the wrong choice at certain events and situations, but it's very rare that you see a girl who looks bad in a black dress." — Oliver Theyskens
10. "I love black because it affirms, designs, and styles. A woman in a black dress is a pencil stroke." — Yves Saint Laurent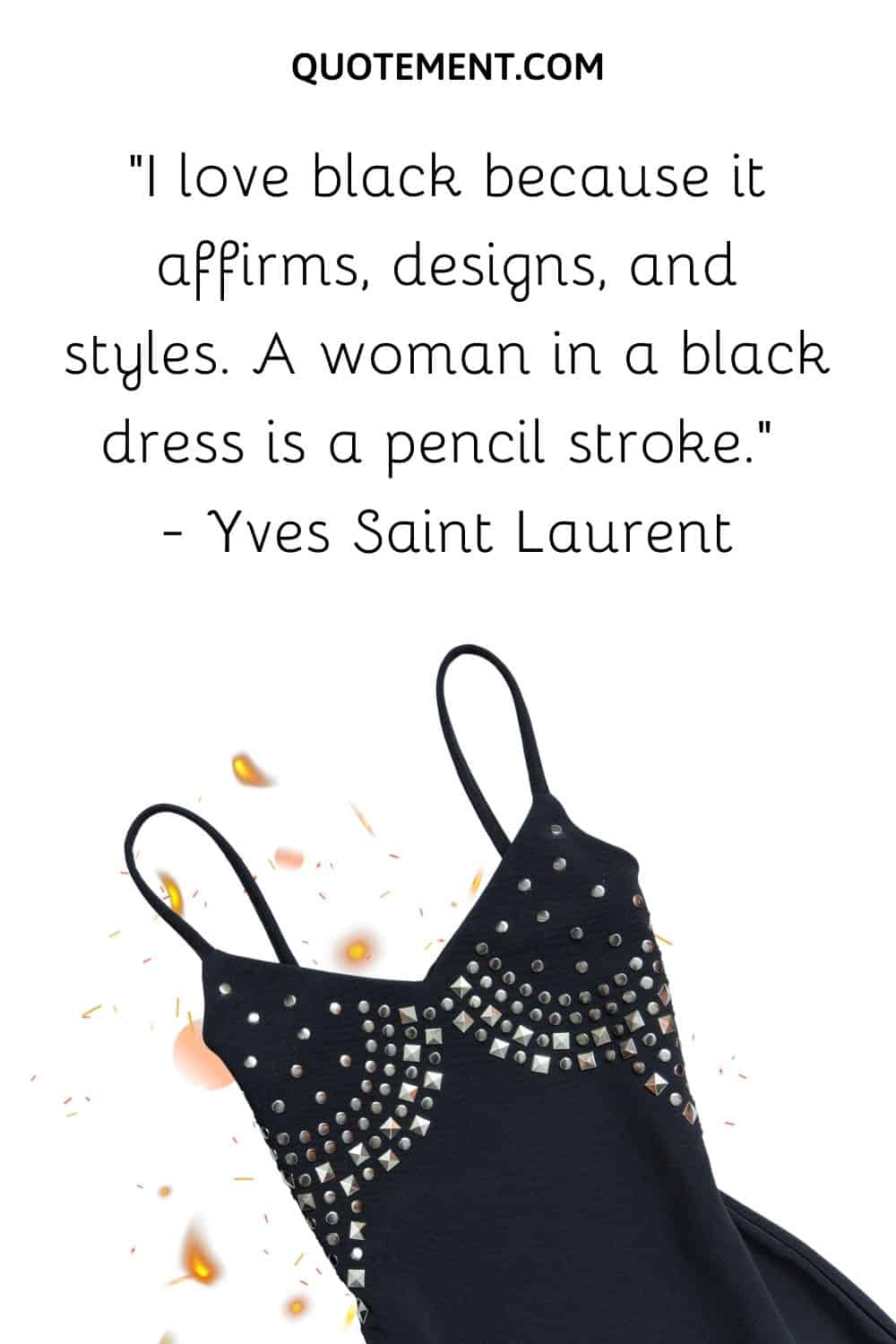 Final Words
Colors are fun, but black is the life of the party. Wouldn't you agree?
The little black dress is an incomparable and irreplaceable piece of clothing, and every woman should possess at least one.
A black dress will save you in any situation when you don't know what to wear. It will make you feel glamorous and boost your confidence.
I'm sure you always look incredible when you put on a black dress, and when you do, don't forget to take a cute photo for your social media.
Now that you have all these cool captions, choosing a caption for black dress will be a piece of cake!
Until next time!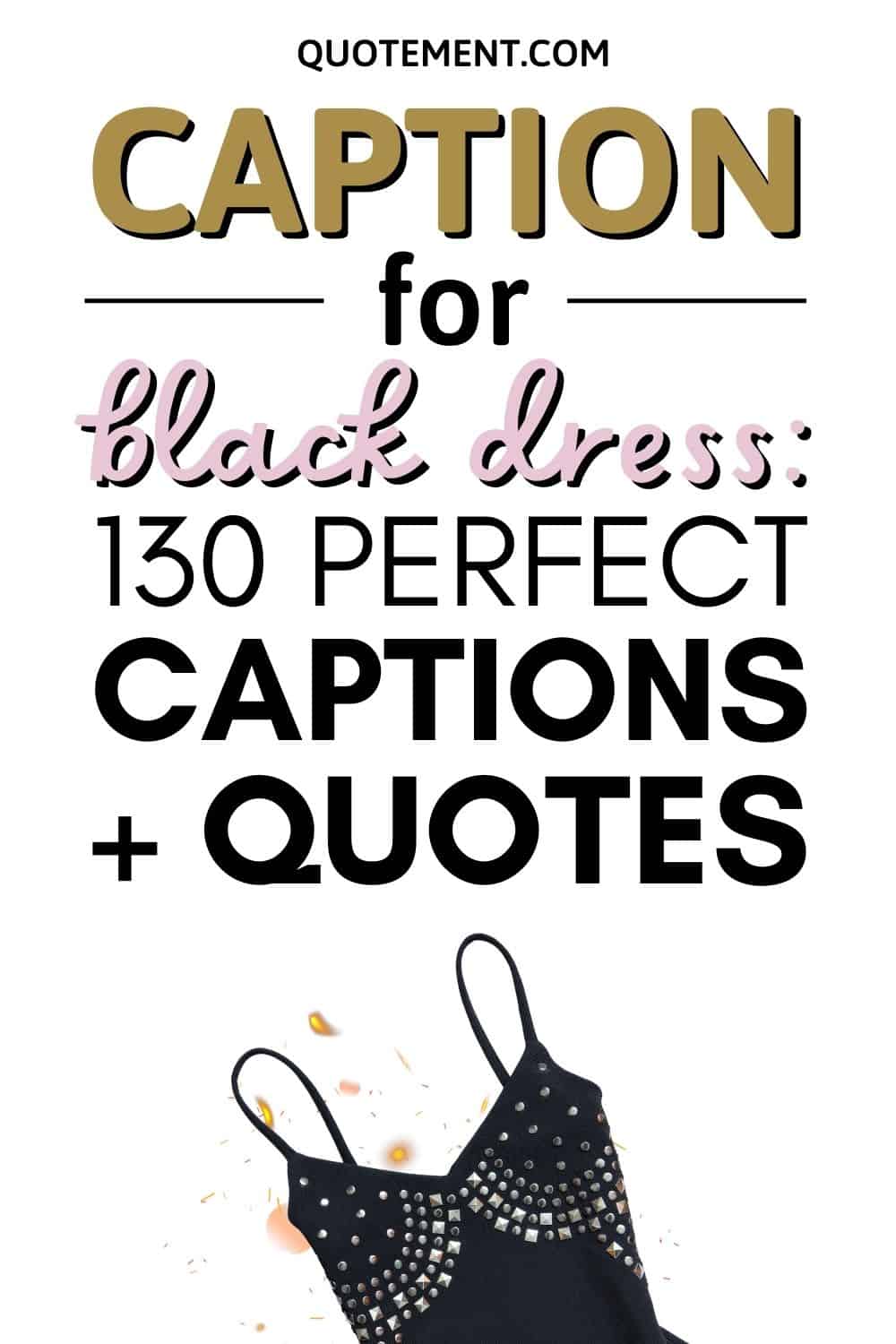 Emily Grant
A writer and poet at heart, Emily Grant has a talent for weaving words together in a way that inspires and delights. Her quotes reflect her love of nature, her appreciation for the simple things in life, and her optimistic outlook on the world.
Related posts