Are you a proud mom to a son and searching for some boy mom quotes? I've got you covered!
In today's article, I bring you a lovely collection of heartwarming boy mom quotes that you'll love.
Being a mom of boys myself, I felt the need to round up some motherhood quotes to give all of us proud boy mamas some inspiration.
There are many family quotes online that reflect the parent-child relationship.
You can find plenty of son quotes, baby boy quotes, baby girl quotes, and daughter quotes, as well as quotes about Mother's Day and Father's Day.
And while I find them all delightful, I chose to dedicate this article solely to boy mom quotes that capture the special mother-son bond.
Whether you are a mom-to-be, a new mom, or a mom of a grown-up son, you'll adore these inspirational quotes that encapture all the magic and madness that comes with raising boys.
Don't hesitate to share these sweet mother and son quotes as cool Instagram captions with all the other boy mamas!
Let's read my boy mom quotes which describe that deep connection between a mom and her little boy.
Best 30 Boy Mom Quotes
Here is my list of the top 30 boy mom quotes that will warm your heart.
1. "The moment that little bundle of pink, squirming flesh slips into our arms, love touches us. We feel it, not just in our hearts, but also on our skin. He is there. Our son." — Meg Meeker Md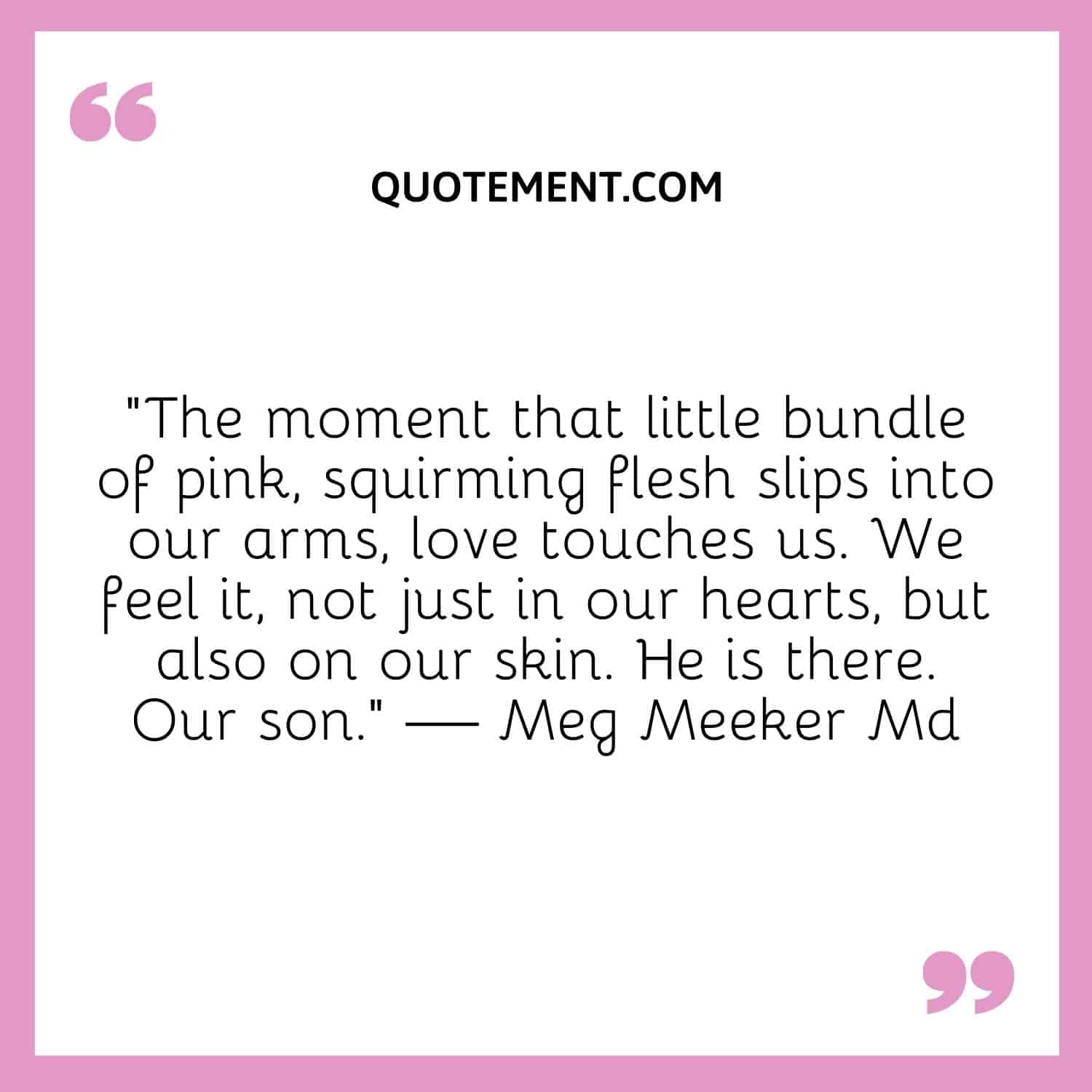 2. "A mother's arms are made of tenderness and children sleep soundly in them." — Victor Hugo
3. "A mother is she who can take the place of all others but whose place no one else can take." — Cardinal Mermillod
4. "If you would have your son walk honorably through the world, you must not attempt to clear the stones from his path, but teach him to walk firmly over them – not insist upon leading him by the hand, but let him learn to go alone." — Anne Bronte
5. "A mother's arms are more comforting than anyone else's." — Princess Diana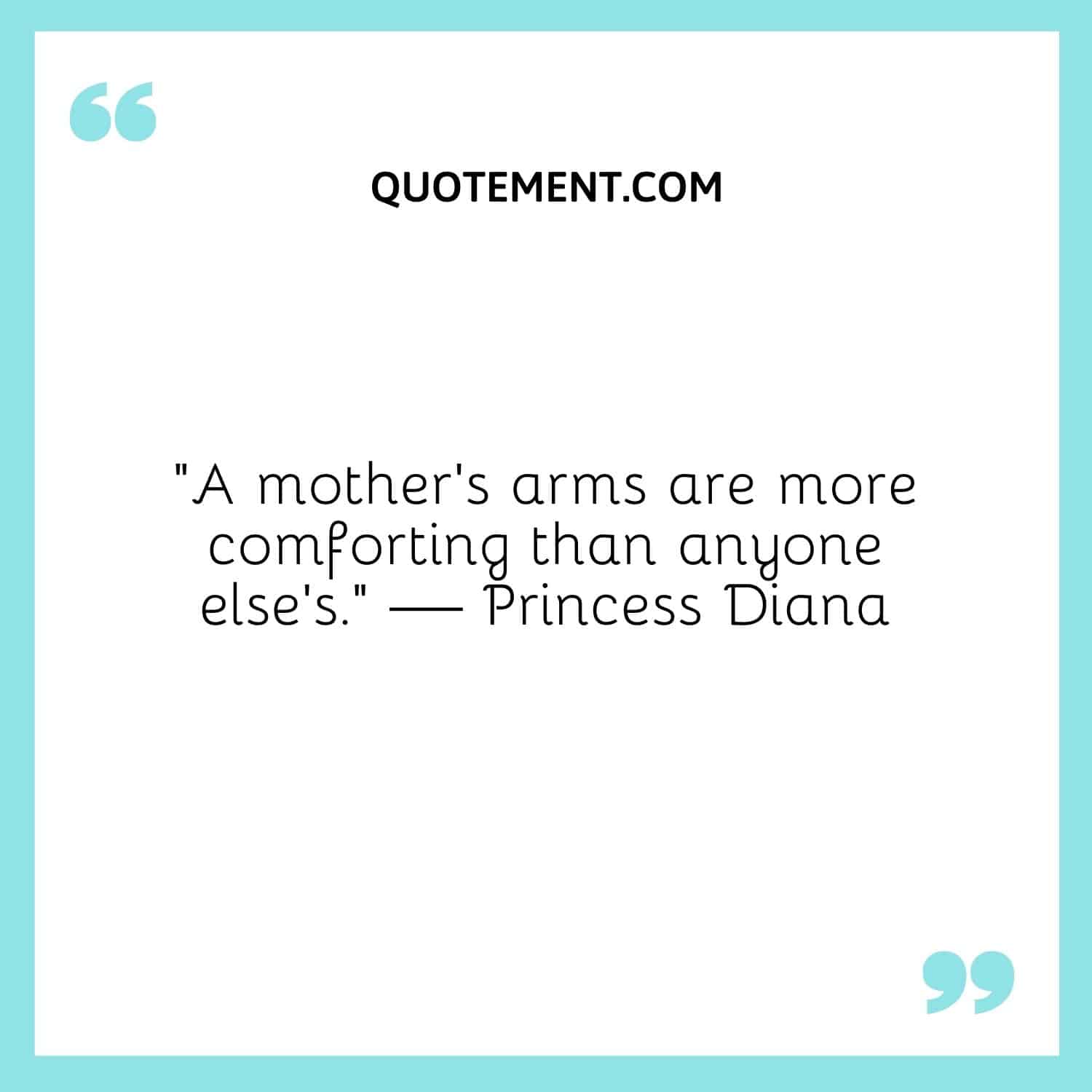 6. "No man succeeds without a good woman behind him. Wife or mother, if it is both, he is twice blessed indeed." — Godfrey Winn
7. "Even more than the time when she gave birth, a mother feels her greatest joy when she hears others refer to her son as a wise learned one." — Thiruvalluvar
8. "Of course, my son has been the center of my life and will always be the center of my love. When he was young, I was the rock in his life. Now that I am old, he is the rock in my life." — Hyacinth Mottley
9. "You don't raise heroes, you raise sons. And if you treat them like sons, they'll turn out to be heroes, even if it's just in your own eyes." — Wally Schirra
10. "Our sons grow and change, sometimes before our eyes, and we can barely keep up with their active, inquisitive natures." — Dr. Gregory L. Jantz
11. "I want my son to have a choice to contribute fully in the workforce or at home." — Sheryl Sandberg
12. "The heart of a mother is a deep abyss at the bottom of which you will always find forgiveness." — Honore de Balzac
13. "To wake up to the sound of my son saying 'Mama, mama!' It's the best sound ever." — Miranda Kerr
14. "Yet now in my arms, I was holding a helpless baby boy who would grow into a man. I cannot imagine that soft little face one-day having whiskers." — Rhonda Stoppe
15. "A man loves his sweetheart the most, his wife the best, but his mother the longest." — Irish Proverb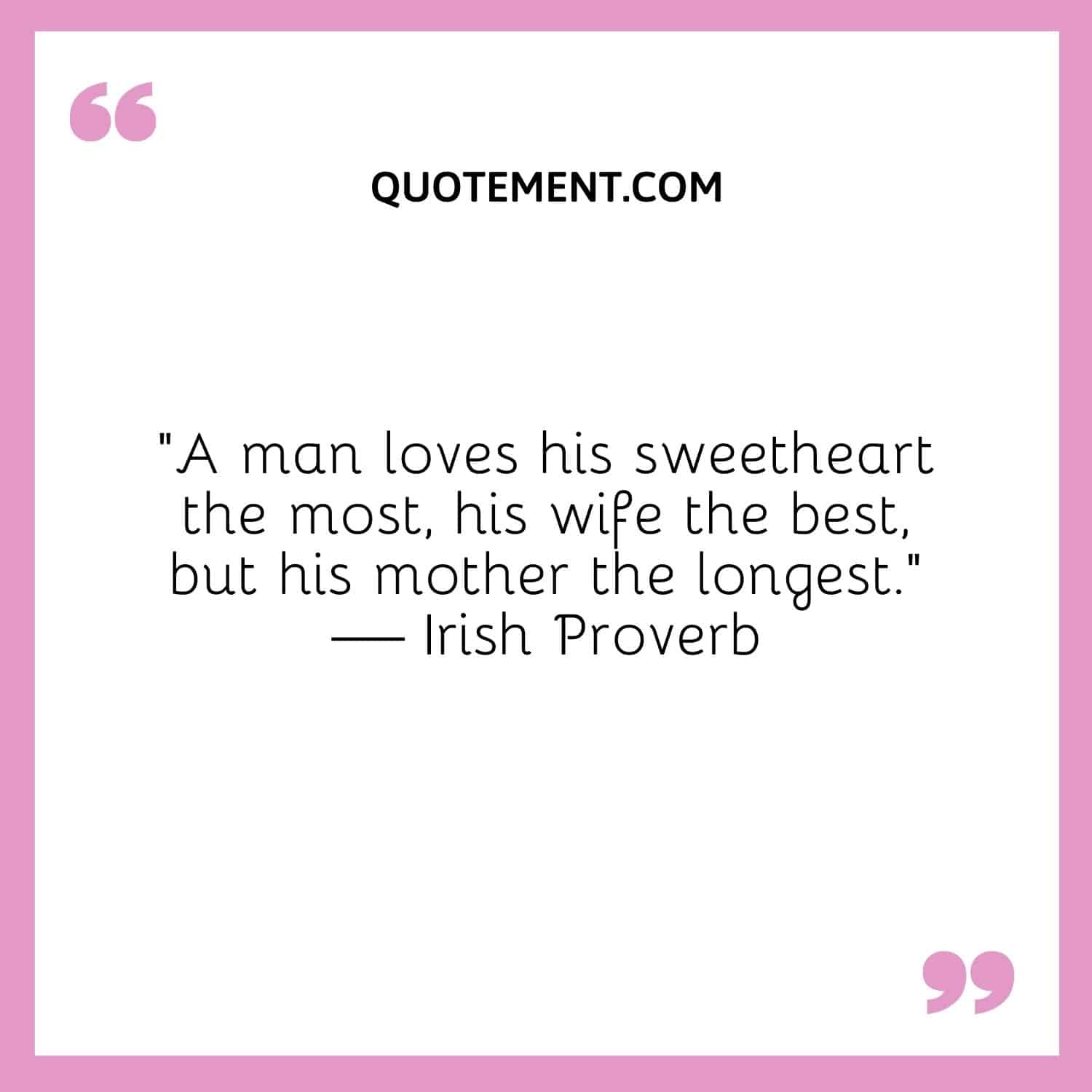 16. "Raising boys has made me a more generous woman than I really am. Undoubtedly, there are other routes to learning the wishes and dreams of the presumably opposite sex, but I know of none more direct, or more highly motivating, than being the mother of sons." — Mary Kay Blakely
17. "The mother's heart is the child's schoolroom." — Henry Ward Beecher
18. "A mother is the truest friend we have, when trials, heavy and sudden, fall upon us; when adversity takes the place of prosperity; when friends who rejoice with us in our sunshine, desert us when troubles thicken around us, still will she cling to us, and endeavor by her kind precepts and counsels to dissipate the clouds of darkness, and cause peace to return to our hearts." — Washington Irving
19. "Mothers are inscrutable beings to their sons, always." — A.E. Coppard
20. To be a mother of a son is one of the most important things you can do to change the world. Raise them to respect women, raise them to stand up for others, raise them to be kind." — Shannon L. Alder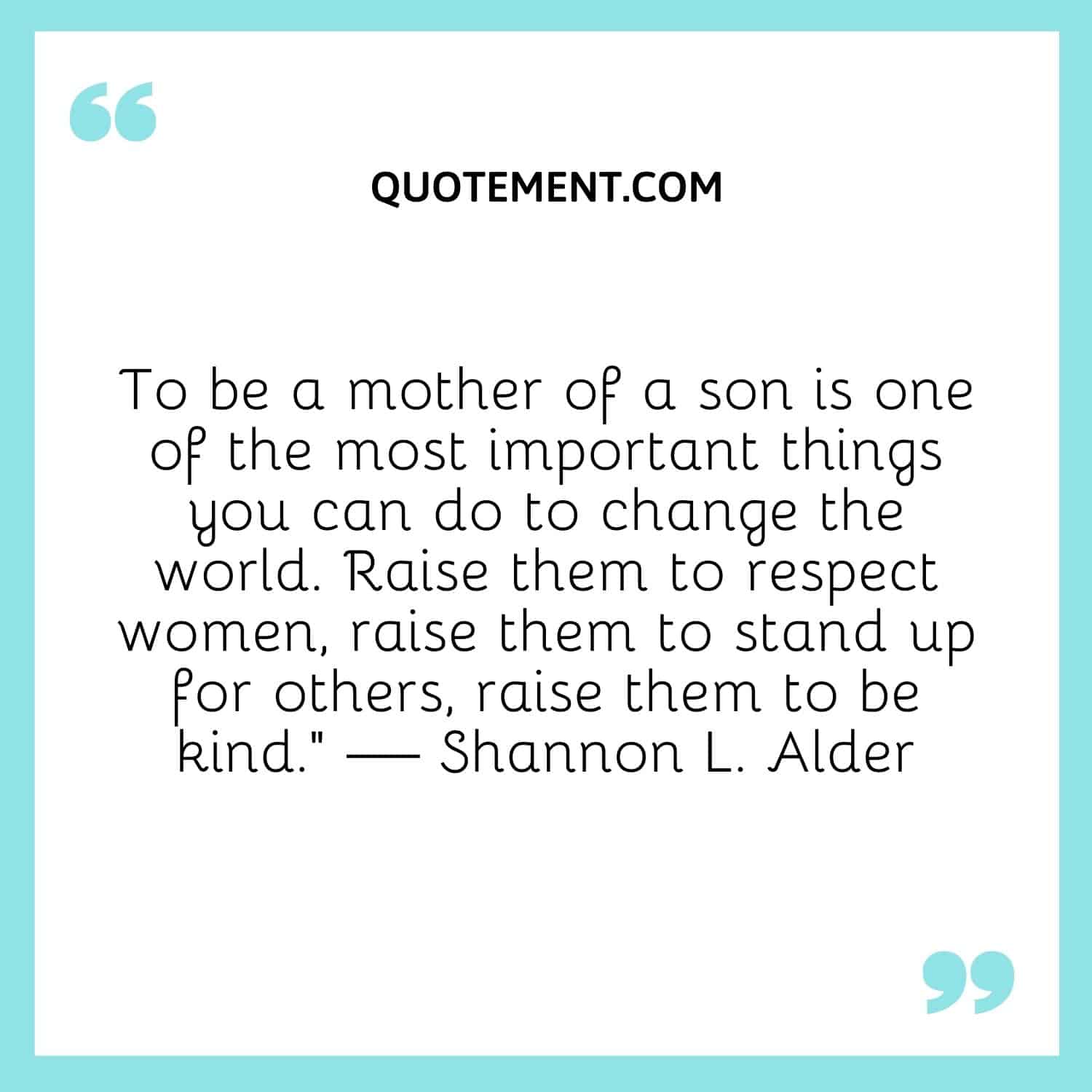 21. "A boy's best friend is his mother." — Joseph Stefano
22. "I remember my mother's prayers and they have always followed me. They have clung to me all my life." — Abraham Lincoln
23. "The best love in the world is the love of a man. The love of a man who came from your womb, the love of your son! I don't have a daughter, but maybe the love of a daughter is the best, too. I am first and foremost me, but right after that, I am a mother. The best thing that I can ever be, is me. But the best gift that I will ever have, is being a mother." — C. JoyBell C
24. "My dear son, you'll always be the most important man in my life. Never forget that!" — Lauren Levine
25. "Moms are as relentless as the tides. They don't just drive us to practice, they drive us to greatness." — Steve Rushin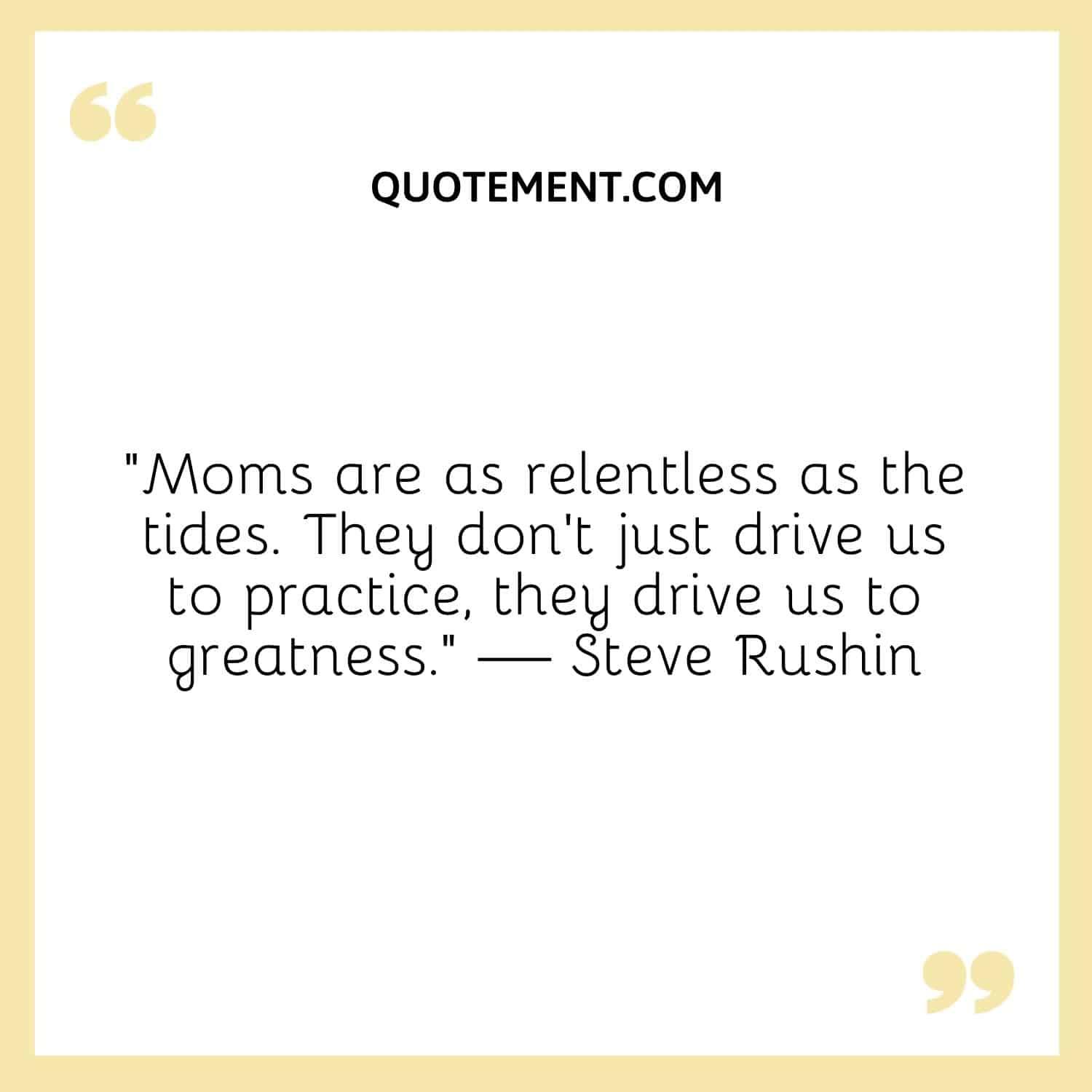 26. "Heaven on Earth is looking at my little boy. The minute he was born, I knew if I never did anything other than being a mom, I'd be fine." — Jenny McCarthy
27. "I have a son, who is my heart. A wonderful young man, daring and loving and strong and kind." — Maya Angelou
28. "A mother has to think twice, once for herself and once for her child." — Sophia Loren
29. "Sons are the anchors of a mother's life." — Sophocles
30. "My mother is my root, my foundation. She planted the seed that I base my life on, and that is the belief that the ability to achieve starts in your mind." — Michael Jordan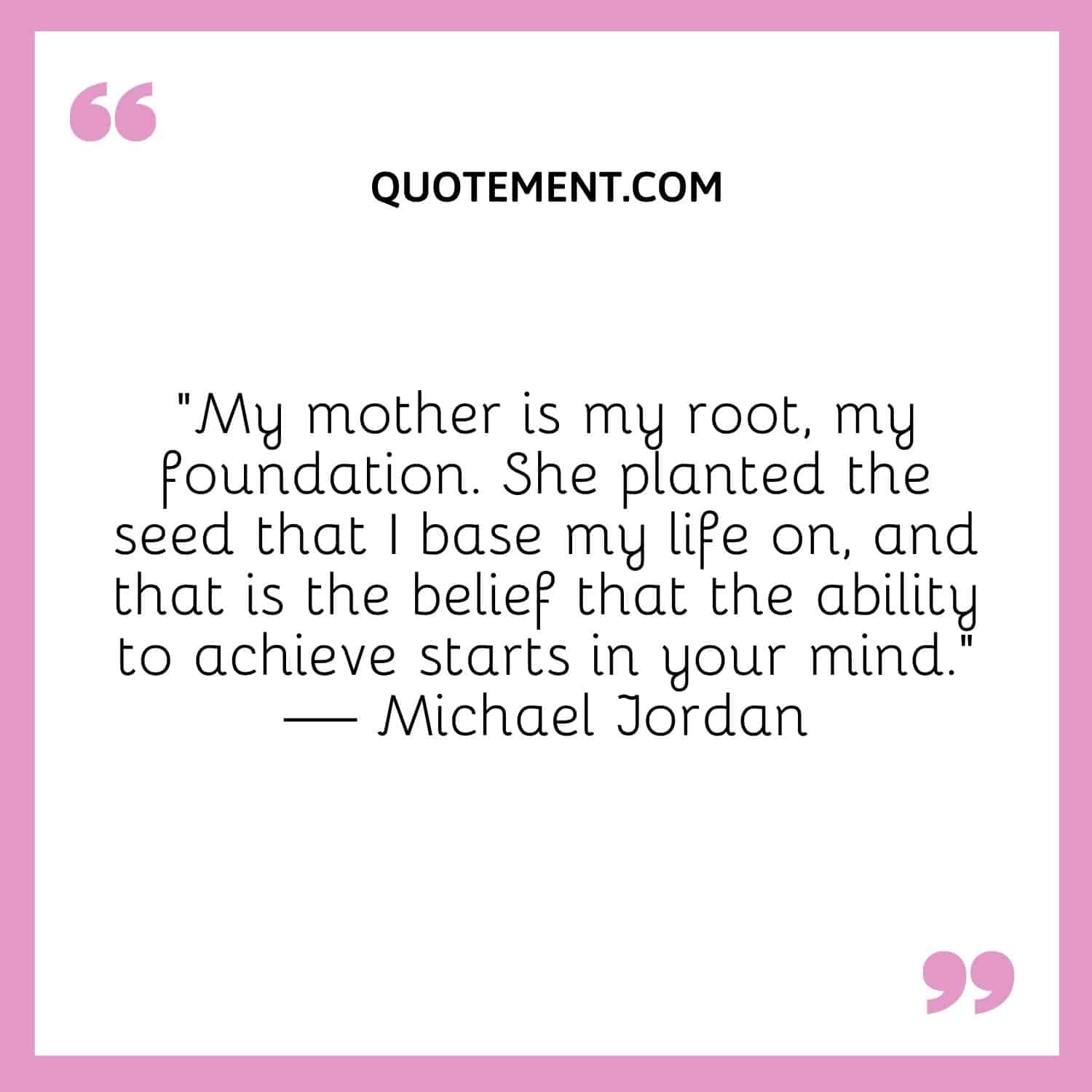 Inspirational Mother And Son Quotes
These boy mom quotes are sure to inspire you.
1. "When you were a toddler you made me smile. When you were a teenager you made me worry. But now you are a man and my son, I am so proud of you and all your accomplishments!" — Catherine Pulsifer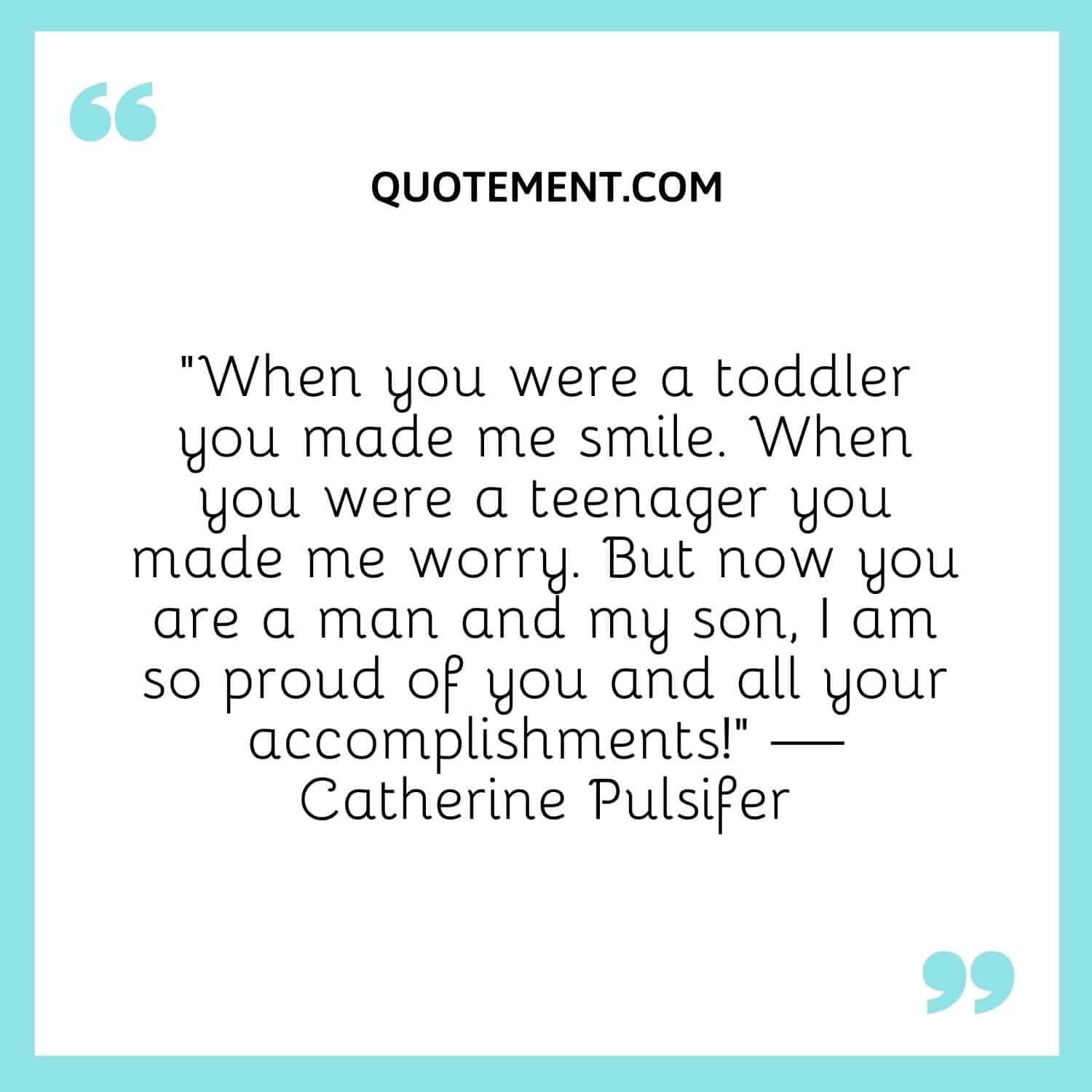 2. "You will be his first, his first love, his first friend. You're his momma and he is your whole world. He is your little boy." — Unknown
3. "Being a mother to a little boy and helping him discover the world is one of the greatest experiences in a woman's life, which makes objective goals dull in comparison. The connection between a mother and her son opens the gate to a new world of wonder and love." — Unknown
4. "A child's first teacher is its mother." — Peng Liyuan
5. "Sometimes a mother wonders if her son could have a better mother, but she knows for sure that there doesn't exist a better son." — Unknown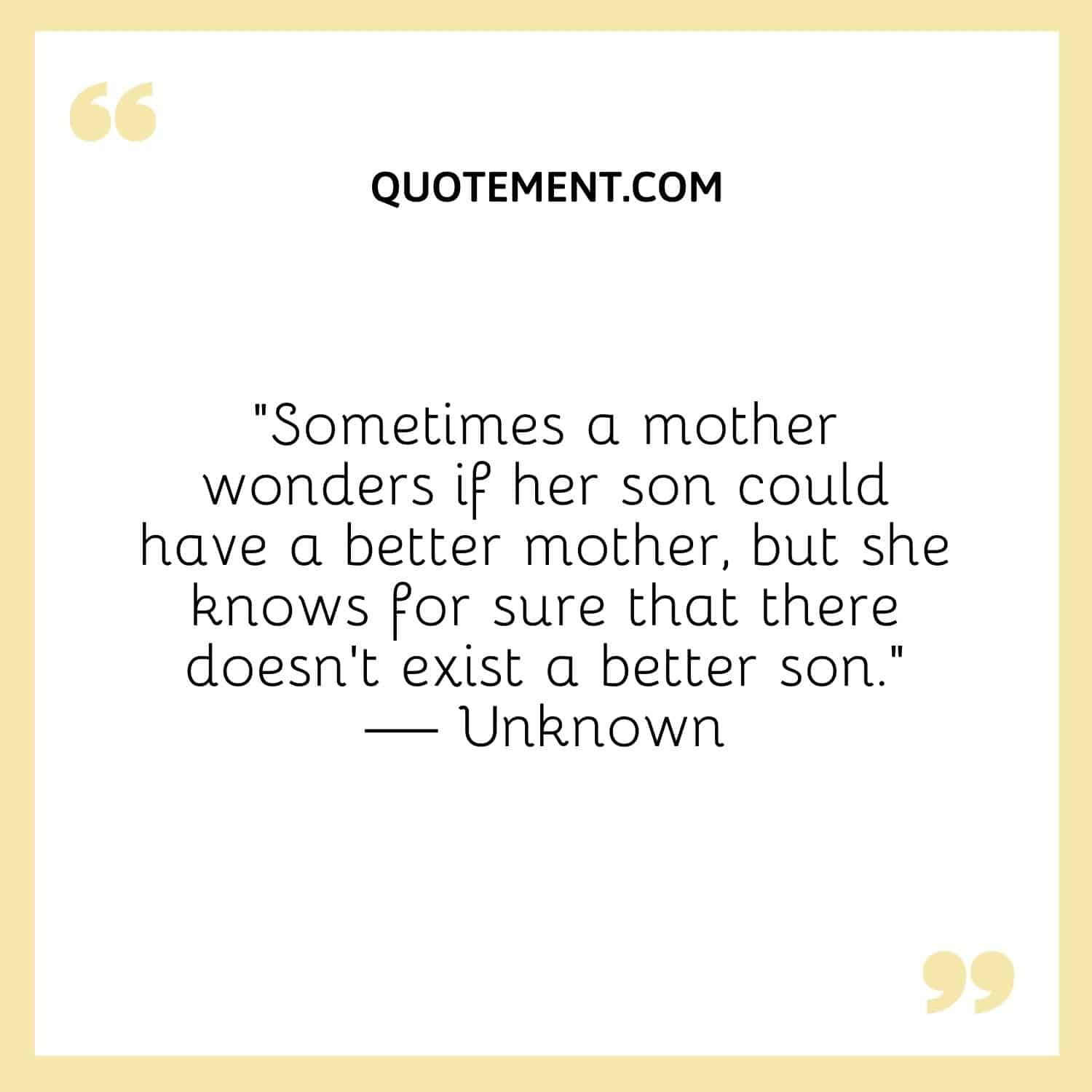 6. "My mom was the person that I most looked up to for her point of view, her humor." — Ben Stiller
7. "My son makes me smile when he stands up for what he believes in, even if it's his right to have a second portion of dessert." — Unknown
8. "It doesn't matter what problems follow a man; he always knows that he is the best for his mother." — Unknown
9. "At first blush, everyone thinks the most important relationships in the family are the father-son and mother-daughter relationships. But they're wrong. The cross-gender relationships are most critical." — Dr. Kevin Leman
10. "There has never been, nor will there ever be, anything quite so special as the love between the mother and a son." — Unknown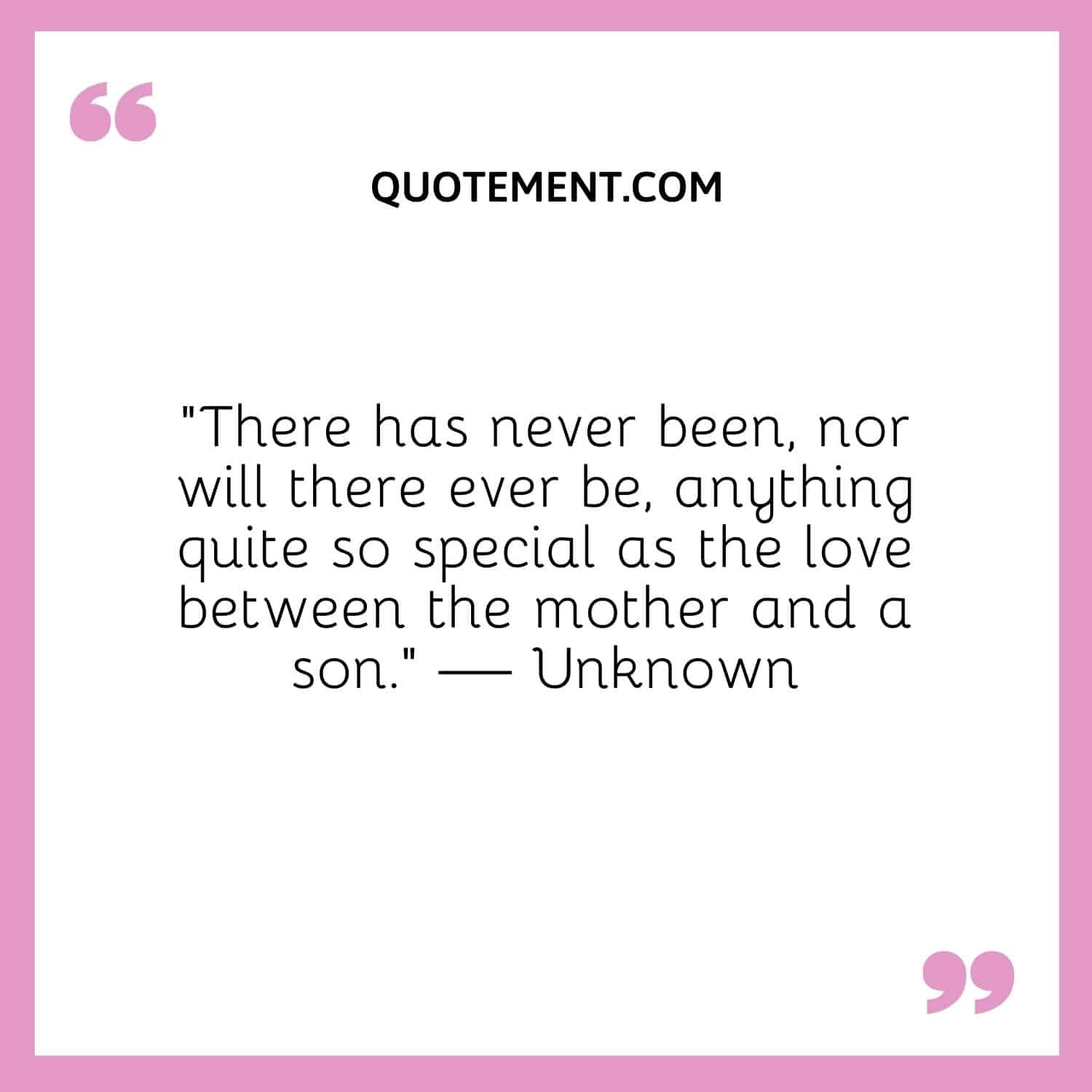 11. "But boys are different from girls and not just physically. Acknowledging, appreciating, and understanding that boys are boys is essential in raising a son." — Catherine Musco Garcia-Prats
12. "It's one thing for a child to leave home and live close by but, to me, it is quite another for my son to leave to live in another province where distance prevents me from seeing him more often. Then, I realize that the values and the teachings I have given him over the years are more important than any words that I would say now." — Catherine Pulsifer
13. "A mother understands what a child does not say." — Jewish Proverb
14. "My mother is the reason that I love you,' Bhim said simply. 'She is the reason I know what love is." — Leah Franqui
15. "Mother is her son's first god. She must teach him the most important lesson of all – how to love." — T. F. Hodge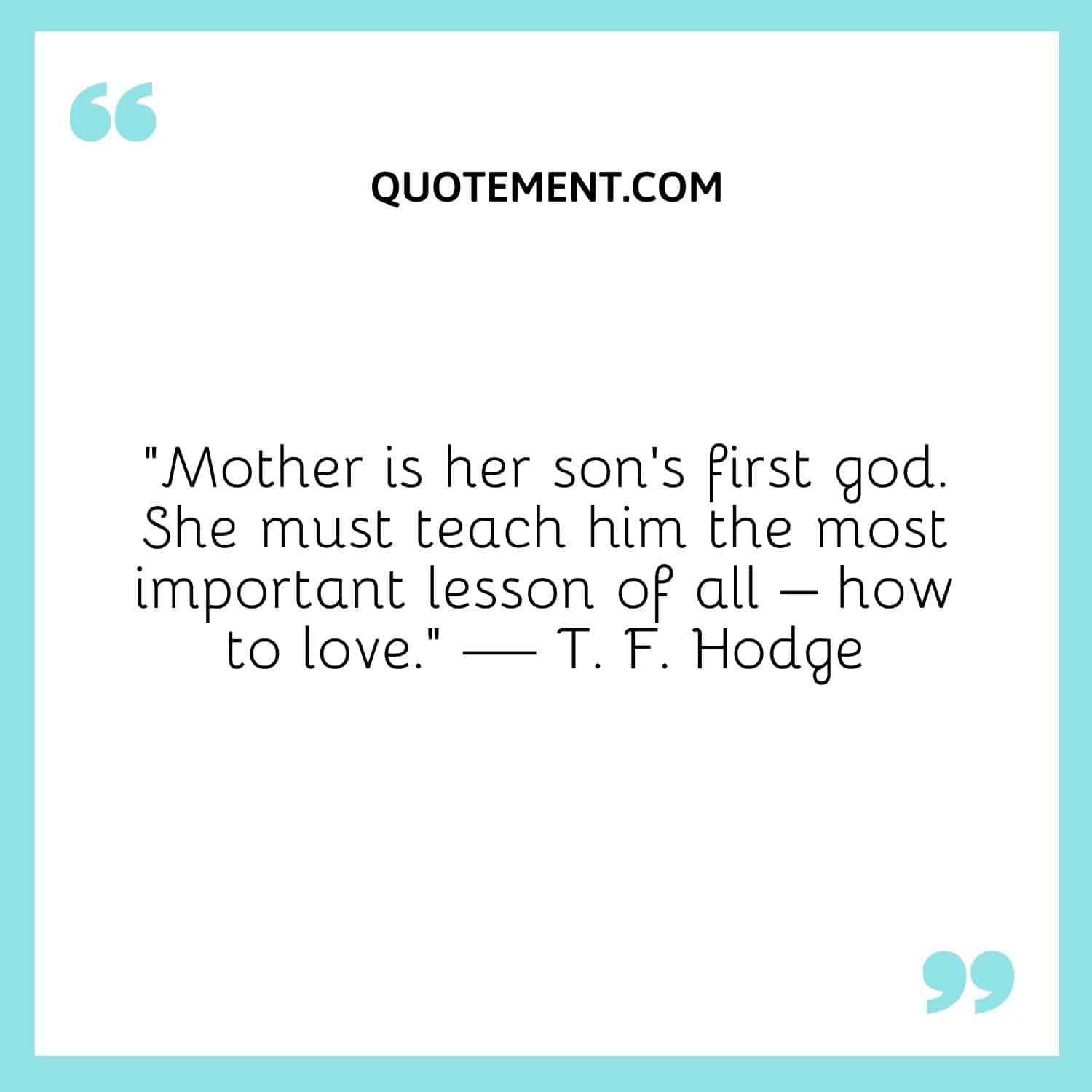 16. "A mother is the only woman who is able to understand your tears without judging you." — Unknown
17. "I cannot be more grateful for the things that I have because I love my son and I have him." — Unknown
18. "It was vitally important to me over the years of my son's development that I modeled the behavior that I wanted him to adopt. You see, as a parent or as parents, we all have a tremendous responsibility that should not be taken lightly." — Catherine Pulsifer
19. "There are no words or boy mom quotes that can express my ultimate love for you." — Unknown
20. "A man never sees all that his mother has been to him until it's too late to let her know that he sees it." — W. D. Howells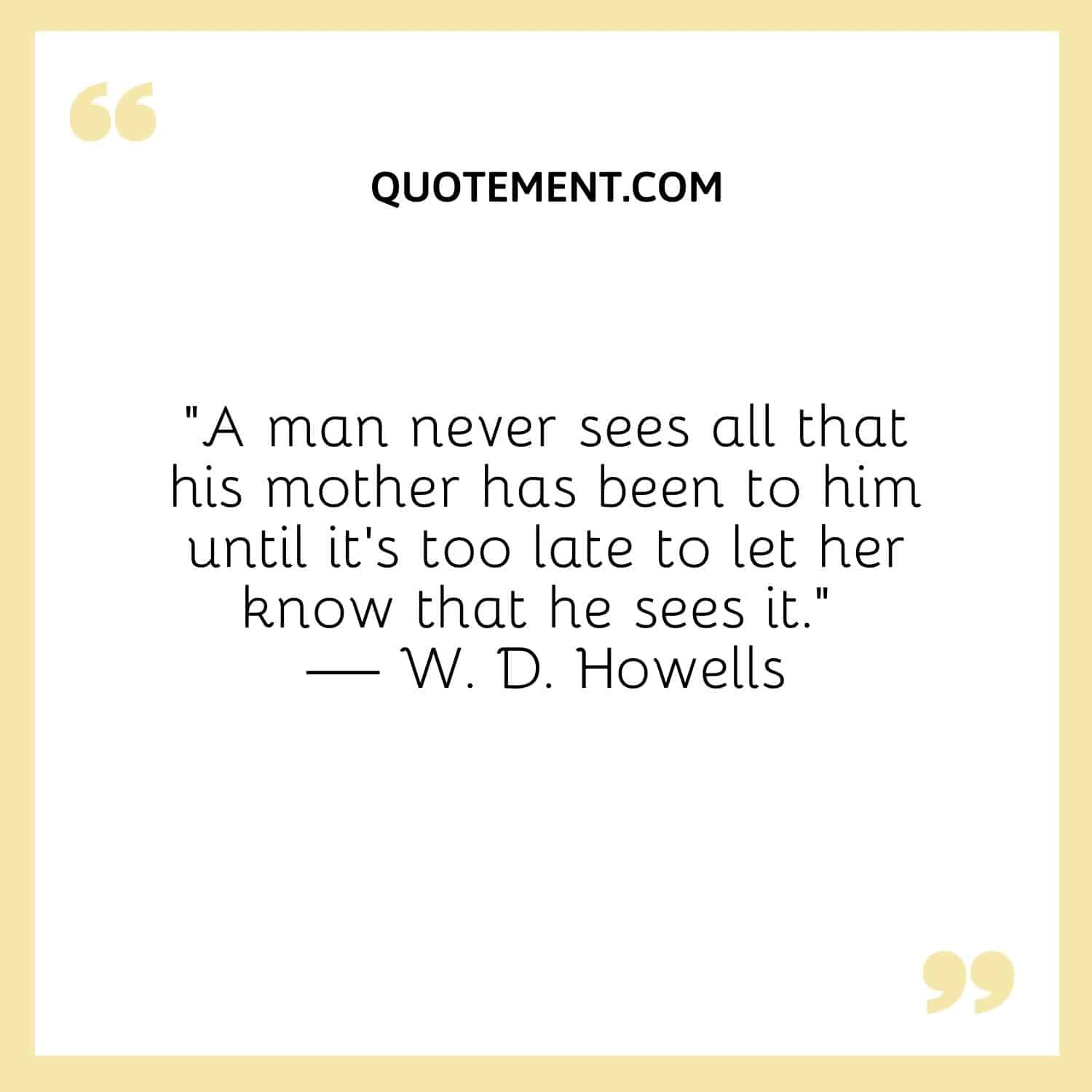 21. "God could not be everywhere, and therefore he made mothers." — Rudyard Kipling
22. "No matter how strong, independent, or 'man' you are, the first thing that comes to your mind when you're sick is, 'I wish Mom was here." — Unknown
23. "A dad for his son is always caring, while mommy is always loving." — Unknown
24. "Even more than the time when she gave birth, a mother feels her greatest joy when she hears others refer to her son as a wise learned one." — Thiruvalluvar
25. "You will be his first kiss, his first love, his first friend. You're his momma and he is your whole world. He is your little boy." — Unknown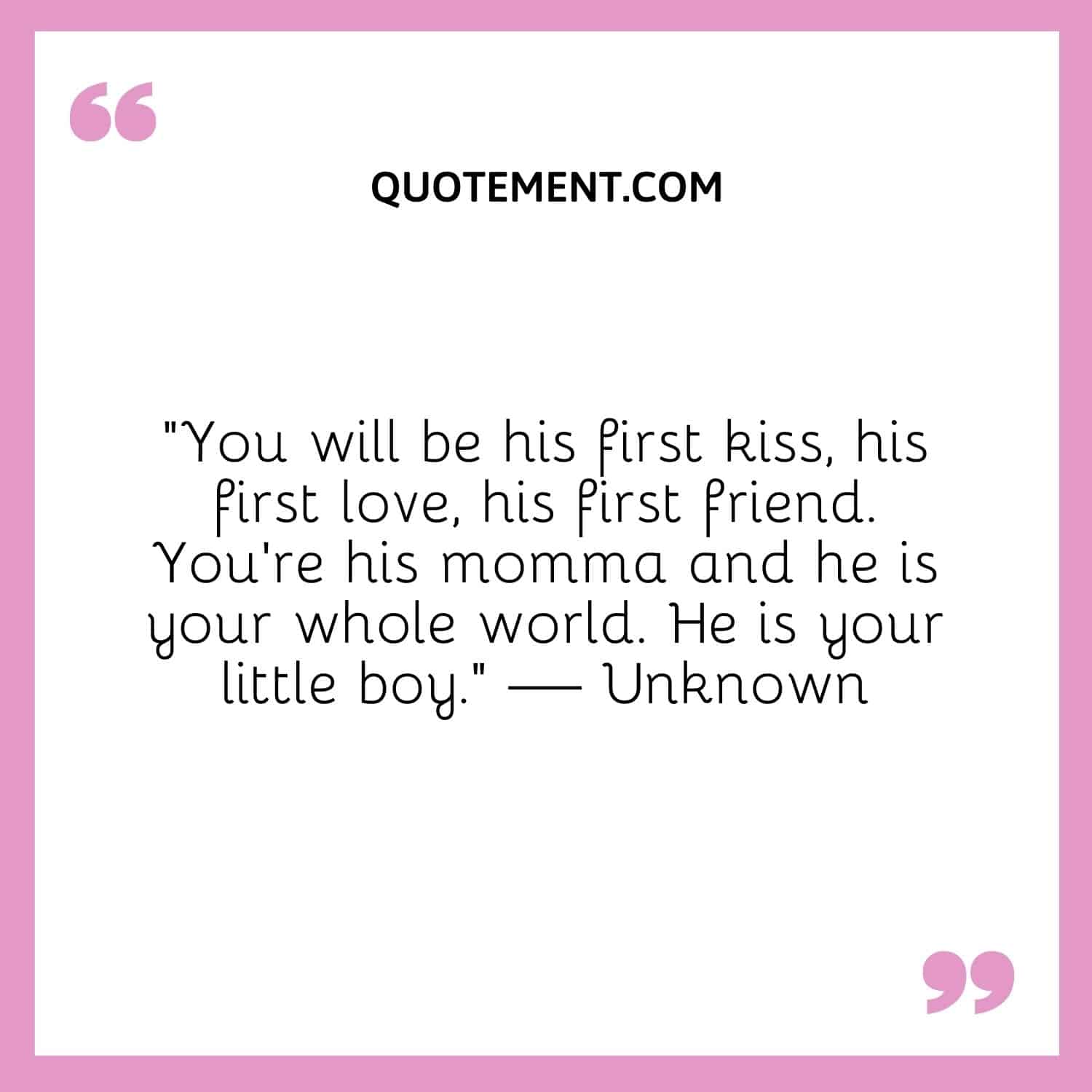 26. "When you teach your son, you teach your son's son." — The Talmud
27. "To a mother, a son is never a fully grown man; and a son is never a fully grown man until he understands and accepts this about his mother." — Unknown
28. "Let your boys test their wings. They may not be eagles, but that doesn't mean they shouldn't soar free." — C.J. Milbrandt
29. "Bringing up a daughter, a mother pours a part of her soul. Bringing up a son, she gives him her whole soul." — Unknown
30. "Happy is the son whose faith in his mother remains unchallenged." — Louisa May Alcott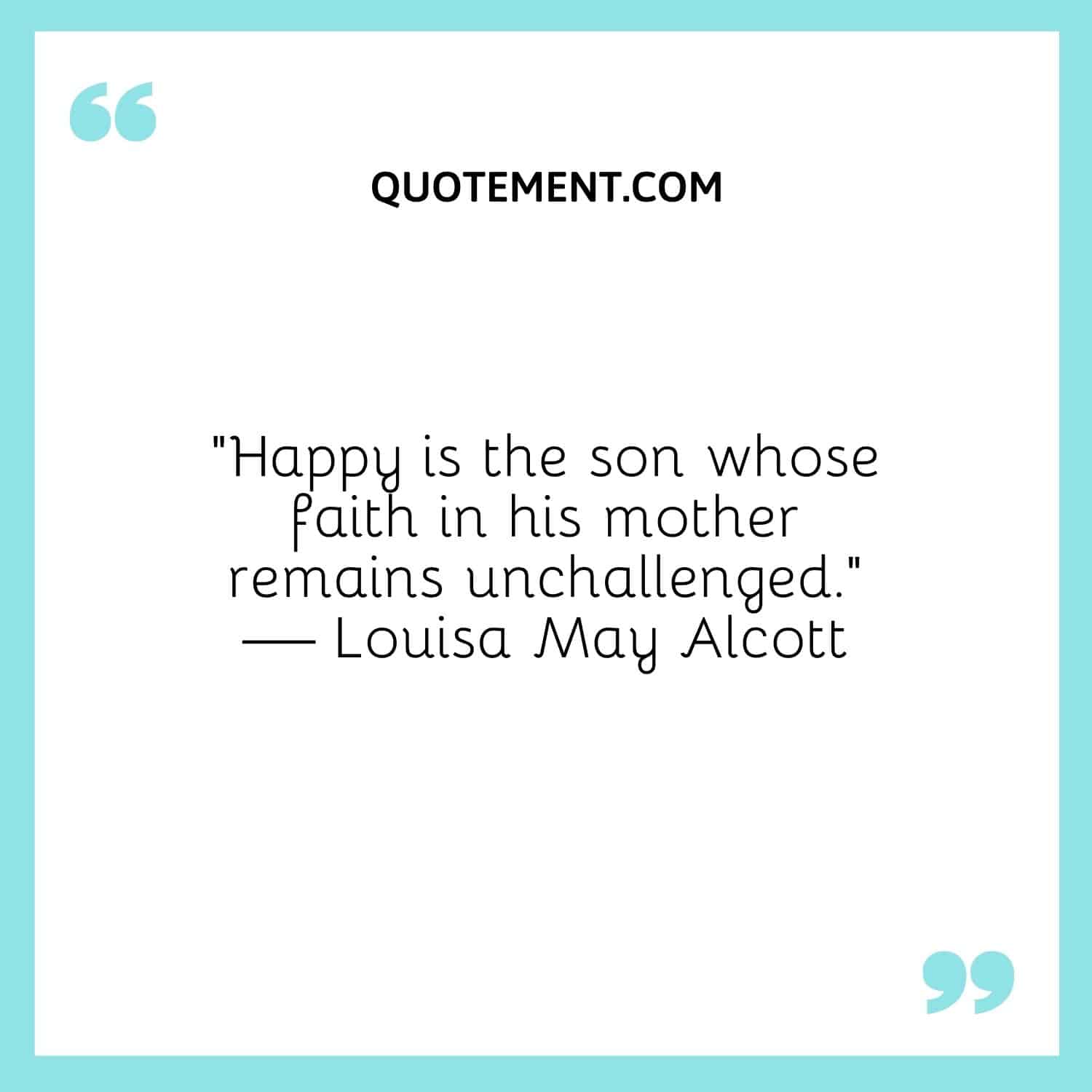 31. "A son is the only man who can complete his mother's womanhood." — Unknown
32. "Every mother hopes that her daughter will marry a better man than she did, and is convinced that her son will never find a wife as good as his father did." — Martin Andersen Nexo
33. "I want my son to become aware that he is in charge of the choices he makes, and it's good to make thoughtful good choices." — Karen Salmansohn
34. "The day you came into my life, I knew what my purpose was: To love and protect with everything I have." — Unknown
35. "And she loved a little boy very, very much – even more than she loved herself." — Shel Silverstein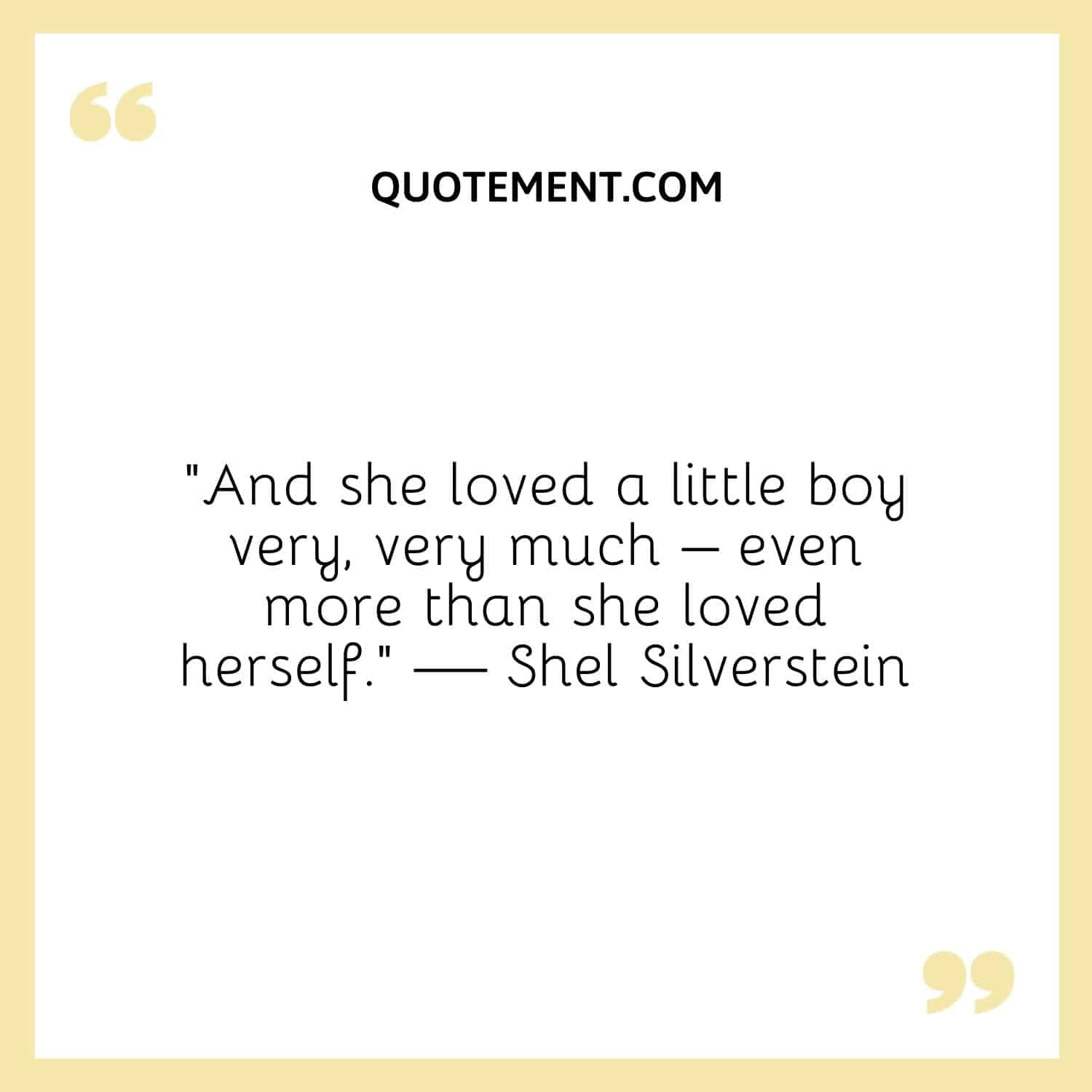 36. "My father died when I was seven, leaving a widow and five sons, ranging in age from five to seventeen. My mother was the most highly disciplined and hardest working person I have ever known, and this, combined with her love and gentleness, enabled her to make a success of each of her children." — Arthur Lewis
37. "That strong mother doesn't tell her cub, 'Son, stay weak so the wolves can get you.' She says, 'Toughen up, this is the reality we are living in." — Lauryn Hill
38. "You've been a blessing from the start, I love you, son, with all my heart." — Unknown
39. "Ain't a woman alive who could take my mama's place." — Tupac
40. "Son, you will outgrow my lap but never my heart." — Unknown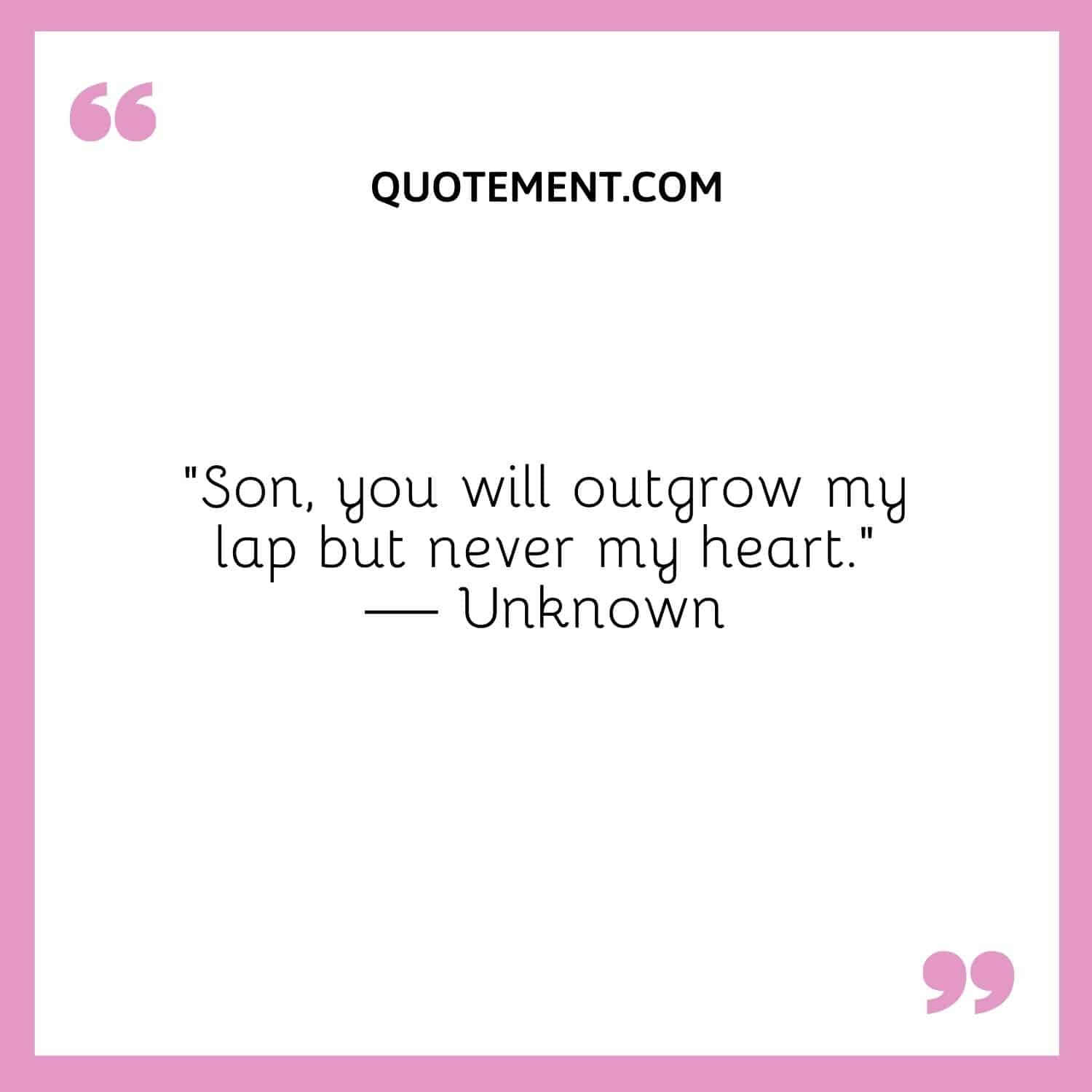 41. "You are my Son shine." — Unknown
42. "A mother's love doesn't make her son more dependent and timid; it actually makes him stronger and more independent." — Cheri Fuller
43. "When I was in great sadness from life's hardships, all I needed to see was my son's smile. Caring for him as my daily routine has helped me become a happy person and mother. My son is my hero." — Unknown
44. "To my son. Never forget that I love you. Life is filled with hard times and good times. Learn from everything you can. Be the man I know you can be." — Unknown
45. "My mother carried me for ten months. I asked her, 'Mother, you had an extra month, why you didn't make me a beautiful face?' and mother told me, 'My son, I was busy making your beautiful hands and heart.'" — Mstislav Rostropovich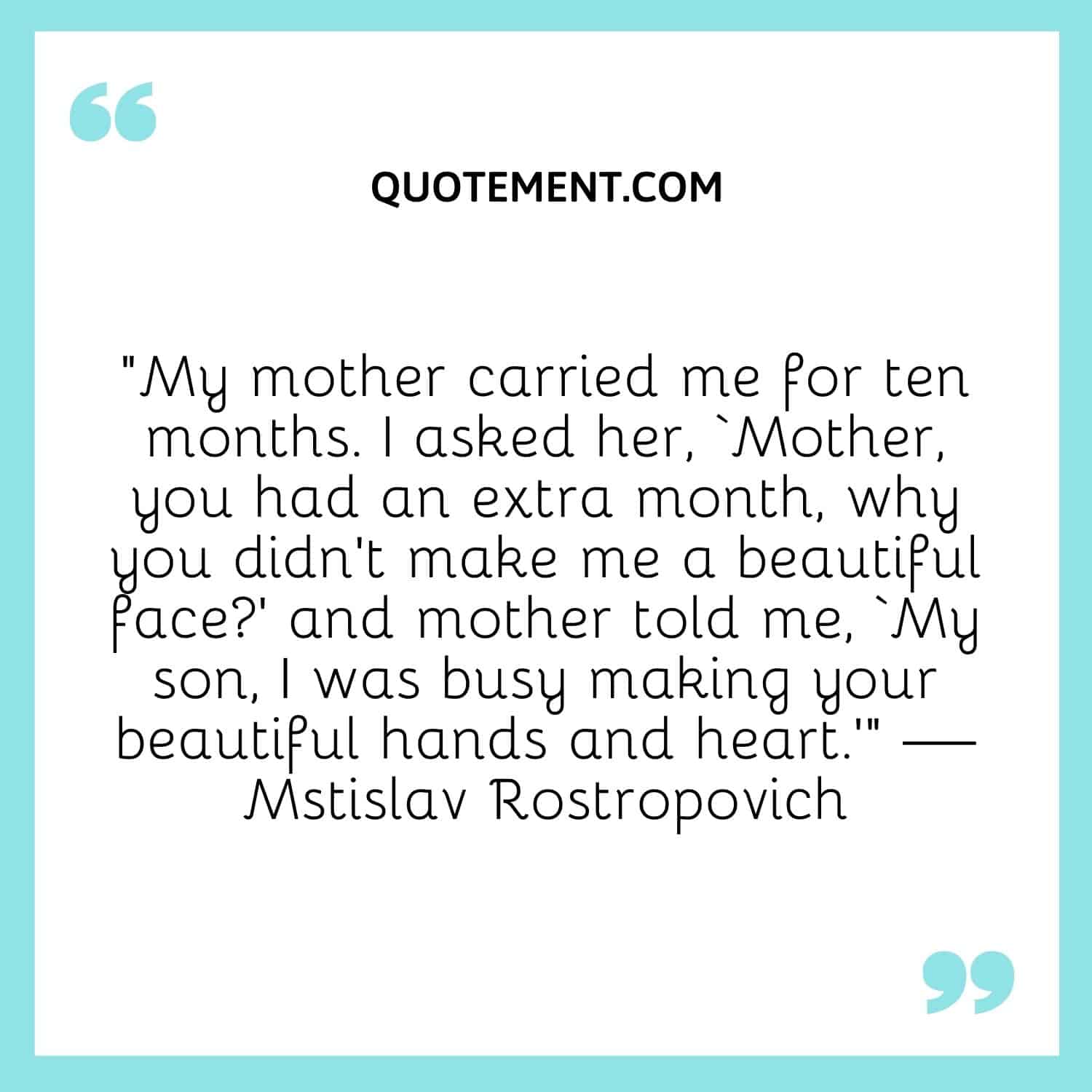 Sweet I'm A Boy Mom Quotes
Here are some more boy mom quotes that perfectly capture what it's like to be a mom raising boys. They reflect all the love and care a mom and her son share.
1. "The bond between mother and son lasts a lifetime. The bond between mother and son is a special one. It remains unchanged by time or distance. It is the purest love, unconditional and true. It is understanding of any situation and forgiving of any mistake." — Unknown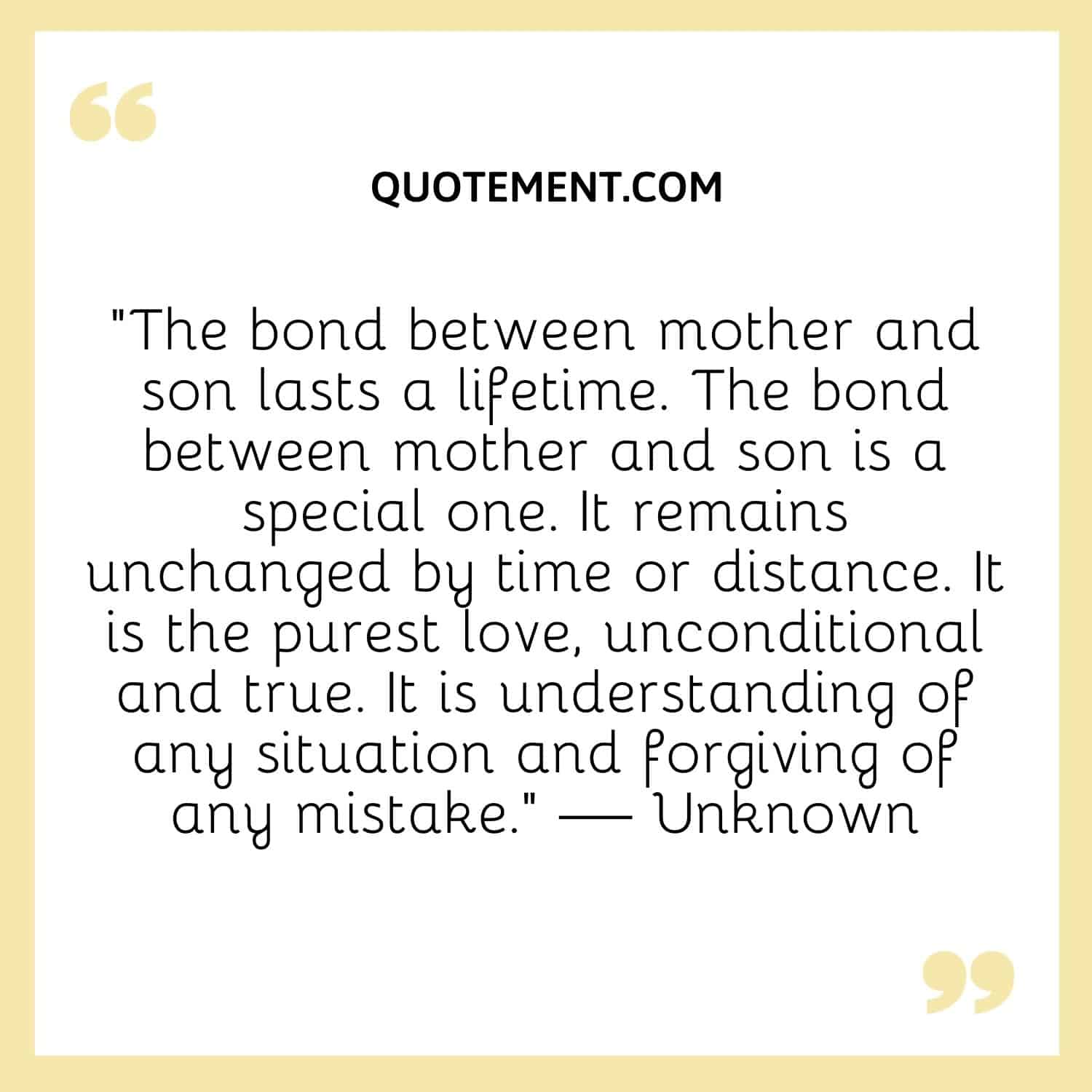 2. "If you try singling me out to my mother, she'll be down your throat. She has three sons, and she's equally proud of us all." — Lee Pearson
3. "You may take offense at your mother. But always remember: Your mother is the only woman who will love you in spite of all your disadvantages." — Unknown
4. "There will be many times you will feel like you have failed. But in the eyes, heart, and mind of your child, you are supermom." — Stephanie Precourt
5. "Mother's love is peace. It need not be acquired, it need not be deserved." — Erich Fromm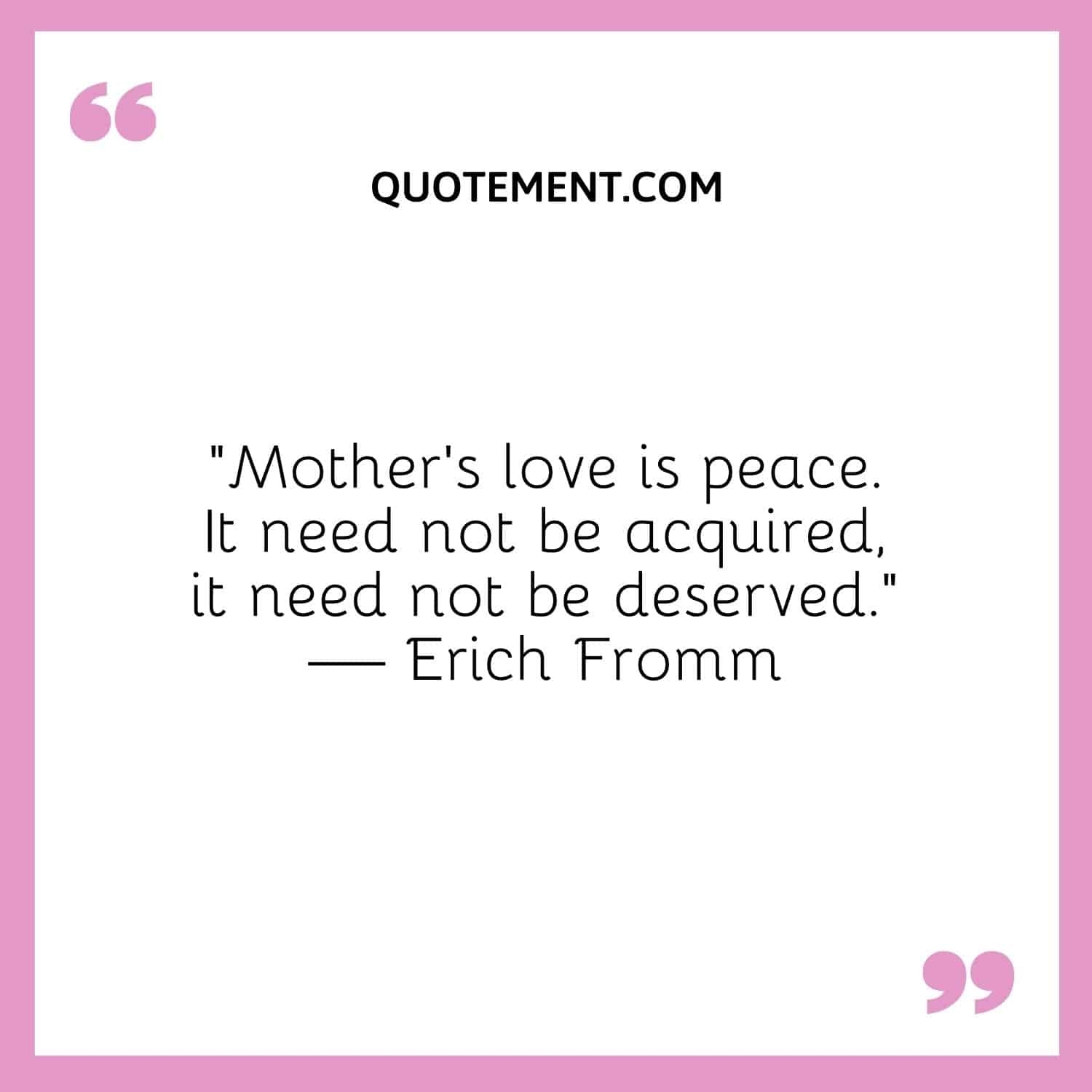 6. "Sons worship their mothers, seeing them as flawless, almighty beings who spread love and who are able to do anything. That is why the most important lesson that a mother can teach her son is to respect, love, and understand women." — Unknown
7. "All women become like their mothers. That is their tragedy. No man does. That's his." — Oscar Wilde
8. "There's no way to be a perfect mother and a million ways to be a good one." — Jill Churchill
9. "I listen to my mother, and that keeps me out of trouble. I'm a good son." — Mr. T
10. "Be strong out there, my son. Look for the love and kindness in others. Forgive yourself when you make mistakes, and enjoy the journey." — Kirsten Wreggitt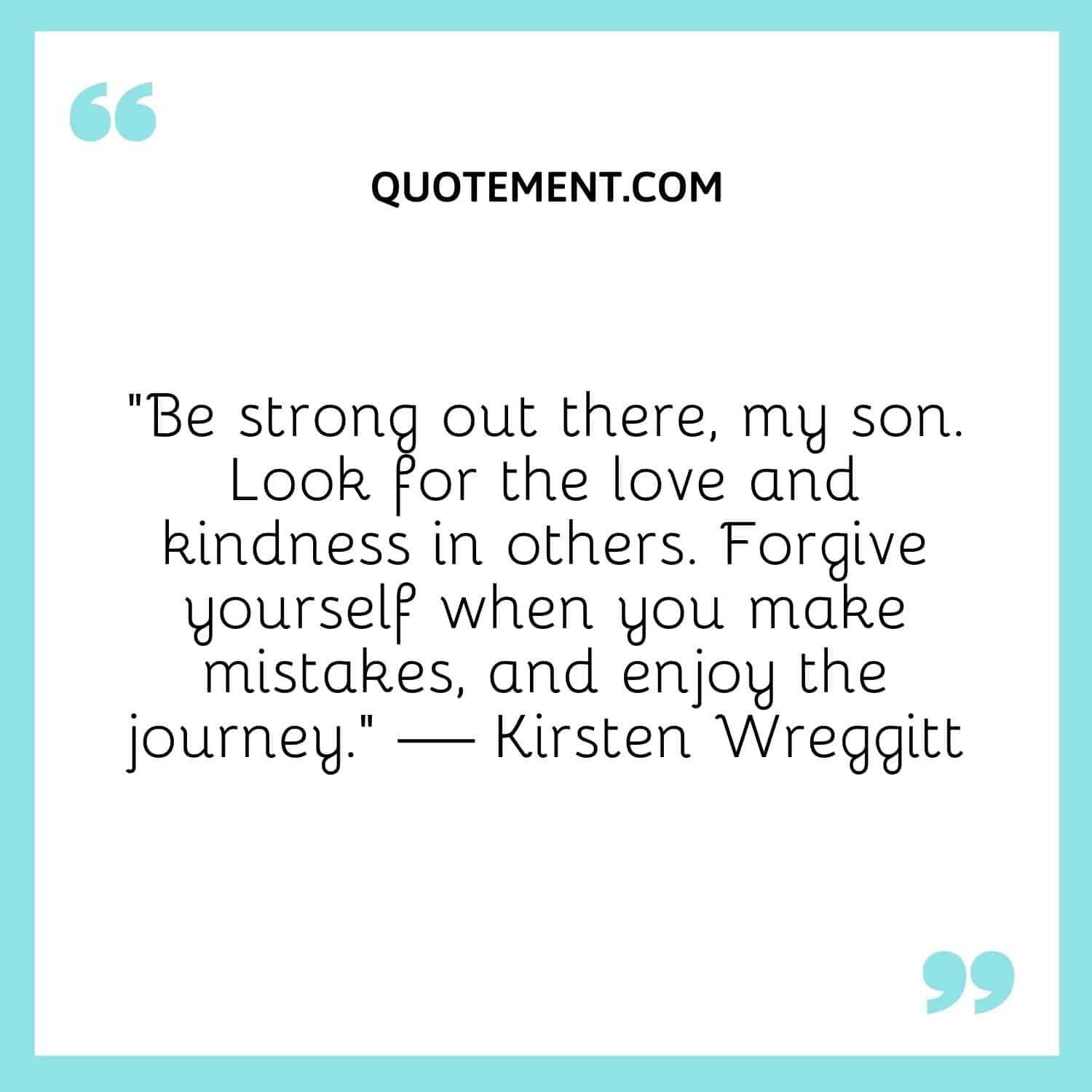 11. "More than mother and son, they were accomplices in solitude." — Gabriel Garcia Marquez
12. "Boy momma days are full of hugs and farts." — Unknown
13. "I have a son, who is my heart. A wonderful young man, daring and loving and strong and kind." — Maya Angelou
14. "A mother's joy begins when new life is stirring inside; when a tiny heartbeat is heard for the first time, and a playful kick reminds her that she is never alone." — Unknown
15. "If a man has been his mother's undisputed darling, he retains throughout life the triumphant feeling, the confidence in success, which not seldom brings actual success along with it." — Sigmund Freud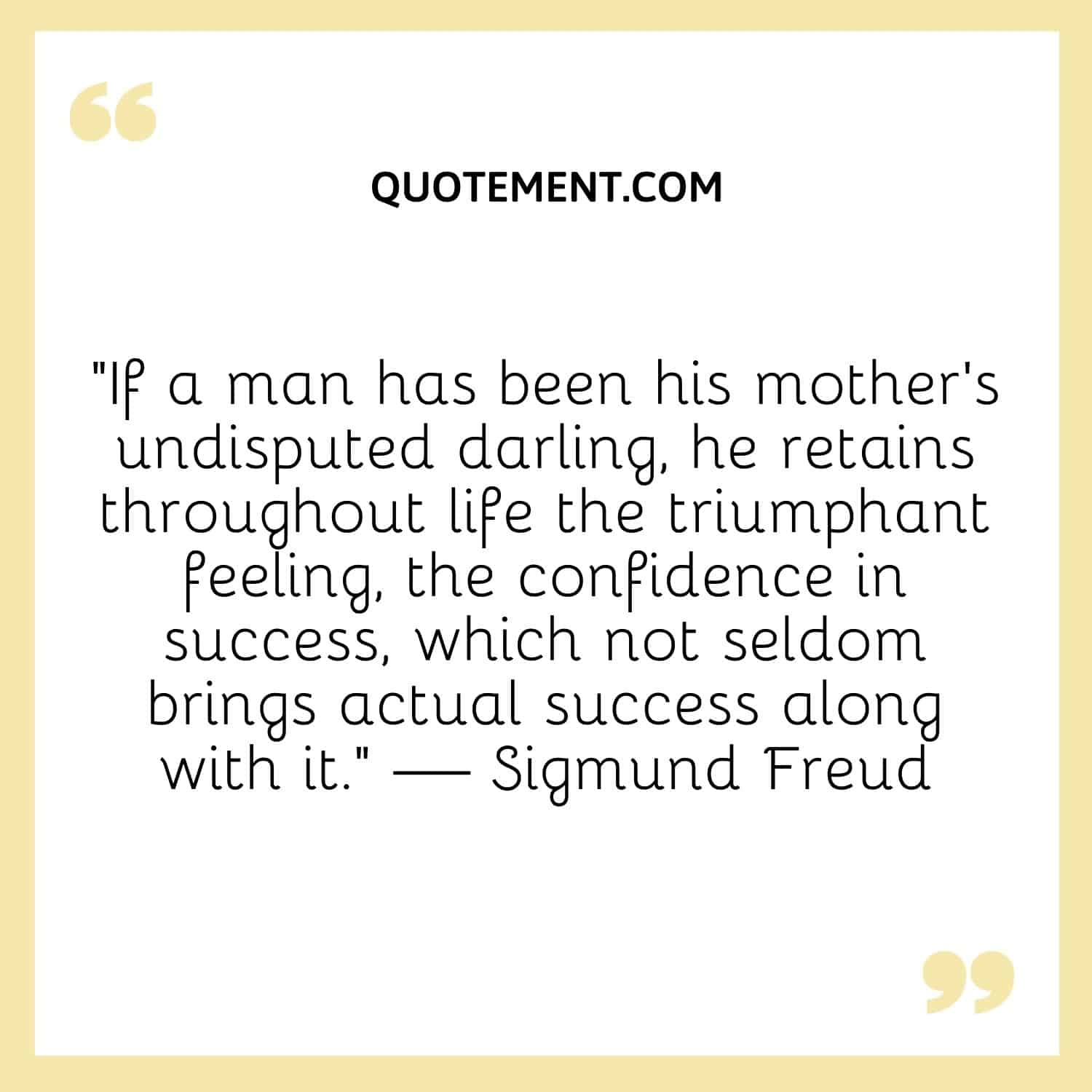 16. "My mother never gave up on me. I messed up in school so much they were sending me home, but my mother sent me right back." — Denzel Washington
17. "Most young men are such bores. They haven't lived long enough to learn that they are not the wonders to the world they are to their mothers." — L.M. Montgomery
18. "Little boys bring you just to the brink of insanity before gently easing you off the edge with a sweet kiss and laughter from a perfectly timed fart." — Unknown
19. "Mothers see the angel in us because the angel is there. If it's shown to the mother, the son has got an angel to show, hasn't he? When a son cuts somebody's throat the mother only sees it's possible for a misguided angel to act like a devil, and she's entirely right about that!" — Booth Tarkington
20. "Men are what their mothers made them." — Ralph Waldo Emerson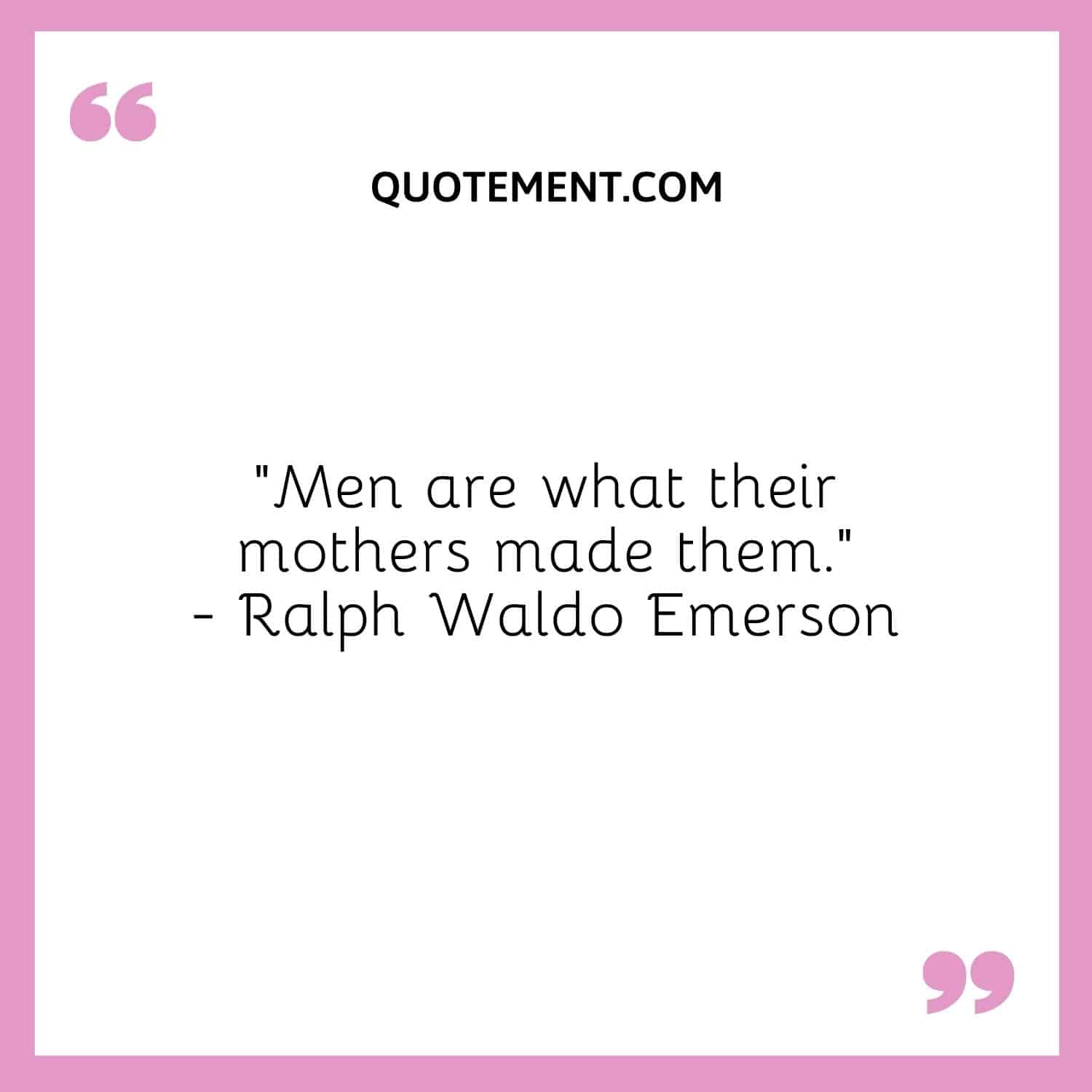 21. "There's no doubt a mother's love for her son is one of the best things in the world." — Unknown
22. "Your son will hold your hand for only a little while but he will hold your heart for a lifetime." — Unknown
23. "There is an enduring tenderness in the love of a mother to a son that transcends all other affections of the heart." — Washington Irving
24. "Moms of boys work from son up to son down." — Unknown
25. "A good mother knows if her son becomes a soldier, he will be a general." — Unknown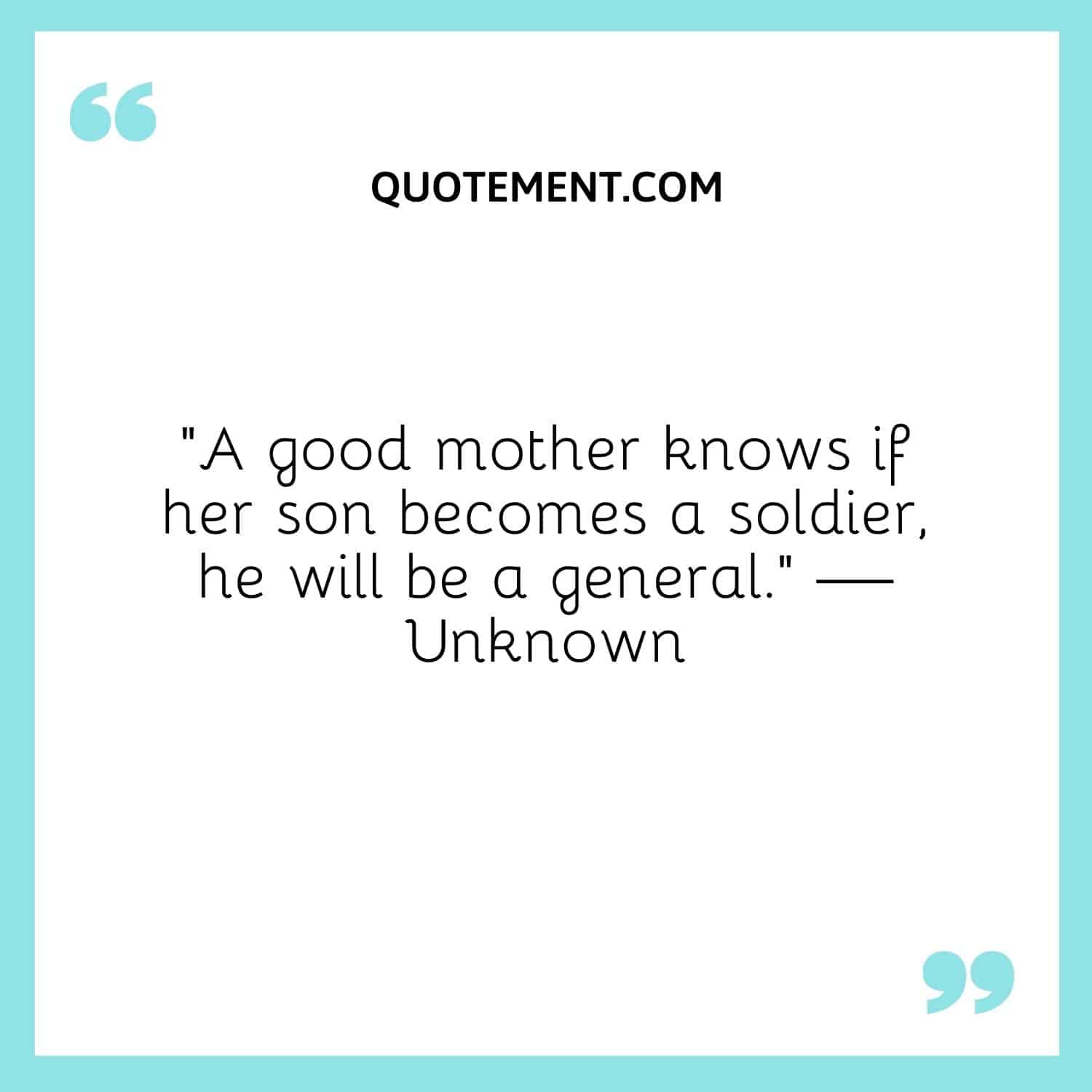 26. "Mothers yielding Bibles, contemplating smearing the blood of lamb chops over her doorway. Anything to keep her son alive another day." — Antonia Perdu
27. "Having a child makes you realize the importance of life, narcissism goes out the window. Heaven on earth is looking at my little boy. The minute he was born, I knew if I never did anything other than being a mom, I'd be fine." — Jenny McCarthy
28. "You may have tangible wealth untold; Caskets of jewels and coffers of gold. Richer than I, you can never be. I had a mother who read to me." — Strickland Gillilan
29. "Boys are meant for kisses and hugs. For watching rainbows and catching bugs. For sharing all of your favorite things. For books to read and songs to sing." — Unknown
30. "All that I am, or hope to be, I owe to my angel mother." — Abraham Lincoln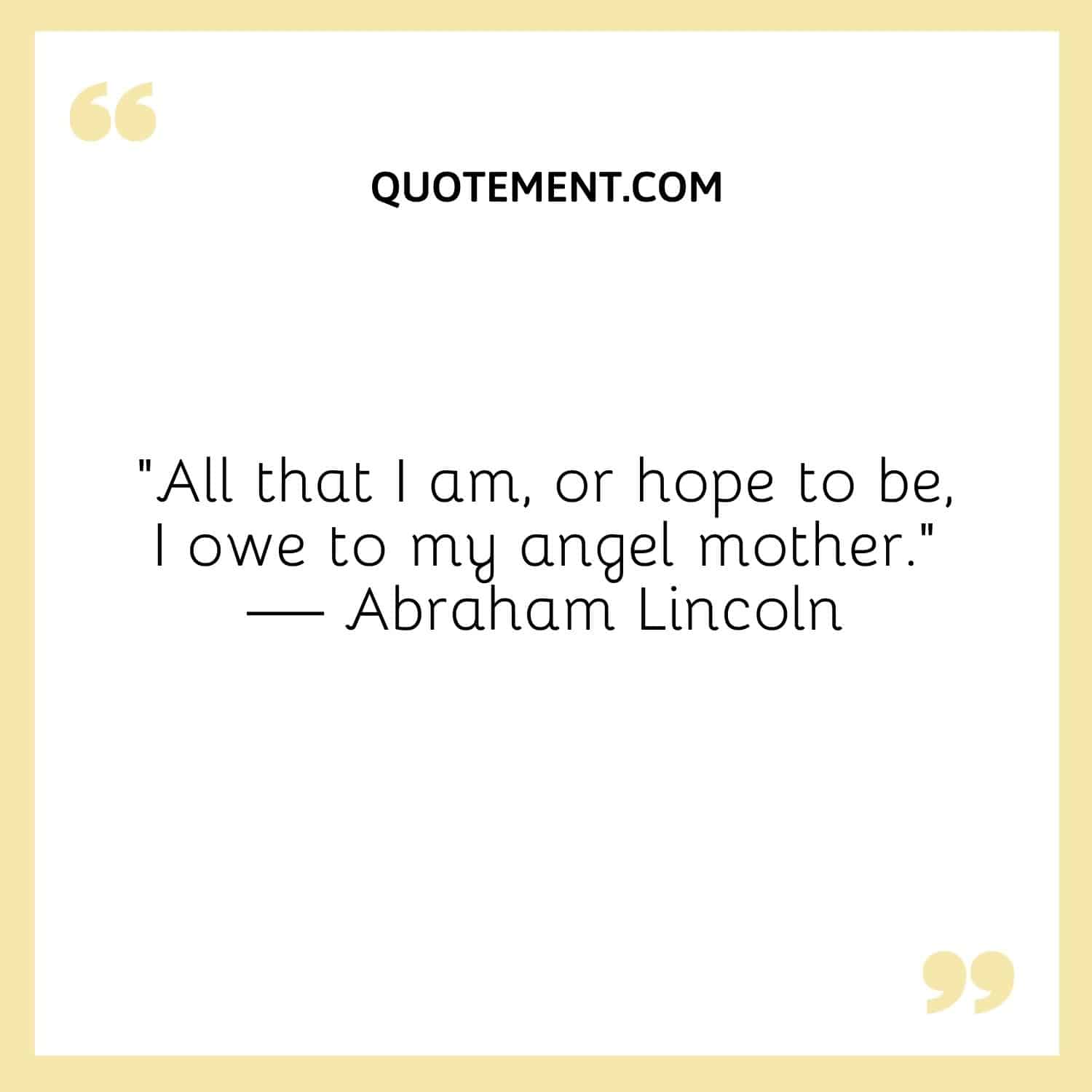 31. "My mother is not a CIA agent, but she's an Italian mother, and she'd do anything for her son." — Adriano Giannini
32. "It doesn't matter how old a son is. Even when he is big and strong, he will always be a little boy to his mother." — Unknown
33. "If you've debated the acceptable amount of time before changing a pair of underwear, you're probably a mom of boys." — Unknown
34. "The most important mark I will leave on this world is my son." — Sarah Shahi
35. "Boys; less drama than girls but harder to keep alive." — Unknown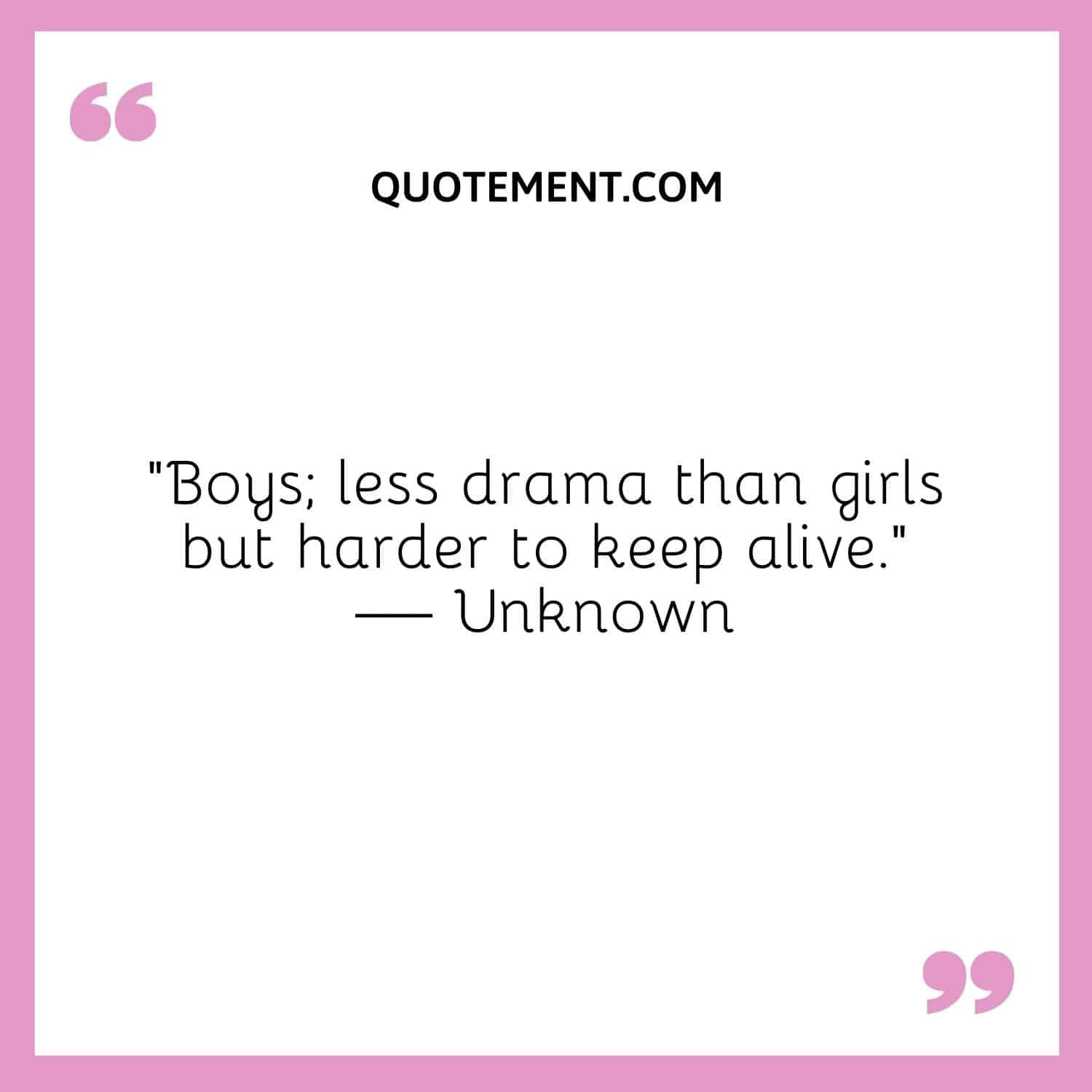 36. "I wouldn't be doing any of this if it weren't for her, both my parents. She supported this little kid who said, 'I want to be an actor,' at 12 years old, which is ridiculous, and she drove me to all these auditions … She's the only reason I'm able to do what I do." — Leonardo DiCaprio
37. "So there's this boy. He kinda stole my heart. He calls me 'mom'." — Unknown
38. "There are no goodbyes, wherever you are, you will always be in my heart." — Mahatma Gandhi
39. "What an honor it is to be a boy mom." — Unknown
40. "I want you to know that you can be anyone that you want to be. The world is your stage, and you have the whole world right in front of you. All you need to do is take that chance. Love you, son." — Unknown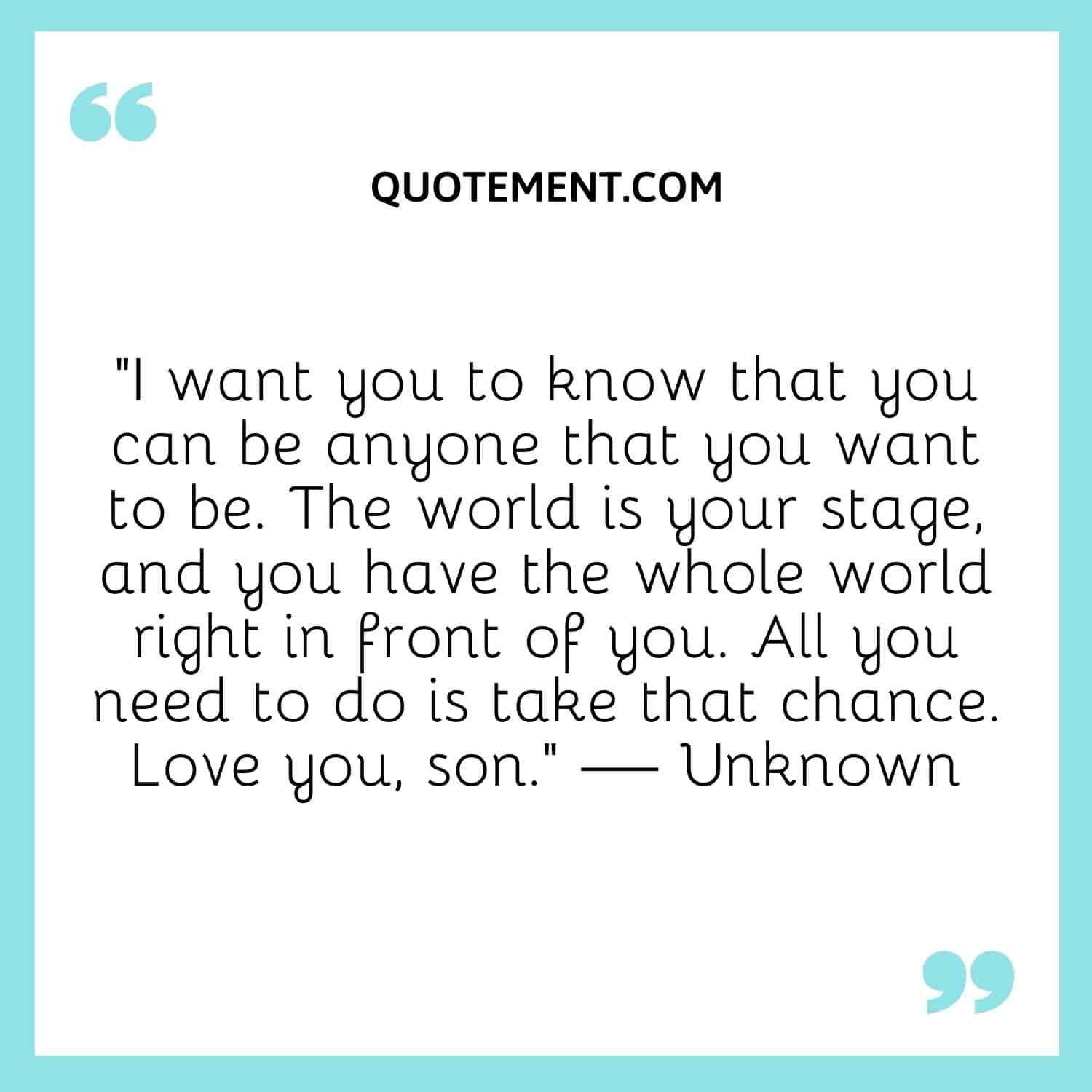 41. "Sometimes when I need a miracle, I look into my son's eyes, and realize I've already created one." — Unknown
42. "Every beetle is a gazelle in the eyes of its mother." — Moroccan Proverb
43. "Son, you remind me how so much depends on days made of now." — Alison McGhee
44. "Maybe your mother isn't able to give you everything you want. But, she is able to give you even more – her love." — Unknown
45. "The first time you opened your eyes, you captured my heart, and you haven't let it go." — Unknown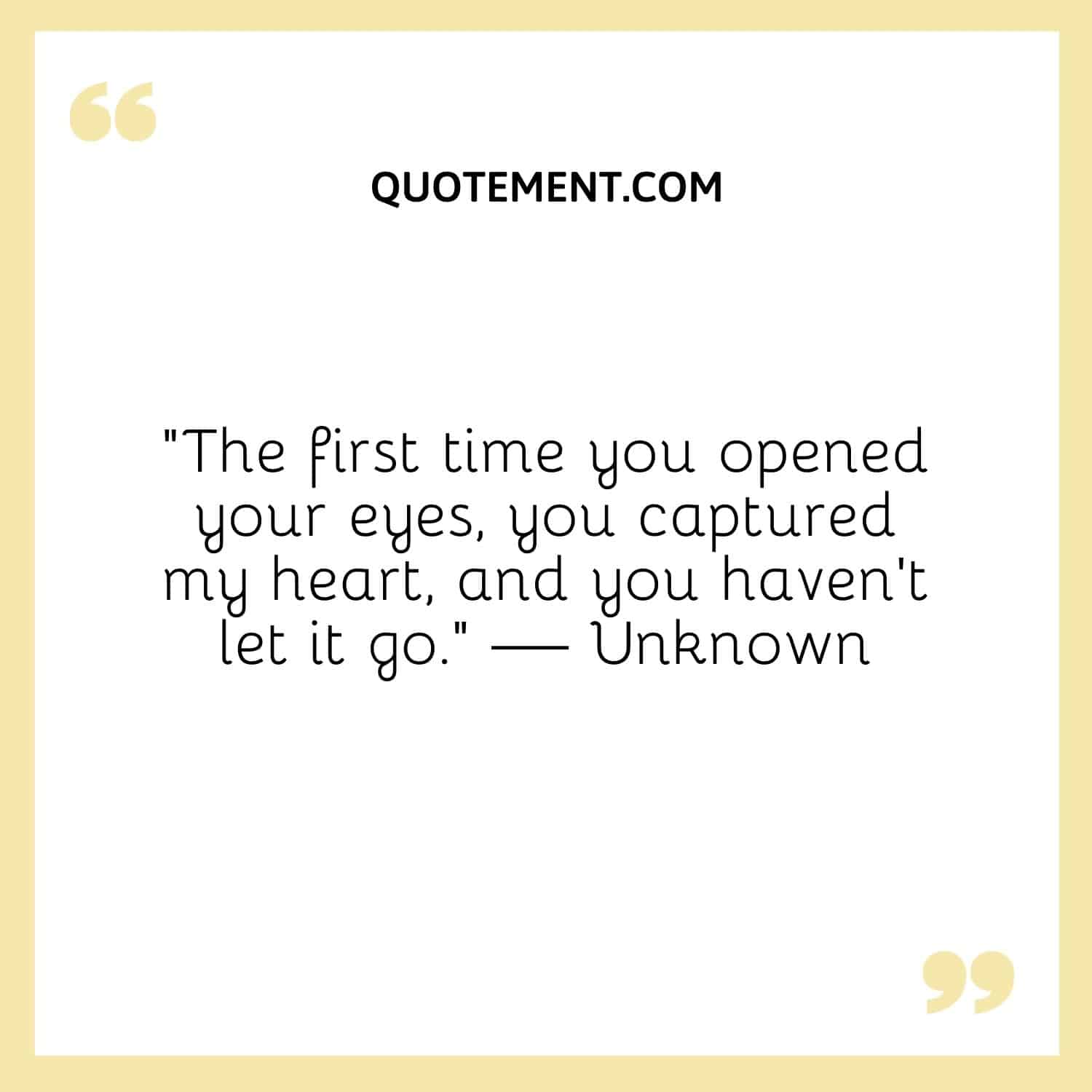 Conclusion
I hope you liked my sweet boy mom quotes and found them relatable.
These mother and son quotes are the perfect way to express the everlasting love between you and your loving son.
Now, send some of these inspirational quotes to your boy or share them on social media with the other proud boy moms!
Until next time!
Read next: 130 Inspiring Proud Momma Quotes That Will Impress You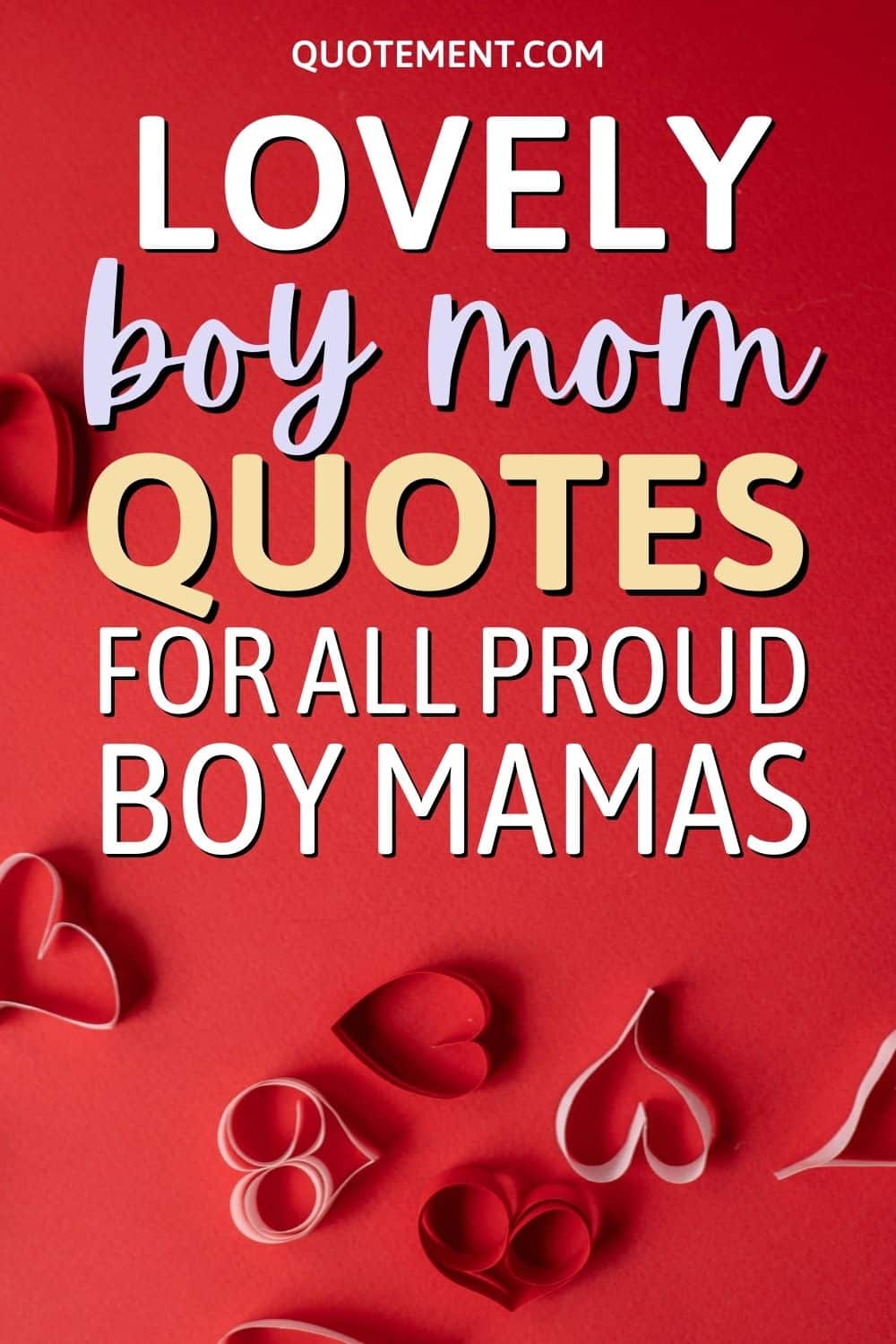 Emily Grant
A writer and poet at heart, Emily Grant has a talent for weaving words together in a way that inspires and delights. Her quotes reflect her love of nature, her appreciation for the simple things in life, and her optimistic outlook on the world.
Related posts