Take a moment and go back in time, particularly to your childhood – you're playing with Barbie dolls, having the time of your life, and everything is just perfect…
If you feel kind of nostalgic and you're looking for the most inspirational quotes to enjoy, you'll love my unique collection of Barbie quotes that brings you only the best ones gathered from various online sources.
What's more, it also offers you different authors' perspectives on what Barbie herself represents and symbolizes in modern society.
As you'll see, there's a healthy dose of criticism. However, you'll also notice that, in fact, many authors and famous people praise Barbie for her iconic role.
Just keep scrolling to discover the most powerful, inspirational, and eye-opening quotes!
Top 10 Barbie Quotes
I'll start off with my selection of 10 best quotes:
1. "But there was one girl who had a big influence over me. Barbie. I worshipped Barbie. In fact, I would say Barbie was my twelve-inch plastic life coach." – Lizz Winstead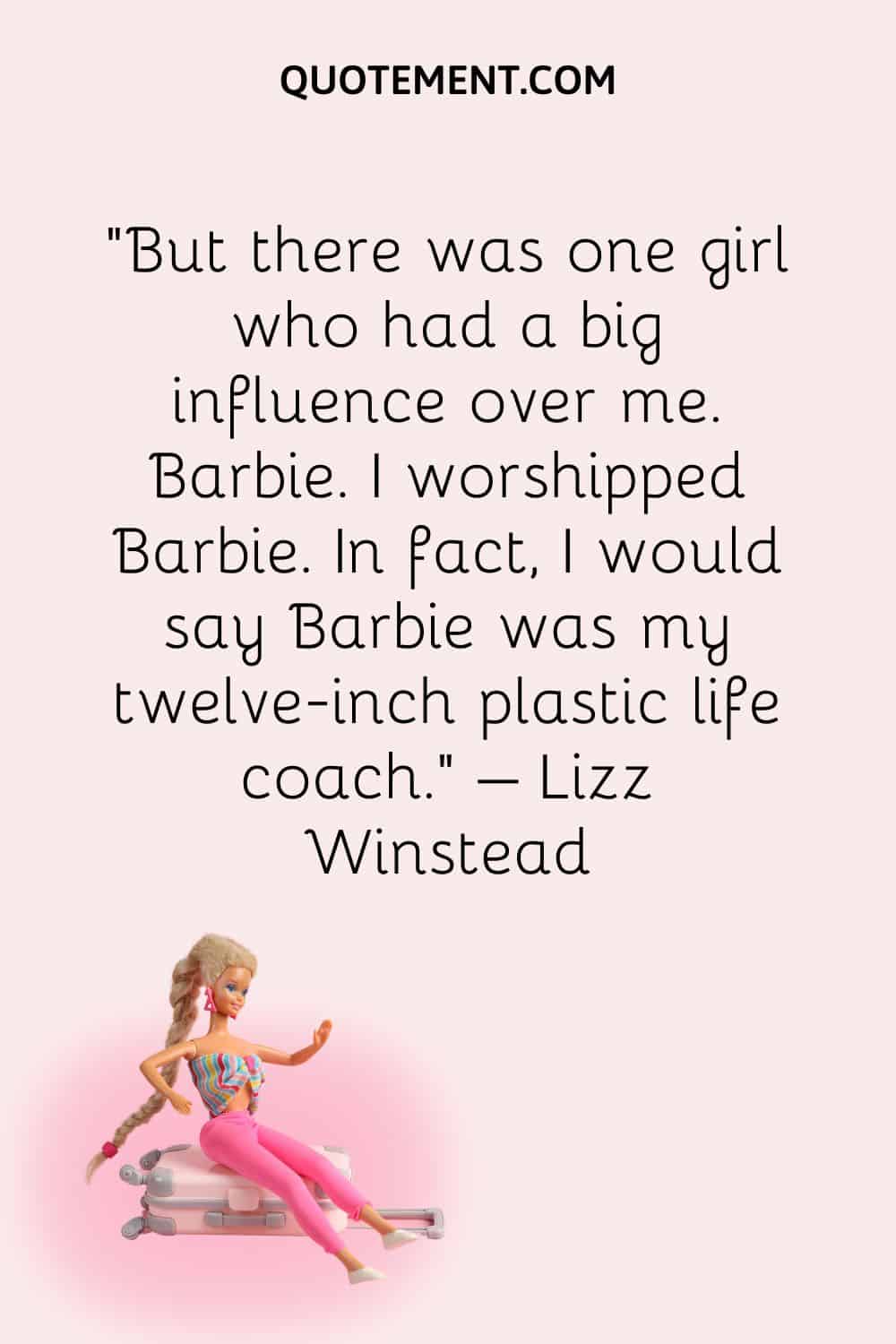 2. "Imagination, life is your creation." – Aqua, Barbie Girl
3. "I did a picture for the first Barbie doll box." – Heather O'Rourke
4. "I didn't want to be a Barbie doll. I didn't want to be a passive entertainer. It wasn't how I wanted to present myself." – Annie Lennox
5. "Life isn't a competition." – Barbie In A Mermaid Tale 2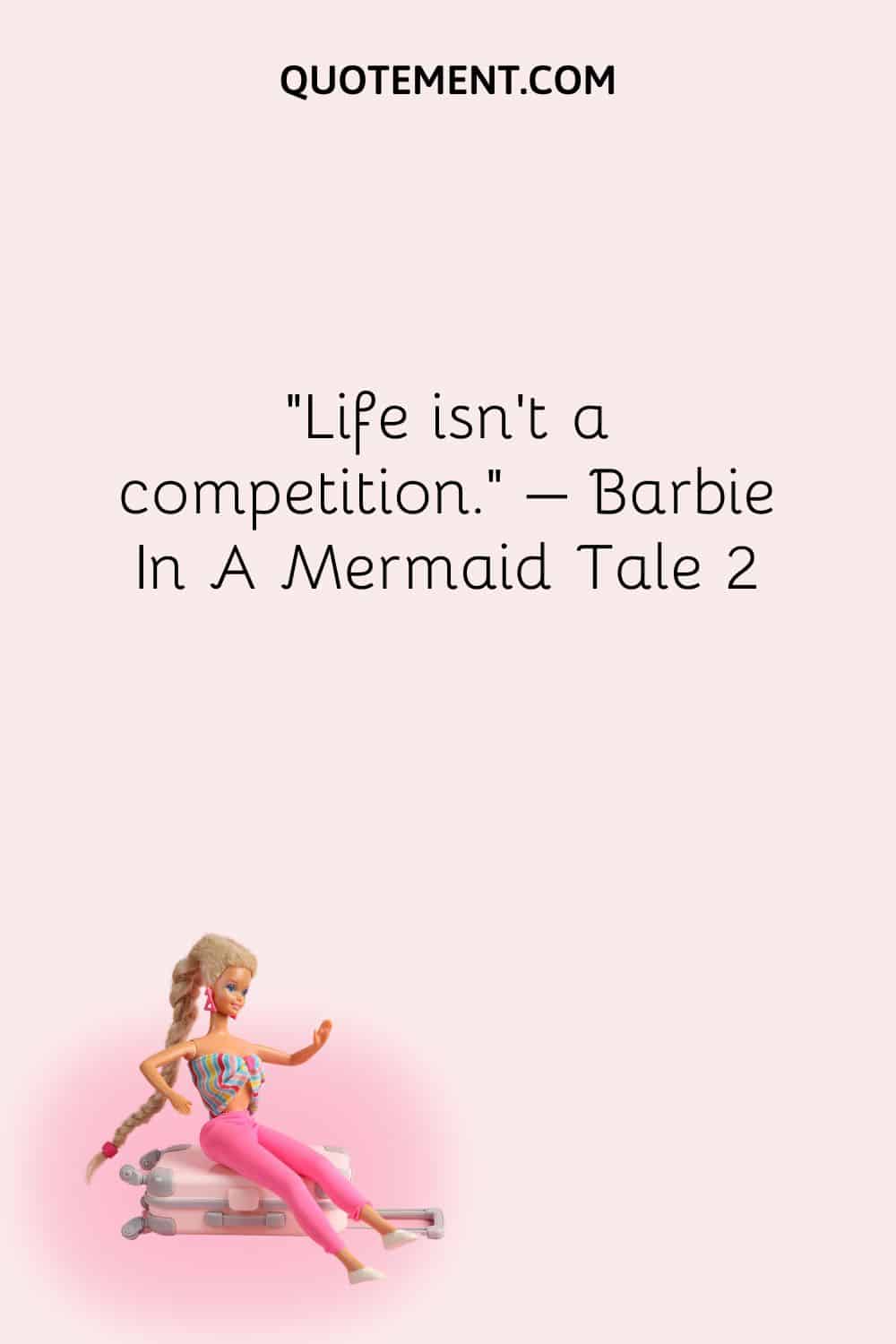 6. "Growing up, my dolls were doctors and on secret missions. I had Barbie Goes Rambo." – Zoe Saldana
7. "Get your sparkle on. Show this world where you belong." – Barbie
8. "Everyone has got a secret side." – The Barbie Diaries
9. "I used to be obsessed with Pearl Jam, but I love having pink hair and kind of looking like a Barbie." – Ellie Goulding
10. "I loved make-believe. I was the child in the cupboard playing with my Barbies." – Lupita Nyong'o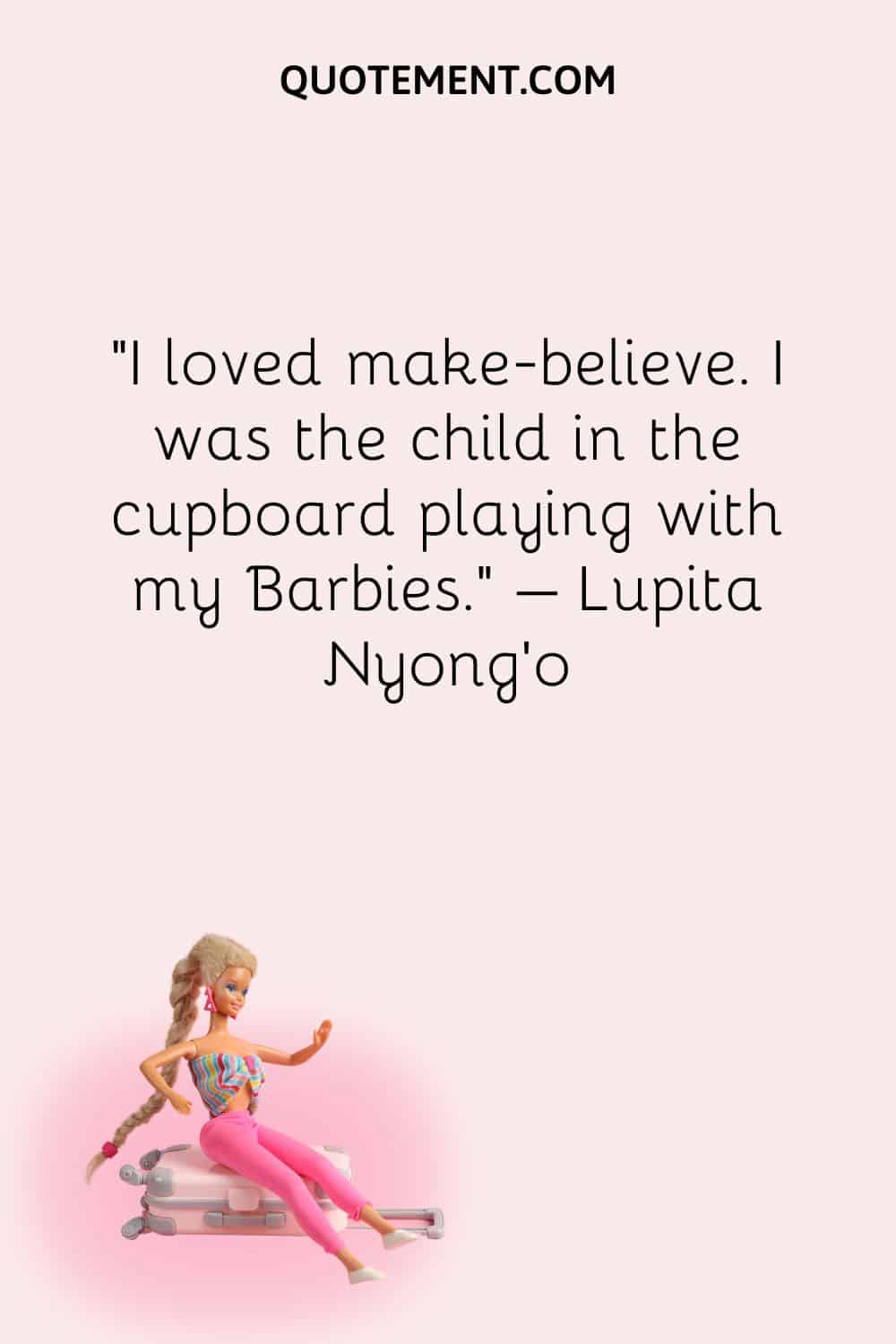 Inspirational Barbie Quotes
Here you'll find the most inspirational Barbie quotes. Enjoy!
1. "The power to change the world has been inside you all along." – Barbie In Princess Power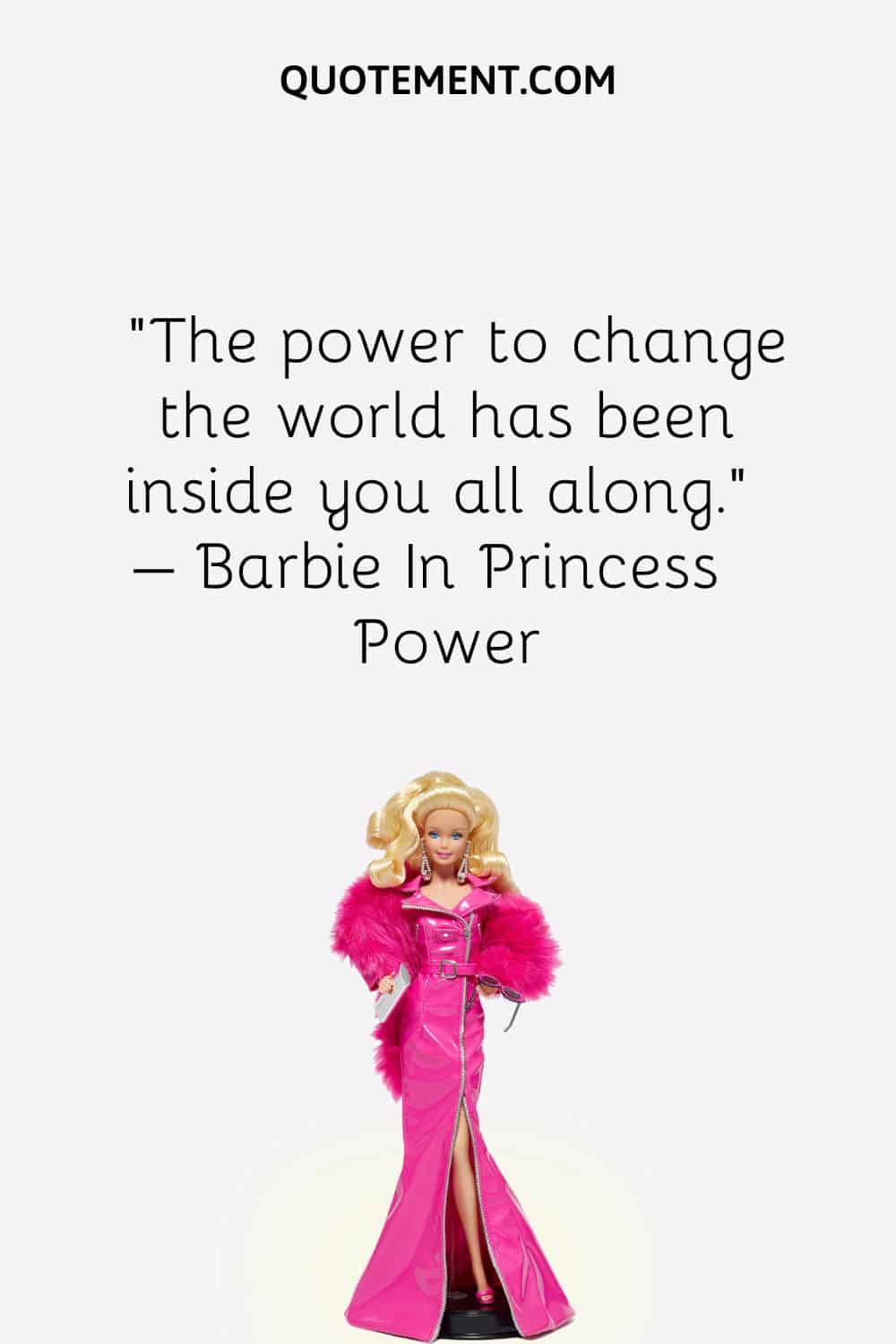 2. "I had everything you could collect. I had these Spice Girls postcards. I also had the stickers and Barbie girls. I had all five of them. I was a real fangirl. They were actually preaching some cool stuff, the thing about girl power and sticking together with your best girlfriends." – MO
3. "I stay away from the title of 'role model.' I want to be a more realistic role model – not a perfect Barbie role model." – Melanie Martinez
4. "From day one, I've always been a girly girl. In pre-school I loved driving around in my super Barbie car." – Abbey Curran
5. "Barbie always represented the fact that a woman has choices." – Ruth Handler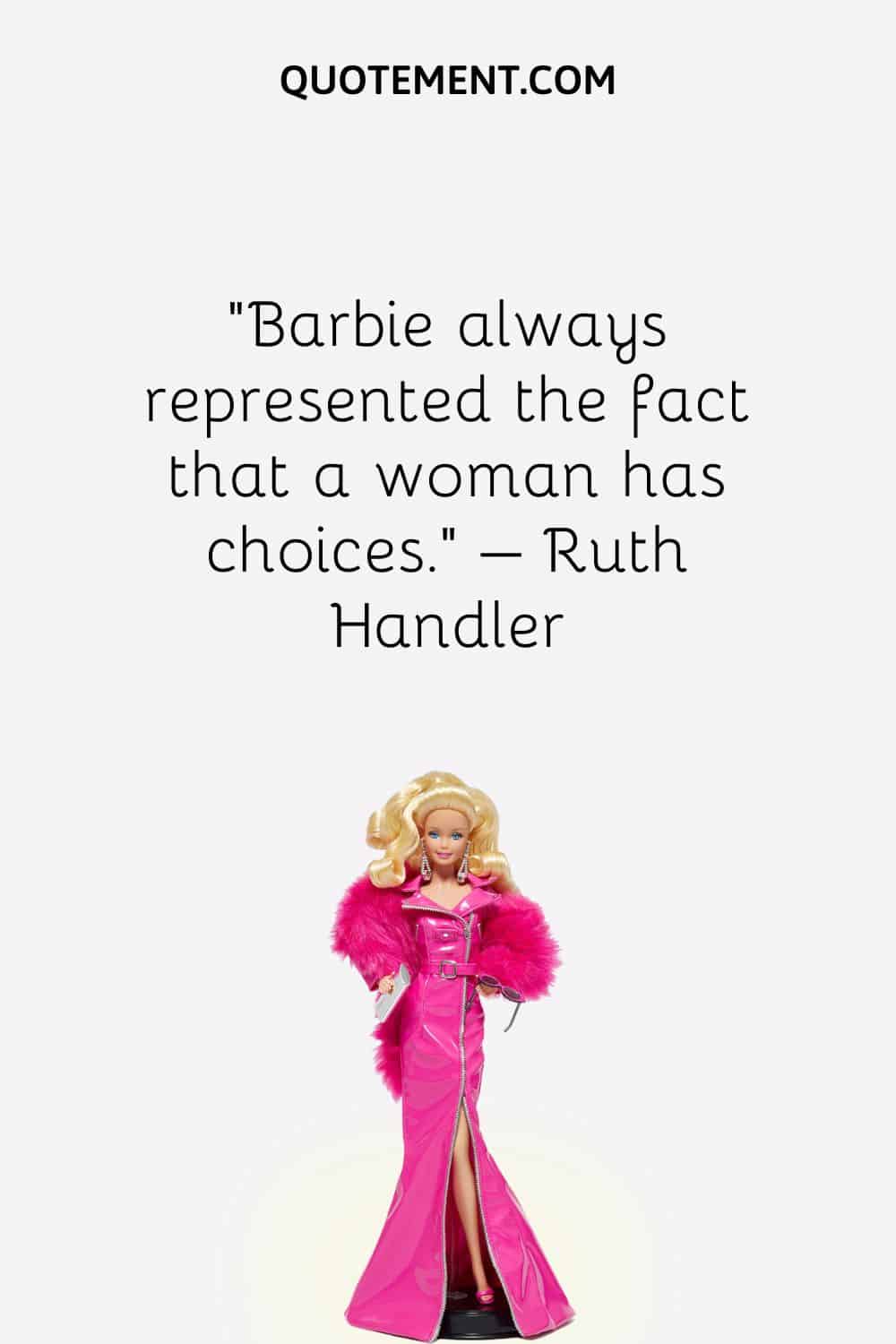 See also: 70 Woman Respect Quotes That Remind About Women's Worth
6. "I was big-time into Barbie." – Jennifer Sky
7. "Did you know that if Barbie was a real woman with those proportions, she'd have to carry her kidneys in her purse?" – Lani Diane Rich
8. "If I could wish for one thing, I'd take the smile that you bring. Wherever you go in this world, I'll come along." – Barbie And The Diamond Castle
9. "My daughter's all grown up now compared to what she was, but I used to say, I've got to have my horse to where if she's leading my horse somewhere, and she's got a big armload of Barbies and drops something out of her hand, that son of a buck ought to stop and respect her while she's gathering up all her dolls and not to walk on her or take advantage of her. And if I've done my work right, by gosh, that's what they'll do." – Buck Brannaman
10. "Barbie is my role model. She might not do anything, but she looks good doing it." – Paris Hilton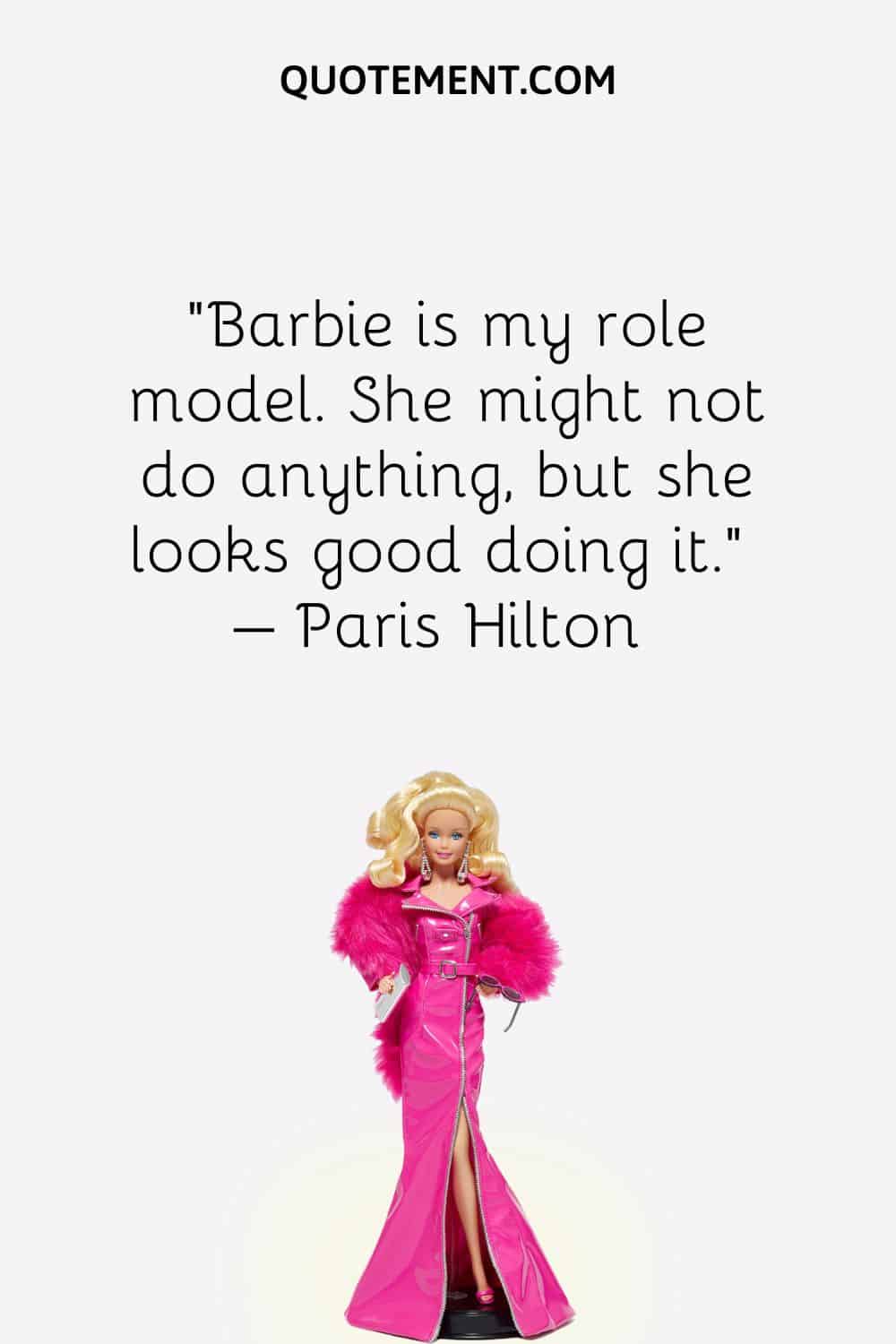 11. "Those that think my clothes are androgynous also still believe that women should look like Barbie dolls. That's precisely the problem, the deep-rooted assumptions about what is feminine." – Ann Demeulemeester
12. "You know I won't be no stick-figure, silicone Barbie doll." – Meghan Trainor
13. "I think your Barbie can go shopping, and go out with Ken, and also have a productive and satisfying career of her own." – Sarah Dessen, Dreamland
14. "Life in plastic is fantastic." – Aqua, Barbie Girl
15. "I'm just as content sitting on the floor playing Barbies with my kids as I am having a glass of wine with my girlfriends." – Jennifer Meyer
16. "All my life I've always wanted, to have one day just for me, nothing to do." – Barbie As The Princess And The Pauper
17. "Keep the beauty of Christmas in your heart every day of the year." – Barbie In A Christmas Carol
18. "Even the smallest person can make a big difference." – Barbie Presents Thumbelina
See also: Top 90 Positive Vibes Quotes To Empower You Every Day
19. "Magic happens when you believe in yourself." – Barbie: A Fashion Fairytale
20. "Best friends, today, tomorrow, and always." – Barbie And The Diamond Castle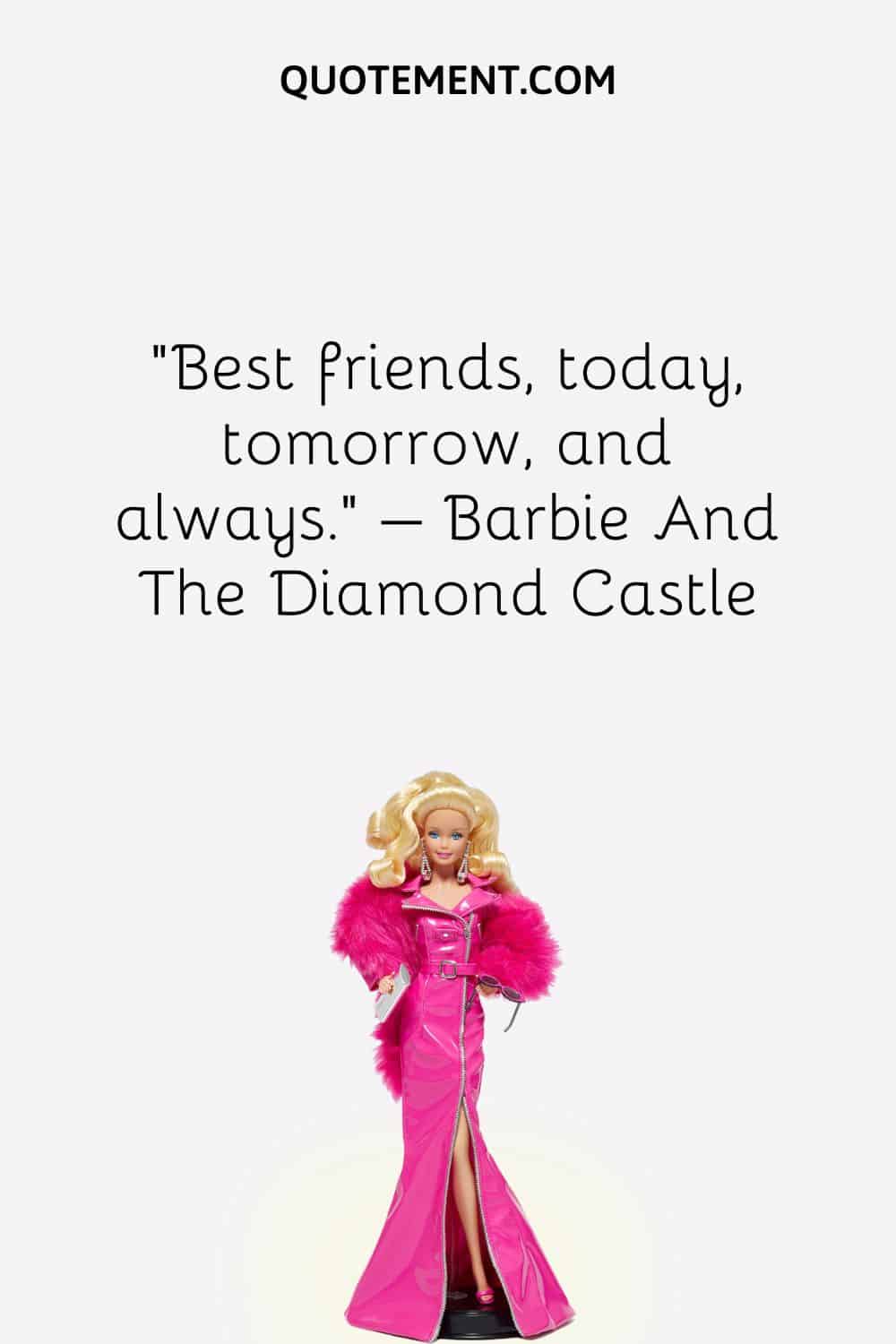 Barbie Quotes That Are Absolutely Amazing
Now let's check these amazing quotes as well:
1. "I feel like a Barbie." – Toni Garrn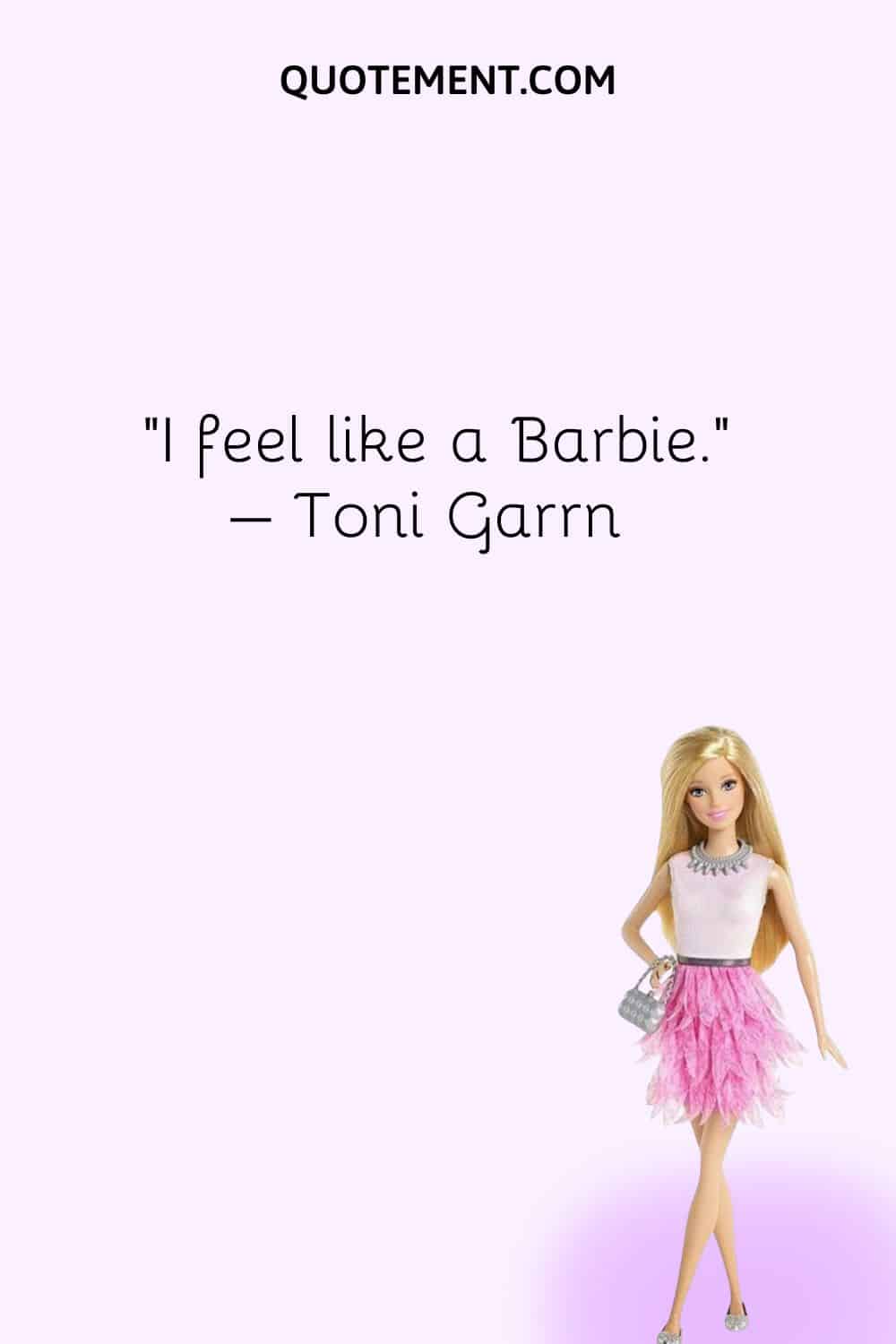 2. "I'm excited to be a part of the new direction the Barbie brand is headed, specifically how they are celebrating diversity in the line and encouraging kids to raise their voices." – Zendaya
3. "She's like a Barbie, then she wants to be a superhero, or coming out of a spaceship, and everything's pink. She makes a certain move that's ghetto hood mixed with a little robot, so it's like I'm evolving Nicki Minaj and developing her style. She's fearless, and I love her." – Laurieann Gibson
4. "I enjoy getting dressed as a Barbie doll." – Vanna White
5. "Barbie has always been an inspiration. Dressing her was part of every girl's dream." – Reem Acra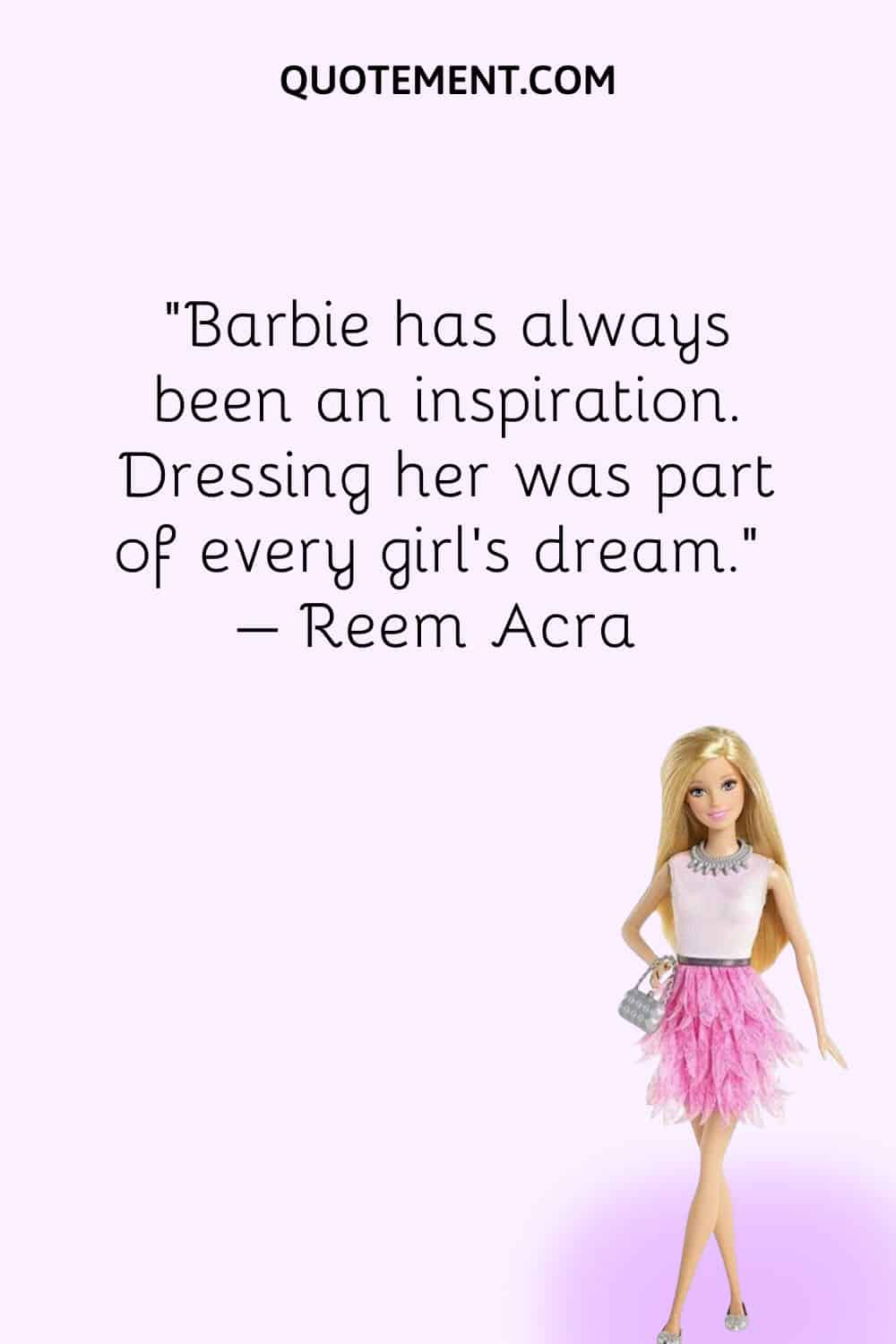 6. "We Barbie dolls are not supposed to behave the way I do." – Sharon Stone
7. "It's hard to get ahead. Even if you're Barbie." – Sarah Dessen, Dreamland
8. "My Barbie doll is definitely a reflection of me and my personality." – Ally Brooke
9. "I was the kid growing up who would play with G.I. Joes in a pink dress and then run off to play with my Barbies. It doesn't mean that I'm less girly, it just means that I have this other side of me. It's kinda cool to be a little bit of both, I think." – Adrianne Palicki
10. "If I'm feeling like a Barbie girl, I'm gonna throw that blonde wig on. It's just the mood." – Blac Chyna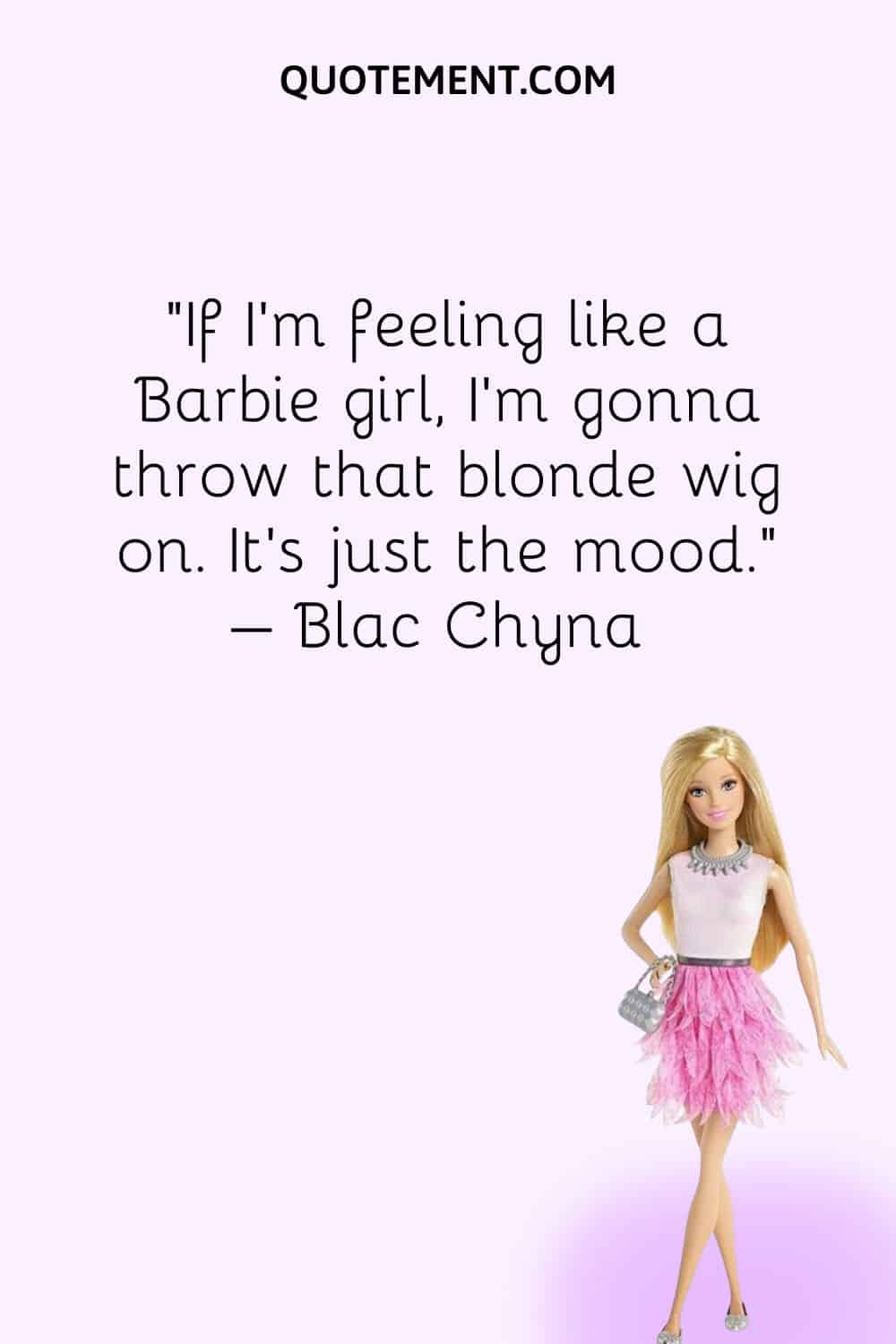 11. "I always tell my mom that if she would have just bought me a Barbie when I was little, I would have gone into real estate." – Trixie Mattel
12. "You want perfect? Buy a Barbie. They are quiet." — Kate Stewart
13. "I played with Barbies but I used to decapitate them. I used to take their heads off then dye their hair and do weird things." – Megan Fox
14. "Barbie doesn't set unrealistic beauty standards. All she wants to say is that we all are 'Barbie' in our way."
15. "I am the living Barbie Doll, how are you?" – Jeffree Star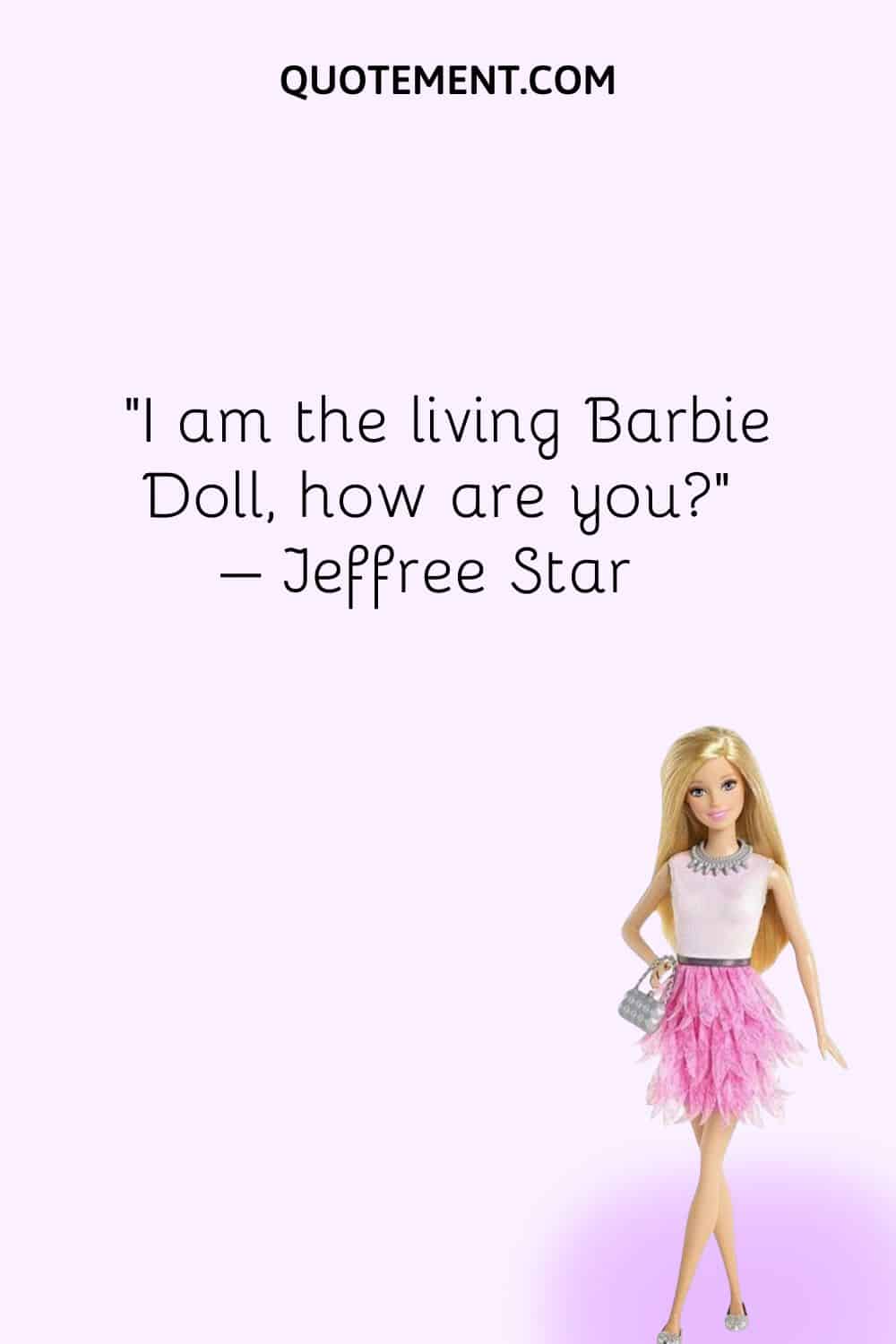 16. "For, in a world full of Barbies, every girl needs a Joan Jett." — Dave Grohl
17. "I'm not Barbie, and I'm alright with that." – Pink
18. "I didn't have a Barbie doll, so I played with eternity." – Vanna Bonta
19. "I thought the Barbie doll would always be successful." – Ruth Handler
20. "I grew up in the Alps and France, and Barbie was my first exposure to the American woman. For me, she was blonde, she was free and she was fun." – Catherine Malandrino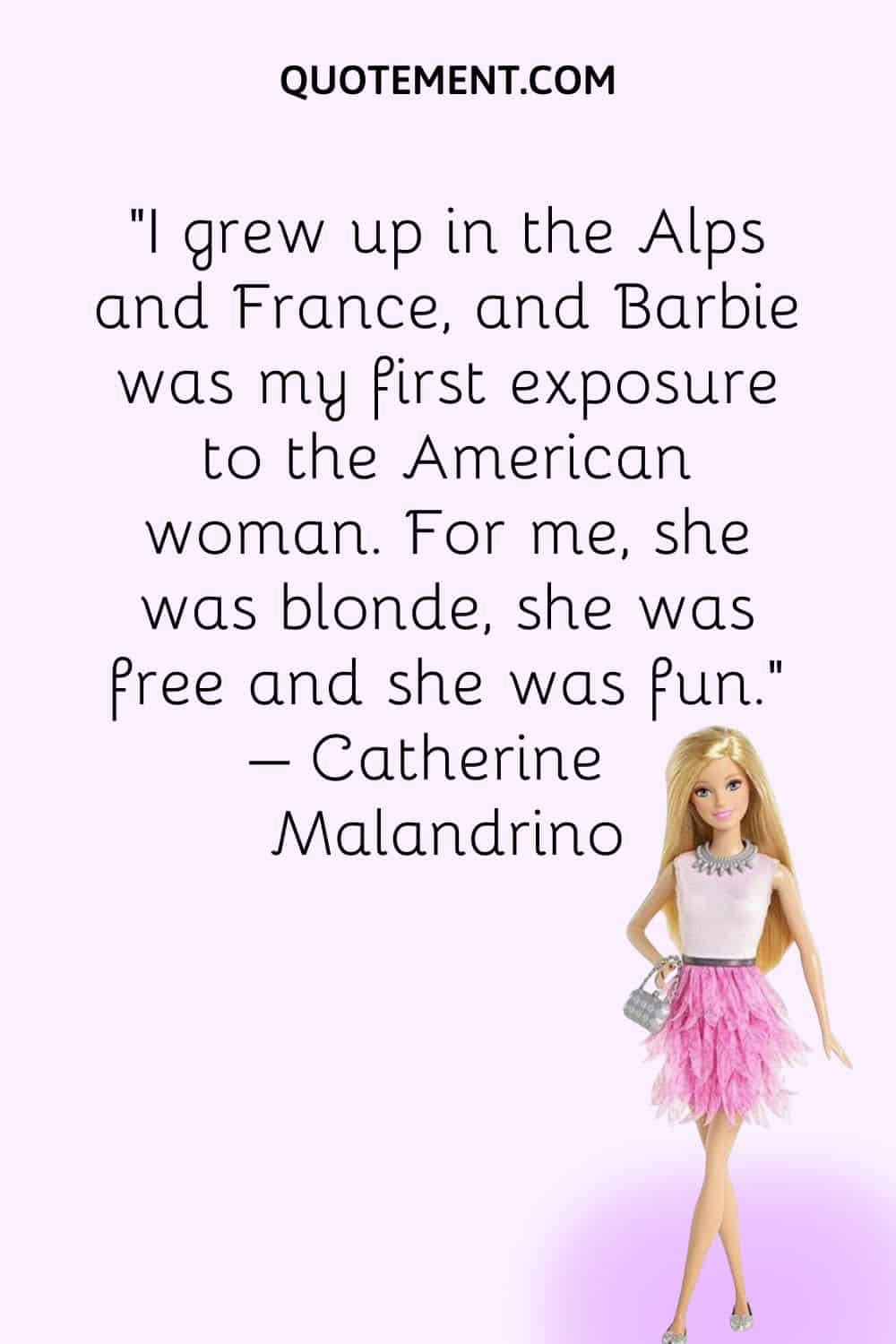 Brilliant Quotes About Barbie
This doll has inspired many generations. Let's read and enjoy more brilliant Barbie quotes:
1. "McDonald's, Barbie – they're all icons, recognizable from London to Timbuktu." – Jeremy Scott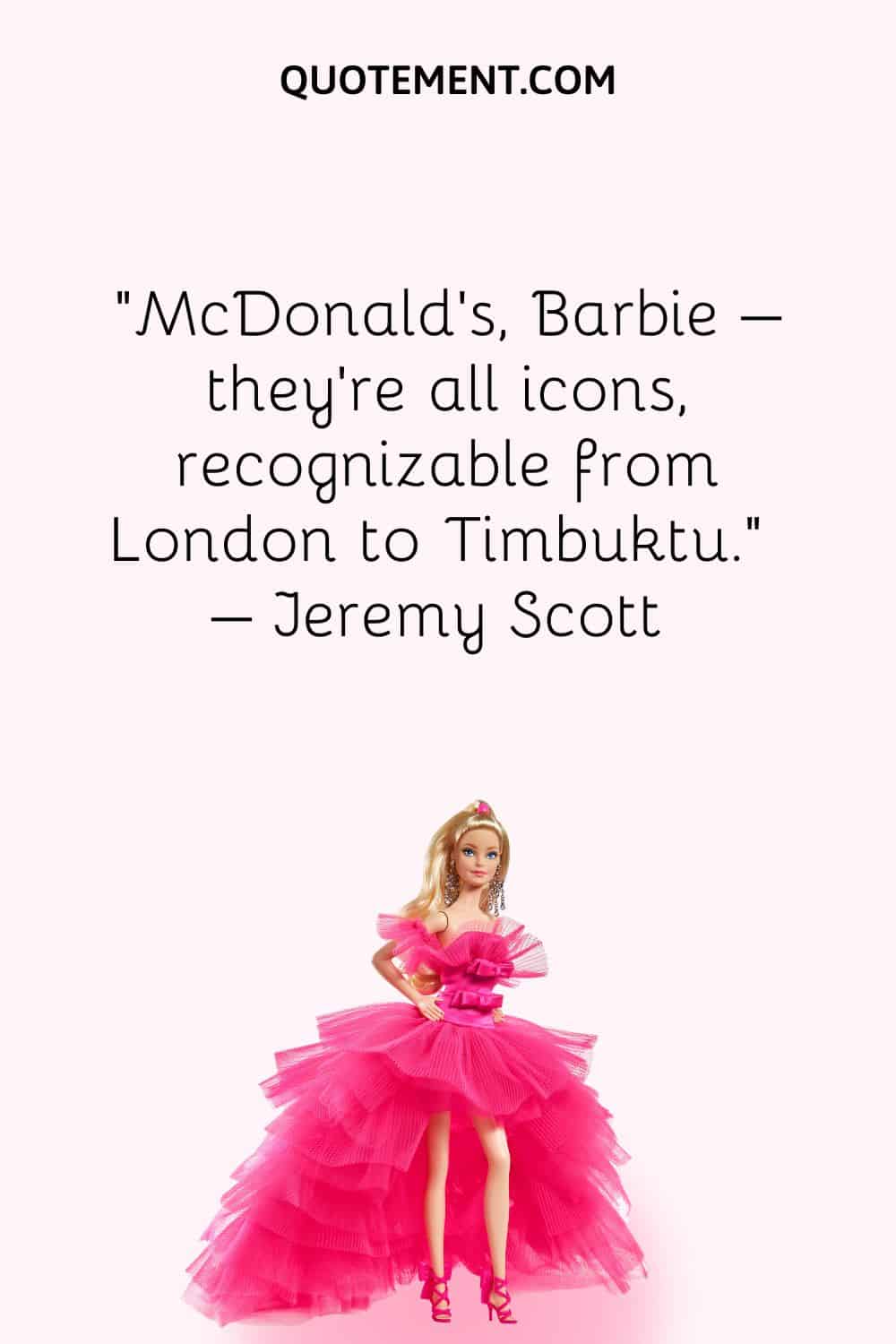 2. "As long as I was well fed, I was a very, very nice child. I just used my imagination and played with Barbies. I was pretty easy." – Sabrina Carpenter
3. "He looked up, past her, at the bedroom. Finally, a break to the white – but this wasn't much better. Pink carpeting, princess border along the ceiling, white walls, and a gold canopy bed. 'What,' he said, 'no Barbie dream castle?' Layne flushed. 'Shut up'." — Brigid Kemmerer
4. "A life with Ren was harder to picture. We didn't look as if we belonged together. It was like matching up Ken with Strawberry Shortcake. He needed Barbie." — Colleen Houck
5. "When the other girls had given up their Barbies, I was still playing with mine in secret." – Cheri Oteri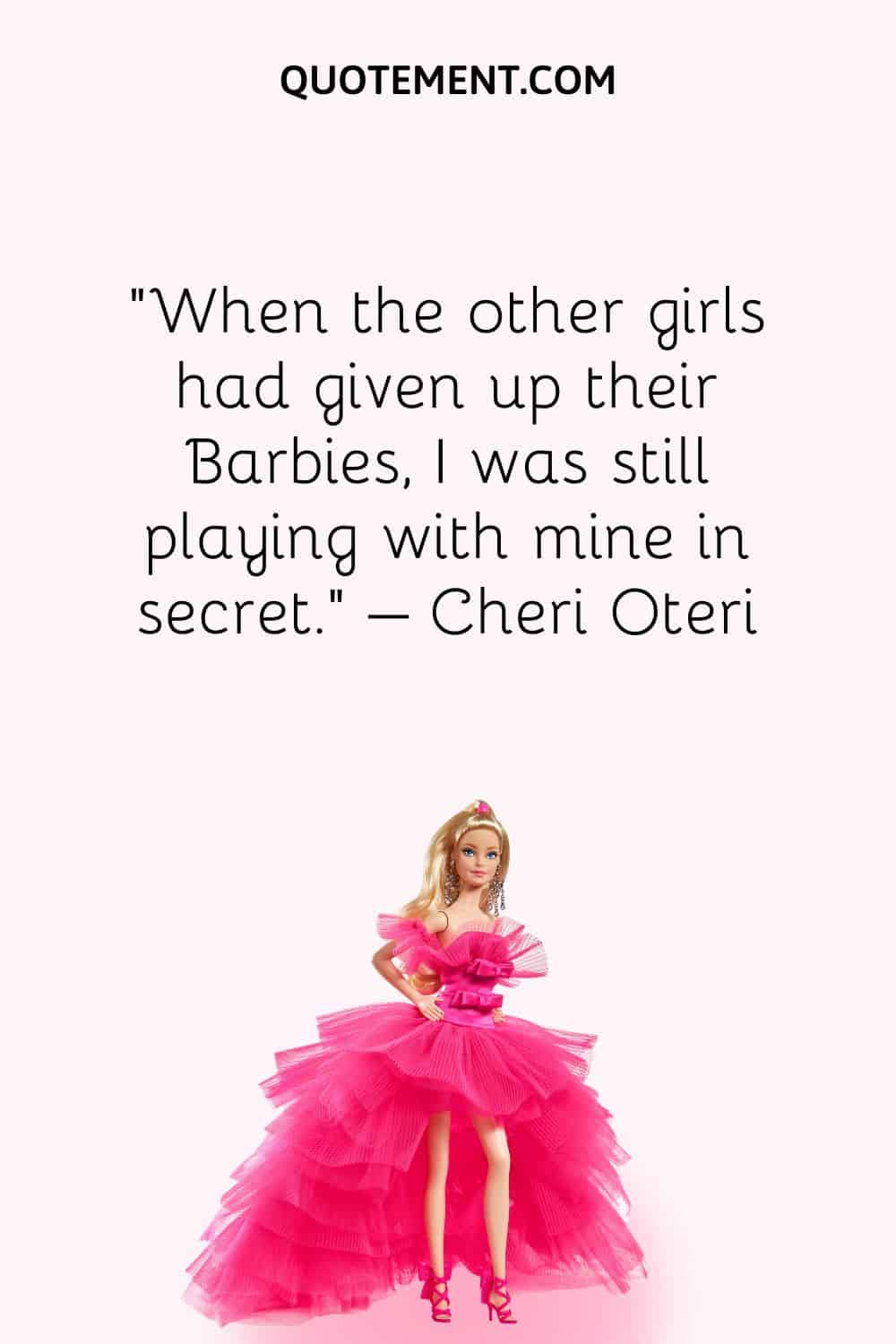 6. "I walk to my car without looking back, and as I drive away, I'm hit with a sudden wave of sadness. But it's a distant kind of sad – like when you look at your Barbies and realize you don't want to play with them any more, because you're growing up and you've moved on, and in your heart you know it's time to make room for other things." — Hannah Harrington
7. "Because sometimes in life Ken doesn't always choose Barbie." — Rachel Gibson
8. "I actually wanted to be a fashion designer. I did a lot with the sewing machine at home for Barbie or for carnival, or just for fun. Then I saw this ad in the newspaper. And as young girls sometimes do some stupid things, I filled in the coupon and sent in my photos." – Heidi Klum
9. "I would buy Barbies and take them apart and then remake their looks. I used them for hairstyling. It was a whole process. I had a lot of dolls – like 150." – Jason Wu
10. "I was never tomboyish. I loved Barbies. It's just the way I grew up." – Poppy Montgomery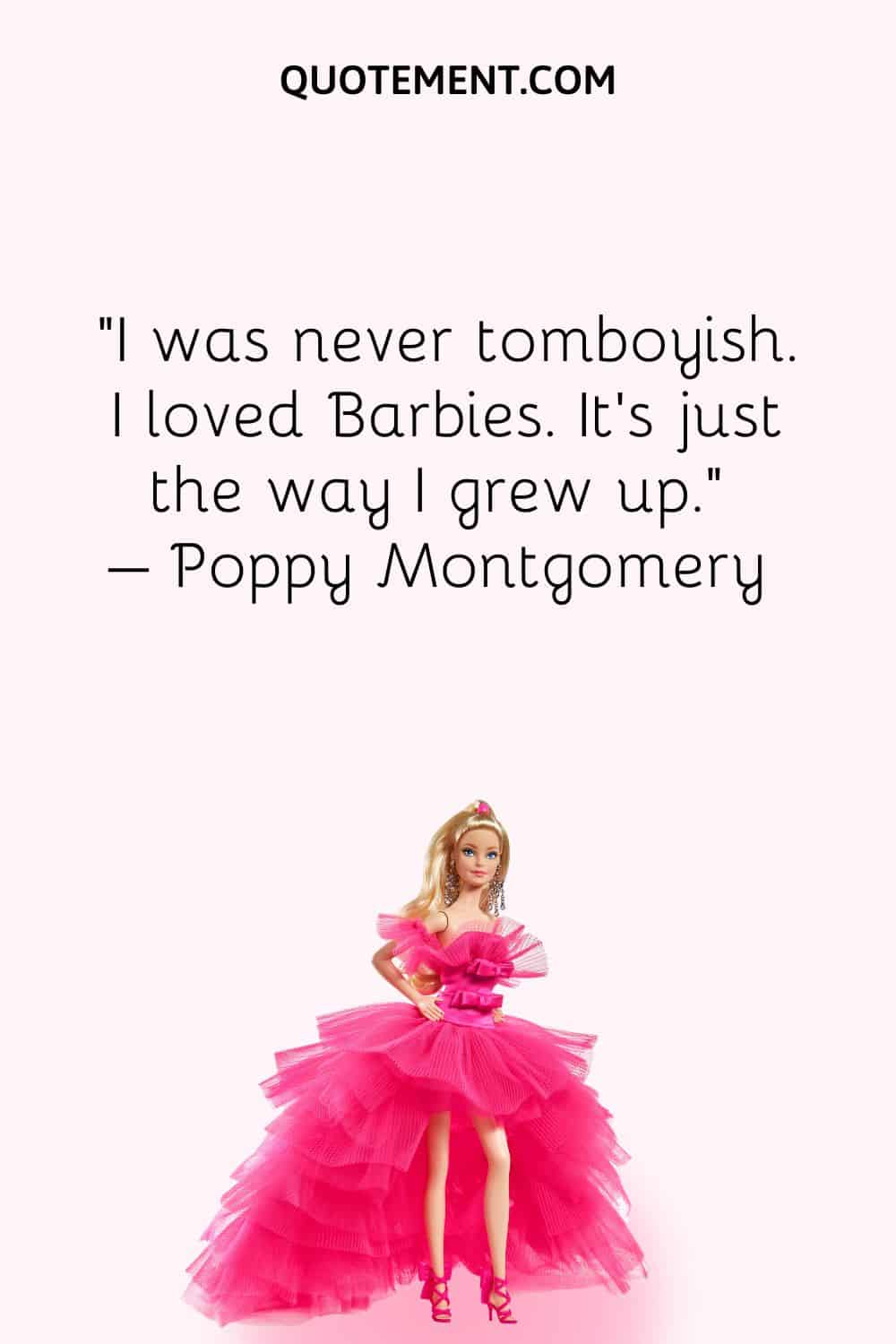 11. "I'm the Barbie, keep a lotta plastic. Little pink stars, put em on my jacket." –Nicki Minaj
12. "I think they should have a Barbie with a buzz cut." – Ellen DeGeneres
13. "She still felt like a punked-out, faux-leather-wearing, free-thinking Bratz doll in a sea of Pretty Princess of Preppyland Barbies." – Sara Shepard
14. "There's a reason that girls cut off all their Barbie doll's hair and dye it and do things like that. I destroyed my Barbie dolls, and I know other girls did as well. And that's kind of the way they see kids' movies and child actors in kids' movies, as something that you've moved on from. It's babyish." – Mara Wilson
15. "I wasn't Barbie-obsessed. I think my mother might have been my Barbie." – Michael Kors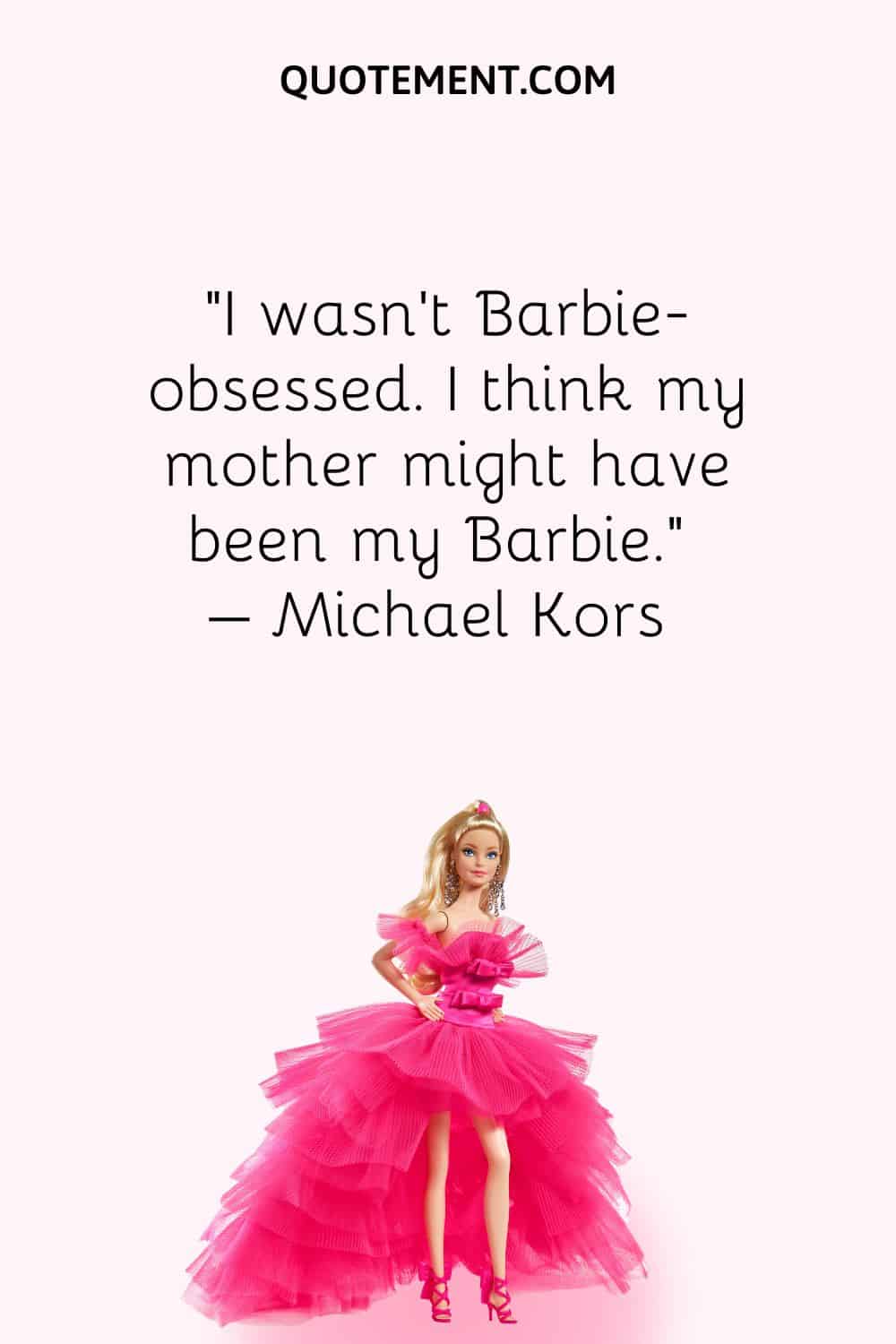 16. "Most little children's obsessions are robots and Barbie dolls. My obsession as a kid was the Versace house. I used to save up my pocket money to buy Versus shirts. I was that obsessed!" – Riccardo Tisci
17. "Stand-up was like being on a Barbie townhouse stage." – Mario Cantone
18. "Growing up with two sisters, you either play by yourself or play Barbie with them. I played by myself." – Ricky Williams
19. "For many young girls, [Barbie is] their first association with fashion and dressing up and changing clothes." – Fern Mallis
See also: 220 Classy Fashion Captions For Instagram You Can't Miss
20. "Barbie is my fashion icon. People think I'm Paris Barbie – and it's a compliment." – Paris Hilton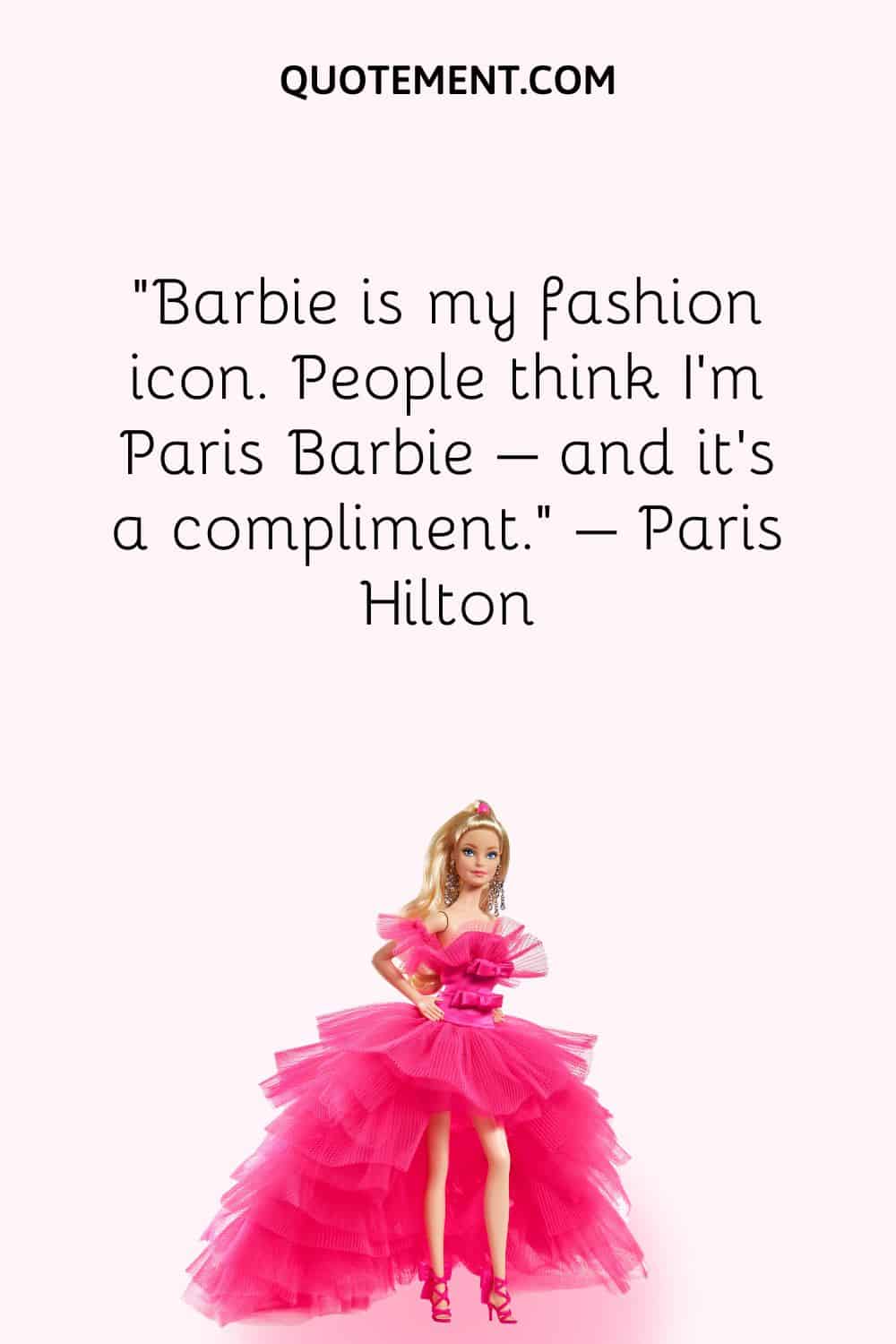 Marvelous Barbie Movie Quotes
This section brings you a few marvelous quotes from the well-known Barbie movies:
1. "Forgiveness lets you fly." – Barbie: A Fairy Secret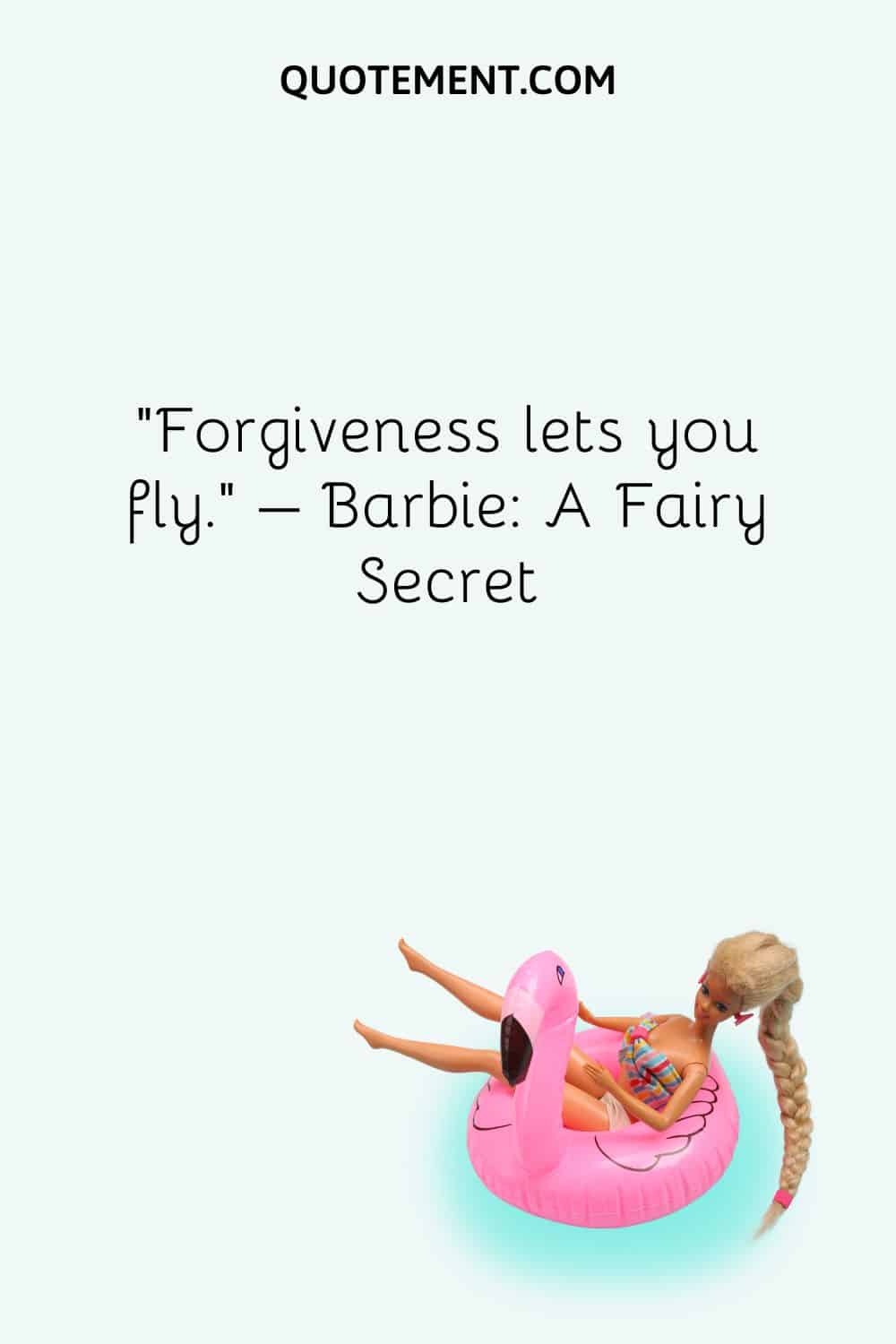 2. "True courage is pursuing your dream, even when everyone else says it's impossible." – Barbie And The Three Musketeers
3. "There may be miracles awaiting, they may be closer than we know when we have love to guide us as we go." – Barbie As The Island Princess
4. "Love and imagination can change the world." – Barbie As Rapunzel
5. "There's a difference only you can make." – Barbie In The 12 Dancing Princesses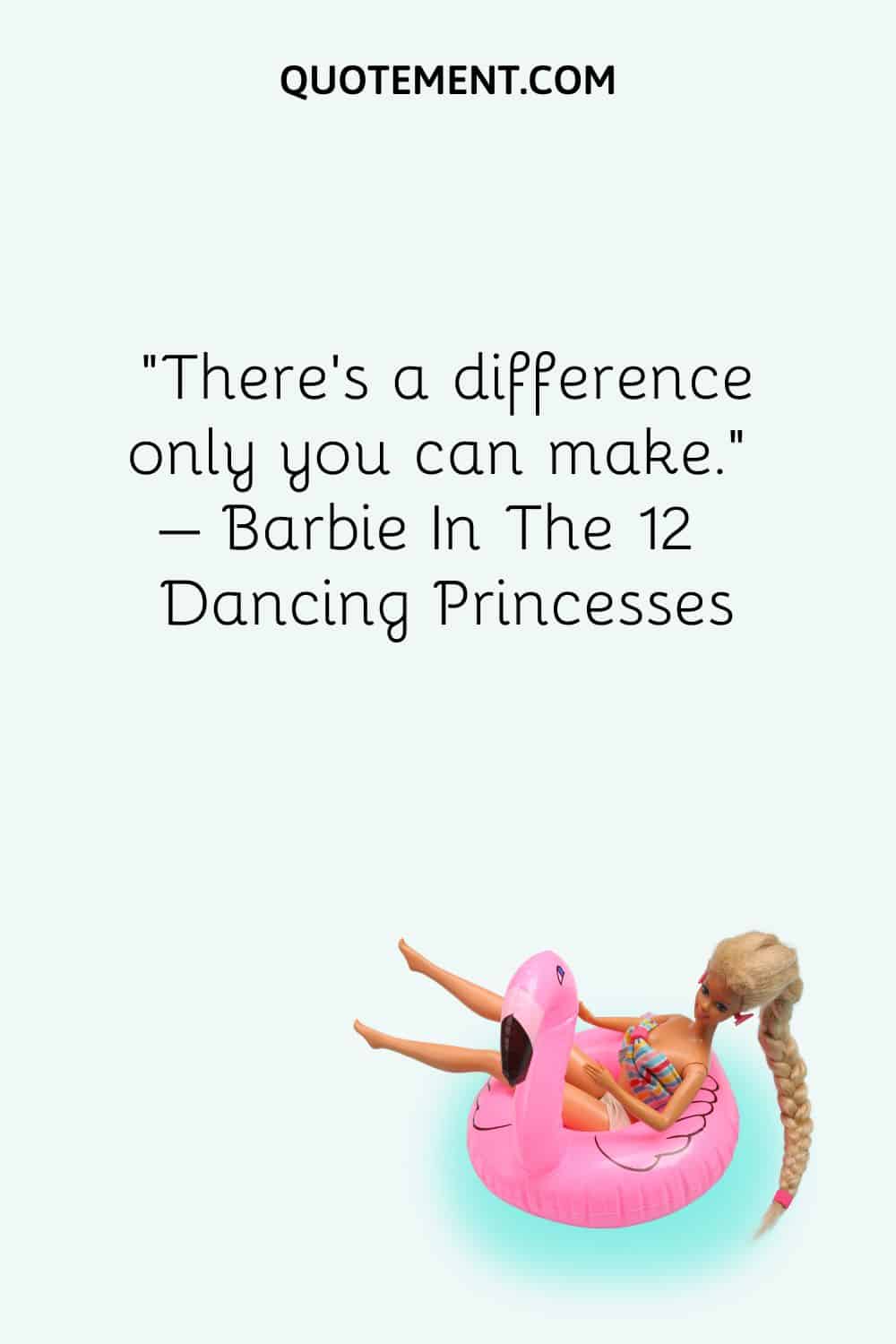 6. "Trust your true self." – Barbie Fairytopia: Mermaidia
7. "There's a star that's right inside you, so come on and let it out. Find out what you're about and just shout, 'Here I am'." – Barbie: The Princess & The Popstar
8. "Listen to the beat of your heart and keep on dancing." – Barbie In The Pink Shoes
9. "If you love something, set it free." – Barbie & Her Sisters In A Pony Tale
10. "What makes you different just might be your greatest strength." – Barbie In A Mermaid Tale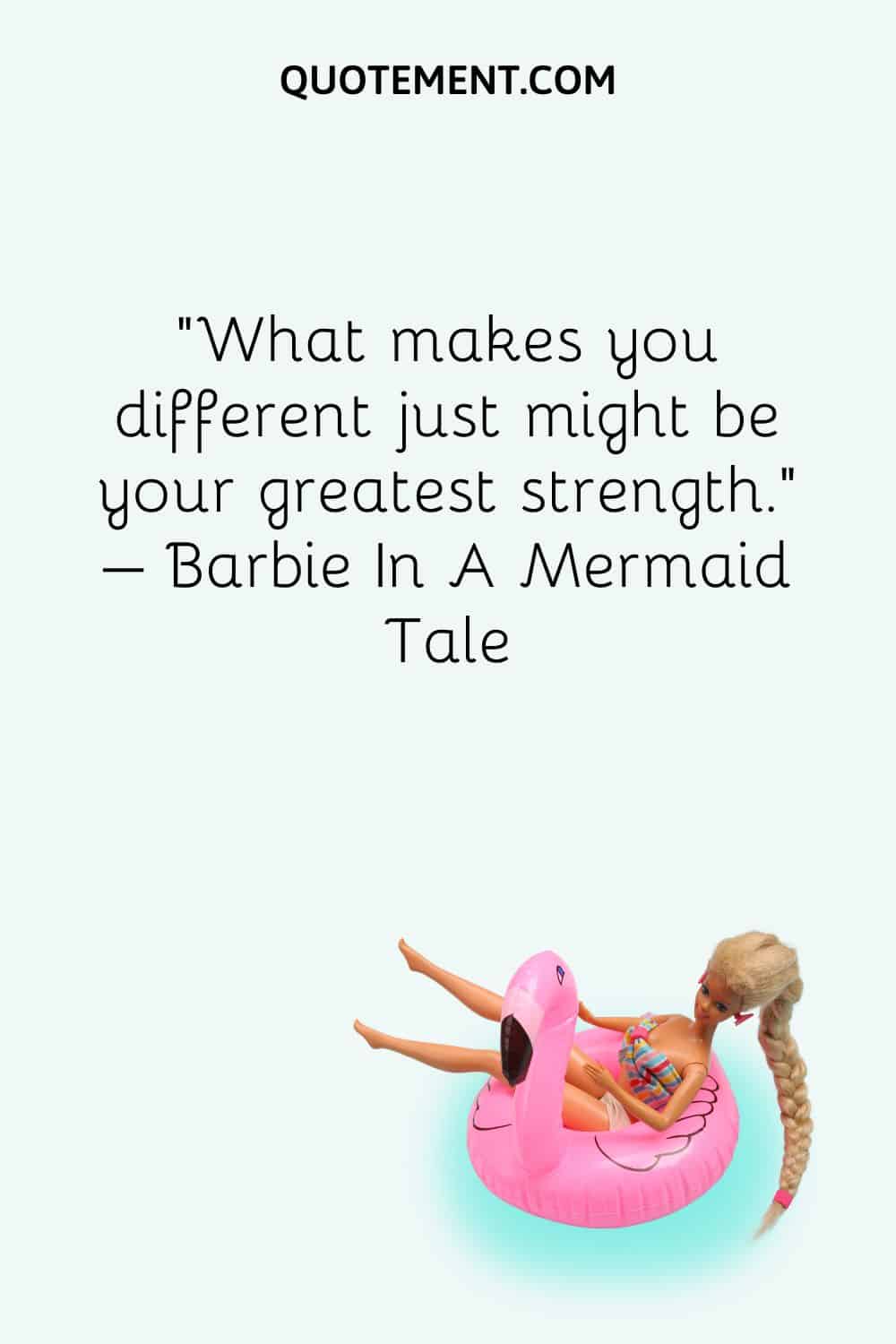 11. "Anything is possible." – Barbie In The Nutcracker
12. "Live your dream." – Barbie As The Princess And The Pauper
13. "Life is a sea I'm sailing, riding the winds of time. Looking to find a course that is mine. Striving to find direction. Starting to understand, every wave's a part of the plan." – Barbie As The Island Princess
14. "Rock your own story." – Barbie In Rock 'N Royals
15. "You're braver than you think." – Barbie In Swan Lake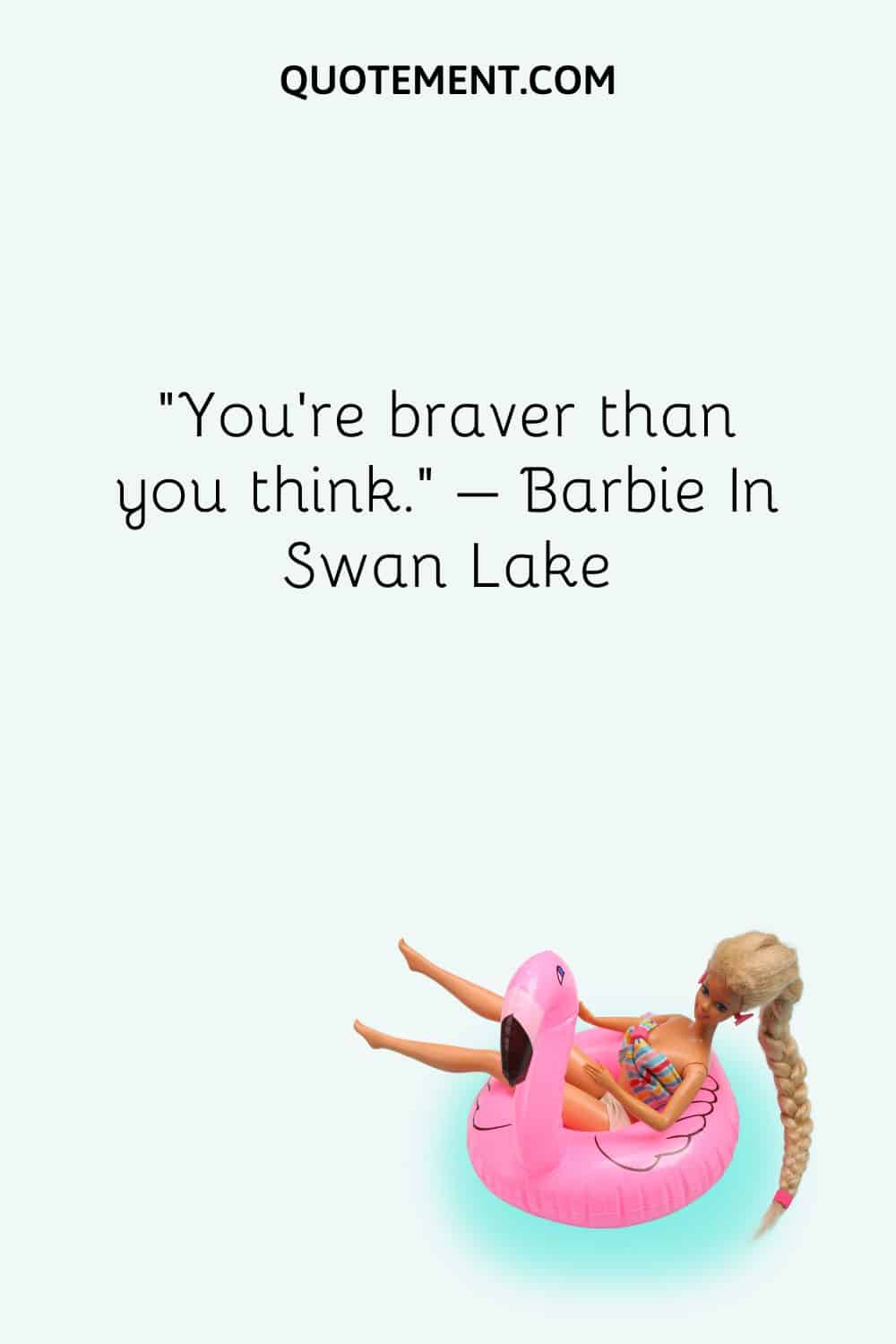 16. "Always leave things better than you found them." –  Barbie: The Pearl Princess
17. "Being together is what makes a perfect Christmas." – Barbie: A Perfect Christmas
18. "The best way to make a friend is to be a friend." – Barbie: Mariposa
19. "There's a princess in every girl." – Barbie: Princess Charm School
20. "The most beautiful thing you can be is yourself." – Barbie: Mariposa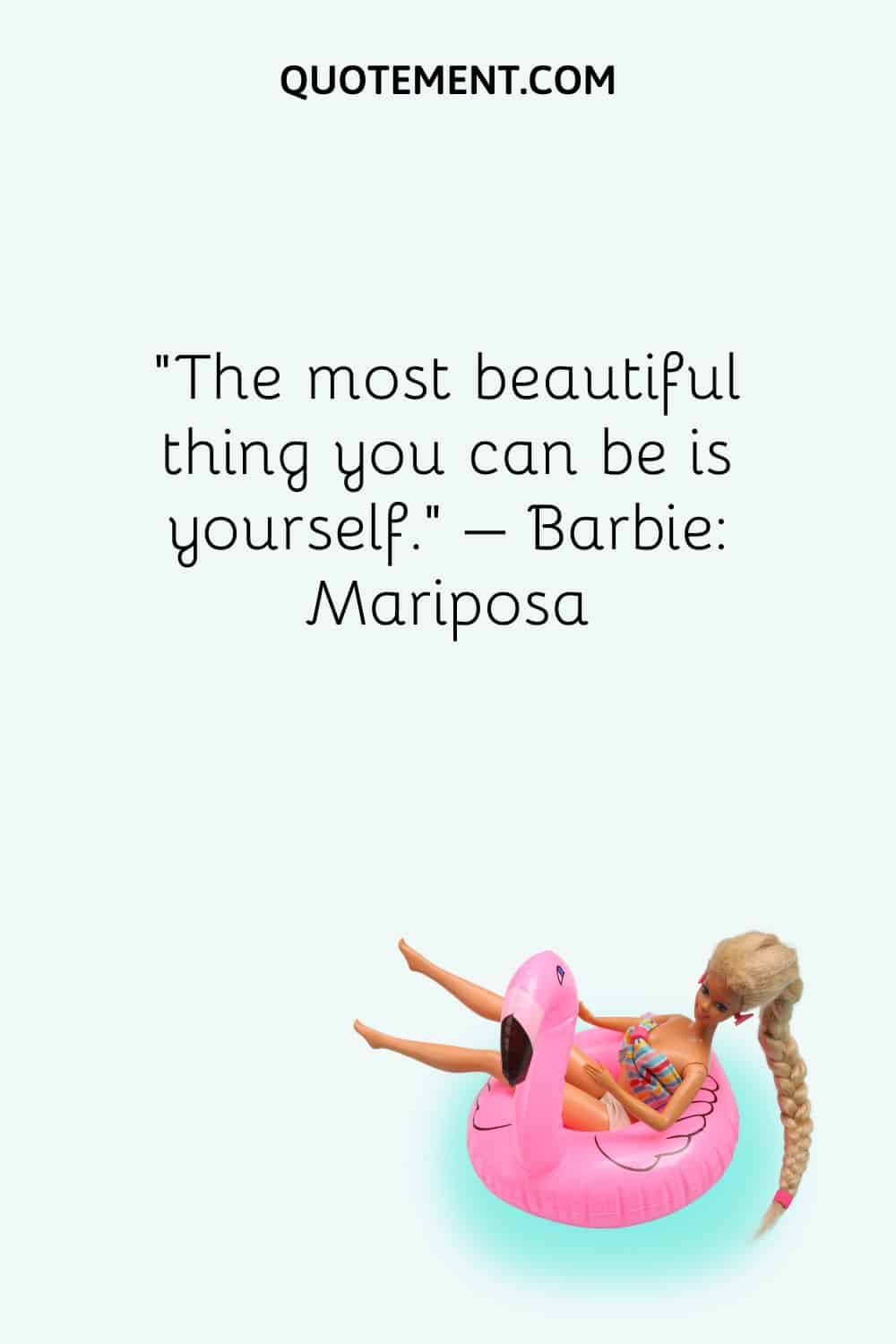 See also: 200 Me Myself And I Quotes To Make You Love Yourself More
Awesome Barbie Quotes
My exciting collection ends with more awesome Barbie quotes you should check out. Let's have a look!
1. "There is always hope." – Barbie And The Magic Of Pegasus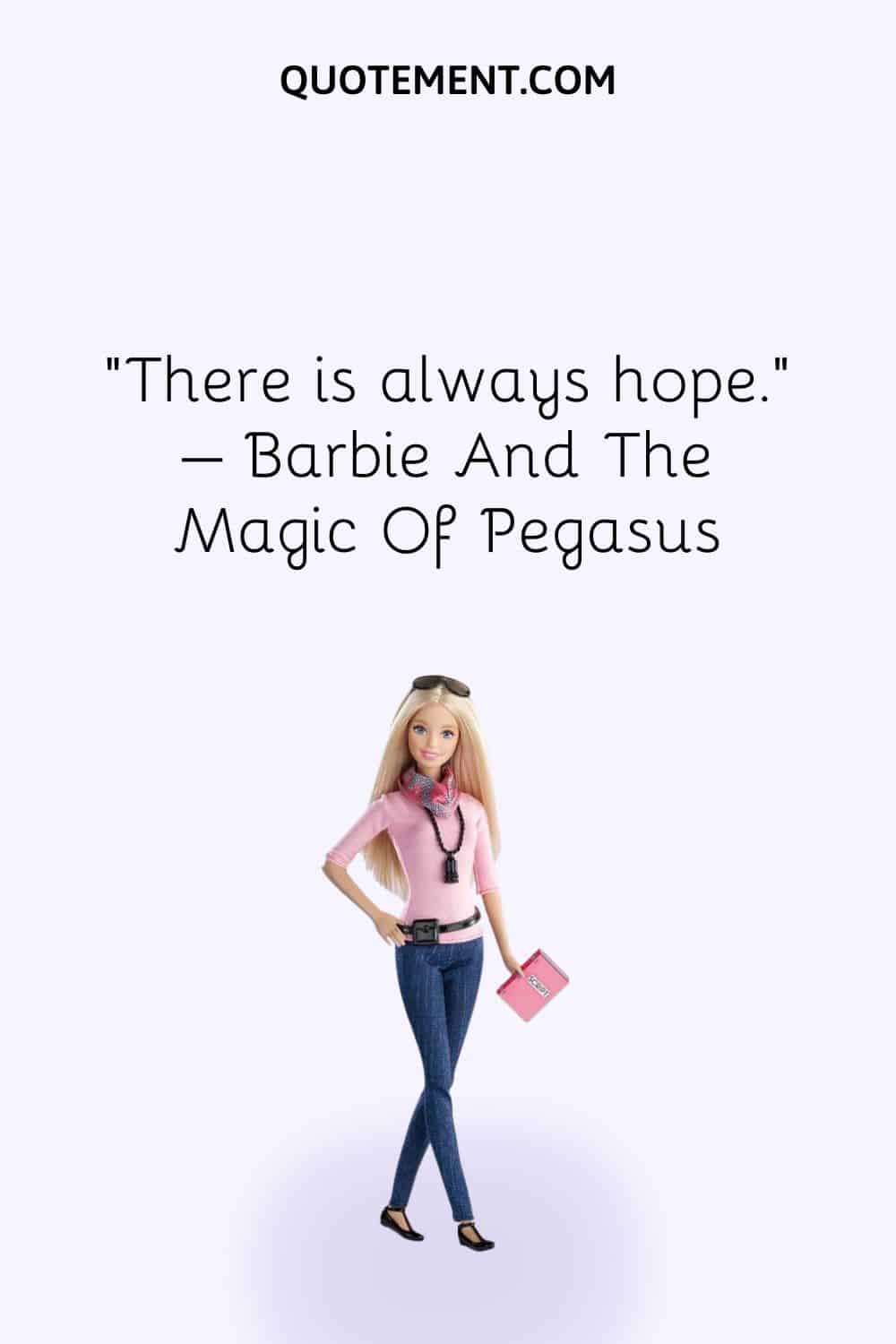 2. "TV tends to look for the living equivalents of squeaky-clean Kens and Barbies, but with my dial I'm more like Ken's dirty old uncle." – John C. McGinley
3. "Gotta go let me get the car key, you don't want it wit the Harajuku Barbie." – Nicki Minaj
4. "I can't do Los Angeles. I've always been the anti-Barbie. I don't want to be in a place where almost every woman walks around with puffy lips, little noses, and breasts large enough to nourish a small country." – Vera Farmiga
5. "I was into Barbie and designer jeans." – Carson Kressley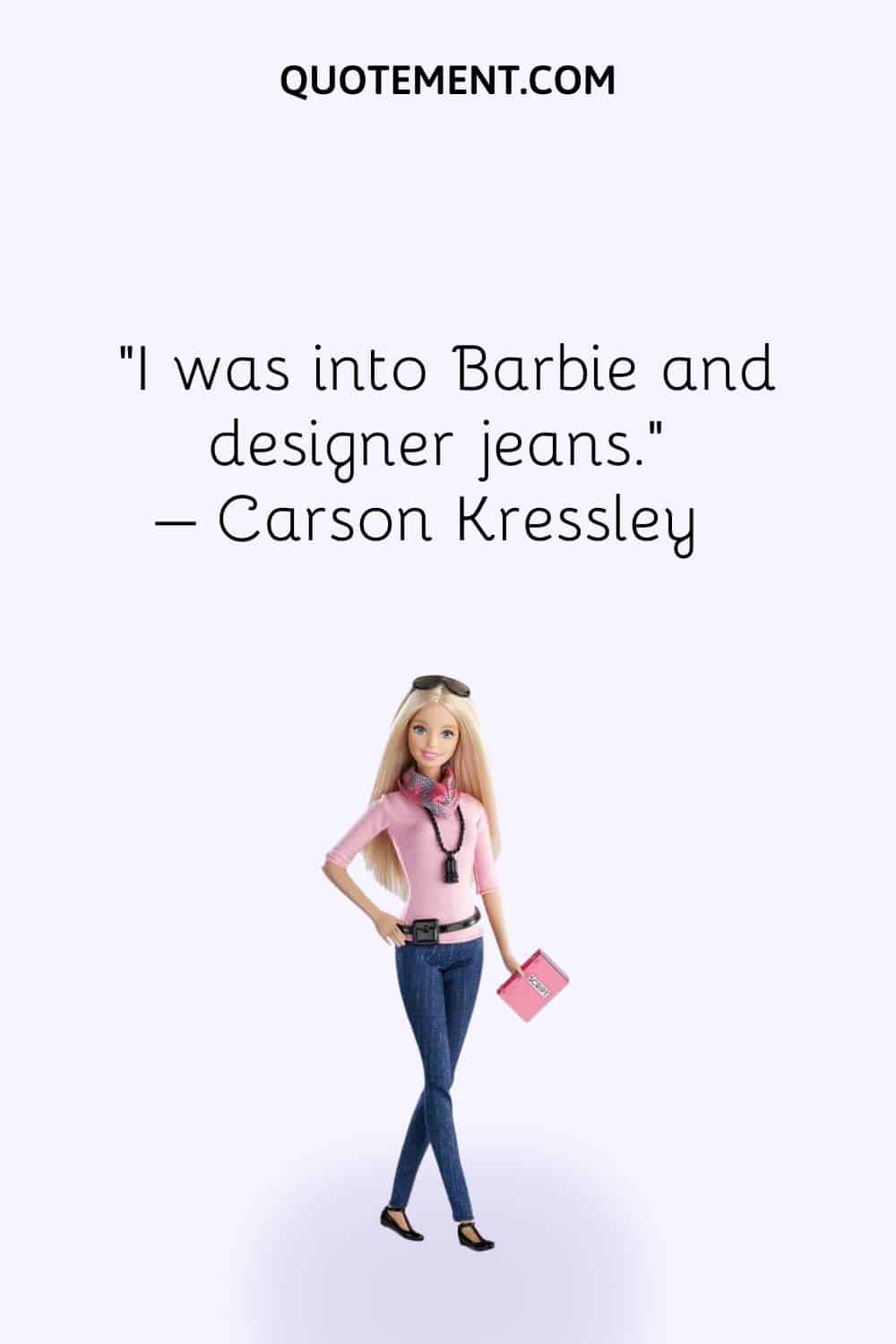 6. "The ugly duckling is a misunderstood universal myth. It's not about turning into a blonde Barbie doll or becoming what you dream of being; it's about self-revelation, becoming who you are." – Baz Luhrmann
7. "You know you've made it when you've been moulded in miniature plastic. But you know what children do with Barbie dolls – it's a bit scary, actually." – Cate Blanchett
8. "When I was really young. My sister and I would create different characters with our Barbie dolls – I'd be the crazy diva Barbie and she'd be the homeless Barbie." – Jordana Brewster
9. "I had some Barbies, but they were few and far between the mud fights." –Stacy Dragila
10. "Together, we are strong." – Barbie Fairytopia: Magic Of The Rainbow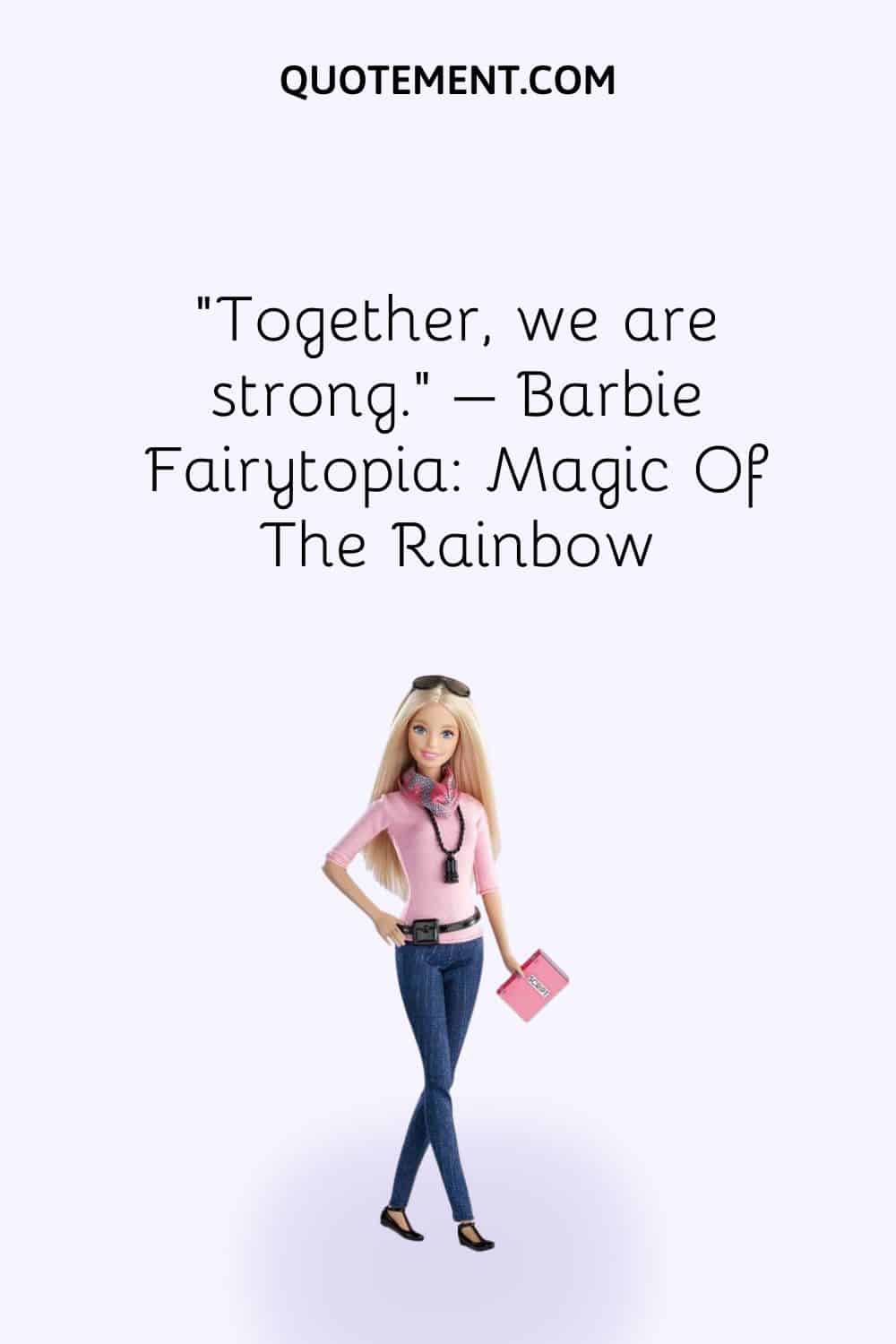 To Wrap It Up
That's all for today!
Thank you so much for visiting our page and reading my exciting collection of 100 Barbie quotes!
Stay tuned for more brilliant content and don't forget to share your favorite Barbie quote in the comments section below!
Until next time!
Read next: 220 Confident Girl Quotes To Uplift & Motivate You
Emily Grant
A writer and poet at heart, Emily Grant has a talent for weaving words together in a way that inspires and delights. Her quotes reflect her love of nature, her appreciation for the simple things in life, and her optimistic outlook on the world.
Related posts